Here's What It's Really Like To Travel Thailand During The Coronavirus Pandemic… (And How Travelling Thailand Will Change After The Coronavirus)
For those who have read any of my other posts, you'll know that I chose to quarantine in Thailand rather than returning home when international borders began closing due to the coronavirus pandemic. Life is gradually returning to a state of normality within the country, and in early June when lockdown measures and curfews were lifted, I took the opportunity to explore Thailand, while in a state of limbo, in a time where the country has no international tourists. I want to share with you what I've experienced so far, what it's like to travel the country with so few people around and share my views on how I think travel will change in Thailand once international tourists can visit once more.
It's a strange feeling, travelling the land of smiles when all the smiles are hidden behind a face-mask. Instead of being greeted with a Wai, I'm greeted with a squirt of hand sanitiser. But I wanted to experience the beauty of Thailand before tourists return once again. I wanted to to do my part to support local businesses, I wanted to see first hand how the country has changed- and so, I did exactly that.
Over the past few weeks. I have travelled from the south to the north, stopping at some islands on the way. I've seen first hand the devastation that the coronavirus has caused. But, on-the-other-hand, I've also seen the good that comes with fewer tourists.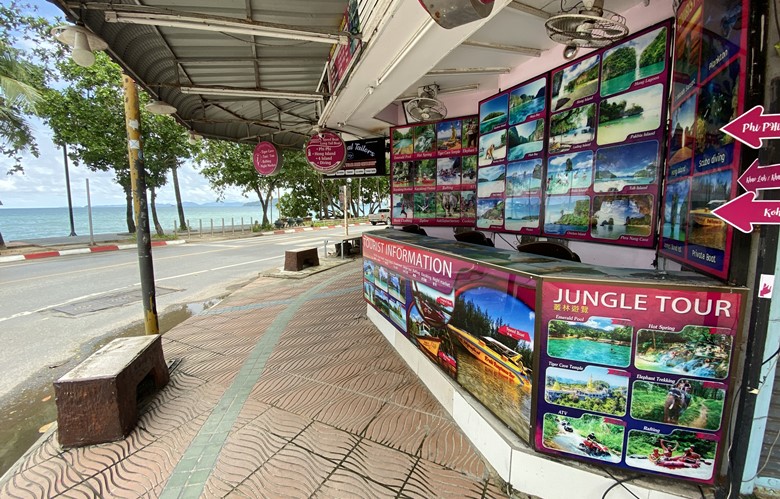 It hit me very early on, the scale of damage the coronavirus has caused to the local way of life. It's clear we have come to the end of an era. An era that was started in the late '90s. An era before the internet, when Lonely Planet guidebooks paved the way for travelling across south-east Asia. It's a tough pill to swallow and deep down, for myself and for so many others I was hoping travel would snap-back and return to normal.
But it is becoming clear that is not going to happen. There is no switch to flick that can reset what we have done. The only thing I can be 100% sure about right now, is that travelling Thailand will never be the same again. The sooner we accept that as a fact, the sooner we can move forward, into the new generation of travel.
In every situation, life throws at us, there is always a silver lining.
Change is not necessarily a bad thing, it's a part of life. People will adapt and the sooner people are ready to accept travel will never get back to 'normal', the sooner we can start working together to recover and pave the way for a new generation of travellers. Better than before.
Like it or not, the coronavirus is permanently changing the way we travel Thailand.
Face Masks, Temperature Checks And All That Jazz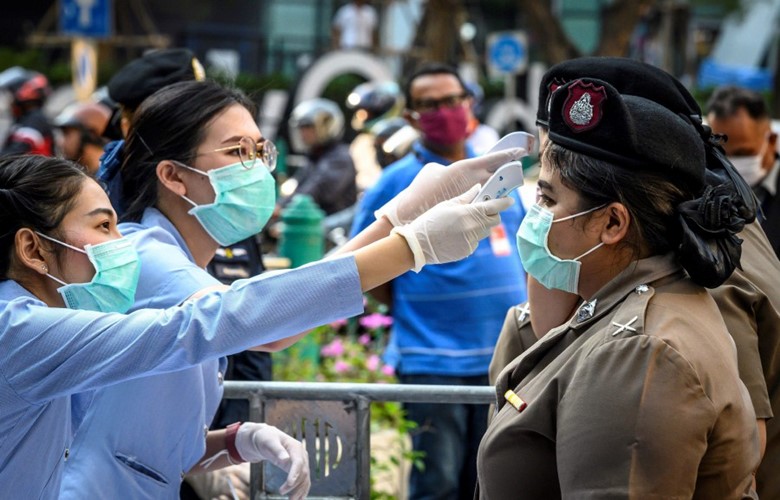 When I say that travel will change, I'm not talking about wearing face-masks in public, being subject to temperature checks every time we want to buy a bottle of water from a supermarket or a 7-11. Although, these changes are one of the only things we can be certain about right now.
I will touch on this quickly to give an insight into these changes. But these are small changes, it's a mild inconvenience, and things that we can look past.
It's a given that we'll need to wear face masks in public places, it's also a given that we'll need to report our presence in each new place we visit, and that is already being implemented. It's being done in a way that doesn't cause too much inconvenience. Each island, each province and each new destination I arrive in- I've been asked to show my passport, it's been photographed and it takes no more than a few minutes. Even temperature checks are being automated with heat detection cameras to speed up the process. Some travellers might have concerns about their movements being tracked while travelling. And I hate to break it to you, but it's been happening for decades already. Why do you think you're asked to fill in an arrival and departure card? Why do think that hotels need to take a copy of your passport when you check-in. It's not for their benefit, hotel's and guesthouses, by law, have to document and report to the Thai immigration Beaure, every foreigner that checks-in. There is already a trail of everywhere you've been in the country.
But that isn't what I wanted to talk about in this post. These are changes caused by the coronavirus that will affect travel across the world and not only in Thailand. We can overlook minor inconveniences like this, and after all, it is for our own benefit, to keep ourselves, and to keep others safe.
What I want to talk about in this post is the lifestyle and the freedom that travellers once had in Thailand. Will travelling in Thailand still be as enjoyable, as accessible? Will Thailand still appeal to the same groups of tourists as before?
Let's take accommodation, for example. Many travellers in Thailand would have chosen to stay in a hostel before COVID-19. For some, hostels are preferred because of the cheap prices, for me, and for many other solo travellers and backpackers, hostels are preferred because of the social aspect. Hostels are a great place to meet like-minded travellers. A place to make new friends, to share travel stories, beers and late-night Pad Thai's.
But in a time when we are being told by our own governments to stay away from others and to distance ourselves even from those closest to us. Would you want to share a room with six, eight, ten, strangers? Something about it doesn't quite feel right.
It isn't just going to hurt business owners, it is also going to hurt the way we travel. It will take away the experience and the right of passage that has been the norm for so many generations.
One of the greatest things about travelling in Thailand is it's available to everybody. It doesn't matter who you are, it doesn't matter if you're spending $5,000 a day or $50 a day. There is an option for you. This, in turn, draws in travellers and tourists from all over the world, from all different backgrounds and make Thailand such a diverse place to be.
But that might be about to change.
Local businesses are suffering, that's a given. Savings have dried up for most, government aid has ended and there is almost no hope on the horizon for the smaller companies. While I am travelling in this time I'm trying to support smaller business, the few that are still open, that is. In doing so I've been able to speak to guesthouse owners, hostel owners, restauranteurs, and bar owners first hand. In order to get a better understanding of how others are dealing with the situation and what changes they expect to see when tourists can return to Thailand once more.
All of the business owners I've spoken to have painted the same worrying picture, none of them know when the situation will improve, or even if it will improve. Many are debating over shutting their doors or slowly ticking by. The uncertainty, for most, is unsettling. For some there isn't much hope for some it's only a matter of time- but many are putting up a strong fight, in the knowledge that if they do close the doors, it's most probably going to be game-over for good. Unfortunately, many other businesses have already succumbed to the devastation of the coronavirus.
But let's look at some of the bigger players in Thailand's tourism industry. These guys don't share the same problems, they have a security blanket. Resort owners are ready to fill the void left behind by shutters hostels and guesthouses. Tour operators are ready to fill the void left behind by bankrupt travel agencies. And branded restaurants are ready to step in and take over abandoned mom and pop hawker-style eateries. And allowing that to happen would be devastating, it would change Thailand as we know it. It would drive prices sky-high and potentially the country could become unaffordable for some tourists.
With lower-end business closing down at an alarming rate, Thailand might become a place only for those that can afford it. Thailand might lose, is rapidly losing a saddening amount of its culture, charm and authenticity. The very things that attract tourists in the first place.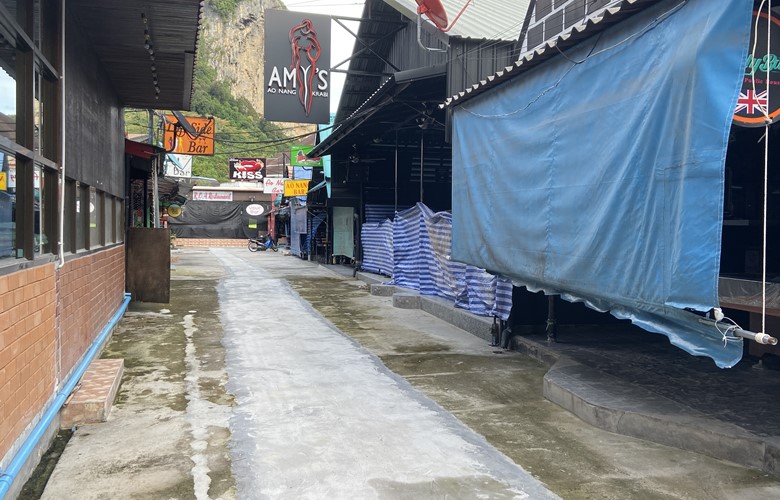 Some areas in Thailand are doing better than others, places with established ex-pat communities and local communities are back to normal life. Places like Koh Samui, albeit quiet, are starting to show signs of life once more. Markets are open, beaches are open, a few local hangout bars are open and there are street vendors setting up stalls. It's seeming positive and money is changing hands once more.
But to take somewhere like Ao-Nang for example, or Khao Lak, it's a much more grim picture.
Ao-Nang was one of Thailand's most popular beachfront tourist destinations. At the moment, is a ghost town. Getting out of the taxi in Ao Nang, it hit me hard. I saw just how much damage the coronavirus has caused to Thailand's tourism industry.
The beach road, the restaurants and beach itself is usually buzzing with life.
The beachfront was once packed with long-tail boat captains offering rides to Railay Beach or the nearby Andaman Islands. When I visited, there wasn't a single boat in sight. Not one. In fact, I had planned to head over to Railay Beach, but there was no transport option to actually get over there.
I would normally be harassed in the streets. Something I usually hated, but in a strange nostalgic way- I'm missing. I'm missing being pestered by locals as I walk past. "Hey! You You, my friend!, Where You Go?! Taxi? Tuk Tuk, my friend?", drivers would shout. "Hey! Brother, You'd look good in a new suit". Wherever you turned, you'd have someone pulling you into their massage shop, into their restaurant or into their tailor shop to have your measurements taken.
Most of these businesses are now boarded up. It's silent. It's sad. Even the banks have switched off most of the ATM's. Even the 7-11's have closed up shop. When one of Thailand's biggest business is closing shops, you know it going to be rough for the small players. Its is such a surreal feeling to walk around a once busy tourist destination to find nothing left of the place.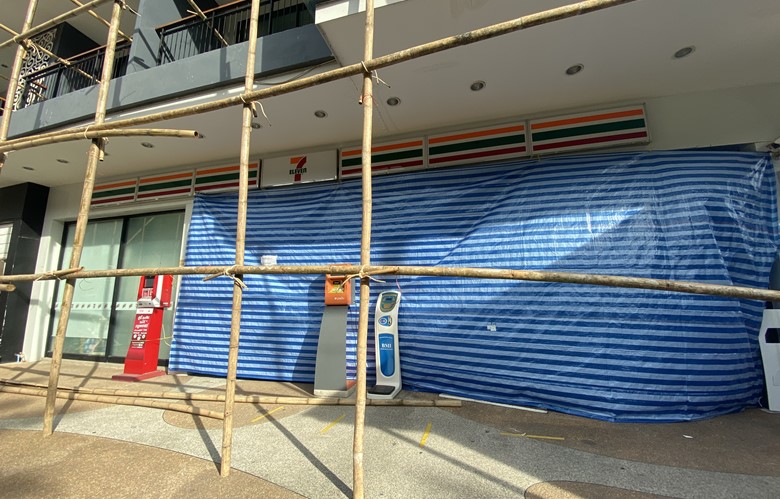 In some ways, it was nice to have the entire beach to myself. But the novelty quickly wears off and I quickly realised its more worrisome that I had first though. Will these places ever recover? Or is it really the end of the road for tourism in Thailand as we know it.
Thai People Haven't Given Up Hope For The Tourism Sector
One of the things giving me some hope that it isn't only Thailand that has been affected by the coronavirus. Thailand has dealt with its own share of environmental and political disasters in previous years. Many of which threatened the tourist industry, and each time the country has pulled together and recovered. And with the coronavirus pandemic, it is not just Thailand, it's not a single tourist destination. It's the entire world. Every single person on this planet, in one way or another, has been affected by the coronavirus. Some have been affected worse than others, some might have even benefited from the pandemic. But everyone has been effected.
Thailand isn't alone in this situation and tourist destinations across the planet are suffering. But Thai people haven't given up hope just yet.
Bangkok was another place I have visited on my travels after the coronavirus lockdown. I've visited beautiful beaches, jaw-dropping national parks. But one of the places on the top of my list, a place I was desperate to visit for completely different reasons to most, was Khao San Road.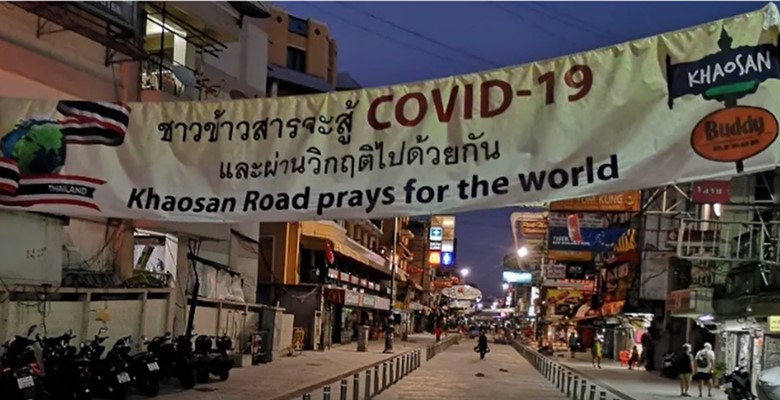 Khao San Road is where it all starts, for many it's the gateway to south-east Asia. It's where travellers congregate on their first night in Thailand after touching down in Bangkok. The area relies almost 100% on tourism. And I thought this spot would give a good perspective of Thailand as a whole.
I wasn't sure what to expect the iconic Bangkok street to look like. For decades locals in the area have pocketed the income from tourism without much thought being put into re-investments and improvements. So I was not surprised to see the streets being torn up, bars and entertainment venues being ripped apart. It's a sight I've seen all over the country, shops being left abandoned, stock, fixtures and fitting have been ripped out. Massage shops with nothing left but the imprint of the vinyl window stickers left behind.
But on Bangkok's Khao San road, it was a different story. It wasn't what it seemed on the surface. There were no tourists around. But there were plenty of blue-collar Thai workers. After speaking to a few locals on Khao San Road, people here seemed hopeful. They know that within the next few weeks or months, Thailand will open international borders to tourists.
They are investing a lot of time and money to rebuild the infamous strip. 1.4 million dollars has been invested in the area with new trees being planted along the sidewalks, the street is being completely re-paved and contracts for street vendor pitches are being issued. After speaking with some bar owners on the road the current expectation is to have Khao San reopened before the 1st of August. Locals are hoping that the makeover will give tourists the confidence to return to Thailand after the coronavirus pandemic. They don't want tourists to fear that Thailand will have nothing left for tourists to come back to. And while no one knows if their efforts will pay off yet. The hopes and the passion that I've seen perfectly sums up the Thai mentality. Locals have hope tourists will come back, and they want to prove that Thailand can pass through the coronavirus and come out on the other side stronger and better than before.
How we move around the country might be about to change. In the early days of international tourism in Thailand, travellers would use the same busses as the locals. But tour companies soon realised that navigating Thailand on local bus routes was often frustrating for tourists to navigate. And the so-called "Tourist Buses" were born.
The tourist busses connect Thailand together. At least they connect all the tourists hot-spots. Bangkok, Phuket, Samui… etc. Tourists can easily get from one destination to another and all the road and sea connections will be taken care of for a single fixed price. And I'll admit I have used these busses myself many times, the convenience offered is worth paying a small amount more than a local bus.
But while I have been travelling Thailand after the coronavirus lock-downs, these buses are non-existent. And it might take a long time until they resume service. For the business model to work and for tour companies to turn a profit, they need mass tourism, they need every seat to be filled.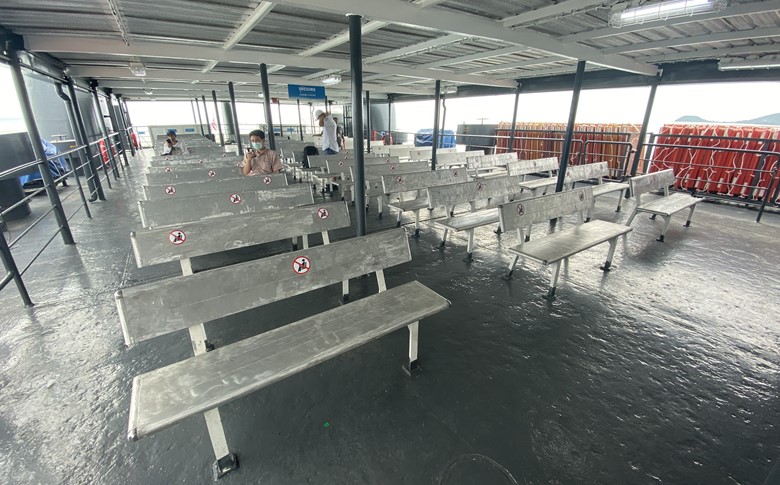 I had taken these services for granted before the coronavirus. It had always been easy to travel Thailand from one location to the next. It was a simple case of popping into a travel agent, of which there are thousands scattered around. Telling them where I want to go, and the next morning a driver would be at the hotel to collect me. But now those services have gone, I have been relying on the local busses to travel around the county. And there might be some positives to this.
Tourist busses operate services only to the most well know and well-established locations in Thailand. It means travellers all end up following the same route through the country, and visiting the same beaches, bars and restaurants in any given destination the "Banana Pancake Trail". Lonely Planet has been blamed for the rise in popularity of the Banana Pancake Trail, and it used to be that being mentioned in the guidebook would draw in tourists in large numbers.
But using the local busses, travellers can get to places they might not have heard of. Suan Phueng, for example. It's a beautiful place but the lack of tourist transport to the district means it's untouched from tourism. Now is the time to change travel for the better, it's a time to get off the Banana Pancake Trail. In the age of the internet, it's time to diversify not only how we travel in Thailand, but where we travel in Thailand.
For sometime after the coronavirus, tourists will need to use local transport to get around the country and we might be surprised to find that Thailand still has countless areas which have never been a part of the trail, to begin with. It is clear that it's going to take time for areas to recover to tourism after the lockdowns- but in this unique time, it levels the playing field and gives other places a chance to mark their spot on the post-coronavirus traveller's map.
Conclusion
Change is happening, and it's not necessarily a bad thing. In 1975 Tony and Maureen released the first Lonely Planet Guidebook to the world, "Across Asia on the Cheap". That guide book has paved the path for Thailand's tourism over the past five decades. But in the blink of an eye, the information in guidebooks, on travel blogs and even information passed by word of mouth has all become outdated. Everything has changed, and nobody knows what the future holds for tourism in Thailand after the coronavirus. But just like Tony and Maureen did when they paved the way for the first generations of travellers, it is clear, that for the next few months, or years. Those first few tourists who return to explore Thailand after the coronavirus, perhaps without even realising it, will undoubtedly be paving the way for the new era of travel, for the next generation of travellers. We don't know how that's going to look just yet. But what we have right now is a chance to leave our mark in a positive way. And if we work together, we can write history and create a new generation of travel. Built from the foundations of the past, travel in Thailand can become even better than before.
You Might Also Like