Today marks the the day when travel in Thailand can resume, hotels have been permitted to open their doors, overnight curfews have been lifted and provincial restrictions removed.
The Thai government has encouraged domestic tourism in a bid to kick start the economy, for now, international borders still remain closed, find out when Thailand borders will re-open here. And for the few tourists that have been stuck in Thailand during the coronavirus lockdowns, this means domestic travel is back on the cards.
Thailand is an incredible country, and a country that attracts millions of tourists each year, but for now, even though places are beginning to open their doors once more, the country remains deserted, quiet and the lack of foreigners is immediately noticeable wherever you go.
I decided to stick out the lock-downs in Thailand and am now one of the few tourists able to see Thailand from the inside- and it's glorious, its almost every travellers dream to have a tropic beach to yourself. Activities are lacking, but nature is diverse and beautiful.
But one of the first things I had to figure out once provincial borders were unlocked is where was I going to stay, how would I find hotels, are hotels in Thailand open, and how much do they costs.
How To Find A Hotel In Thailand After The Lockdown
Hotels in Phuket, Chiang Mai, Bangkok and all other provinces in Thailand have been given the green-light to open their doors and welcome tourists in once more. But in the past when I'm backpacking in Asia, I relied heavily on apps like Booking, Agoda and Hostel World. But the for the time being, these apps have been rendered worthless.
Hotels listed on these applications all seem to accept reservations, but in reality, it's quite the opposite. Even though hotels are able to open the doors, many have chosen not to. Opening up a hotel after the lockdown means that hoteliers are hit with operating costs and staff, like cleaners or receptionists. And for many, until the international borders have re-opened it is much cheaper to keep the doors closed, for the time being at least.
In destination like Phuket or Krabi, places which rely solely on international tourists, the demand is not there, but in places like Hua Hin where domestic tourism is much higher, some hotels are operating again at 90% capacity.
How To Find A Hotel That Is Open In Thailand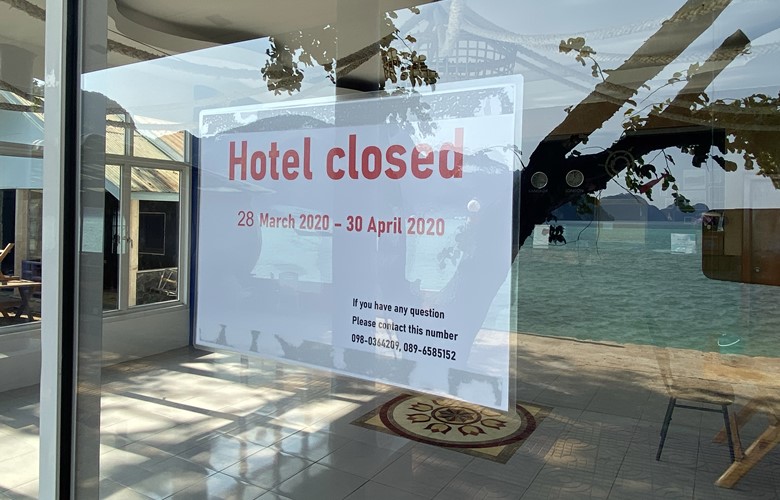 Booking.com is a great place to start you will still be able to find the names of potential hotels, but for now it's best not to make a reservation through the app. Is is a better idea to instead look up the hotels contact details online and give them a call or a message on Facebook to confirm that they are open and accepting guests. In doing so you'll also find many hotels and guesthouses curently have discounted rates which are not reflected online.
Dorm rooms and backpackers hostel are off the cards for the time being, while legally, they are able to open. Many hostel owners are choosing to keep dormitories closed for now. These hostels typically need to have a dorm room filled in order for it to be financially viable.
The same goes for the big resorts, top end hotels and places that usually employ high volumes of staff to keep them running. These bigger hotels rely on international tourism, and until Thailand has reopened these resorts will remain shuttered up and locked down.
Guesthouses are the best choice for those looking for a place to stay after the coronavirus, the smaller family run places are the first to open up- and some, never closed. These places usually have low overhead costs and the staff are usually family who live on site. In order to attract tourist back again, the prices are significantly lower than before. I've found that I can get an air-conditioned private room for the same cost that I would have paid for a hostel room before the corovavirus lockdown.
Are Hotel Prices In Thailand Cheaper After The Lockdown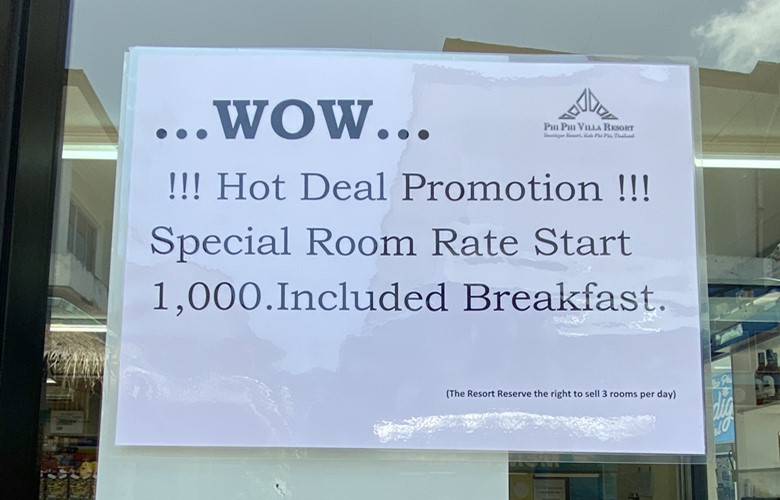 Hotel prices are now much cheaper in Thailand, with so many hotel owners being left with little to no income over the past few months, they are desperate to get tourist through the doors once more.
I have found hotels prices dropping around 50% in some of the coastal provinces, provinces which survive on tourism. Prices are reduced to lure tourists back and kick start their income once more.
I still use booking.com to find places to stay, but when I call the properties, the rates offered on the phone are slashed. The small guesthouse I am staying in at the moment, for example, is listed online at $22 a night. In reality the owner is asking just $10. Which is a fantastic deal, and the same price a budget dorm room would usually cost.
The atmosphere is a little different, usually, before the coronavirus, these hotels would have been teaming with life and filled with sociable others. But for now just there are just a couple of stragglers left. One one hand it's nice, it's peaceful. it's cheap. I'm getting to see a side to Thailand, that in a million years I never though I would see.
When I walk around the beach areas I'm no longer being pestered by boat captains and tour companies to book their trips, there are no girls grabbing me on the streets and pulling me in for a massage. Tuk Tuk drivers aren't pestering me for a ride and no one is trying to sell me a ***** suit.
The beaches are unbelievably clean and deserted from tourists, asides from a handful of locals there isn't much life around. And while all of this might sound like a travellers dream, it is. But if I'm being really honest, It's a little boring. There are few activities and few people around. While I'm making the most of exploring Thailand in this unique time I am also looking forward to a time when more backpacker are allowed into the country again.
Are Thai People Happy To Have Tourists Back In Their Hotels
I was a little sceptical at first once I came out from lockdown and started to travel around Thailand again. There had been some anger expressed towards foreigners before the lock-downs started, but post-lockdown it is a different story. In my experience guesthouses are pleased to have people moving around once more, a little relieved that the situation is improving. And warm and welcoming.
Some of that can be attributed to the fact that the Thai people are aware all foreigners in the country right now are those that have stayed throughout the coronavirus lockdowns, and with no active cases in Thaialnd and a 14-day quarentine, people feel safe here.
Although there is talk about Thailand re opening borders to foreigners in the coming weeks and part of those talks is how the government plans to welcome back tourists. Perhaps the situation and friendliness will change once borders open and people begin to become more an more precarious. But for the time being, hotels, or guesthouses at least are pleased to once again have their doors open to tourists.
About Me
For those that don't know, a little backstory about me. I have quarantined on a Thai island for the past three months and I am one of the first few foreign tourists to be able to travel in Thailand again. For now I am confided to the country and can't cross any borders, but that is ok for me. It's beautiful and incredible to explore the kingdom without other tourists, it's a little strange, but highly enjoyable.
I'll be sharing more photos and most inside information about how Thailand is dealing with the coronoavirus and how tourism will be effected in the coming weeks and months once the country opens up again.
I'll be sharing a new story each day, so do make sure to check back and to follow me on Instagram so see photos of the world most visited tourism destination, without tourists. And follow my Facebook to stay up to date with tourism in Thailand after coronavirus and get updates on the current situation.
If you like this post you might be also interested to read: