Watching the Sunset on Phi Phi Island
Phi Phi Island is hands down one of the most breathtaking destinations in Thailand. There's something about watching the sunset over the horizon here which fills you up with a sense of peace and wonder. It's the kind of experience that makes you feel grateful to be in that moment.
Read my full Two Week Thailand Itinerary Here.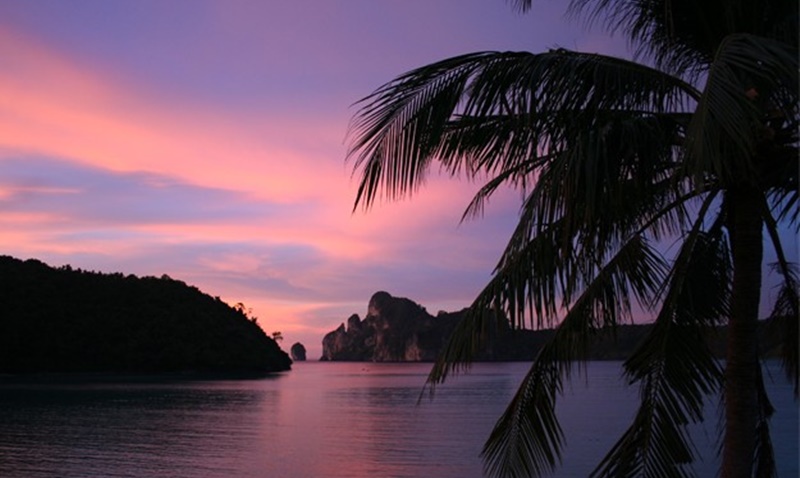 Now, I know you're probably itching to capture that perfect sunset shot for yourself and believe me, I get it! There's just something about those Instagram-worthy photos of the Phi Phi Island sunset that gets us all excited. But in order to get that perfect shot, you need to know where the best spots are to watch the sunset from.
Thankfully, Phi Phi Island has no shortage of epic locations to choose from. And as someone who's spent a good chunk of time on the island, I can say with confidence that I've experienced each of these three spots myself. So, whether you're in search of a romantic setting or just want to bask in the beauty of it all, I've got you covered with my top picks for the most breathtaking sunsets on Phi Phi Island.
Watch a Sunset From Your Hotel Balcony
There are only a few hotels on Phi Phi Island which have a sunset view but they can be difficult to find out about. Here are my favourite hotels on Phi Phi Island where you can watch a sunset right from your balcony!
These are all the Hotels on Phi Phi Island With Sunset Views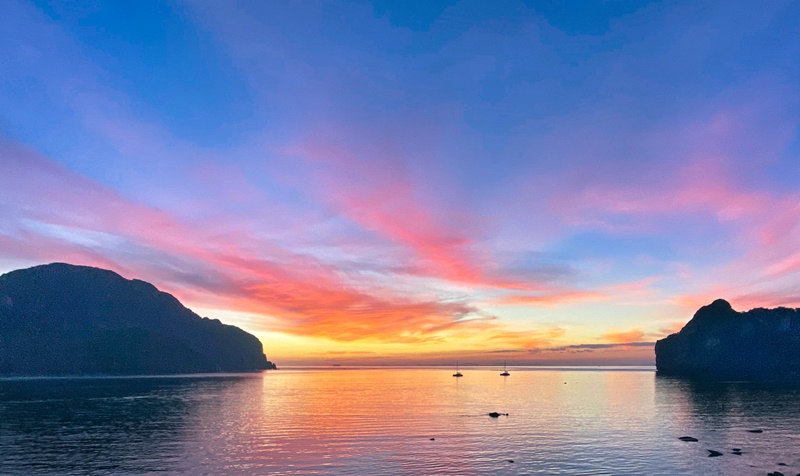 When Does The Sun Set on Phi Phi Island
Timing is crucial when it comes to catching the perfect sunset on Phi Phi Island. The time of sunset can vary depending on the season, typically falling between 6:00 pm to 7:00 pm. It's important to check the sunset time during your stay so you can plan accordingly and ensure you don't miss out.
To easily find out when the sun will set on Phi Phi Island, you can use this helpful tool that provides precise sunset times for any given day. Alternatively, you can refer to the table below for a quick idea of when to expect the sunset.
| | |
| --- | --- |
| Month | Sunset Time |
| January | 6:15 PM |
| February | 6:30 PM |
| March | 6:35 PM |
| April | 6:35 PM |
| May | 6:35 PM |
| June | 6:40 PM |
| July | 6:50 PM |
| August | 7:00 PM |
| September | 6:35 PM |
| October | 6:15 PM |
| November | 6:00 PM |
| December | 6:00 PM |
After you've figured out what time to watch the Sunset on Phi Phi Island you'll need to choose the best place to watch from. This post is a list of my favourite sunset spots on Phi Phi, some of them are more popular than others but all are as beautiful as the last.
Best Beaches To Watch The Sunset From In Phi Phi
You might have visions of sitting on the beach at Phi Phi Island and watching the sunset. It is important to know that the beaches at Phi Phi Island are not suitable places to watch the sunset from. The shaping of the rock formations at Phi Phi Island means that whichever beach you choose- the sunset will be blocked from your view. 😢
The best places to watch the sunset from at Phi Phi Island are elevated spots with views looking over, or around the limestone cliffs.
Sunset Spot One: The Phi Phi Viewpoint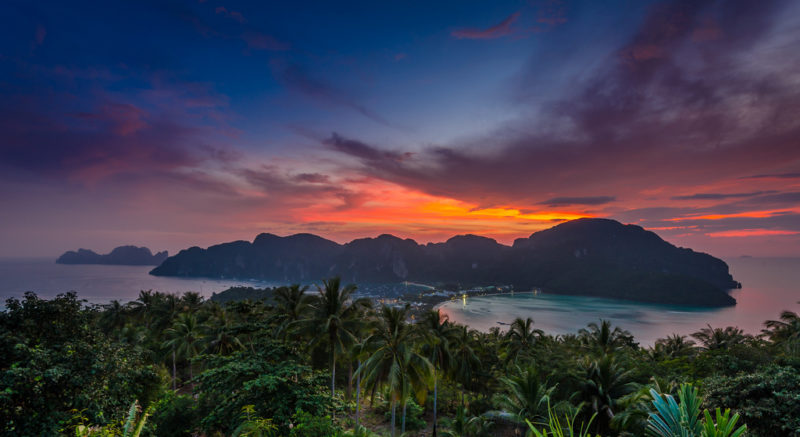 The Phi Phi Viewpoint is easily my favourite spot to catch a sunset from in the Phi Phi Islands. The second viewpoint is where you'll get the best views.
The Phi Phi Viewpoint required a short hike although the trail is mostly stairs now. It takes around 40 minutes to get to the second viewpoint from the town and you'll find a huge sunset viewing platform overhanging the cliff at the top.
The viewpoint is one of the cheapest places to watch the sunset on Phi Phi Island too with admission being set at just 30 Baht a person. Unfortunately, alcohol is prohibited in the area because the landowners are Muslim. However, you can buy an ice cream instead.
Because the viewpoint has such epic views of the sunset in Phi Phi it's a popular place. I recommend getting there as early as possible to ensure a decent seat on the platform. You can read my full guide to the Phi Phi Viewpoint right here.
Sunset Spot Two: The Only Bar Phi Phi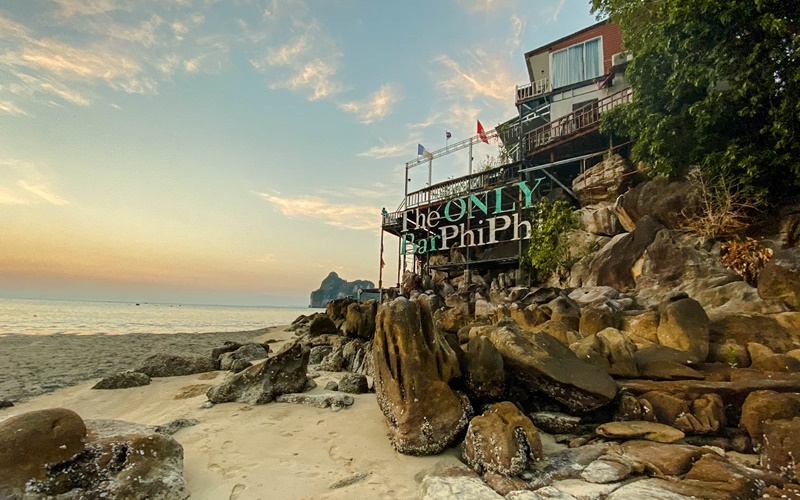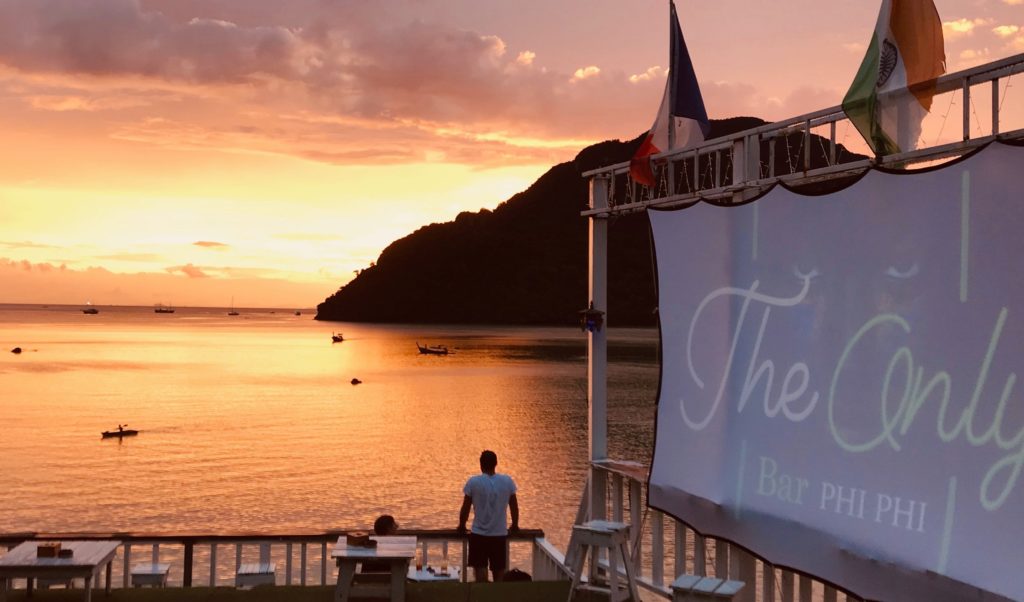 Phi Phi Island is known for its vibrant nightlife, but there are few places where you can actually watch the sunset while sipping a drink. One spot that stands out is the Only Bar.
The Phi Phi Only Bar is a really chilled-out spot on Phi Phi Island with an immersive theme, there are palm trees growing through the middle, there is chilled music and fairy lighting and the seating is mostly beanbags which you can literally sink into.
Although the bar is a short 15-minute walk from the town center, it's totally worth it for the breathtaking views of the ocean and rocks below. Plus, since it's a bit of a hidden gem, so you won't have to deal with the crowds that flock to other bars.
But that's not all. The Only Bar offers reasonably priced drinks and food and even has the option to buy pre-rolled joints or mushroom shakes behind the bar. So, whether you're looking for a relaxing spot to catch the sunset or a cool hangout with some local flavor, the Only Bar on Phi Phi Island is definitely worth checking out.
Sunset Spot Three: The Andaman Sea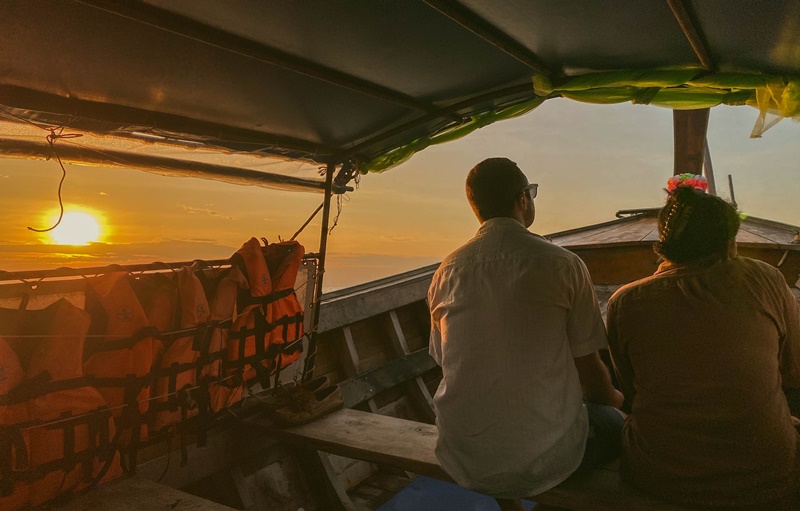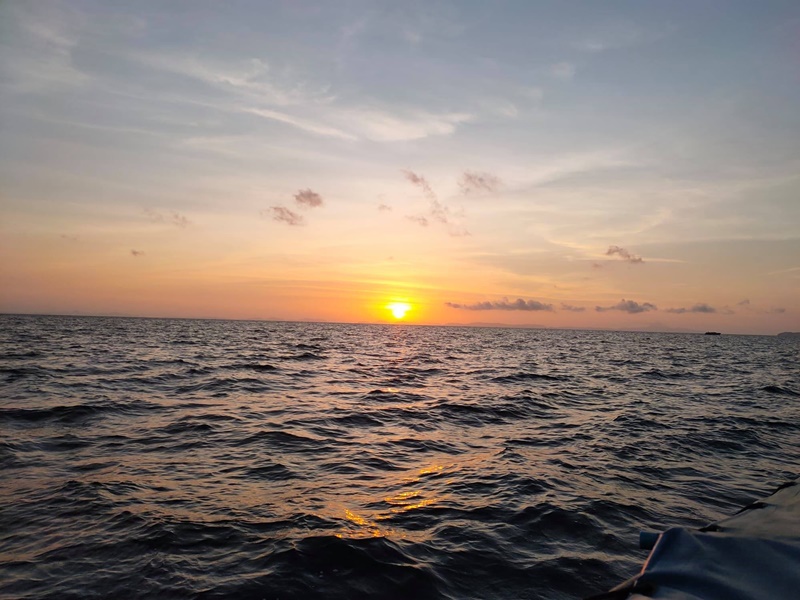 This is by far my favourite choice when it comes to places to watch the sunset from in Koh Phi Phi. But not a cheap spot to get to! You'll need to charter a Private Longtail Boat but the views will be next level.
From the 'sunset point,' you'll have views of the open ocean. Watch as the skies change between various shades of purple and red, the air quality is good around the Phi Phi Islands and on a clear day there is no better place to watch the sun go down.
For those on a budget, there are some group tours too, which would include stopping to watch the sunset on the return. I recommend the Phi Phi Pirate Boat, but there are others to choose from on Klook or GetYourGuide.
Where to Next
So those are my top three recommendations for spots to catch a sunset from on Phi Phi Island. And if you have three nights on Phi Phi make sure to check them all out. But where are you heading after the Phi Phi Islands?
If Chiang Mai is included anywhere on your Thailand Ittenarry don't miss this post: My 5 favourite places to watch the sunset from in Chiang Mai, Thailand!