Monkey Beach is is one the most unique spots that you must see on any trip to the Phi Phi Islands. This Beach in Thailand is literally filled with playful monkeys, where else in the world can you find that!
Monkey Beach is isolated from the main town but it is easily reached from the main beaches on Phi Phi Island by kayak, or you can even stop by on a boat tour from Phuket.
If you've found yourself asking "Where are the Monkey's in Thailand", they're here in the Phi Phi Islands.
The Beach itself it exactly what you expect from the Phi Phi Islands, the sand is powder white and ocean is warm and clear. Limestone cliffs surround and the wild monkeys can bee seen up in these cliffs, chilling out on the beach or swimming in the sea.
In this post I will share my experiences visiting the beach, how you can get there for the lowest price and how to stay safe at Monkey Beach. So keep on reading and you'll find out everything you need to know about Monkey beach in Phi Phi Island; before you go.
Here are my top tips for keeping safe when visiting the monkey beach
Don't feed the monkeys, it disturbs the natural balance and even though some tour guides might even encourage it. It is illegal, and if caught you'll end up with a heavy fine.
Don't bring any food, drinks or backpacks onto the beach. Leave them hidden in the boat or your kayak. Not even a water bottle is safe here. The monkeys will take any food they see.
Don't litter. You might not be directly littering, but if a monkey steals your water bottle or packet of chips, then once they're done with it they'll toss it into the sea. Monkeys don't use bins, so don't let them take your food or drinks.
Don't pick up the monkeys. Sometimes the monkey's will come and hang out with you, sit on your shoulders, or help check your hair for bugs, that's fine. But remember these guys are wild animals. Approaching and trying to pick up a wild animal, wherever you are, isn't wise.
"Warning, Beware- the monkeys. They are dangerous, sometimes."
"If you feed the monkeys, you will changed its behaviour. The monkey will not search any food from the wild. It will always wait for free food from you. And if you don't offer to feed it, maybe, the monkey will attacked you."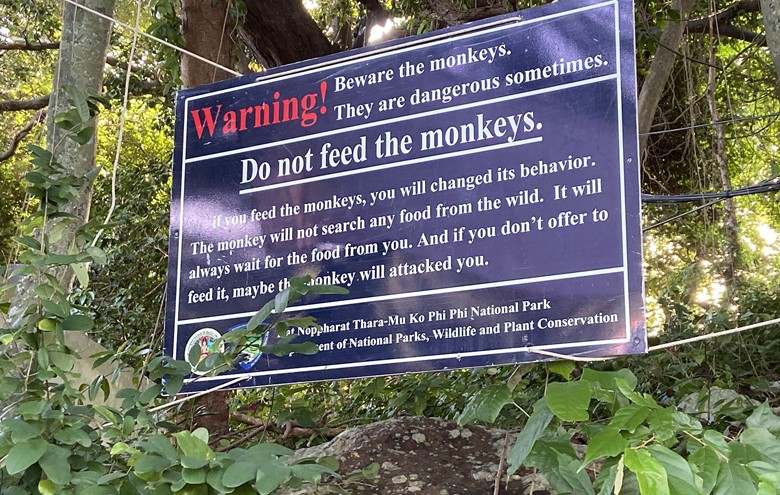 Are There Monkeys On Phi Phi Island
Yes, there are Monkeys on Phi Phi Island. Phi Phi Island has a lot of dense jungle areas outside of the main town which is the natural habitat for the animals. Occasionally the monkeys might come into the town, but they don't stick around for too long, they are usually a nuisance for local food vendors and will be quickly shooed back to the beaches.
You are most likely to encounter monkeys on Phi Phi Island when hiking through the jungles, hiking to viewpoints. Or at Monkey Beach. There are two 'Monkey Beaches' on the island, both border onto the jungles and it's a popular spot for monkeys to hang out and grab a bite to eat of their favourite foods.
The monkey's go-to food a few years ago would have been fruit seeds and sand crabs which they would pluck out from the ocean. Although more recently these critters have decided that ransacking tourist boats for their picnic baskets makes for a much more rewarding meal.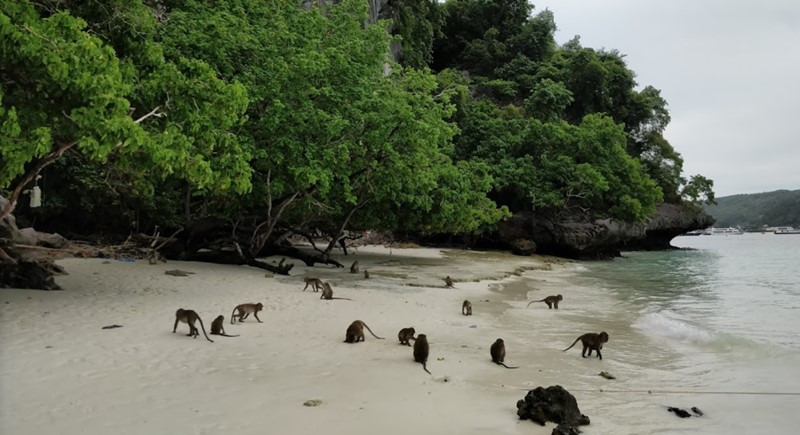 What Kind Of Monkeys Are On Monkey Beach?
Time for some monkey facts. The monkeys you'll meet on Phi Phi Islands; Monkey Beach. Are a species of monkey called Long-Tailed Macaque. (nicknamed the Crab-eating macaque) The species is common in south-east Asian nations and in other regions of Thailand. Typically these monkeys are playful and non-threatening.
Monkey Island or Monkey Beach
There is an island in Thailand, off the Pattaya coast called Koh Klet Khao, this island has been nick-named Monkey Island by tourists because of the population of monkeys that live there.
But when most people think of Monkey Island, they're thinking of the monkeys in Phi Phi Island. There is not a Monkey Island, but there are two Monkey Beaches. The beaches are secluded from the island and cut off by limestone formations and jungle. So when you visit, you'll have to travel there by sea. And it does feel as if you're on your very own 'Monkey Island'.
Where Is Monkey Beach
Monkey Beach is on Phi Phi Don Island. There are actually two Monkey Beaches where you can go to meet the wild animals.
Saam Haad (Monkey Beach 1) – This is the name of the most popular Monkey Beach. And this location is actually three smaller beaches. This set of Monkey beaches is on the south side of Phi Phi Don, it's the most popular one for boat tours to stop at. Because it's on the way to Phi Phi Leh Island. Phi Phi Leh is where you'll find Maya Bay, Pilleh Lagoon and most of Koh Phi Phi's natural attractions. The beaches here are quite small at high tides, but once the tides go out there is much more space.
Ao Ling Yai (Monkey Beach 2) – The 'Big Monkey Beach' has much more space and fewer tourists. But you're still almost guaranteed to spot the monkeys here. It's located on the northern side of the island and the location makes it out of the way for most tour boats, so it stays quiet. If you're going to Kayak to Monkey Beach you should come to this one instead.
How Do You Get To Monkey Beach
There are two ways to get to Monkey Beach, firstly you can join a boat tour around the islands. 95% of boat tours will make a stop at Monkey beach. You'll be able to find boat tours leaving from both Phi Phi Don itself and from Phuket. If you are already staying on the island, you should be able to find a tour for under 1000 Baht ($30 USD)- from Phuket, you might need to pay a little more.
Or you can rent a sea-kayak and paddle out to Monkey Beach yourself. If you want to rent a kayak to get there, walk over to Loh Dalum Beach on Phi Phi Island and you'll find a few locals renting kayaks. It should cost around 200 – 300 Baht to rent a kayak for a couple of hours, but your bartering skills will come into play here.
You can fit two people onto a kayak and split the cost to save yourself some money. It takes around 20 minutes to paddle to out, depending on the tide levels. And it's perfectly safe. To get to the Monkey Beach you don't need to leave the main bay so the sea is usually very calm. As you approach the mouth of the bay, pull a left turn and you'll pull up onto the Monkey Beach. But when renting your kayak the guys on the beach will point out to you which direction to head in.
As soon as you pull up onto the beach the monkeys will come down to greet you, give you a quick pat-down and check for any snacks you might be trying to hide! Most kayaks will have a covered storage area so make sure to stash your water bottles and snacks before you arrive.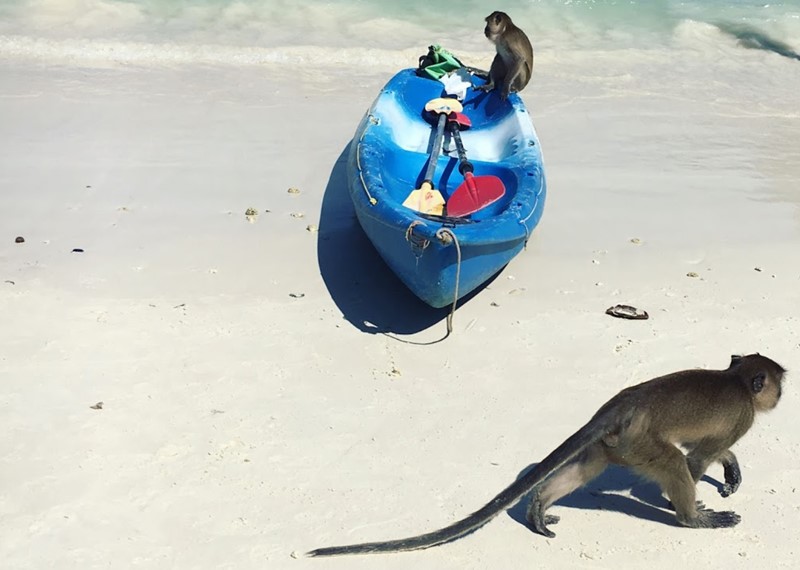 Can You Walk To Monkey Beach Phi Phi
No, you can't walk to either of the monkey beaches. They are both secluded and cut off from the main island and there are no hiking trails to get there.
However, at low tides, the sea goes right out. If you pick the right time and don't mind scrambling over rocks you can actually walk along the coast of Loh Dalum bay to get to the bigger Monkey Beach. I tried it, and I wouldn't recommend that you do. Here's why; the walk is no fun. You'll find yourself scrambling over sharp rocks to get there, and once you make it there you'll need to come straight back. You won't have much time that you can spend there, because once the tide comes back in, you'll find yourself trapped.
I would recommend renting yourself a kayak and you'll have much more fun.
Can You Swim With Monkeys In Phi Phi Island
Yes, Monkey Beach is one of the few places in Thailand where you can swim with the Monkeys. You'll find them hanging out on the beach and occasionally swimming in the sea.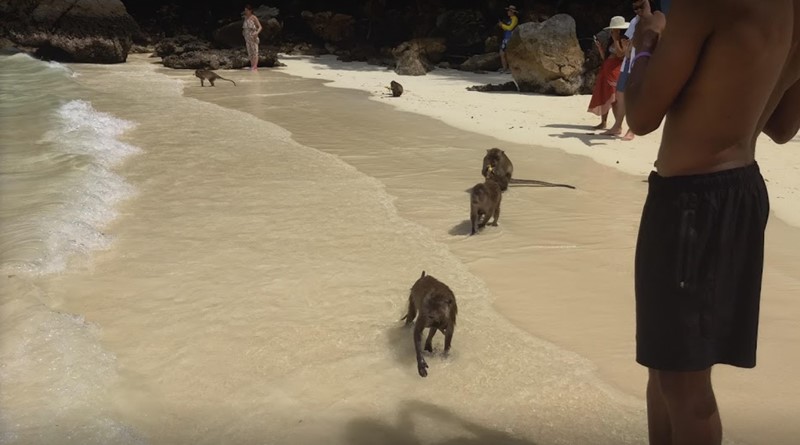 Is Monkey Beach Phi Phi Safe
Monkey Beach is safe, for those that have some common sense. But you have to keep in mind that these are wild animals you're meeting. And with any wild animals or animals in general, you should always take precautions.
I had heard stories of tourists being bitten by the monkeys, and it does happen. But every story I was told, by tour guides and other travellers I met all had one thing in common. Food.
The Monkeys in Phi Phi Island have unfortunately become 'domesticated'. Because so many tourists have been feeding them over the years, they have basically lost the need to forage for their own foods. You won't see them plucking crabs off the rocks anymore, they now look at tourists as their source of food instead. So when someone visits the beach and decides it would be a great spot to tuck into a box of fried rice- the monkeys will take it. And if you put up a fight, you will get bitten.
If you find yourself in this position, you're best off giving up whatever food and drinks the monkeys are after. But better yet, don't bring any food or drinks onto the beaches, to begin with.
I haven't heard any stories about monkeys biting any one unless they were provoked, by not handing over the bounty.
Monkey Beach Thailand Attack
I didn't think I would witness an attack at Monkey Beach, but, boy, was I wrong. I should say that vising the Monkey beach drunk wasn't the greatest idea for this girl.
British, mid-twenties, and part of a boat party that arrived on the Monkey Beach. We had been chilling here for a couple of hours and hadn't had any problems. Now I probably shouldn't admit this, but it was amusing to watch. You could almost sense something was about to go down.
This traveller had seen a baby monkey, clinging to its mother chest. And decided it would be a great idea to take this infant monkey from its mother, for a selfie. Needless to say, that didn't end well.
So like I said, the Monkey beach is safe. But if you act like an ass then you might end up getting bitten.
What To Do If You're Bitten By A Monkey In Phi Phi Island
Most monkey bites are not serious and you probably won't need stitches or anything like that. But the monkeys can carry rabies, so you'll need to deal with that. The medical centres on Phi Phi Island are used to dealing with Monkey bites and I can guarantee you won't be the first case they've dealt with.
So get yourself back onto the mainland as soon as possible, head to the medical centre and let them know what has happened. They'll rinse out the would, bandage you up and give you a tetanus shot. They should also check your other vaccines are up to date and then you'll be good to go.
You should be in and out of the clinic within 30 minutes to an hour, and you'll get a bill for around 1,000 Baht. You could go through your travel insurance, but for such a small bill it is often easier to settle up in cash.
So that's it, Monkey Beach can be dangerous for some people. But don't let that put you off from visiting. It's an epic spot to hang out, and it isn't every day you can meet these cool monkeys, especially not on a beautiful beach as you'd find in Koh Phi Phi. So as long as you have some common sense, don't provoke or entice the monkeys. It is completely safe.