Thailand is a hot and humid country and it won't take long until you find yourself running short of clean clothes, and needing to put on a load of laundry. Most people tend to stay in Thailand for a full month. There is no way you'd want to pack 30 outfits and lug a massive suitcase around the country. So figuring out how to do laundry on the road early on is essential.
There is so much to do and see in Thailand and nobody wants to spend their time on vacation doing chores. Luckily, you don't have to.
Laundry in Thailand is affordable, quick and hassle-free. There are serviced laundry shops on almost every corner where you can pay to have your clothes washed. While you're out making the most of your time on vacation. Turnaround times at laundry shops can be as little as a few hours and can cost as little as $1 per kilogram.
In this post, you'll learn how the laundry service works in Thailand, how long it takes, how much it costs, how to find a laundry shop and what other options you have to wash your clothes in Thailand.
But before we do. If it's your first time in Thailand don't miss these top tips for getting around the country:
Ok back to laundry services. Let's start by taking a look at how and where can you get your clothes washed- There are 5 choices on how to get your clothes washed in Thailand, these are:
Serviced Laundry Shop (Most Popular)
Hotel Laundry Service
Self Service Laundry Shop Or Street Machines
The 'Uber' of Laundry
Wash Your Clothes Yourself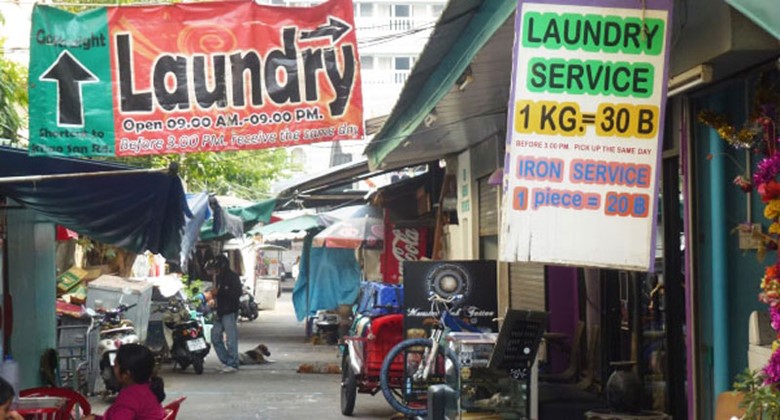 How Much Does Laundry Service Cost In Thailand
Laundry service in Thailand is cheap. If you drop off your clothes at a serviced laundry shop you will pay per kilo. The average price per kilo is 30 – 40 Baht ($1 – $1,25) in the northern regions, and 50 – 60 Baht ($1,50 – $1,75) in the south. This price includes having your clothes washed, dried and folded. Some shops might include ironing, but it is not usually standard and often costs extra.
The mistake that some people make is getting laundry done at the hotel. While it might be a little more convenient, it is the most expensive way to get clothes washed in Thailand. Hotels will charge for each item rather than per kilo. You might find yourself paying 100 Baht ($3) for each t-shirt. When you could get 2 kilos washed for the same price at a laundry shop.
For reference 1 Kilo of laundry is equal to around 4 or 5 t-shirts.
Serviced Laundry Shop In Thailand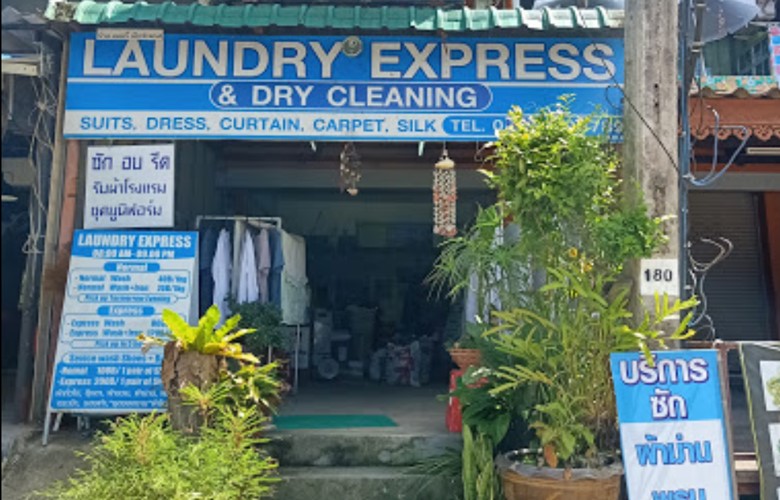 The most common place to get clothes washed in Thailand is at a serviced laundry shop, these shops are scattered all over the country they're are cheap, quick, accessible and you'll have no trouble finding one in the touristic areas. In fact, I would be willing to bet there is one within 100 meters of any hotel in Bangkok, Phuket or Chiang Mai.
You'll recognise these serviced laundry shops by the signs hanging out front. They'll normally read 'Laundry' with a price listed underneath.
How Does Laundry Service Work At A Serviced Laundry Shop
Keep your eyes peeled when you're walking around in a new place and try to find the closest laundry shop to you. You can also ask at the front desk of your hotel and the staff can point you in the right direction.
Once you have figured out which laundry shop is closest to you, bring your clothes in a bag to drop them off. If you don't have a laundry bag, pop into the laundry shop beforehand and they'll usually have one spare that they can give you.
It is useful to pack your own laundry bag and it helps in keeping your clean clothes and unwashed clothes separate in your backpack.
I brought my laundry net from Amazon and it is one of the most useful items in my backpack you can take a look at the laundry bag I use, here.
When you drop your clothes at the laundry shop the staff will give you a receipt which you'll need to bring to collect your laundry and they will agree a time to collect.
Here are a couple of tips for using a serviced laundry shop:
You don't need to separate whites and colours, the shops will do this for you.
If you've brought any new clothes in Thailand, from the markets- there is a high chance it will shrink on the first wash. This isn't the fault of the laundry shop, it happens to most clothes sold at Thai markets.
You should count how many items you drop off and how many items are there when you collect. It is not uncommon to find something missing and something extra. If you notice something is missing on the spot there is a greater chance of locating it.
How Much Does Laundry Cost At A Serviced Shop And How Long Does It Take
Laundry shops are the cheapest places to get your clothes washed in Thailand. You'll pay per kilo rather than per item. The cost is between 30 – 60 Baht per kilo. But the cost will depend on where you are in the country.
The standard turn around time is 24 hours, but most shops offer an express option. It is usually double price or around 100 Baht per kilo but you'll get your clothes back around 4 hours later.
Ironing will usually cost an extra 20 Baht per item, but not all shops offer this service. And most of the time it isn't needed.
Alternative Options To Clothes Laundered In Thailand
While a serviced laundry shop is the most common method. There are some alternative options. Let's take a look at the other option you have to get clothes washed in Thailand.
Hotel Laundry Service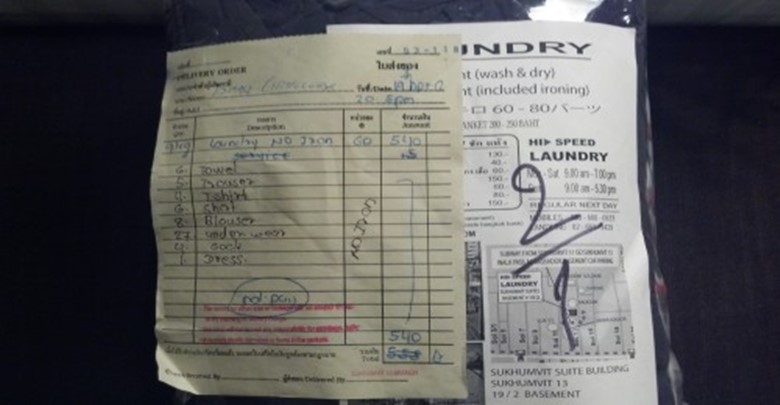 The cost of laundry in hotels is much more expensive and you'll be charged per item, rather per kilogram. Hotels will provide you with a laundry bag and you'll need to mark on the bag the number of each item.
Typical prices for hotel laundry service in Thailand
| | |
| --- | --- |
| Item | Price |
| T-Shirt | 100 Baht |
| Shorts | 75 Baht |
| Trousers | 150 Baht |
| Underwear | 75 Baht |
| Socks | 30 Baht |
| Towel | 200 Baht |
| | |
As you can see, using a hotels laundry service can add up quickly, although you could argue that it is more convenient. Hotel laundry usually takes around 24 hours.
Use A Coin Operated Laundromat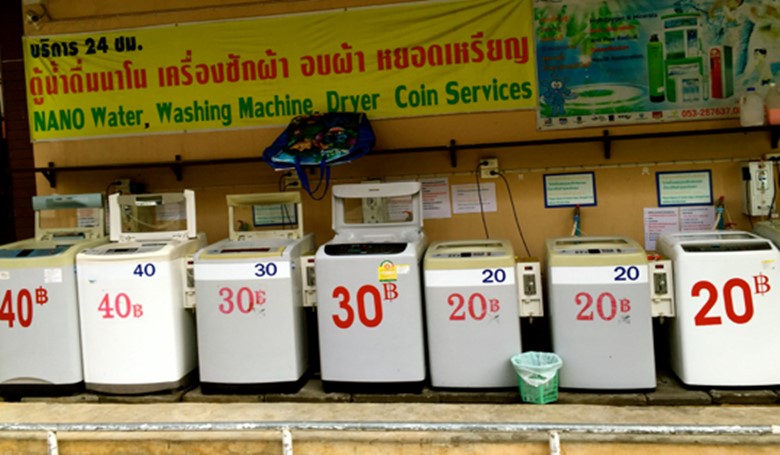 Coin-operated washers and dryers are often scattered around Thailand in busier areas. Some machines are on the streets, others outside shops and there are even some dedicated laundromats with machines to use.
It is more cost-effective and usually costs 30 Baht to use a machine. But you can wash your whole load of laundry for a fixed amount. If you have 5 kilos, you'll still pay just 30 Baht.
But the downside is this takes time out of your day, and when laundry shops are cheap anyway. You likely don't want to spend a few hours of your vacation washing your own clothes.
'Uber' Wash Your Clothes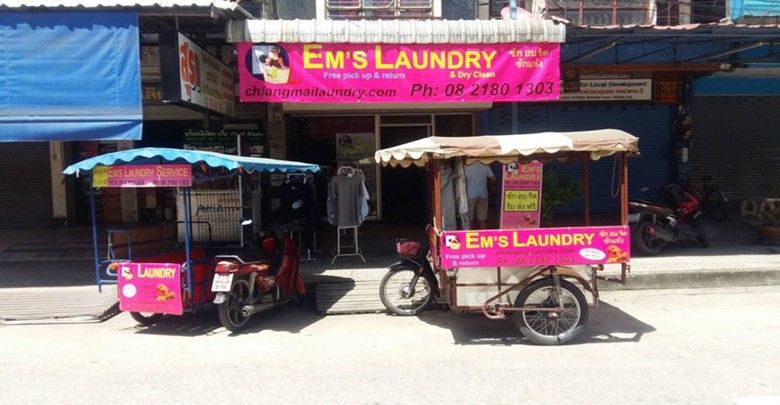 It's 2023 and established laundry shops are creeping into the digital age. You can download an app or visit the website of a virtual laundry shop.
Laundry shops are launching their own websites where you can create an order online and a driver will be dispatched to collect your washing. They'll bring it back to their laundry shop to be washed and then drop it off back at your hotel washed and folded the next day.
It is a convenient system which saves you looking for a nearby shop and taking your laundry there yourself.
There is no markup on the cost and on average you'll still pay just 50 Baht per kilogram with free collection and drop-off.
If you are staying in Bangkok here is a list of the most popular virtual laundry shops. Or in Chiang Mai Emma's is the go-to online laundry shop.
Wash Your Own Clothes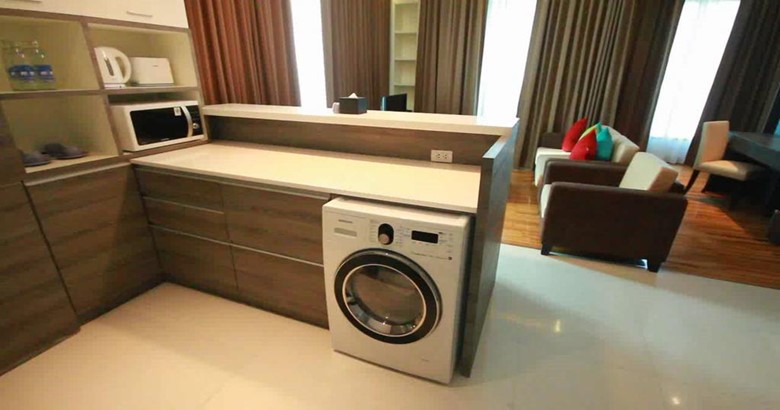 For the backpacker looking to cut costs wherever possible and stay on the road longer washing your own clothes costs next to nothing. You can pick up laundry detergent from supermarkets for less than $1 fill up your sink with warm water and get to work.
It doesn't take long for clothes to dry in Thailand. The heat and humidity help to dry clothes fast and free. Most hotels have a balcony where you can hang clothes to dry.
If you are renting a condo or apartment in Thailand you will often find the room already has a laundry machine on the balcony.
I'll be perfectly honest here and say that I have stayed in countless condo's and apartments which included a washing machine. But I have never used them. The low prices and convince of the Thailand laundry shop has always been the best option for me.
After all, why would I want to spend time washing my clothes in my room, when instead I could be hanging out on a beautiful beach!