Camping in Thailand has never really caught on and I have often wondered why, I've put it down to dorm rooms, hostels and guesthouses costing so little that there is no real reason to camp.
Only there is, Thailand does have some beautiful campsites and there is no better feeling than waking up, unzipping your tent and remembering you're sleeping in a National Park, on the top of a mountain, or on a beach, next to the ocean.
One of my favourite places to camp in Thailand was on the southern island of Koh Adang, there are just a handful of tourists who visit this island each year and construction on the island is prohibited, meaning no swanky hotels or resorts. Asides from a few national park huts, camping on the island is the best option. And yes you can sleep right on the beachfront.
You can read my full guide and learn more about Koh Adang Island and how you too can visit here.
Now in Koh Adang you don't need to buy your own camping gear, which makes its a good place for backpackers to camp. You can rent gear when you arrive on the island. But there are many spots in Thailand where you can camp, but you'll need to bring your own gear. Another of my favourite camping spots was in the mountains on the Thailand/Myanmar border in the town of Suan Phueng.
So if you wanted to camp here, you'll need to purchase some camping gear. In this post, I'm going to share with you where to buy camping gear in Thailand.
What Camping Gear Should I Buy
That depends on how you plan to get around the country, if you planned to rent a car or an RV and drive around Thailand on your own then you'll have a lot more flexibility than someone who is navigating Thailand on public transport, shared minivans an taxis. I fall into the second category, so I like to stick with the basics.
Tent
Essential for setting up camp, a one man tent works just fine and the small the better.
Sleeping Mats
Without a sleeping mat, you'll have a rough nights sleep. Finding the balance between comfort and thickness is key.
Pillows & Sleeping Bags
These aren't essentials and are not something I'd use myself. I use a rolled-up jumper or my backpack itself as a pillow. And wear a thin pair of pants during the night. Thailand is a hot country, even at night so you don't have to worry about freezing in your sleep.
Buying Camping Gear In Thailand Online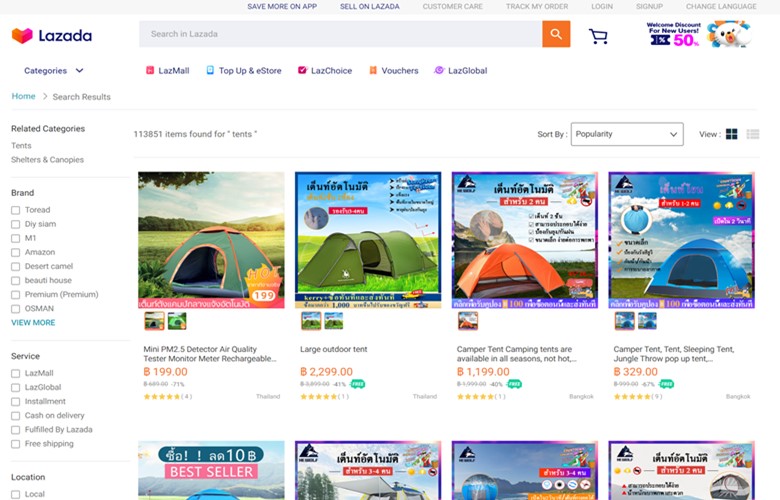 Shopping online in Thailand might not be suitable for everyone as it relies on you having a fixed address for shipping so you will need to hang around in the same spot for a little while. Another downside is that you cannot inspect the quality of the items you're buying before they arrive.
But buying camping gear online is one of the cheapest options. Lazada is Thailand's answer to eCommerce and online shopping. Similar to Amazon you'll find almost any product you can imagine listed here and the website is available in English alongside Thai to make it easy to use.
Here is a link to the camping section on Lazada, in English.
You can browse through all the products to find what you need. But before you order make sure to check items are being shipped from Thailand and not China, as delivery will take much longer. The location of the item will be listed in the description.
And here is the crazy thing about online shopping in Thailand, you don't need to pay for the items until they arrive, and you pay the delivery guy in cash. Now, this system would be abused in Europe and the USA. I mean I even ordered my new iPhone from Lazada, and you guessed it, I paid in cash when it arrived. I guess it goes to show the honesty and integrity of the Thai people.
Buying Camping Gear In Person
Buying camping gear in person is usually the easiest choice for most people you can see the items in the flesh check the quality is up to your standard and you can buy ten and there without having to wait for a shipment to arrive.
But camping shops in Thailand are scarce so you'll want to get yourself into Bangkok, the capital city to find camping gear.
Here are the best places in Bangkok to buy camping gear:
#1 Equinox Shop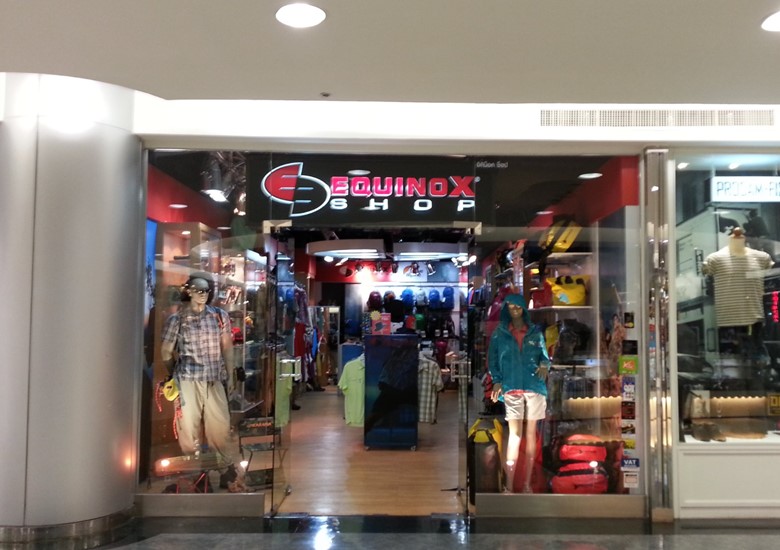 This shop is the go to spot in Bangkok to buy camping gear, it isn't the cheapest by any means but it does stock a huge range of gear all in one convenient store.
The Equinox shop is on the second floor of the Amarin Plaza, it is part of the 'outdoors world' which is built up of 8 stores all focused around the outdoor market, you'll find everything you need for camping here and even gear for rock climbing, scuba diving and cycling. For an outdoors enthusiast, you'll love it here.
#2 Trekking Corner
Trekking corner is another store in Bangkok where you can buy quality camping gear, they have a wide range of branded gear to choose from and you can browse the products on their website before you go (link here).
The store is located in the JJ Mall, located on the ground floor. There are a few other shops across the ground floor and first floors that stock camping gear, including a colemans.
The JJ mall is located right next door to the Chatuchak Market, the biggest outdoor market in Thailand. So while I haven't looked for camping gear at the Chatuchak market myself, I'd be willing to bet you'll be able to find some gear for sale there. The market is open on weekends, but the JJ Mall is open 7 days a week.
Trekking Corner on Facebook and contact details.
#3 Thailand Outdoor Shop
The Thailand Outdoor Shop is another place to pick up camping gear in Bangkok, but it's a little out of the way and there isn't much public transport to get there. But it's worth popping in to. You can check the products they stock on their Facebook page to make sure you don't have a wasted trip.
Don't forget to check at the Big C for camping gear. Big C is a chain of supermarkets and you'll find them all over Thailand, with plenty located in Bangkok. They are Thailand's answer to Walmart and you might be surprised to find that they stock gear you'd want at a low price. You might also have some luck in the bigger of the Tesco stores.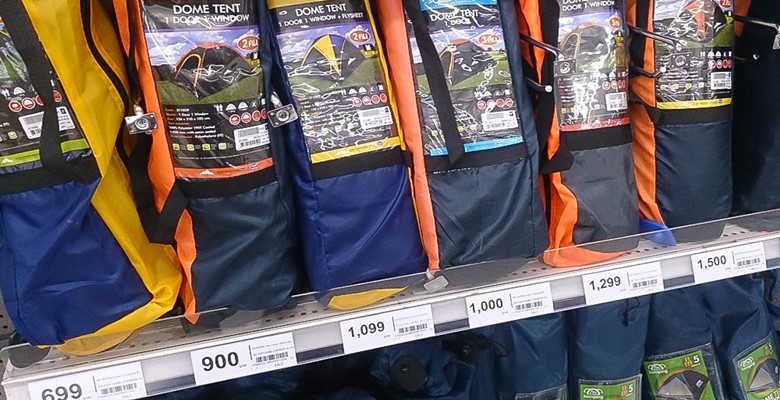 Buy Second Hand Camping Gear In Thailand
Another option you have to buy camping gear in Thailand is to pick up some second-hand gear, most people will be happy to find someone to sell or even give their gear to at the end of a trip. You might get lucky and run into someone in a hostel who is looking to get rid of some gear, but if the Facebook Marketplace is the best place to stat hunting and it shouldn't take long to find a seller that has camping gear for sale, (Here is a link).
If you want to read more about the best campsites in Thailand, then you can find more information here. My personal favourites are in Suan Phueng and Koh Adang. Have you camped at either of these sites? Let me know in the comments below.