Pai Canyon is one of the greatest natural attractions in Thailand. It has incredible scenery and epic 360° views over rural, northern Thailand. Pai Canyon is a must-do for any traveller and an awesome spot to catch a sunset from.
The Pai Canyon is a free attraction, which is a little strange for Thailand, as most natural attractions have admission costs, so I'd expect this to change soon. But for now, it's free, there is however some market stalls at the bottom of the trail from where locals earn an income and you can buy cool drinks, bottled water and refreshments.
Adventurous travellers can scramble over the skinny ridges in the canyon to explore further. But there is a viewpoint at the top of the stairs (5-minute walk) where you can catch the sunset without needing to actually hike through the canyon. This is where most visitors tend to gather.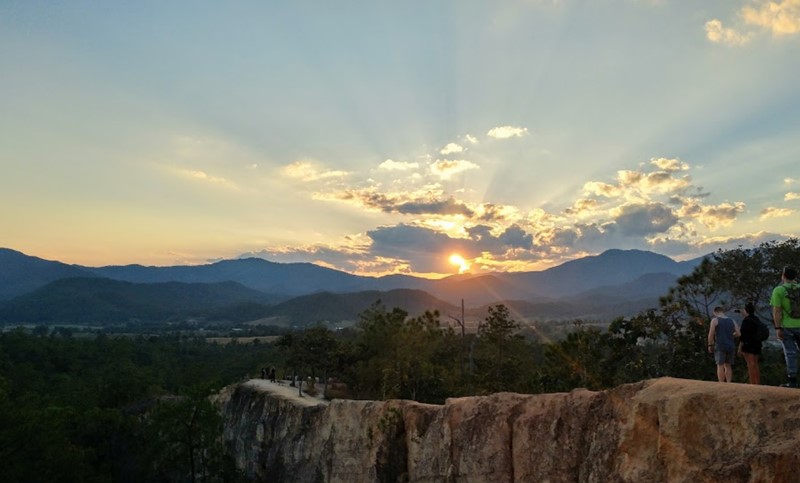 The Pai Canyon might sound like the type of place you could spend hours exploring and hiking through. But the name proves to be a little misleading. It isn't the 'Grand Canyon' that tour agencies will claim it is, it's much more modest. You can look down over the entire site from the top of stairs. But despite the canyons small size its defiantly a spot worth checking out.
There is one hiking trail which loops around the Pai Canyon, but a little word of warning – hiking here isn't for the faint-hearted. The ridges are thin, narrow and dusty. And on either side you face a 30-foot sheer drop, needless to say, it can be a bit sketchy. In most western countries you'd no doubt found a beautiful place like this fenced off and covered in 'no entry signs'.
But in Thailand, you are responsibly for your own health and safety. So make sure to stay within your limits, only hike as far as you feel comfortable going and wearing a decent pair of sneakers will certainly help.
Getting to the Pai Canyon is straightforward and it's nearby to most hostels in Pai, so keep on reading my guide to the Pai Canyon, to find out how you can get here and everything else you need to know before you go.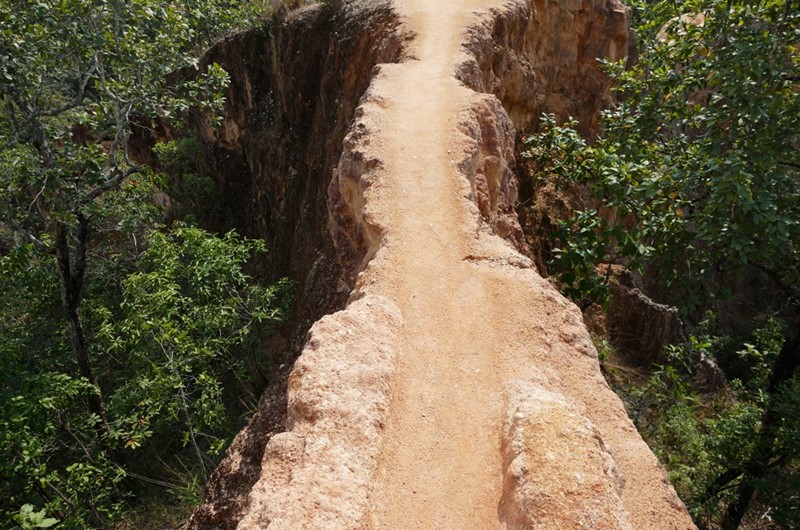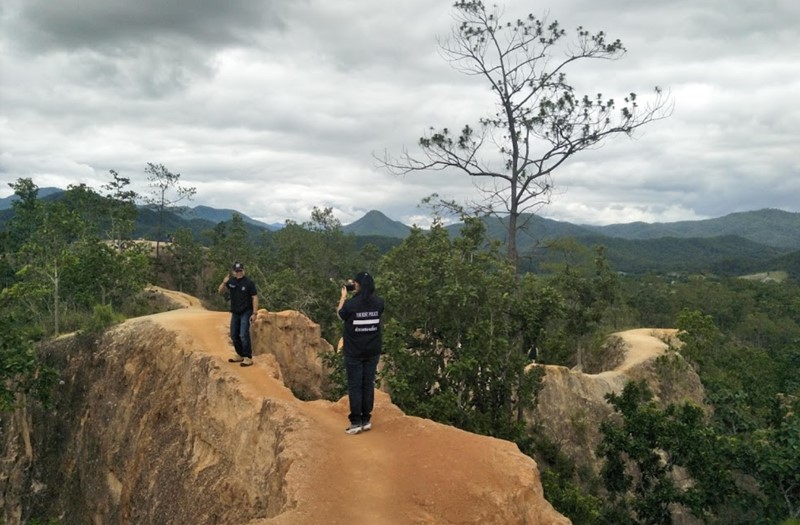 Unsurprisingly, the Pai Canyon is another place which Nomadic Matt considers hell.
How To Get To The Pai Canyon
Where Is The Pai Canyon
Obviously, the Pai Canyon, is in Pai. It isn't too far outside the main village or around 8 kilometres away, depending on where you are staying. You could even make a trip here from Chiang Mai, but to get the full experience you'd want to stay for at least one or two nights in Pai.
The most popular method to get to the Pai Canyon is to rent a scooter and drive there yourself. This is the most common method of transport for getting around Pai in general. Scooter rental in Pai is cheap, the cheapest I have personally seen in Thailand. You can rent a scooter here for under 150 Baht ($3 USD) per day. And there are hundreds of rental shops to choose from.
Alternatively, most of the guesthouses and hostels in Pai have their own scooter rental service which can be more convenient sometimes, but at the cost of convenience, you might find it a little more expensive.
And don't worry if you're not confident riding a scooter (Pai is a great place to learn), but I'll also cover some other methods of how you can get to the Pai Canyon.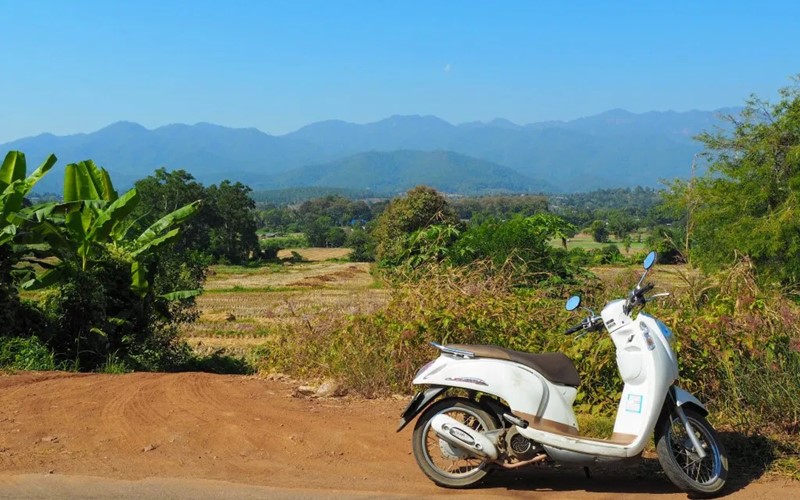 The Pai Canyon is around an 8-kilometre drive from the main village, it's an easy and chilled ride that takes 15 minutes or so. And there are some other attractions nearby which you can check out on-route, like the Pembok Waterfalls. And a few restaurants along the roadside if you find yourself feeling peckish.
You'll be best off, loading up a maps app on your phone to navigate there, but there is basically one road. You can't get lost. Just follow the 1095 highway for 8 km until you see the turnoff on the main road. There is a big brown sign indicating the turnoff, you can't miss it. Then follow the track and it will lead you into the car park at the bottom of the Pai Canyon. If you get to the memorial bridge, turn around. You've gone too far.
To get to the Pai Canyon itself, park up the bikes and climb the paved staircase. It's a 5 – 10-minute walk which will lead out, onto the viewing platform. You get the best sunset view here and it is where most people tend to congregate.
What if you are not comfortable riding a scooter? The alternative to riding a scooter is to find a red-car driver (songthaew) to get there and back, you'll find yourself paying about 500 Baht for this service so teaming up with a few other people can reduce the cost per person. Make sure to negotiate a price with the driver before you set off. Or you can make a day from it and join a Pai Canyon Tour.
Tour Of The Pai Canyon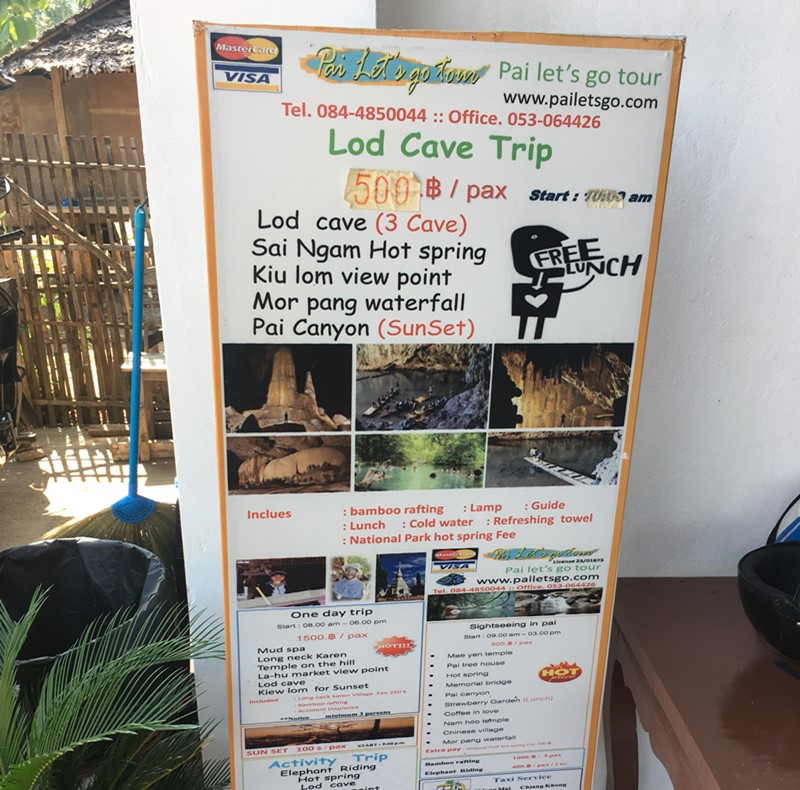 For those that aren't comfortable riding a scooter or want to see all the Pai attractions in a day, booking onto a tour is great value for money. And it is, in fact, how I went to see the Pai Canyon on my first visit to Pai.
I booked the Pai Canyon tour through the hostel I stayed at "the Famous Pai Circus Hostel", most travellers love the place. I thought it was a f*****g joke, honestly, it was the worst hotel I'd stayed at in Thailand Asia. But that's a story for another post.
The tour cost 500 Baht a person and it was your typical Thailand tour. You get lunch included, a bottle of water and a random cold town at some point during the afternoon.
It wasn't much of a guided tour but rather it was more of a transport service where you're dropped off at one attraction and left to your own devices for an hour or so, before being herded back into the van, and on to the next attraction.
The tour driver picked us up in the morning, about 10'oclock, so not too early, and we were out and about in Pai until after the sunset at the Pai Canyon.
Places we visited on the Pai Canyon Tour:
The Lod Caves – (We stopped for here for a session of Bamboo rafting, and cave exploration. The rafting cost was included in the price making the tour really good value for money).
Sai Ngam Hot Springs (The hot spring entry fee was also included in the tour cost, which is usually 300 Baht alone).
Kiu Lom Viewpoint
Mor Pang Waterfall
Pai Canyon (For Sunset)
The main reason I had booked on the tour, was to see the Pai Canyon, which is the last stop of the day. We arrived there around about 5 PM, had an hour or so to explore before sunset and then had transport back to the hostel after dark.
The company that operated the tour was called Pai Let's Go, when I checked their website in 2023, it looks like they have increased the tour cost from 500 Baht, to 750 Baht. But I'd still recommend them and the staff were all fun and pleasant to spend the day with. You might be able to get the tour at a cheaper cost if you visit them in person.
However, the tour company does still offer Elephant Riding on some of their itineraries, which is not something I agree with and is something to be aware of if you do book a tour through them.
But overall taking a tour of Pai and the Pai Canyon is an inexpensive way to see some of the most popular Pai attractions in one day. The entrance fees, lunch and transportation is all included which makes it great value for money. And if you aren't comfortable riding a scooter or just want someone else to take over the planning it will be a fantastic option for you.
What You Should Know Before You Visit
Going for the sunset? – Get there early to secure a good spot, it gets busy.
The Pai Canyon isn't as big as you'd image, but don't let that put you off visiting.
Some sections of the Pai Canyon are nerve-wrecking. Wear decent sneakers, and stay safe.
The Pai Canyon has very narrow sections with steep drops.
If you are afraid of heights you can still get an incredible view from the top viewpoint.
There are small pop up shops in the parking lot, where you can buy refreshments, food and drinks.
There isn't much shade at the Pai Canyon so bring a hat and plenty of sunscreen if you burn easily.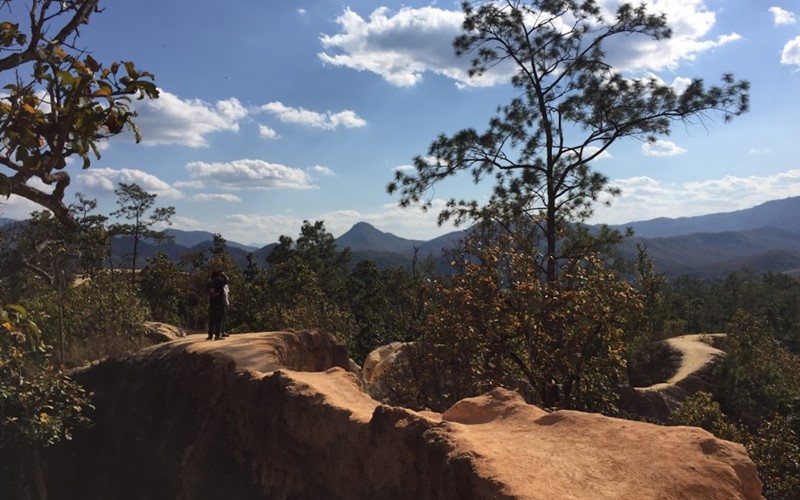 When Is The Best Time To Visit The Pai Canyon
Pai Canyon at Sunrise
The best time to go to the Pai Canyon is undoubtedly in the morning. Early in the morning, before sunrise, very few others will have enough discipline to drag themselves out of bed before sunrise.
You will need to hire a scooter the day before in preparation.
Setting off at 6:00 am you'll find the Pai Canyon almost deserted, and it makes the place feel so much more special. You'll have great lighting for your photos and benefit from cooler air temperature. Getting here as early as possible is the best time, but you'll have to make it to the Pai Canyon before 10:00 am at the latest- as that's when the temperatures begin to soar. It quickly becomes sweaty and unbearable.
Pai Canyon At Midday
There are few visitors that want to visit the Pai Canyon during the daytime, largely due to the heat and lack of shade. You'll find the place empty. If you're desperate to get some shots of the Pai Canyon without so many other travellers in the background of your photos, and you can put up with the uncomforting heat. Then head there at midday.
But I'd advise to wake up early on to go to the Pai Canyon. You then have your afternoon free where you can cool off in the waterfalls or the springs.
Pai Canyon At Sunset
Sunset at the Pai Canyon is the best and worst time to visit. Everyone gets the same idea so you'll find the place packed. But on the other hand everyone is there because it is the most beautiful time of the day. The colours in the sky are phenomenal and temperatures begin to cool off.
The great thing about the Pai Canyon is that it's free to enter. So if you've rented a scooter there is nothing stopping you from going to the Pai Canyon at both sunrise and sunset. Let me know in the comments below, did you visit the Pai Canyon at Sunrise or Sunset; and which did you prefer?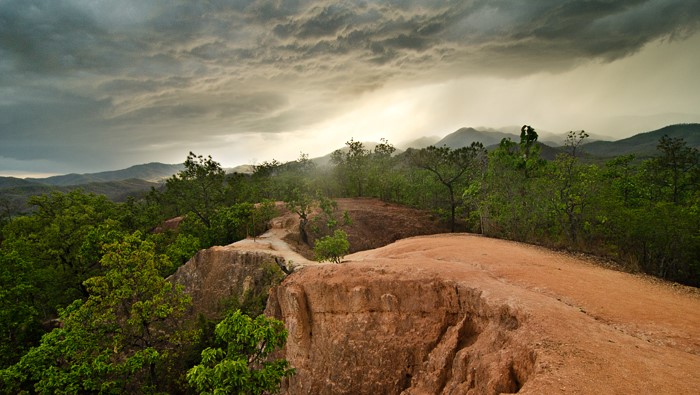 Attractions Nearby The Pai Canyon
WWII Memorial Bridge – The bridge was built over the Pai river during world war two; by the Japanese creating a path through Thailand in order to gain access into Burma. The steel bridge is a historical site just a kilometer south of the Pai Canyon. It's free to visit and worth checking out.
Sai Ngam Hot Springs – Ok, so this one isn't what I'd call 'near' to the Pai Canyon. But it's not far either. It's a 30 minute drive and a cool spot to hang out in the hot sun. It costs 300 Baht to enter the springs, so defiantly not the cheapest attraction. But you can easily find yourself spending a few hours hanging out here in the afternoon.
Pam Bok Waterfall – The Pam Bok waterfall is 20 minutes out from the Pai Canyon. You can visit here as a cheaper alternative if you are looking for a spot to cool off from the sun.
You should consider booking onto a Pai Canyon Tour if you want to visit multiple Pai attractions in a single day. Tour operators have bulk pricing deals in place with most attractions, so taking a tour will get you much better value for money than paying admission to each attraction separately.
Is The Pai Canyon Worth Visiting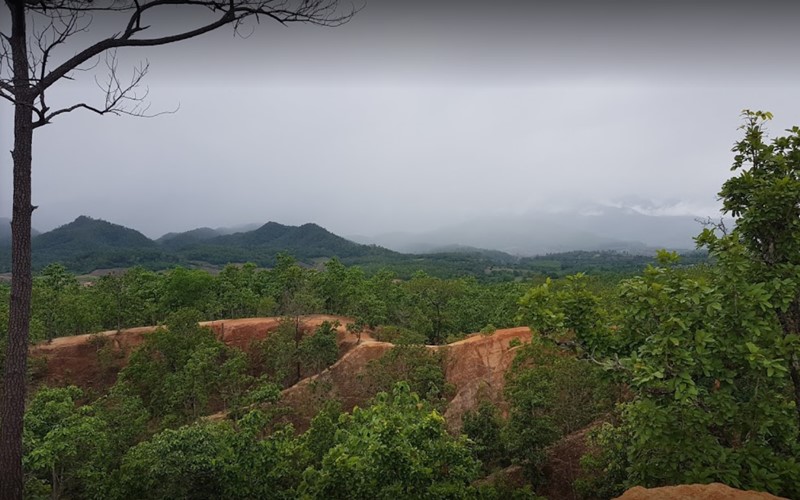 Yes, the Pai Canyon is one of the top attractions in Pai and if you've survived the 700 turns on the ride to Pai, you have to make the most of it and check out this awesome natural spot.
Yes, there are greater things to do in Thailand. And yes the Pai Canyon is actually small and modest, not as grand as you'd expect. But it's defiantly a 'nice' place.
The Pai Canyon In Photos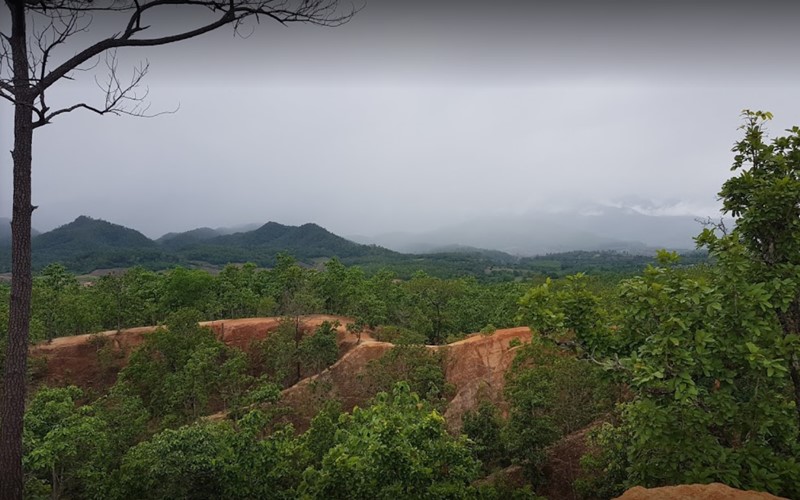 What Others Think About The Pai Canyon
Berit and Martin a couple from Germany visited the Pai Canyon is 2017, they have published a guide to the attraction on their blog, The Hungry Hungry Backpackers.
Johnny Melon visited in 2019 and has put together a resourceful guide on his blog: Jhonnymelon.com.
You can also read the feedback from other travellers here on TripAdvisor.
And don't forget to read my guide on the best things to do in Chiang Mai if you need some inspiration for fun activities to do in the region.