How to get to Long Beach on Phi Phi Island- the easy way. Long Beach on Phi Phi Island is well known for its soft white sand, incredible ocean views of Phi Phi Leh and excellent snorkelling close to the beach.
Less than 10 minutes by longtail boat from the main pier in Tonsai Bay, it's far enough from the main town that you can escape the hustle and bustle, but not so far that you can't easily get to the town to enjoy a wider selection of restaurants and bars. It's possible to walk between Long Beach and Phi Phi Don Village during daylight hours and takes less than 30 minutes. The hike is safe but involves some short jungle trails and walking over rocks so it's best not to walk the route at night or alone.
Long Beach Koh Phi Phi
Long Beach is a beautiful spot to hang out, on Phi Phi Don's Eastern coast. The beach is within walking distance from the town but remains much quieter than the islands other beaches.
Most beaches on Koh Phi Phi can only be reached by boat, long beach is an exemption. If you don't mind the jungle trek, then you can walk to long beach from tonsai village, and once there you'll be rewarded with soft white sand, clear blue sea and views of Koh Phi Phi Leh in the distance.
It's a great place to throw down your towel, lie on the beach and catch some sun. Find out my top 5 favourite beaches in Phi Phi Island here.
The walk to Long Beach is relatively easy and the trail is paved most of the way, there are some rocky sections and a short jungle trail. The walk takes less than thirty minutes from the town.
At low tides you can even walk across the bay, cutting out the rocky trails. If you don't feel up to the hike then you could instead hire a local boat captain to give you a ride.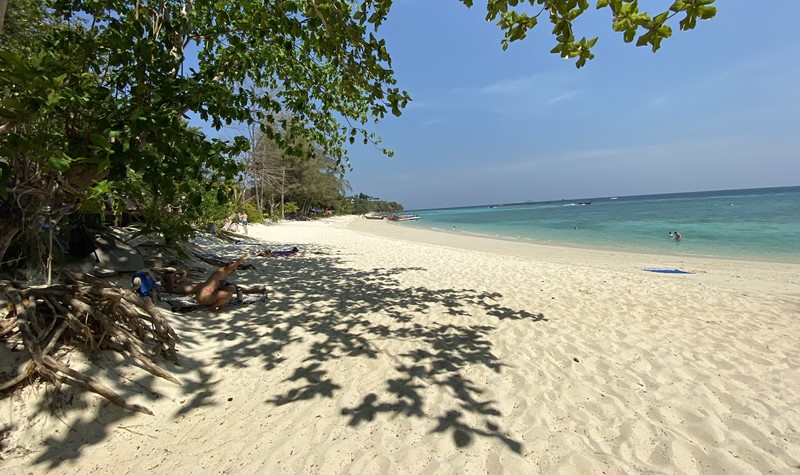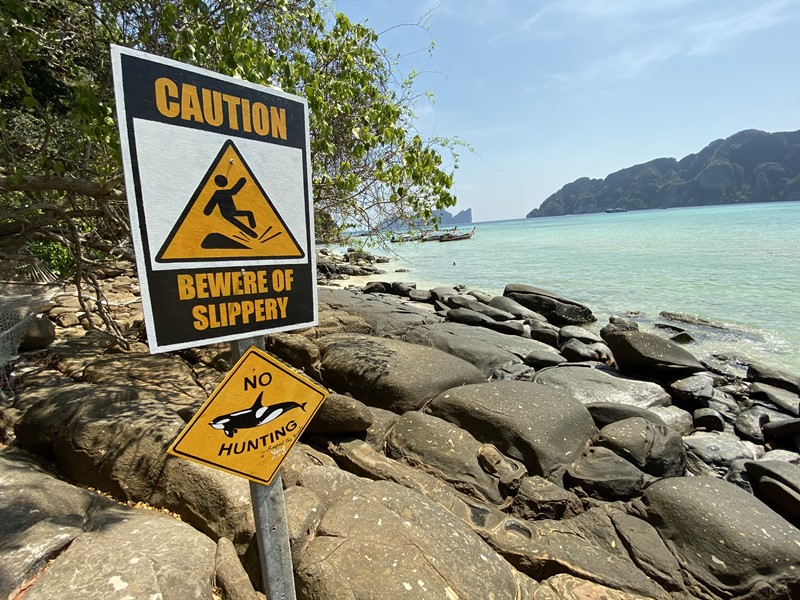 How To Get To Long Beach In Koh Phi Phi
There are a few choices travellers have to get to the Long Beach. The most popular choice, and what I would recommend is to walk there. Is free and the hike is not challenging. Keep reading to find out how you can hike to the Long Beach and what other options you have.
Walk To Long Beach
Long Beach is located around one and a half kilometres from the main town. The hike takes on average 30 minutes but if you decide to stop for a beer on the way it might take a little bit longer.
Walking to Phi Phi Don's Long Beach is the best choice for most travellers. The hike from tonsai village to Long Beach is scenic and relaxed. The trail is paved for the most part.
There are plenty of signs to guide you along the Long beach trail, so don't worry about getting lost- it's almost impossible.
The easiest way to walk to Long Beach is to first navigate your way to Carlitos Bar just on the outskirts of town. Google Maps should get you here or ask a few locals for directions.
From Carlitos Bar keep following the yellow path towards the Don Chukkit Hotel. There is a turn off once you pass by Rimlay Restaurant, (if you reach the Mosque, you've gone too far).
Turn down the path towards the Hippies Bar and from there you'll have a view of the beach.
If the tides are out then you can follow walk along the beach, but at high tides, you'll need to follow the path.
The path starts behind the Bayview Resort, on the beach. Follow the path through the Viking Nature Resort and keep going until you arrive at the top of the staircase. Long Beach is at the bottom of the stairs.
The route is signposted the entire way, and there are plenty of people you come across on the hike whom you can ask for directions if you're unsure where you're going.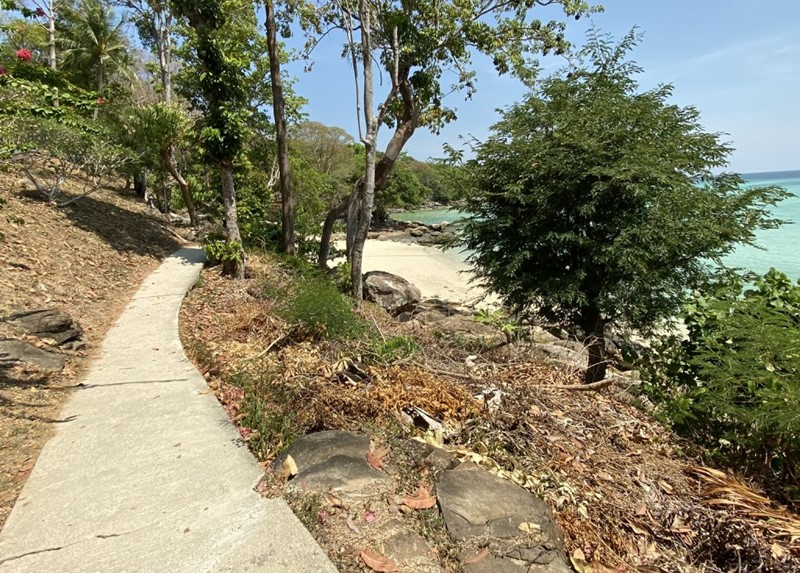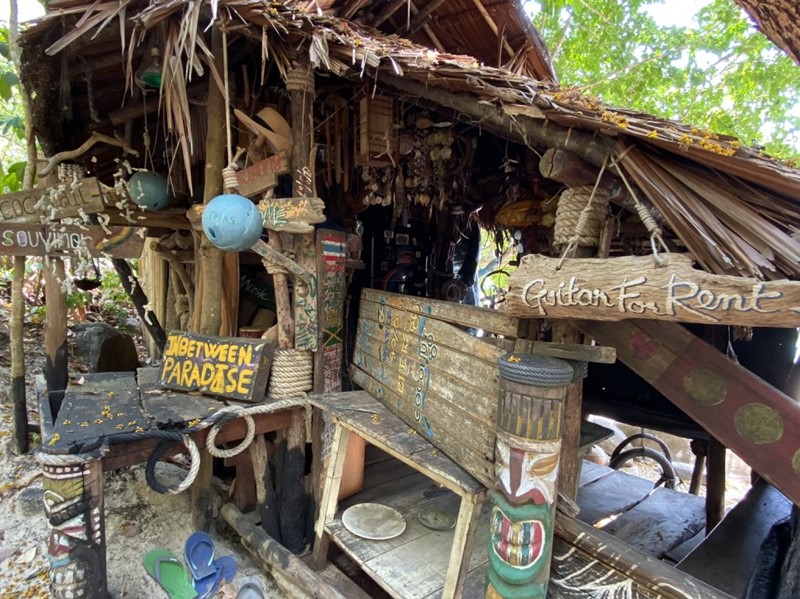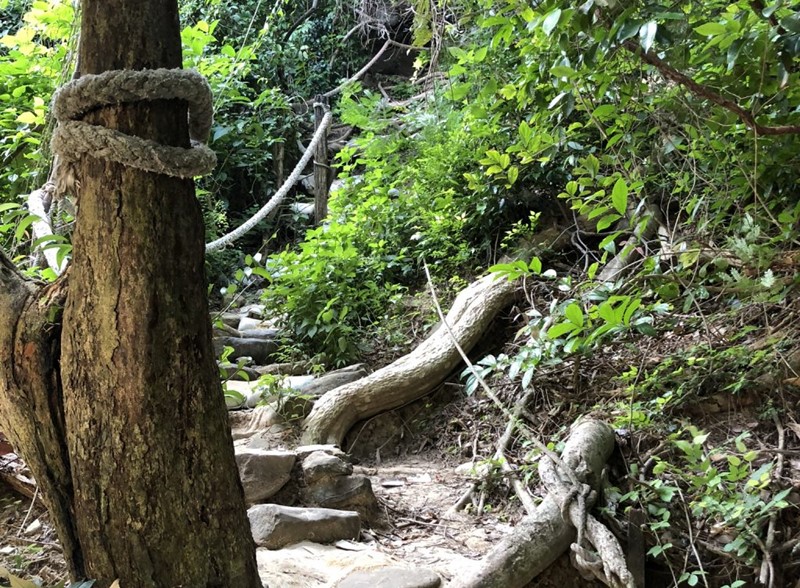 Boat To Long Beach
Walking just isn't your thing? Understandable, it's hot and there are hundreds of long-tail boats around, offering taxi journeys at affordable rates so why not take advantage?
From Tonsai Town the boat ride to Long Beach can take 10 to 15 minutes. But first, you'll need to find a taxi boat & a captain. There are plenty of choices, and you'll find a few long-tail boat stations in the town where you'll find boat captains hanging out and you can arrange your taxi on a long-tail boat to Long Beach.
Read More About Hiring a Private Longtail Boat In Phi Phi Island Here
You'll find longboat captains sitting around near to Tonsai Pier, outside the Chao Koh Restaurant, and outside the Cabana Hotel. Or head onto the beach and it shouldn't take long for someone to find you.
"Boat, Boat? Where You Go My Friend?" You'll hear as you walk around the beaches of Koh Phi Phi.
The going rate is typically 150 Baht per person for a taxi boat to Long Beach. But it also depends on how many people you're travelling with, what mood the boat captain is in, and how good your haggling skills are. For solo travellers, you'll end up paying more than 150 baht unless you can find some others to join you.
Taking a taxi-Boat from Long Beach to Phi Phi Town- it will be easier to locate a taxi-boat for the return journey. There's no need to book anything in advance. Just head over to the boat station near the centre of the Long Beach and there are boatmen waiting at all hours. But the price typically doubles after sun-down.
FIND OUT MORE ABOUT BOOKING PRIVATE LONGTAIL BOAT TOURS IN PHI PHI ISLAND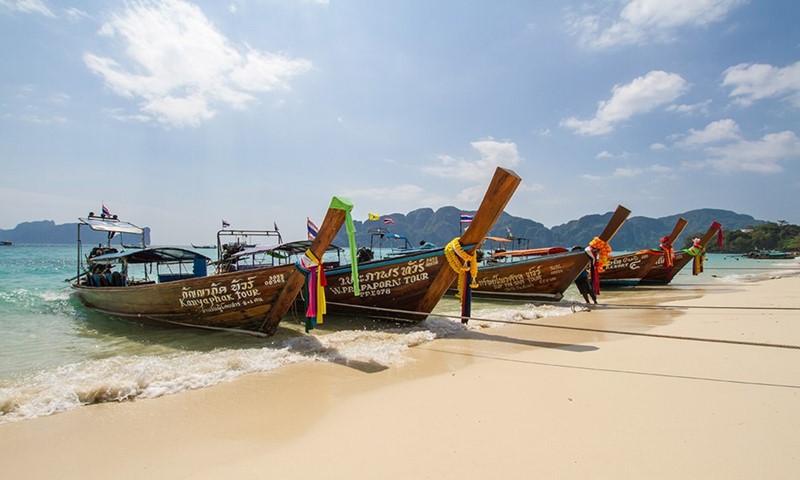 Facilities At long Beach
What should you bring on the hike to Long Beach? There is no need to bring along too much when spending a day on the long beach, you'll find facilities along the route if you're walking such as a few bars and restaurants.
And once you arrive at the long beach there are hotels lining the sand with public toilets (30 Baht), places to eat and restaurants with an ocean view. You'll find mini-marts to pick up any supplies you might need and beach chairs for rent.
Really all you need to bring along is a bottle of water, sunscreen. A towel and a book. Anything else you'll need such as food, you'll be able to buy at the Long Beach.
Long Beach Activities
Things to do at Long Beach Phi Phi. There are plenty of activities at long beach. You'll find volleyball nets set up in the sand or there are open-air Thai Massage parlours right on the beach if you want some relaxation time.
Some people will choose to rent a beach chair, while others will throw their towels down onto the beach to top up their tans. But the most popular activity at Long Beach, Phi Phi Island is snorkelling.
You don't need to book a Phi Phi Island Tour to snorkel at long beach, although some tours will incorporate a stop there. You can instead rent or buy your own mask and snorkel set and swim out into the blue clear ocean.
The Shark Point is nearby to long beach and it's a popular spot for snorkelers. Black Tip Reef Sharks are often spotted here, these docile creatures pose no threat to humans but are beautiful to see while snorkelling.
To stop at the Shark Point renting a long-tail boat or joining a Phi Phi Boat Tour is recommend, the shark point is not close to the shore and has boats frequently crossing and passing by.
Long Beach Nightlife
Long Beach is a little tamer in comparison to the likes of Loh Dalum Beach and other beach parties on Phi Phi Don. While it's not as crazy at Long Beach, you won't find yourself getting bored at night either.
What To Do At Long Beach, Phi Phi, At Night?
The hotels and resorts along here are known for putting on events, for the all-inclusive travellers. Such as live singers in the restaurants. Restaurants at Long Beach have epic views of the Andaman Sea, and views of Phi Phi Leh Island. It's the perfect place for couples to stay.
After grabbing a bite to eat, there are a number of bars along the beach front. Some of the bars often have live fire performances to entertain travellers.
You can read my full guide to nightlife on Phi Phi Island here.
Long Beach Phi Phi Snorkelling
Snorkelling at Long Beach, Phi Phi Island is one of the best places to snorkel, which you can reach on foot. Most of the more beautiful snorkelling sites around the Phi Phi Islands require hiring a boat or joining a Phi Phi Tour to get there.
Long Beach is an exception to that, you can walk here or even find accommodation at Long Beach itself. The clear-blue waters make for perfect snorkelling the sea bed is soft white sand and without straying too far from the shore, you'll have a chance of spotting beautiful marine life.
Long Beach Phi Phi Map
Hike To Loh Moo Dee Beach
Long Beach is a beautiful place to spend the day and it's a popular beach with holidaymakers in Koh Phi Phi. Being so close to the town and with hotels right on the seafront. It can sometimes get a little busy. You'll smell the sunscreen a mile away during Thailands peak season.
But if you want a beach all to yourself, Loh Moo Dee might just be the place for you. 10- 15 minutes walk from long beach, yet almost deserted in comparison. Most people wouldn't even know Loh Moo Dee beach existed.
To hike to Loh Moo Dee, you'll want to walk all the way to end of Long Beach and head inland past a few scuba schools and hotels. The uphill path will eventually flatten out and descend onto Loh Moo Dee.
The sands at Loh Moo Dee are not as soft and white as you'd find at Long Beach and the ocean isn't a nice for snorkelling. But it's quiet. You'll have some time to yourself away from the hustle and bustle of the main town.
There are no shops at Loh Moo Dee, no facilities other than a handful of sun loungers for rent. So remember to stock up on supplies such as bottled water before you leave Long Beach!
Long Beach Phi Phi Accomodation
Long Beach isn't the cheapest area to stay on Phi Phi Don. Far from it. It's one of the most expensive areas on the island. But it's not difficult to see why. The area is in high demand due to the laid back lifestyle, and perfect sea views. Resorts like the Phi Phi Long Beach Resort & Villa focus more to package holidaymakers with alcohol, entertainment and food all included in the price.
Backpackers will find themselves better off finding accommodation in the Tonsai Town where prices are significantly lower. Dorm rooms in the town can cost as low as 250 Baht for a bed each night. But places like the Phi Phi Long Beach Resort or The Phi Phi Long Beach Resort & Villa won't have any rooms at these low prices. To stay here you'll be looking at around 3,000 Baht per night.
And Phi Phi Long Beach Bungalow's don't come any cheaper either. Back in the 80's & 90's there would have been many cheap to rent beach bungalows on Phi Phi Island. But in 2020, beach bungalows are no more. The land has been taken up by larger hotel groups who can charge a premium rate for the rooms based on the location.
There are still beach bungalows to be found on Phi Phi Don, at either end of Loh Dalum Beach. But if you really want a traditional Thai bamboo bungalow right on the beach, fan only. You'll have much better luck in Koh Lanta or untouched Koh Jum Island.