Ban Rak Thai: Probably the only place in Thailand that I would actually call a 'Hidden Gem'. Well off the radar for most. In Ban Rak Thai it genuinely feels like this warm and welcoming village is a part of China. With a splash of Thai hospitality.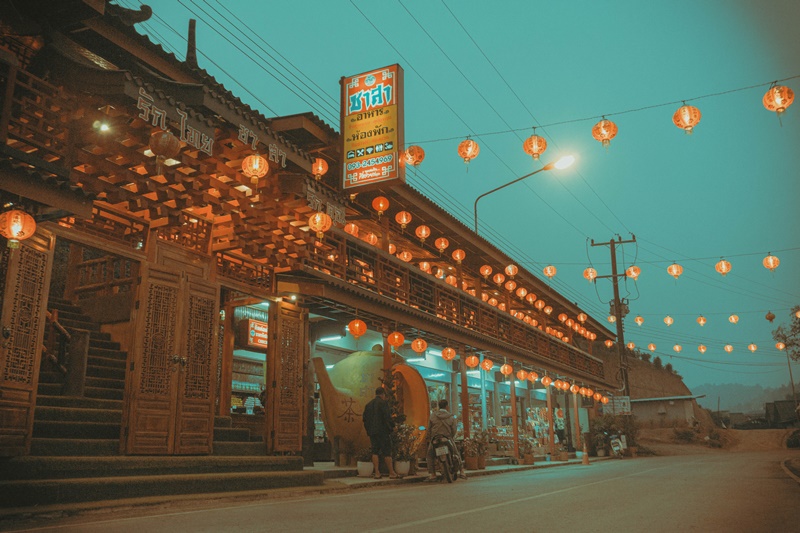 A seemingly forgotten village in the far North of Thailand. One road in, one road out. A place which has seemingly never made it into the guidebooks or into travel itineraries.
Ban Rak Thai, also called 'Mae Ow' is a charming village. It's a really unique place to experience. There isn't anywhere in Thailand that I could compare it with. Tourists don't know about this place. It's far from the overcrowded and more popular tourist destinations like the Phi Phi Islands. And it's nothing like you'd expect to find in Thailand. The people are friendly, the accommodation is charming and the food has flavours you won't find anywhere else.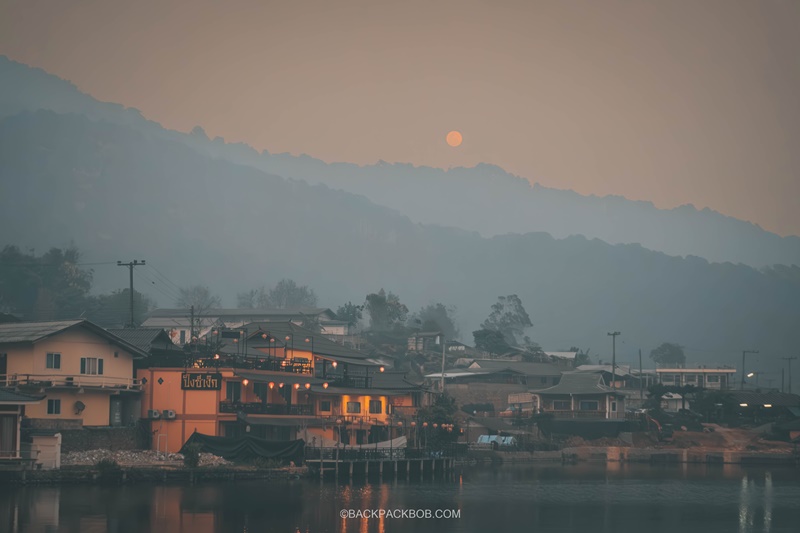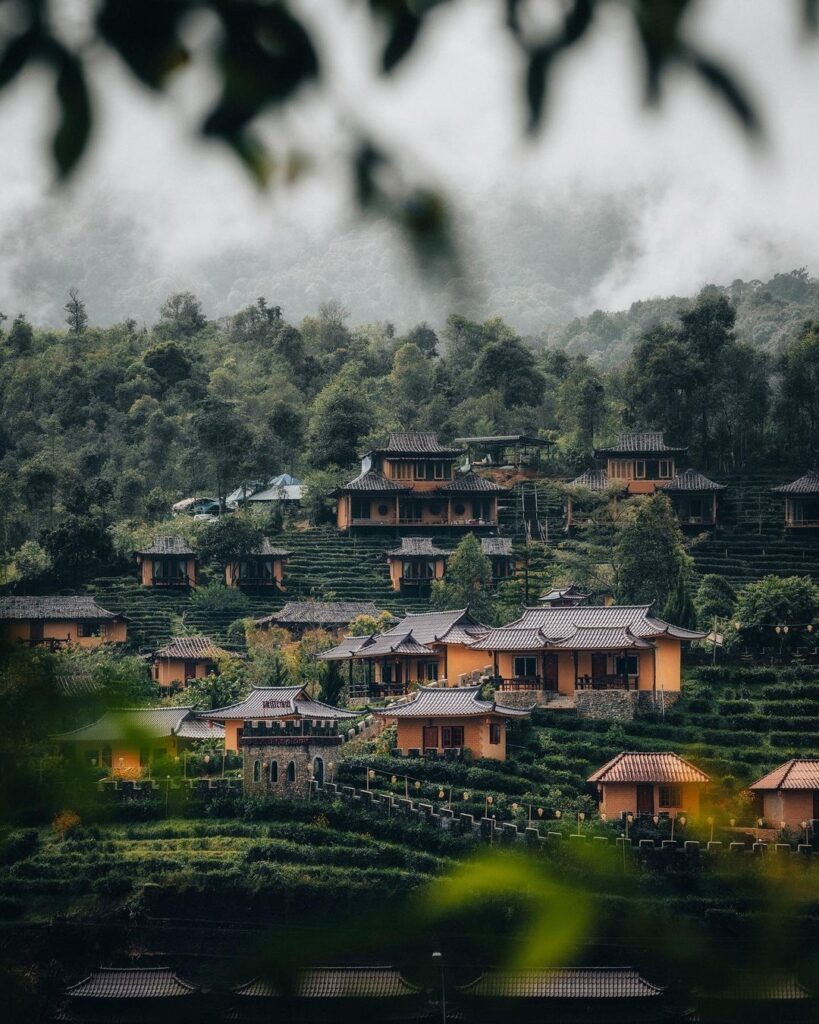 This Village is a must-visit for anyone who has the luxury of exploring Mae Hong Son And I'll share with you why in this complete guide.
What is Baan Rak Thai – Chinese Village
Ban Rak Thai is a small village situated in the jungle on the Thai – Burmese border, mostly self-governed. The name translates into English as 'The Village That Loves Thailand'.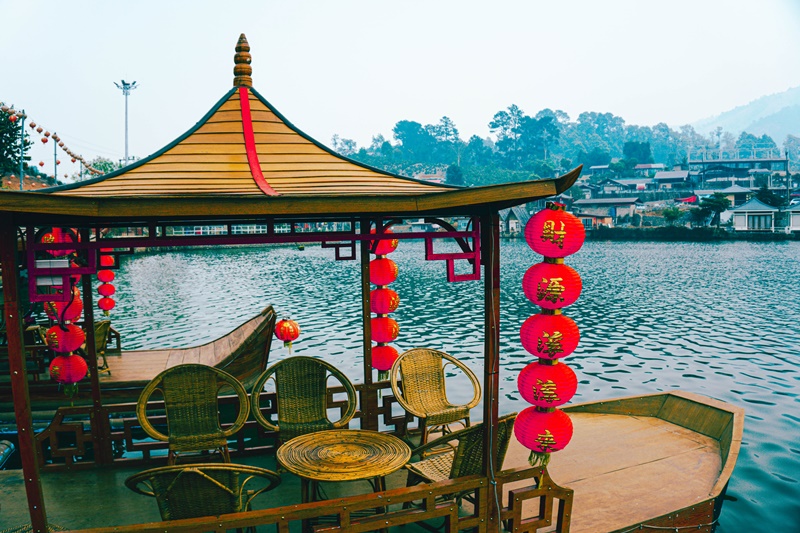 Ban Rak was established by a group of Chinese Immigrants in 1949 after they were forced to flee from Yunan because of the Chinese Revolution. The Immigrants were permitted to stay in Thailand and settled there.
The Chinese heritage in Ban Rak Thai is obvious. The immigrants who settled here brought their Chinese culture, and it shows. It doesn't even feel like you are in Thailand anymore. There are tea plantations, traditional Chinese-styled buildings, an artificial lake where morning fog forms, the entire town is decorated with red illuminating Chinese lanterns and the food is not like anything else you'll find in Thailand.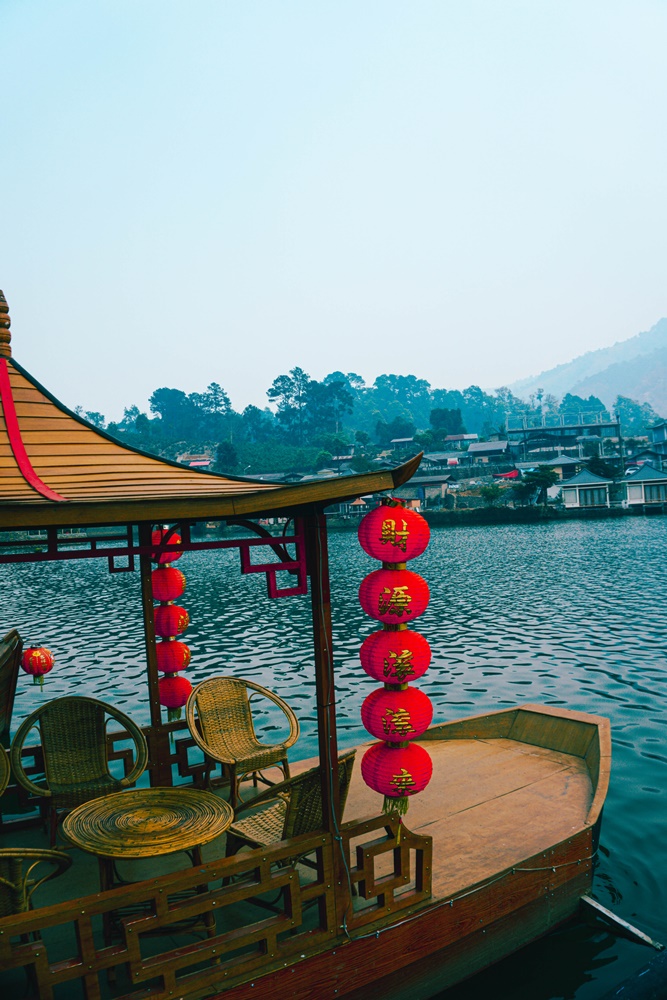 Ban Rak Thai is also the most peaceful place I have ever come across in Thailand. The vibes here are pure bliss and you feel a sense of total calmness. Even with the Chinese culture, architecture and heritage of Ban Rak Thai, the villagers have all completely adapted to the Thai lifestyle with all the people here speaking fluent Thai as their native language.
It's really strange to piece it together, because, I know I am in Thailand. However, my brain is telling me something totally different. It really feels like you've crossed the border and travelled into China!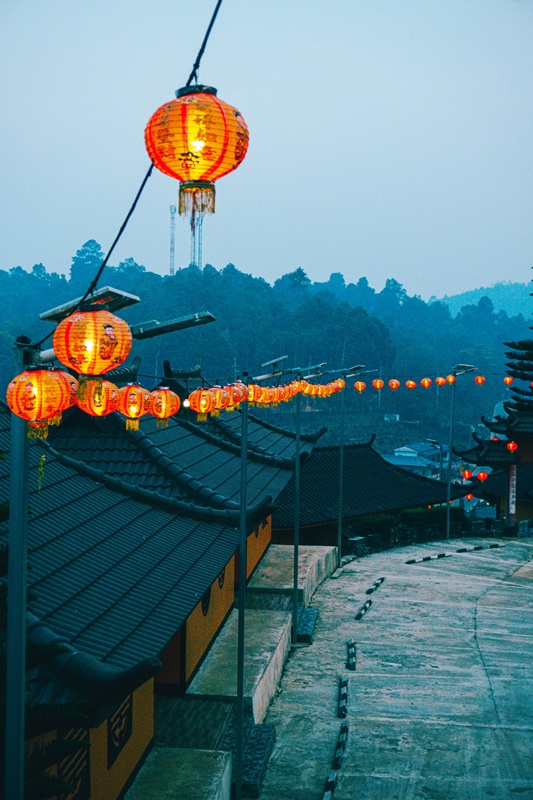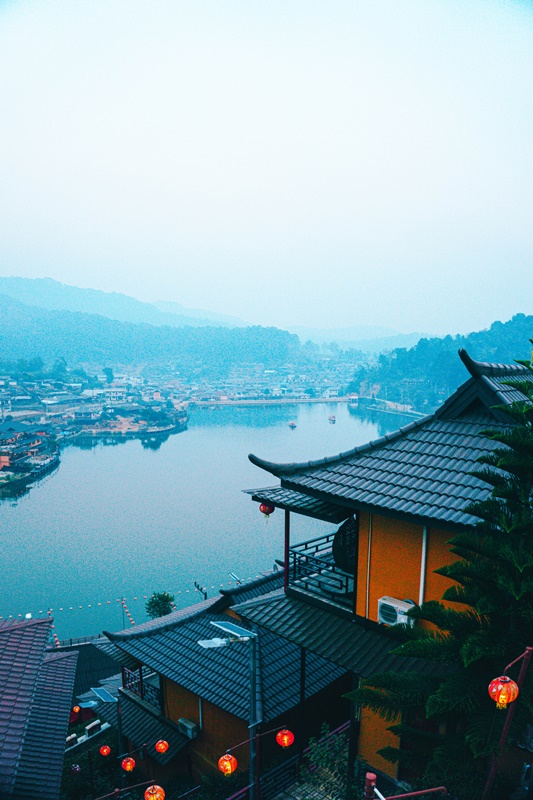 Where is Ban Rak Thai
You might want to hold off from updating your bucket list to include Ban Rak Thai. Whilst it is definitely one of the prettiest villages you'll come across in Thailand. However… the remote location makes Ban Rak Thai a really difficult place to get to.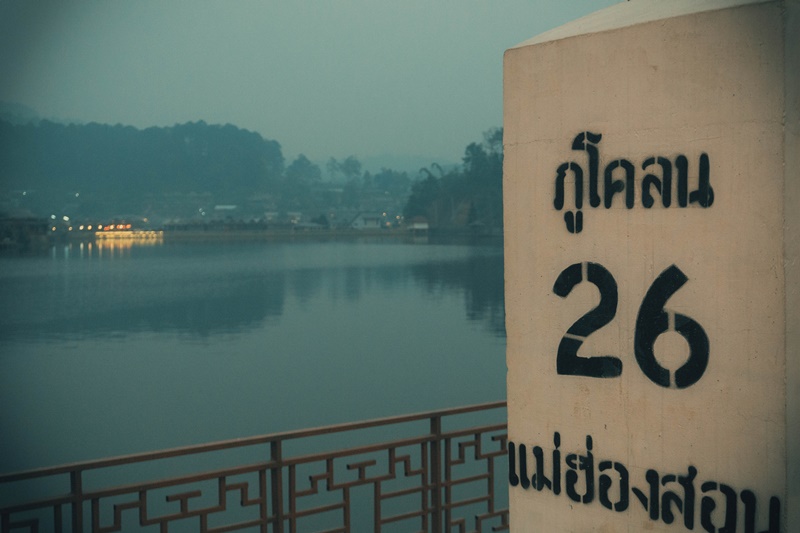 The closest town is Mae Hong Son which is 120 Kilometers away. Mae Hong Son itself is another 250 Kilometers away from the nearest city- Chiang Mai!
Ban Rak Thai is located in Thailand's Mae Hong Son province in northwest Thailand. The village is in the mountainous jungle region and on the land border with Burma (Myanmar). There is no airport nearby and no train station.
I guess the remote location of Ban Rak Thai is one aspect keeping the village such a charming place.
How To Get To Ban Rak Thai
The easiest way of getting to Ban Rak Thai is to ride there yourself on two wheels. We visited Ban Rak Thai as part of the Mae Hong Son Loop. Where we rented motorcycles in Chiang Mai and set off on a week-long adventure around the perimeter of the entire province. We included an overnight stop in Ban Rak Thai along the way.
Renting a Motorbike and riding to Ban Rak Thai is possible from Chiang Mai (246km), Pai (118km) or Mae Hong Son (129km). The roads are also wide and suitable for a car if you are comfortable with renting/driving a car in Thailand.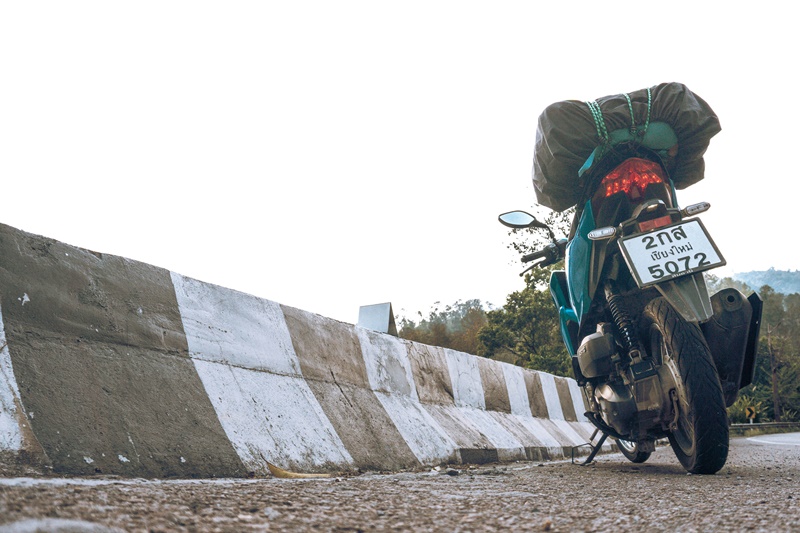 The nearest airport to Ban Rak Thai is Mae Hong Son (120km, there are 3 flights a week from Bangkok with Nok Air. Flight Nuber: DD154. From Mae Hong Son, you'll need to travel by road to Ban Rak Thai; (Bus, Rented Car/Motorcycle).
The nearest Train Station to Ban Rak Thai is Chiang Mai (300km). From here you can take the bus to Mae Hong Son and then travel to Ban Rak Thai by road either in a public Songthaew or by renting a Motorcycle or Car.
There is a Songthaew Bus service to Ban Rak Thai from Mae Hong Son if you don't want to drive yourself. But allow plenty of time to get there. The bus doesn't follow a set timetable and will leave when the driver is ready or feels that he has enough passengers. Tickets cost around 130 Thai Baht. (more information here)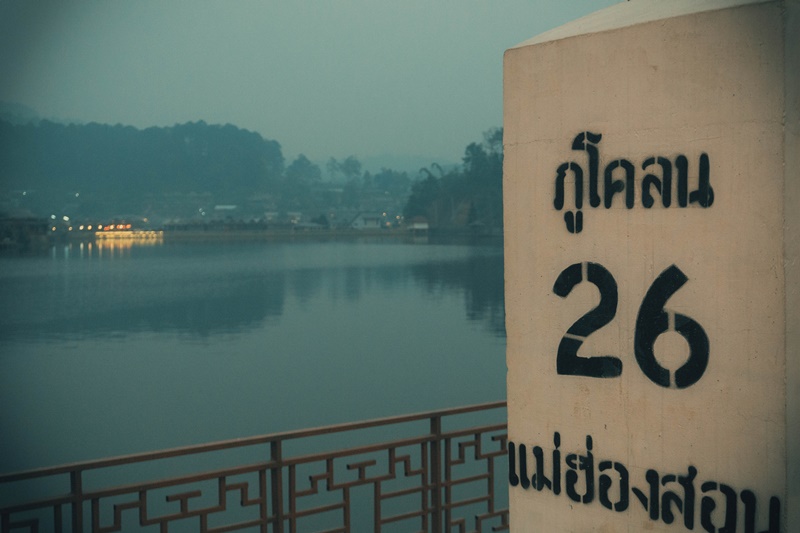 If you are riding to Ban Rak Thai yourself the road is wide, modern and paved all the way. But be aware there are steep inclines and tight hairpin corners. Not a suitable road for an inexperienced rider. (Read more on learning to ride a bike in Asia).
Where to Stay in Ban Rak Thai
There are not a massive amount of hotels in Ban Rak Thai. But whichever hotel you choose you are in for a real treat. The accommodation choice in Ban Rak Thai is not overly expensive and is generally much cleaner and better maintained than in other areas of Thailand. Here are the best places to stay in Ban Rak Thai. The village is small with the best area to stay being, around the lake in the centre of town.
The Chasa Thai Hotel in Ban Rak Thai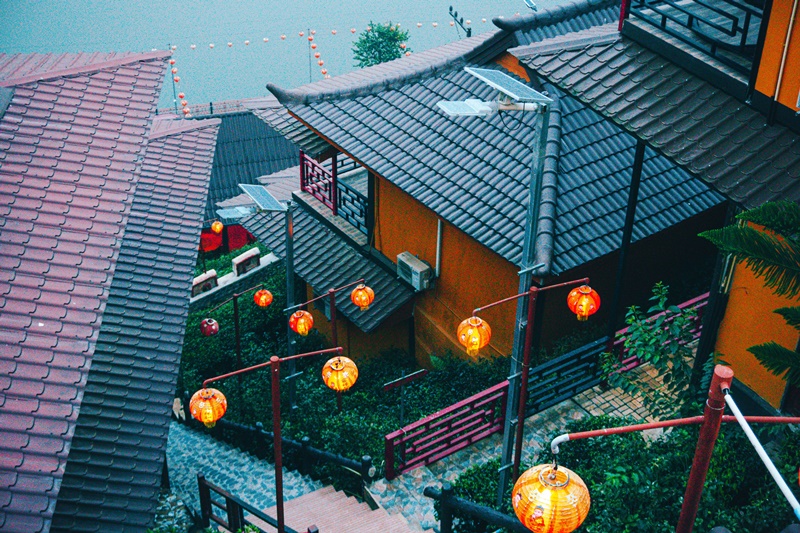 This is where we stayed in Ban Rak Thai- at the Chasa Rak Thai Hotel. It was everything we could have hoped for and more. The hotel was a lovely Chinese-style building situated on the mountainside. There are different room types across the 8 levels of the hotel. Some with balconies and nest chairs hanging over the lake, others with their own scenic viewpoints.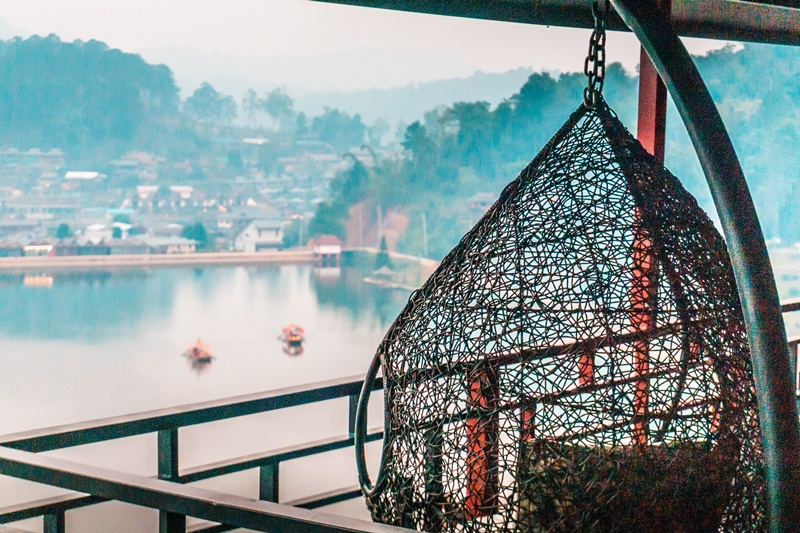 Despite the huge size and the massive number of rooms here. You still feel that personal connection with the people and the environment. The hotel was way up on the hill and there were incredible views of the lake and mountains from the top. The Chasa Rak Thai is by far the best place to stay in Ban Rak Thai. It really does feel as if you've left Thailand and travelled to China.
Besides the breathtaking views, clean and comfortable rooms, affordable prices and perfect location- breakfast was unexpectedly included in the room price at the Chasa Rak Hotel. This breakfast was like no other. The restaurant itself is a sight to behold, covered with Chinese Lanterns and with a view of the lake. But the food we were served was something we were not expecting.
There was no breakfast order taken, the waitress told us she'd be back with our breakfast and then disappeared. Around 10 minutes later she returned with an entire trolly of breakfast foods! We had around 10 different dishes each one as tasty as the last. All of the food we were served for breakfast at the Ban Rak Thai Hotel was new to me, all dishes I'd never experienced before, even after living in Thailand for a few years. I don't think I'll ever find food like this again, not in Thailand or China. It was a delicious combination of both cuisines.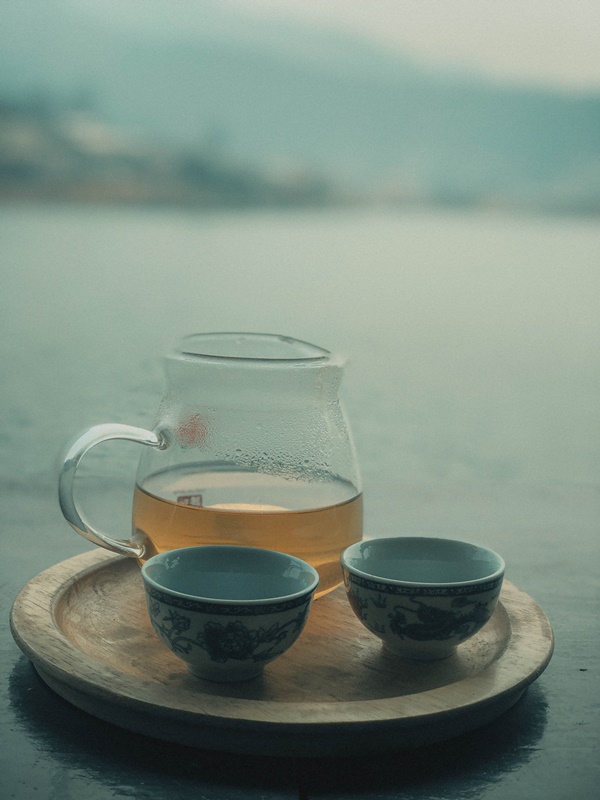 Lee Rak Wine Resort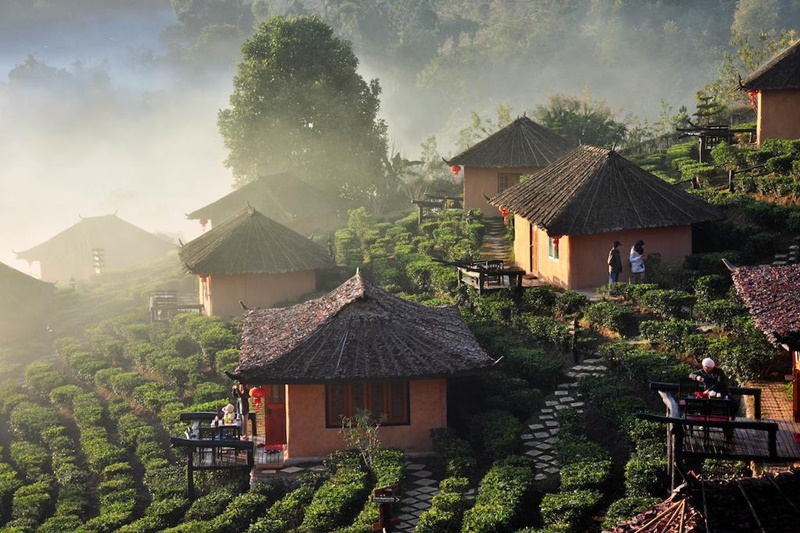 The Lee Rak Wine Resort was right next to the Chasa Rak Thai, this gorgeous resort is unreal. It has multiple individual villas nested in the hillside all surrounded by a working tea plantation. Each villa has a private porch on the hillside with swinging nest chairs and there is a private bathtub at the end of the bed. It's difficult to find luxury for this price anywhere else.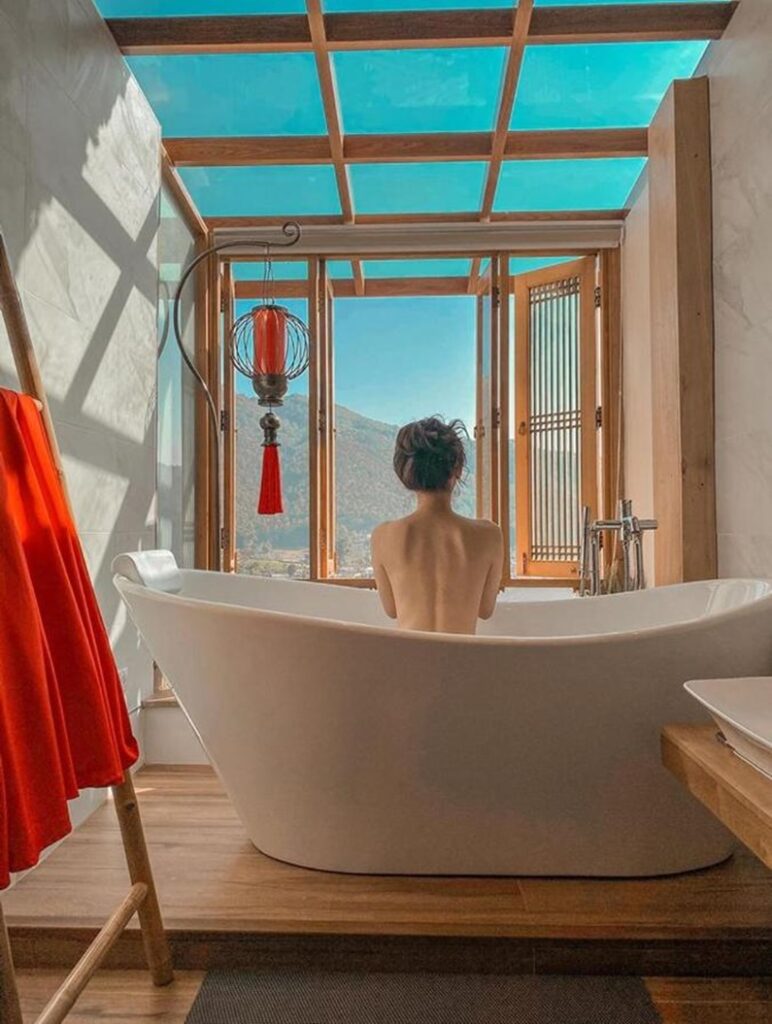 Glamping Pods
There are a few campsites scattered around the village of Ban Rak Thai but one that stood out to me was the bubble dome glamping pods. There are around a dozen bubble tents at the bottom of the hillside which you'll see as you approach Ban Rak Thai. Now, here is the catch. I couldn't find any way to reserve these tents in advance so if you want to stay here you'll have to wing it. Arrive as early as possible and negotiate a price onsite.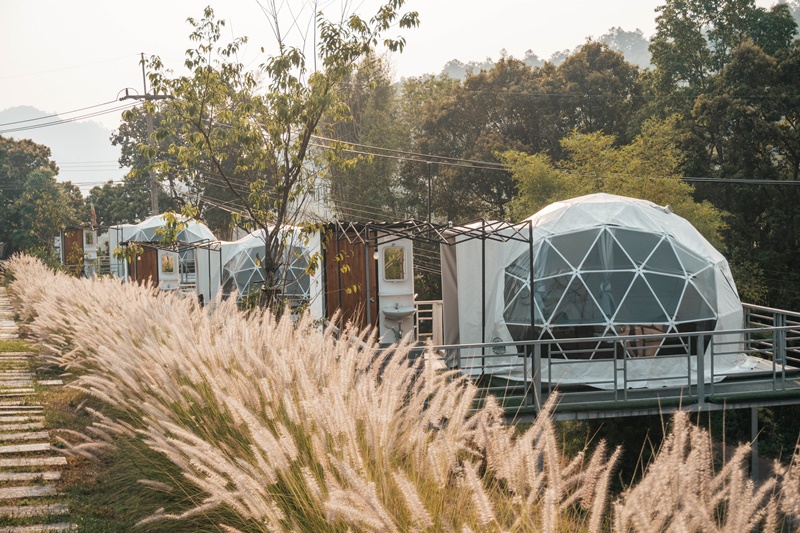 There are also two campsites right next to the lake in Ban Rak Thai. No reservation is needed and you can rent a tent on-site for one of the most scenic places to sleep in Ban Rak Thai.
What is The Weather Like in Ban Rak Thai
The weather in Baan Rak Thai is like nowhere else in Thailand(asides from maybe Phu Kradung). This isolated village even has its own climate! Located in the mountains at 1,800 meters above sea level the village can often get pretty chilly, especially in the evenings and in the mornings. Ideally, you'll want long sleeves and long pants for a visit to Ban Rak Thai.
It is in the mornings when you'll see the iconic fog lifting off from the village lake. The fog is caused when warm, moist air rises up into the mountains where Ban Rak Thai is situated and then cools due to the low overnight temperatures, mixing with water which is released from the trees due to the low temperatures this then condenses into the sea of fog you'll see around the lake. The fog can even form actual clouds if the air continues to rise.
Things To Do in Ban Rak Thai
Here are seven things to do in Baan Rak Thai.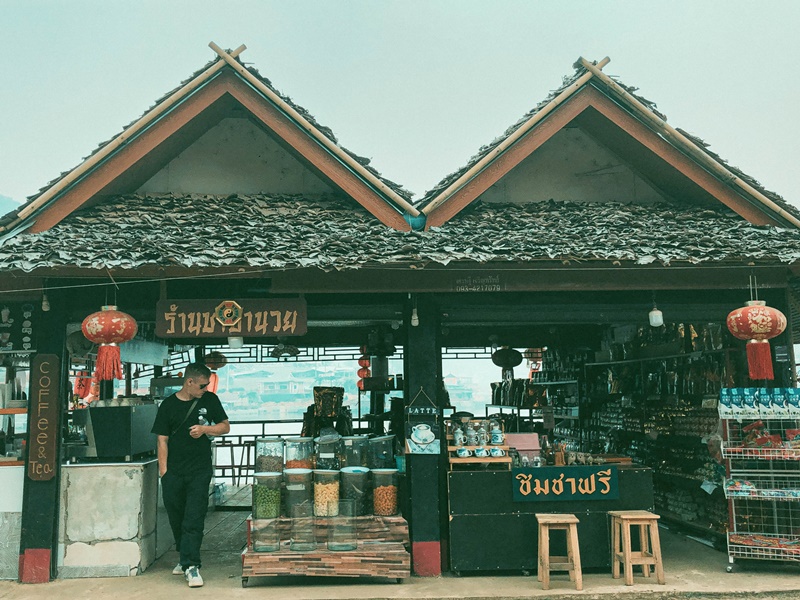 Ban Rak Thai is famous for its tea plantations and exports. Most of the activities in the village revolve around that. There aren't a lot of things to do in Ban Rak Thai. But in all honesty that is part of the beauty of this village. No package tours no tours groups no stress, there's not even a 7-11 (something incredibly rare for Thailand) the only other place I've been to without a 7-11 is Koh Jum! Ban Rak Thai is the perfect spot to chill out and escape for a while. Of course, you'll find the basics you've become accustomed to in Thailand such as a Thai Massage. Here are all the (few) activities you can get up to in Ban Rak Thai.
Boat Cruise on Ban Rak Thai Lake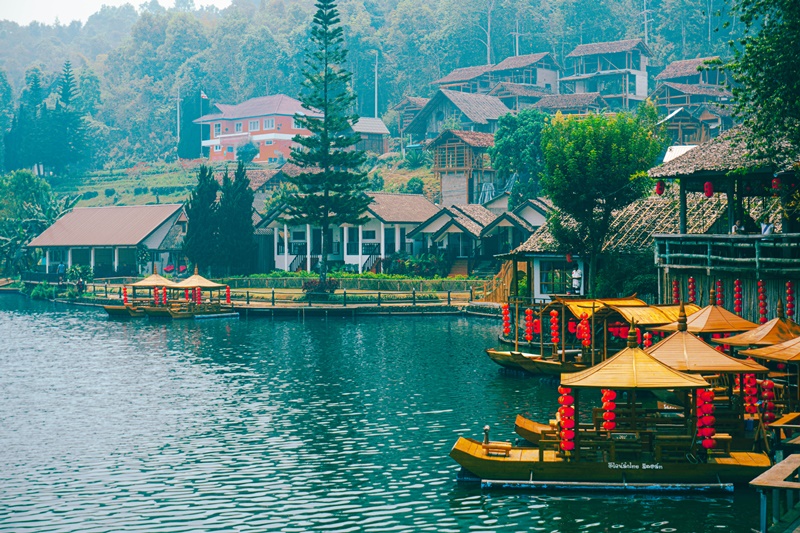 Ban Rak Thai Lake, officially known as the Khuean Nai Mok Reservoir is right in the centre of the village. You can't miss it. It's so picturesque and it really doesn't feel like it belongs in Thailand. The lake is surrounded by mountains and in the early morning you'll see the fog lifting from the surface. This spot is so cinematic, like something straight out of a movie.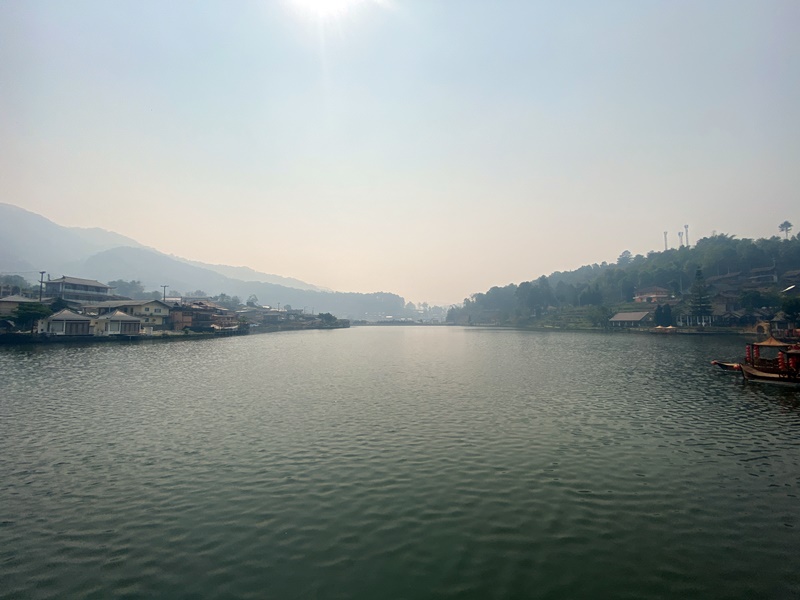 There are a handful of traditionally styled Chinese paddle boats on the lake which can be chartered inexpensively. The cost is around 500 Baht for an hour's charter but it depends on the number of people. Each boat can hold four guests plus the skipper. There isn't really anywhere to go on the boats you just slowly drift around the Ban Rak Thai Lake. These boats have a tiny table and chair set where you can sit and sip on the complimentary hot tea as you cruise around. There is no engine noise as the skipper paddles through the water and it is so peaceful.
The best time to take a boat tour out on the lake is in the early evening when you'll see the entire mountainside illuminated with Chinese Lanterns or early morning around sunrise when you can drift through the dreamy mist.
You can book the boats in person by heading down to the lake, if you don't find the captain with the boat there is a board with his phone number on and you can give him a call to arrange a trip.
Visit The Thai/Burmese Border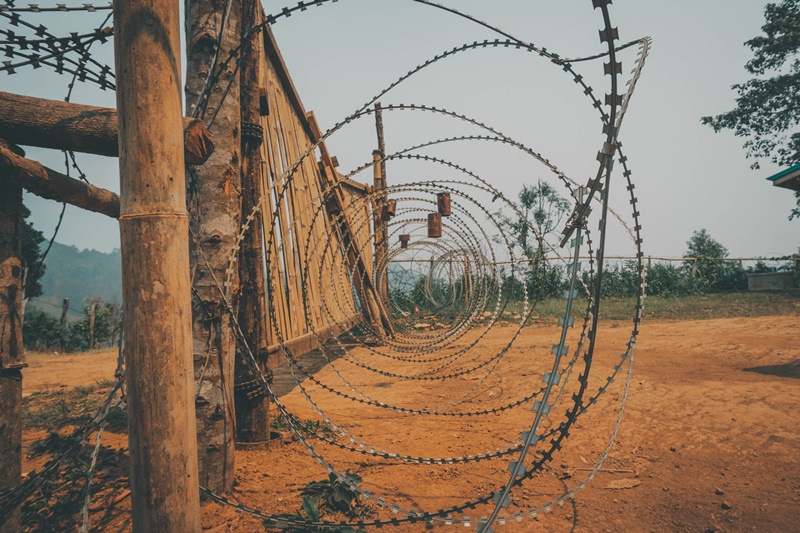 Admittedly, this is what lead me to the village of Ban Rak Thai in the first place. So you can imagine how confused I was when I found the village filled with Chinese culture rather than Burmese as I was expecting (I really need to start doing more research on places- the irony). After a recent trip to Ha Giang in Vietnam and failing to cross the border into China- curiosity had got the better of me and I wanted to see how possible it would be to cross here, from Thailand into Burma.
The village is right on the Burmese border. Although there is no official land border or crossing point and there are no immigration services. There are two roads leading up to the Thailand/Myanmar border, both of which you can ride a motorcycle all the way to.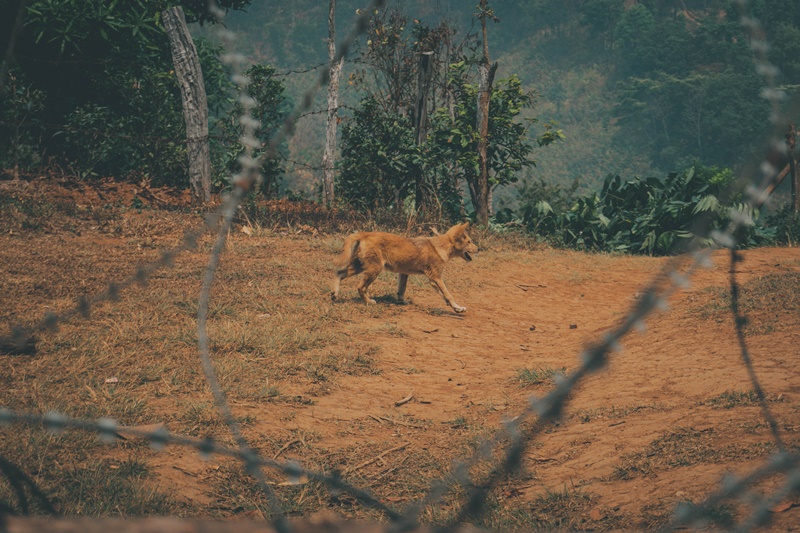 There isn't much going on at the border other than a ton of barbed wire which marks the border and a gate built from bamboo. It's a pretty cool place to visit nonetheless and it's pretty easy to 'sneak' across into Burma. However, once you are in Burma you'll find yourself in a dense jungle in part of the Shan State region of Burma, with nowhere really to go.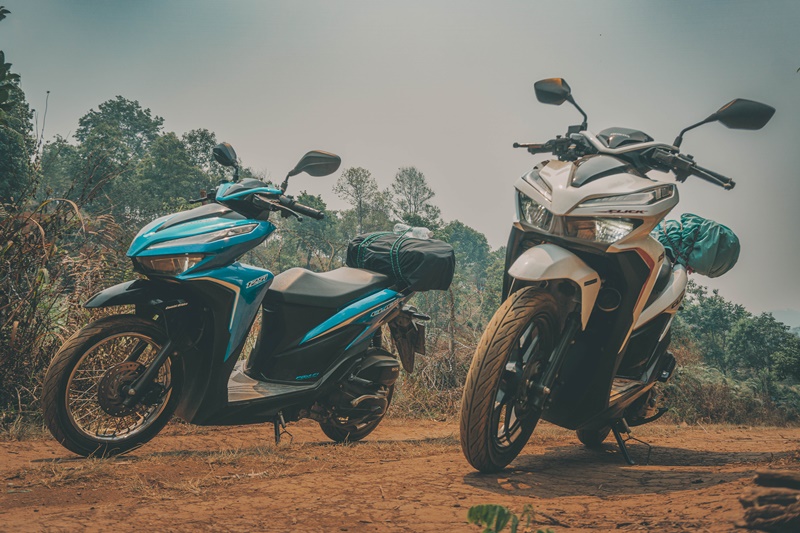 The Empty Hut
You'll spot this attraction on Google Maps, here's the link. This hut has a solid profile of 5-star reviews. I'm not sure who posted it to Google in the first place, or why. And it is literally nothing more than an empty hut on the road up to the border. But go and check it out if you're in town. "Pleasantly surprised, definitely the best hut in Southeast Asia." is one of the reviews, "Top 3 huts I've ever visited.", writes another visitor.
Wat Pa Rakthai Temple
Once you've seen a temple in Thailand you've seen them all. There is nothing particularly special about this temple but it's still worth paying a visit if you are passing through and there is a beautiful view from the top. It's said that there is a meditation retreat here and although we didn't look into this too much Ban Rak Thai would be the perfect place for a retreat if that is something that interests you.
Tea Tasting in Ban Rak Thai
Hot tea is what Ban Rak Thai is famous for and it is everywhere. Literally, everywhere you go, you'll be presented with tea. It's complimentary and delicious. From checking into a hotel, sitting down for lunch, and taking a boat ride- I even ordered an iced coffee in one cafe and was served a complimentary pot of hot tea with it!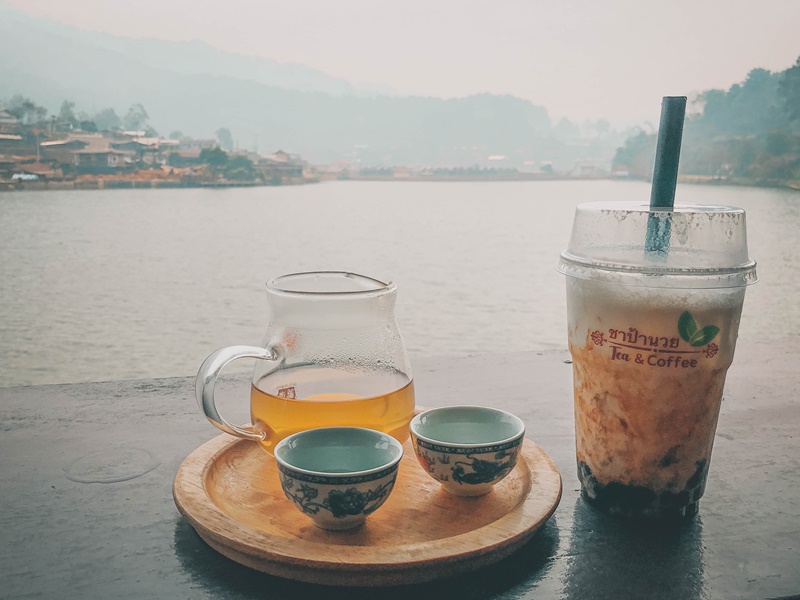 Originally the mountain range would have been overgrown and nowhere near as pretty as it is today. The Chinese immigrants who settled here brought with them tea and began to grow and expand plantations in the area. Not only do the tea plantations look so pretty in the mountains but they are practical too as a source of income for the people of Ban Rak Thai.
The region is Thailand's biggest tea exporter- with over 50% of the tea grown in Ban Rak Thai being exported to mainland China. There are gift shops where you can buy souvenir teapots and the tea itself. There is even an annual tea-tasting festival if you are lucky enough to be visiting during the month of February.
The tea plantation at the Lee Rak Wine Resort is open to guests to stroll through and look around.
Wine Tasting in Ban Rak Thai
Honestly, I'm not a wine drinker, I prefer whisky. So I have no idea what good wine is supposed to taste like. However, I can tell you there is no shortage of wine in Ban Rak Thai. However, this one confused me somewhat. I know that wine is produced in Ban Rak Thai but I couldn't see any vineyards around. Perhaps it's seasonal. Either way, you can't miss it in the gift shops and restaurants.
Eat a Yuanan/ Thai Meal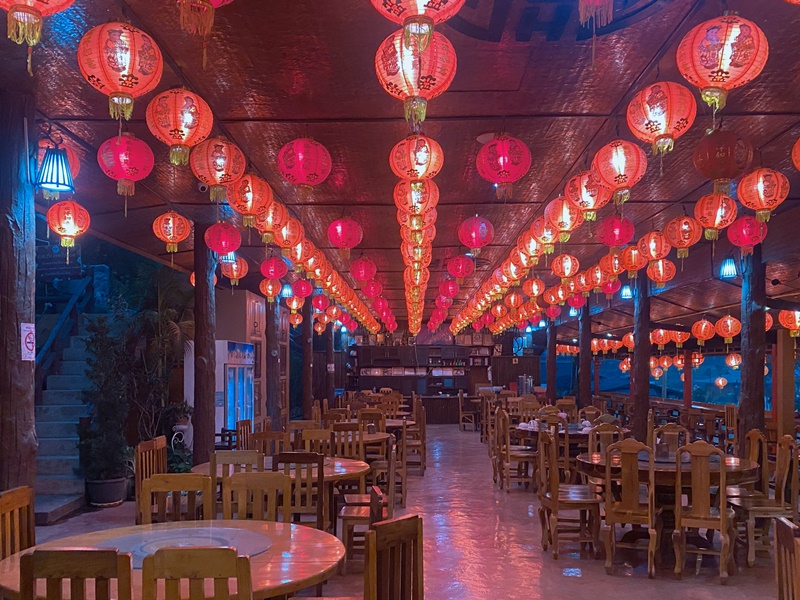 The food in Ban Rak Thai is an experience in itself. I mentioned earlier that our hotel (Chasa Rak Thai) laid out a full-on 8-course meal for breakfast! The food here is noticeably Thai, but the taste is noticeably Chinese. The Patongo Buns were one of my favourite foods and I know I'll never find them anywhere else outside this village. If you are in Ban Rak Thai and want to sample the local cuisine I can't recommend the Rak Thai Chasa Restaurant enough. It's easy to spot right next to the water with a colossal teashop downstairs- the entrance is an archway in the shape of a teapot.
Conclusion
If you hadn't guessed already- I absolutely loved Ban Rak Thai. And I hope to be able to return one day. There isn't a ton going on in this village and it's not an easy place to get to. But if you're willing, then it's a rewarding place to visit. You feel a true sense of serenity and you can stay in a beautiful resort which would be classed as five stars anywhere else, for the cost of a standard hotel anywhere else in Thailand.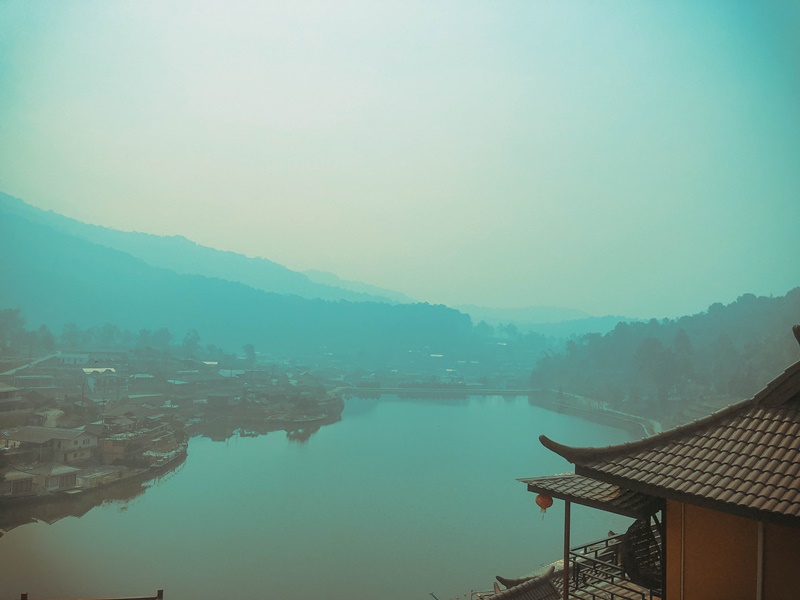 Ban Rak Thai is a place with a rich history and somewhere I'd love to learn more about. If you are visiting, have visited or have local knowledge about this village which I've missed out on in this guide. Please leave a comment underneath and share it! And lastly, don't forget to buy yourself a big old bag of tea as a souvenir from this epic village.
Ban Rak Thai- I'll be back.