Doi Inthanon is Thailand's Highest Mountain. Nicknamed 'the roof of Thailand'; It is a one-hour drive from the city of Chiang Mai which makes a day trip easy to do. The entire area is a Thai National Park and there are lots of hiking trails, waterfalls, temples and plenty of other things to do within Doi Inthanon National Park.
Doi Inthanon: What You Need to Know
Doi Inthanon is the highest mountain in Thailand at over 2565 meters above sea level. Despite Doi Inthanon being Thailand's tallest peak the views from the top are not as stunning as you might have expected. In fact, the view is very limited.
You'd probably think that reaching the summit of Thailand's tallest mountain would involve some hiking- at least that's what I had imagined before visiting. However, what I found was a little different to my expectations. There are paved roads (for cars) all the way to the top. At the base of Doi Inthanon, there are three entrance points, one to the east, one to the west and one to the north. If you're visiting Doi Inthanon from Chaing Mai you'll likely use the road to the east.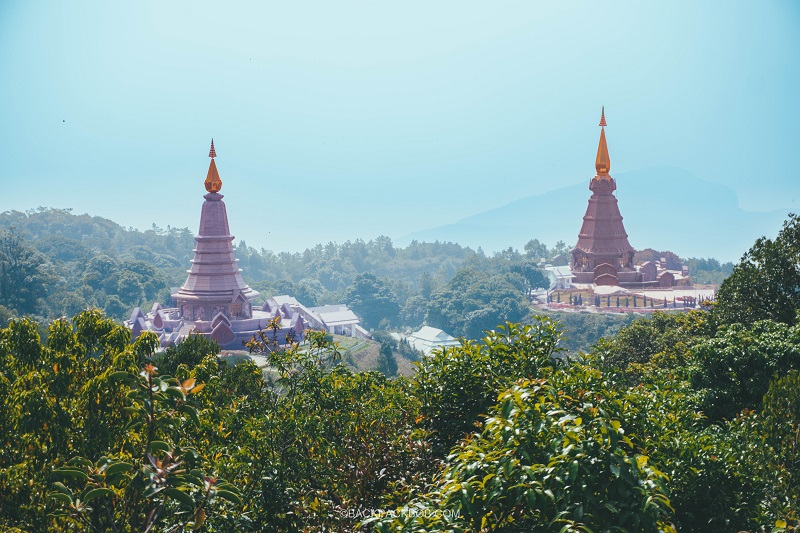 Whichever entrance you take to Doi Inthanon you'll end up at the beginning of route 1009. Route 1009 is the road leading from the National Park Visitor Center to the Summit of Doi Inthanon Mountain. It's a 30-kilometre road which is often busy with chaotic driving. The drive to the top takes around 45 minutes by car or motorcycle.
The word 'Doi' literally means Mountain in the Northern Thai Dialect
Doi Inthanon National Park HQ can be contacted at 053 286 729 for accommodation booking or to request permission to use a drone within the park.
Doi Inthanon is open from 5 am until 6 pm daily. However, the last admittance for most attractions is at 4 pm.
The nature trails and waterfalls are closed seasonally at Doi Inthanon, between June to October, reopening on November 1st. The summit, the Royal Pagodas, most waterfalls, and the Hmong Market are open all year round.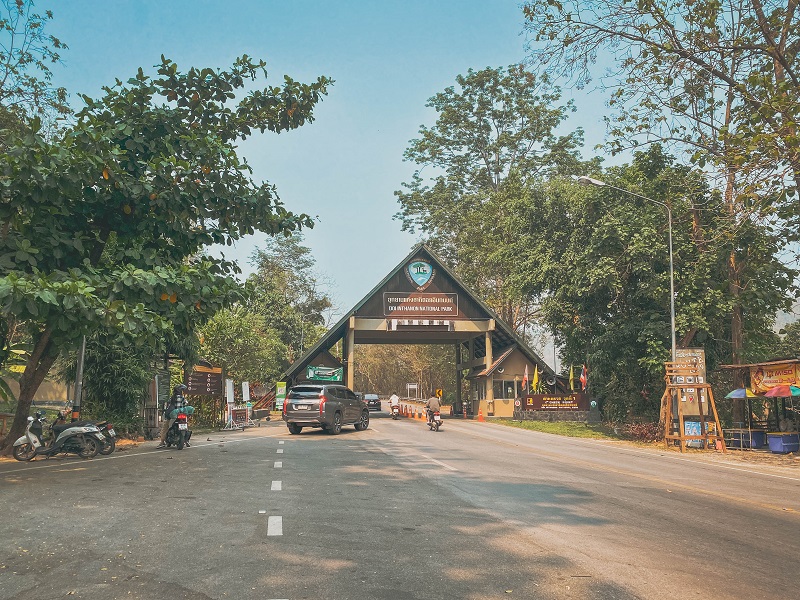 Things To Do In Doi Inthanon National Park
Summit of Doi Inthanon ⭐⭐⭐⭐
Ang Ka Nature Trail ⭐⭐⭐⭐
Kae Mae Pan Nature Trail ⭐⭐⭐⭐⭐
Pa Bong Piang Rice Terrace ⭐⭐⭐⭐⭐
Pha Dok Siaw Nature Trail ⭐⭐⭐⭐⭐
Grand Twin Pagodas ⭐⭐⭐⭐⭐
Watchirathan Waterfall ⭐⭐⭐⭐⭐
Official National Park Map of Doi Inthanon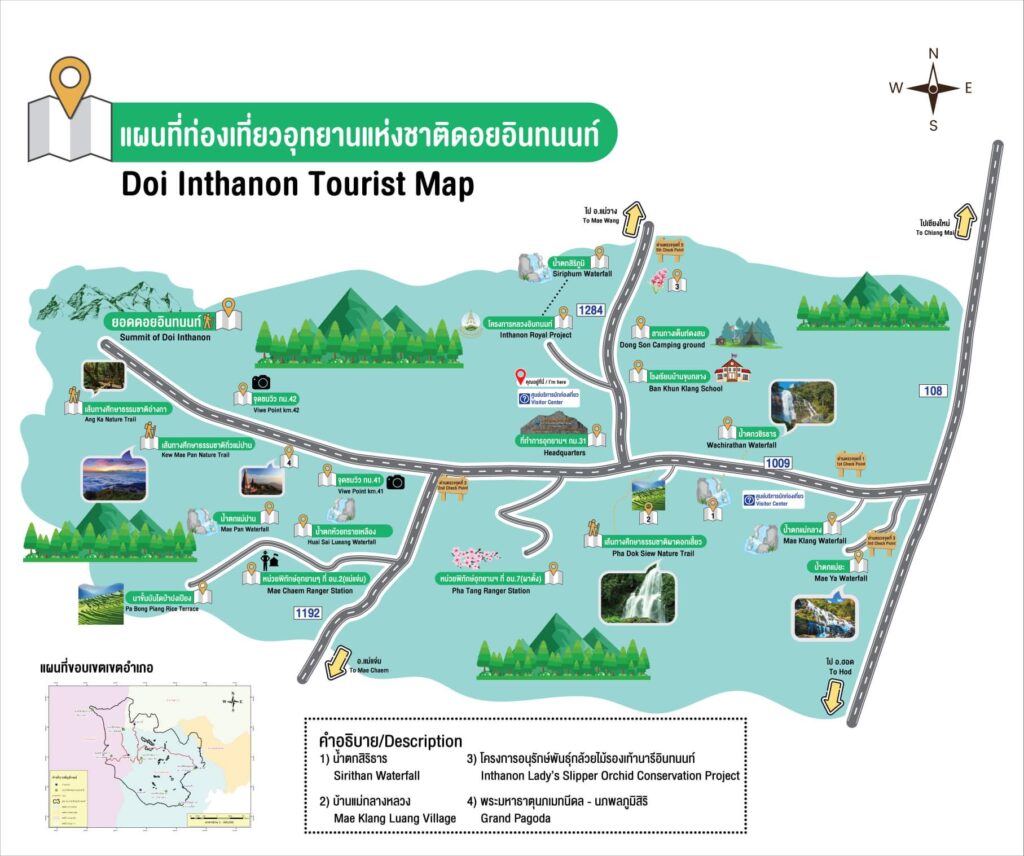 This is the official tourist map provided by the National Park Service at Doi Inthanon. This is the full-resolution image which can be saved by downloading the map image. A printed copy of this Doi Inthanon Map can be collected for free at the National Park Visitors Center.
Is Doi Inthanon Worth Visiting
Different people will have different expectations. Personally, I felt Doi Inthanon was a little expensive for what you get in return. There is a fee imposed for literally everything. 300 Baht for the National Park, 20 Baht to have a motorcycle, 200 Baht for a mandatory tour guide at each hiking trail, and 150 Baht for the mandatory temple donation. The whole feels like a massive cash grab set up to extract as much money as they can, in return for as little as possible. (Prices for Thais are 90% lower).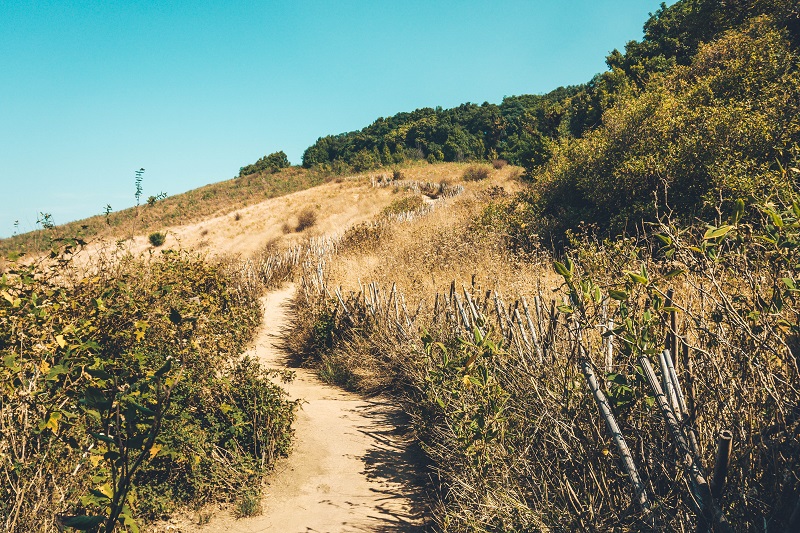 After paying all these fees the view at the summit is Mediocre at best. The highlight for me was the Hmong Market.
Despite the extortionate costs, we still enjoyed ourselves at Doi Inthanon and overnight camping here was amazing. But it was only because we were passing through while driving the Mae Hong Son Loop that we decided to visit. As interesting as Doi Inthanon is- it's not somewhere I'm desperate to return to.
Doi Inthanon Fees, Costs and Prices
How much should you expect to spend to visit Doi Inthanon, National Park?
The biggest expense will be transport to Doi Inthanon. Assuming the journey is being made from Chiang Mai a private car with a driver can cost between 1,000 to 3,000 Baht. You can also join a pre-organised day tour to Doi Inthanon which will have a lower cost; splitting the expenses between a small group. Doi Inthanon Tours cost around 500 to 1,500 Baht a person.
Renting a vehicle, car or motorbike (if you have experience) can be cheaper. Expect to pay around 200 Baht for a bike, or 800 Baht for a car rental, not including gasoline costs.
Transport aside, there are a whole bunch of other fees you'll need to pay at Doi Inthanon Nation Park. You might think the entrance fee would include the cost of the natural attractions within the park however that is not the case.
National Park Entrance Fee: 300 Baht / 8 USD (Price for foreigners)
National Park Vehicle Fee: 20 – 30 Baht
Royal Pagoda Temple Donation: 150 Baht / 4 USD (Price for foreigners)
Pha Dok Siew Trail: 200 Baht / 5 USD
Ken Mae Pan Trail: 200 Baht / 5 USD
Note: Keep hold of your National Park Admission Ticket because it is valid for five days from the purchase date.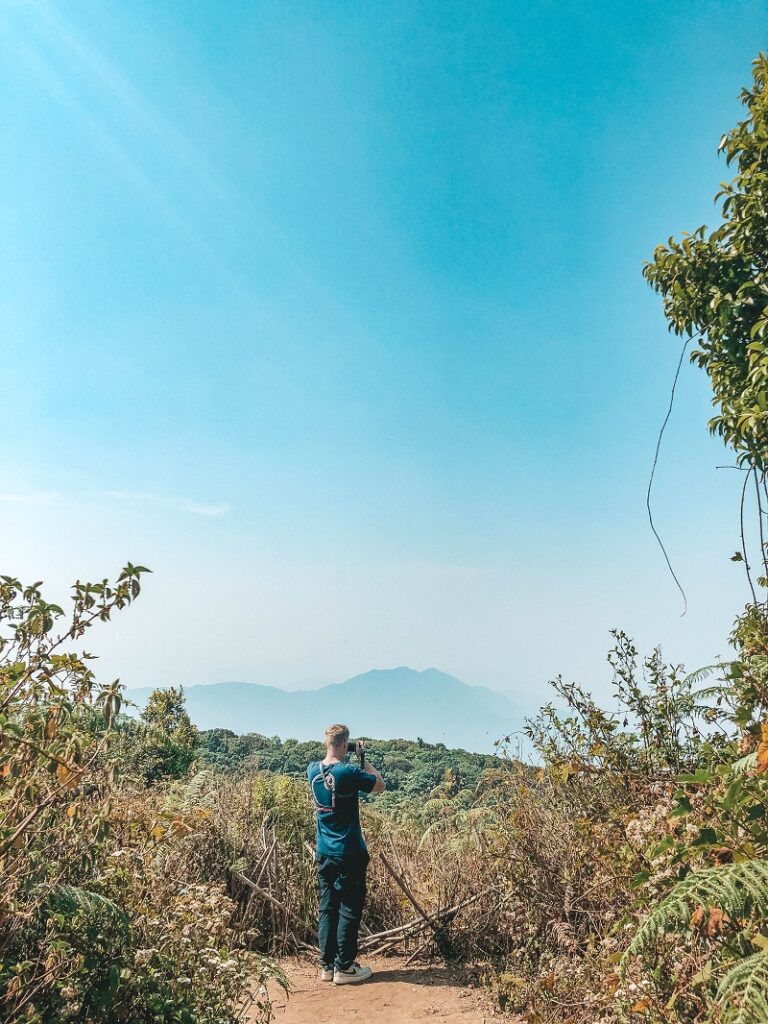 You should also budget a small amount of money for the Hmong Local Market and if you're staying overnight there is a cost for a tent rental or other accommodation option. I'll share more about camping and accommodation in Doi Inthanon National Park later in this guide.
How Long Does it Take to Climb Doi Inthanon?
You can drive from the entrance to the highest point of Doi Inthanon in under one hour.
It's not easily possible to hike or climb to the top of Doi Inthaon on foot. This is because all the routes to the top are paved roads used by cars, trucks and motorcycles. There are no footpaths or other marked trails.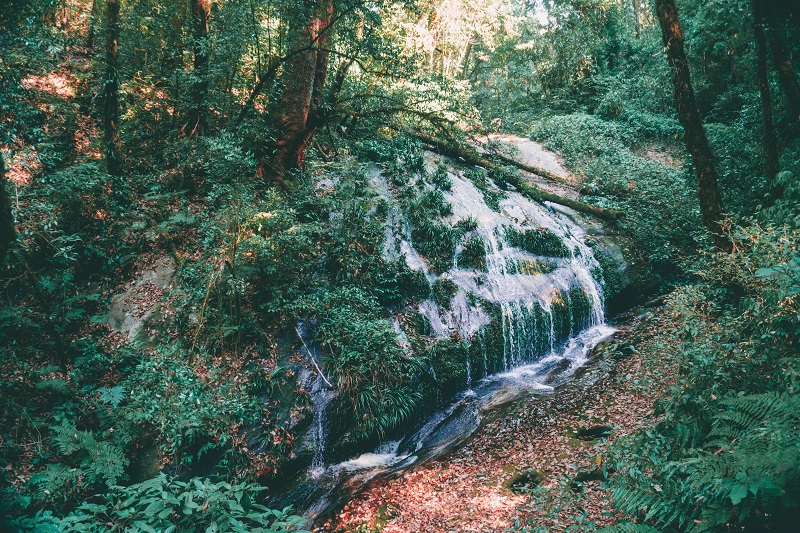 What to Do in Doi Inthanon National Park
There is enough to do at Doi Inthanon to keep anyone busy for an entire day, or longer. Road 1009 is 30 Kilometers in length and leads to the summit of Doi Inthanon. Along this road, there are (signposted) turn-offs to the most popular Doi Inthaon attractions like waterfalls and nature trails.
It is best to arrive as early as possible, most attractions have strict closing times at 4.00 PM.
Because of the distance between each activity, you'll need your own vehicle or driver to get between them. Attractions are all widely spread out and are a few kilometres of distance between each of them, so walking between attractions isn't an option.
So here are the best Things to Do in Doi Inthanon National Park:
1️⃣ Twin Grand Royal Pagodas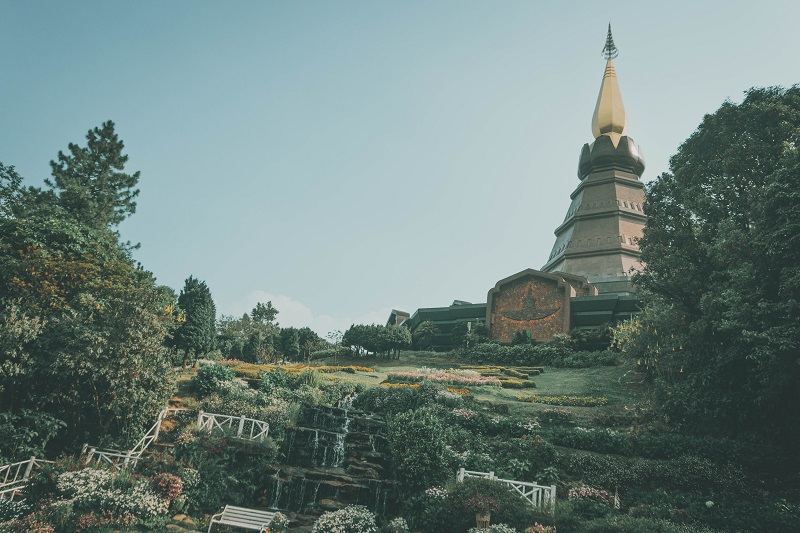 The Royal Pagodas of the King and Queen are the most iconic landmark within Doi Inthanon Park. The Pagodas are located at the very top of the mountain- on an open area of land, around 5 kilometres before the summit. The only way to get here is by road so make sure to have appropriate transport arranged.
The Pagodas are beautifully constructed and maintained in an immaculate condition. A real sight to behold. There is a 150 Baht 'mandatory donation'/admission fee for foreigners who wish to see the Pagodas.
The Pagodas have a handful of nicknames, Grand Pagodas, Royal Pagodas, and Twin Cheddi amongst others; but are officially called Phra Mahathat Naphamethanidon and Phra Mahathat Napha Phonphumisiri. They were constructed to honour the 60th Birthday of King Bhumibol Adulyadej in 1987, and the 60th birthday of Queen Sirikit in 1992. The Pagodas represent strength and unity between the Thai people and the monarchy and also express the Thai faith in Buddhism. Funding for the project was provided by the Royal Thai Airforce.
When visiting the Pagodas it is expected to dress respectively. Read more about how to dress when visiting Thai Temples.
The Height of the Kings Pagoda is 60 meters tall and the Queens Pagoda is 55 meters. The 5-meter height difference is to signify their 5-year age difference.
2️⃣ Hmong Local Market
The Hmong Local Market was a highlight of visiting Doi Inthaon. Local produce grown inside Doi Inthanon and nearby in other regions of Chiang Mai are sold here. Strawberries grown on the mountain are sold and insanely cheap prices, around 50 Baht / 1 USD per kilo! Other dried fruits and nuts can be brought here along with locally made spirits such as whisky, wine and honey. It's a perfect spot to buy souvenirs.
Chocolate Almonds, dried Mango and Pineapple, and Roasted Cashews were some of my favourite snacks to stock up on.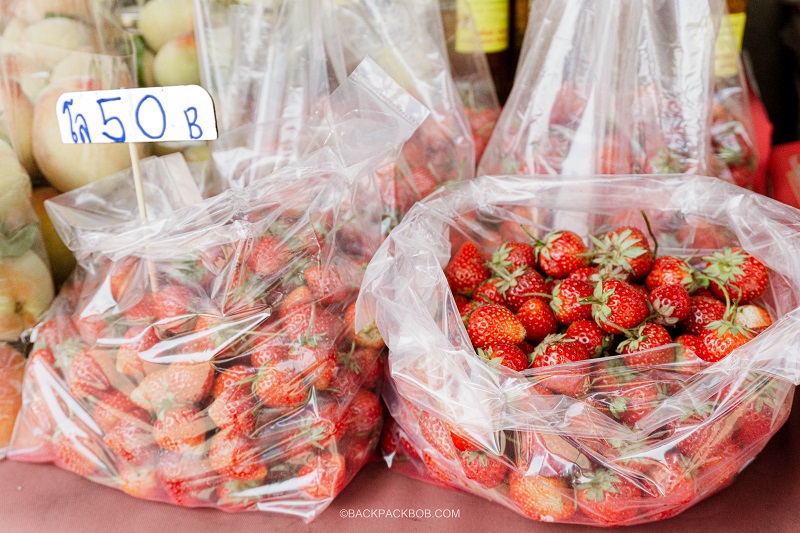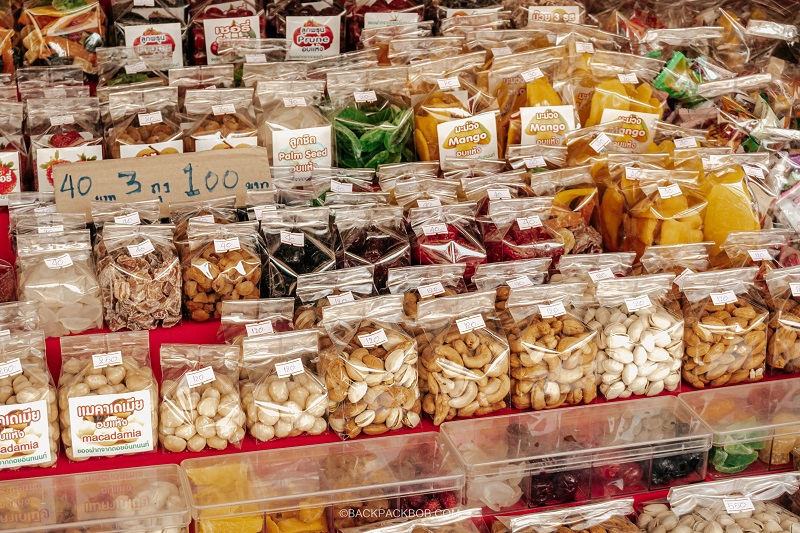 3️⃣ Doi Inthanon Summit (2565m)
The Summit at Doi Inthanon is unimpressive, to say the least. The would-be scenic view is non-existent and it doesn't exactly feel like you're on the top of a mountain. That being said it's one of the few things you can do for free in Doi Inthanon and you can't exactly travel all the way here without being able to say that you've been to the highest point!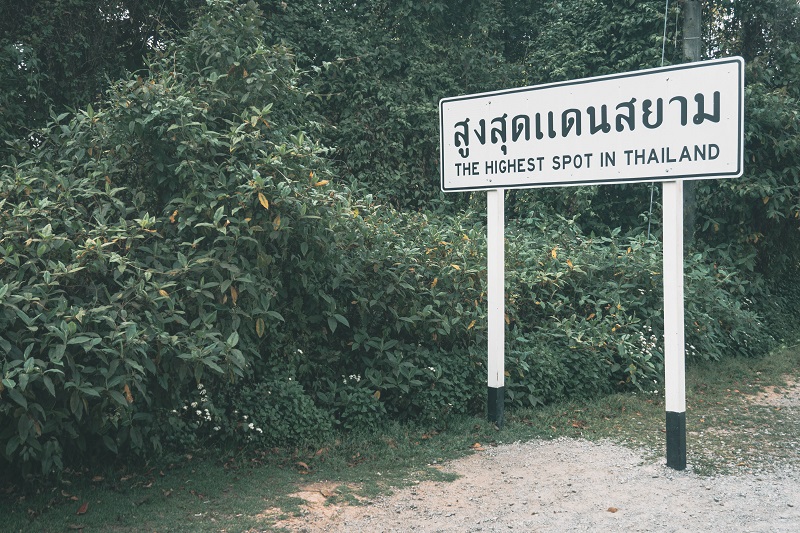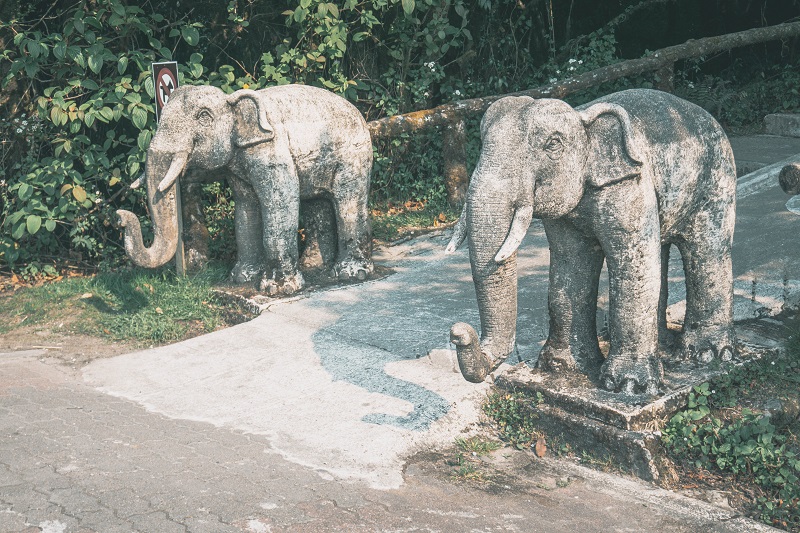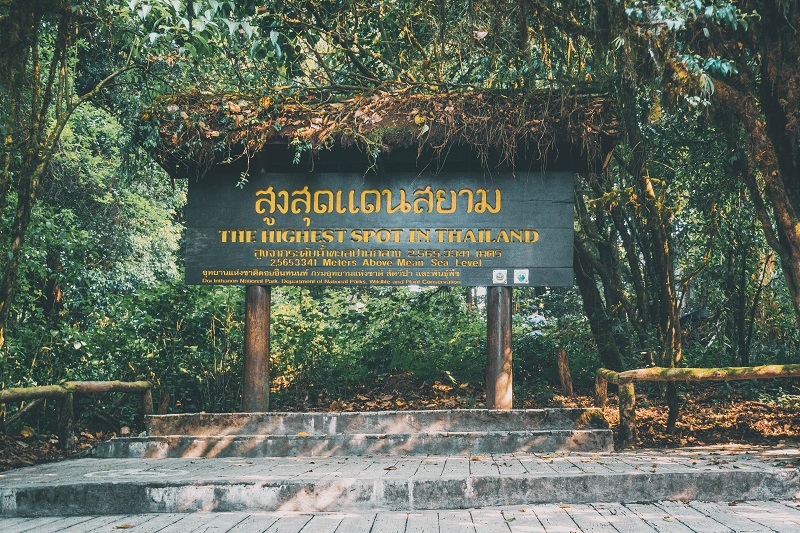 4️⃣ Doi Inthaon Nature Trails
Doi Inthanon has plenty of hiking and nature trails to explore. The three most scenic and popular trails are the: Pha Dok Siaw Waterfall Nature Trail, Ang Ka Luang Nature Trail and the Kew Mae Pan Nature Trail. But here is a list of 14 other trails in Doi Inthanon National Park.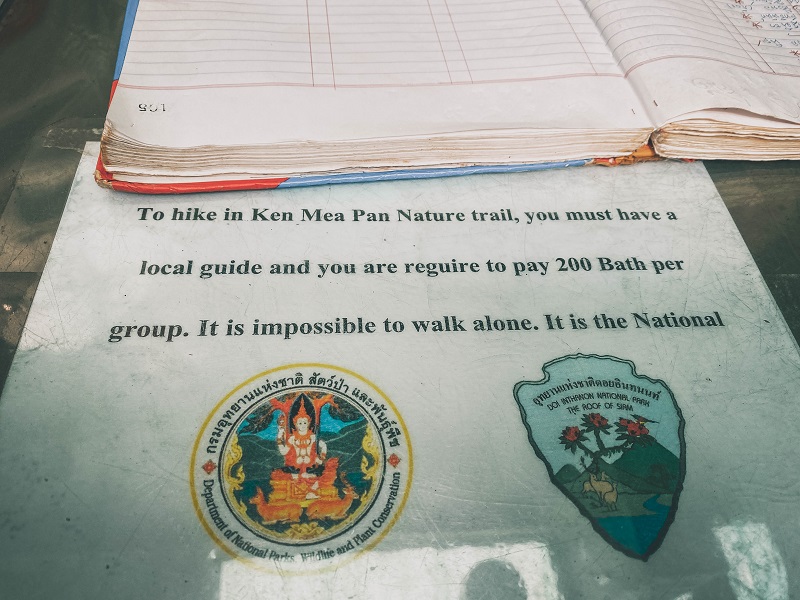 Do You Need to Have a Guide For Doi Inthanon:
On all of the hiking trails within Doi Inthanon, it is compulsory to pay and go with a local guide. Something I found rather odd. Especially after already paying 300 Baht in admission fees. The trails are all signposted and have walkways installed. These are not difficult hiking trails and a guide is definitely not needed to find your way. Our guide followed us around on the hike without saying much and making things feel rather awkward. The cost is 200 Baht which must be paid to the guide. It is said that the mandatory guide thing is in place to prevent jobs from becoming obsolete and to provide an income for local people- make of that what you will.
Ang Ka Luang Nature Trail
The Ang Ka Luang Nature Trail is the prettiest hike in Doi Inthanon Park. The path is primarily wooden boardwalks which are slightly elevated through the trees and covered in beautiful green moss.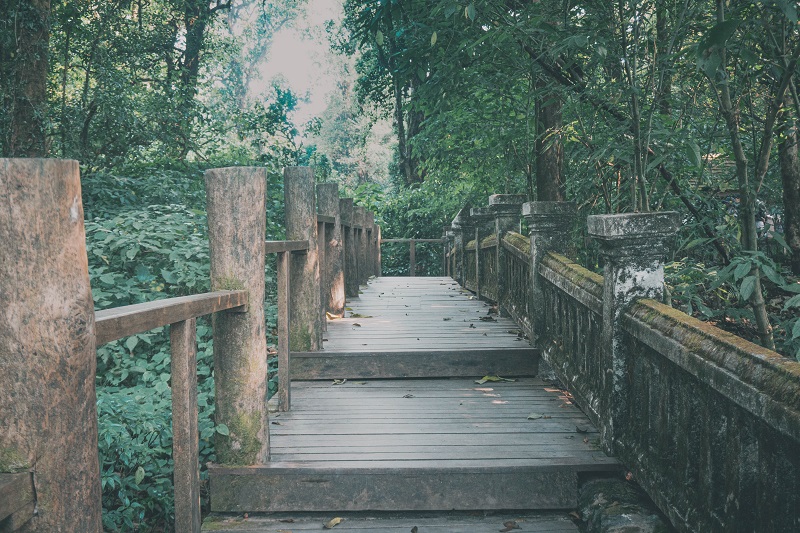 It's so quiet and peaceful with the soft light in the natural surroundings. Ang Ka Luang is the highest Hiking Trail in Doi Inthanon (and in Thailand too)!
*This Nature Trail can be explored without a Guide.
Kew Mae Pan Nature Trail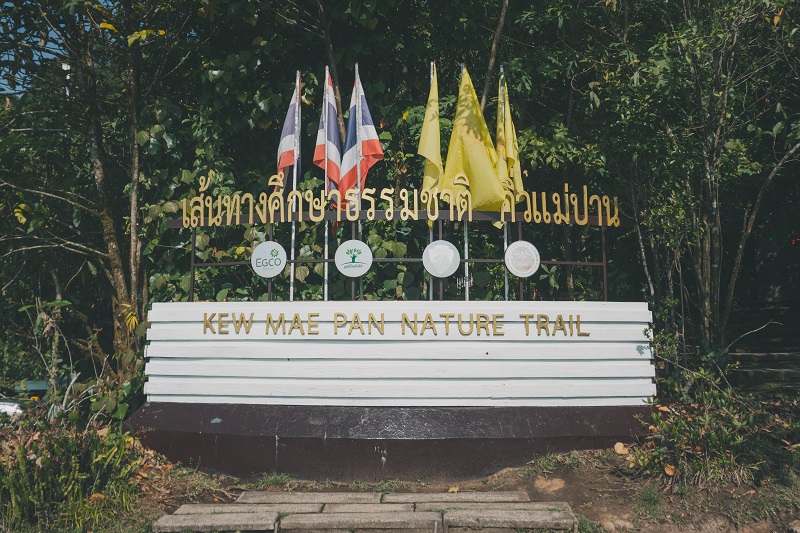 The Kew Mae Pan Nature Trail is the best for scenic views of the mountain range. A short 2.5 Kilometer loop with the entrance being located a few kilometres below the summit (near the Royal King and Queen Pagodas). The trail opens at 6.00 am and the last entry is at 4.00 pm, Kew Mae Pan was our favourite hike thanks to the views of the fog-filled valley and sights of the Royal Pagodas from above.
The trail begins in the damp, moss-filled forest before emerging out into open fields and grasslands. After another kilometre or so the trail loops round and back into the forest once more. It takes around one hour, to one and a half hours to complete.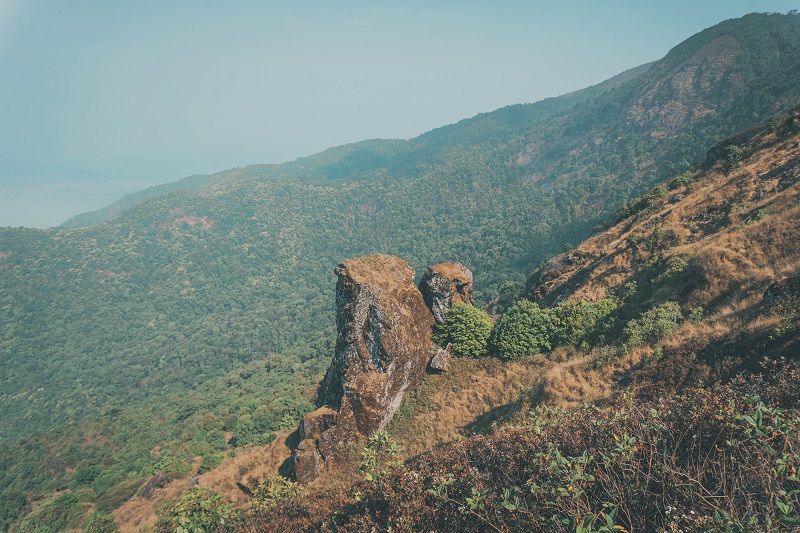 Pha Dok Siaw Nature Trail
The Pha Dok Siaw Nature Trail is one of the longest hikes in Doi Inthaon and the trail is also under the management of the local Hmong Tribes People. The trail takes about 1.5 to 2 hours to complete and passes by rice paddies and other hillsides filled with strawberry plantations. The trail follows the route of the Mae Klang River and passes through the Mae Klang Luang village where you will be offered locally grown hot tea.
But the highlight of this trail is the Pha Dow Siaw Waterfall which you will encounter about halfway around the loop.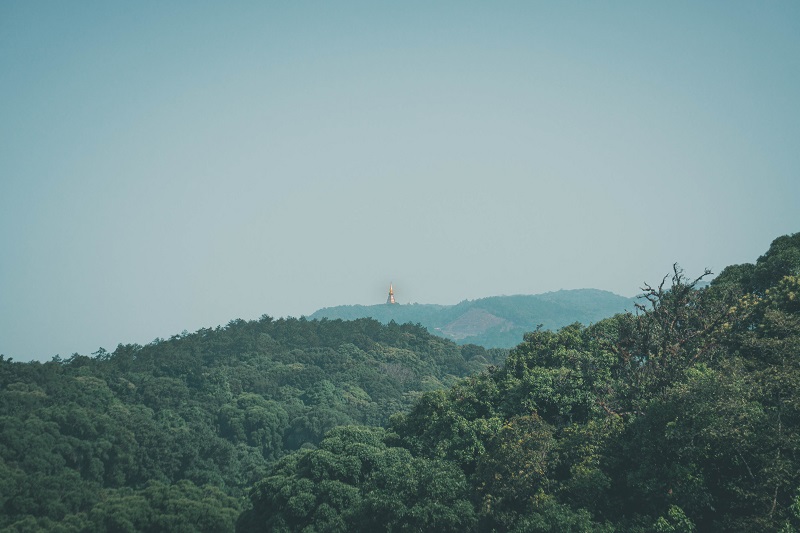 5️⃣ Doi Inthanon Waterfalls
There are more than 7 notable waterfalls in Doi Inthanon. Some are more impressive than others. The must-see best waterfalls in Doi Inthanon Park are- 1) Watchairian Waterfall: (at over 80 meters high this is one of the largest waterfalls in Thailand). 2) Siriphum Waterfall. 3) Pha Dok Siew Waterfall: (can be seen on the Pha Dok Nature Trail).
Watchairan Waterfall
Mae Pan Waterfall
Huai Sai Luaeng Waterfall
Siriphum Waterfall
Mae Klang Waterfall
Pha Dok Siew Waterfall
Mae Ya Waterfall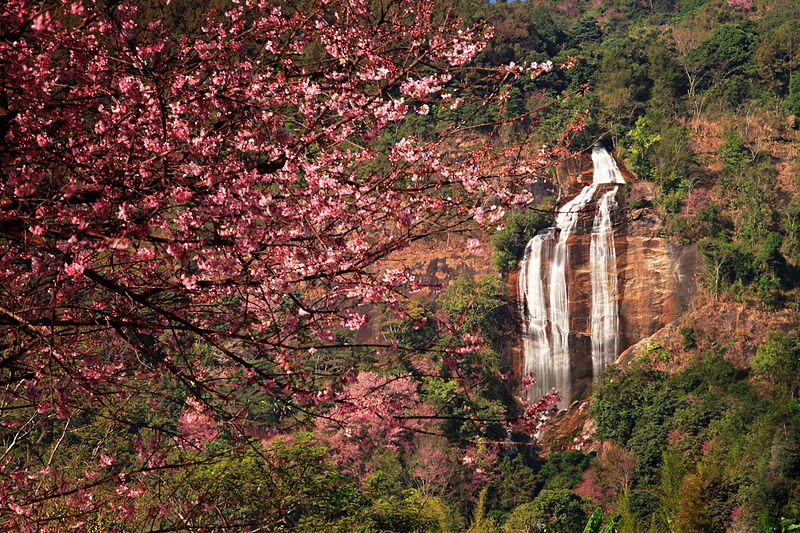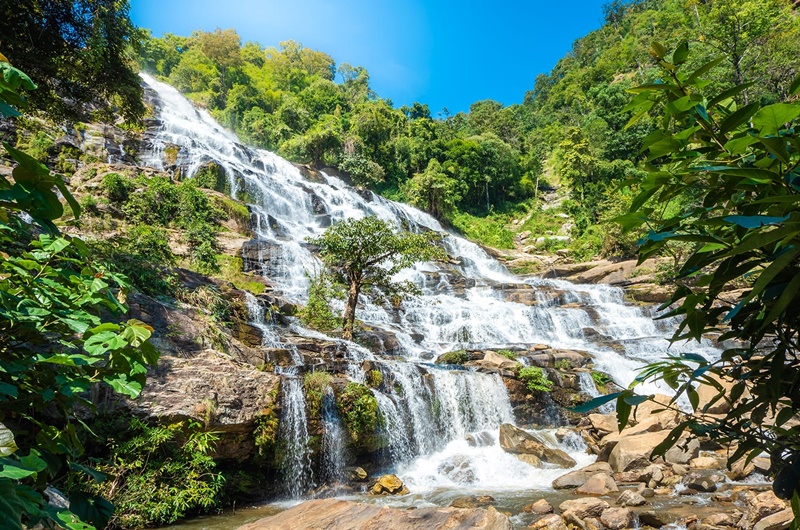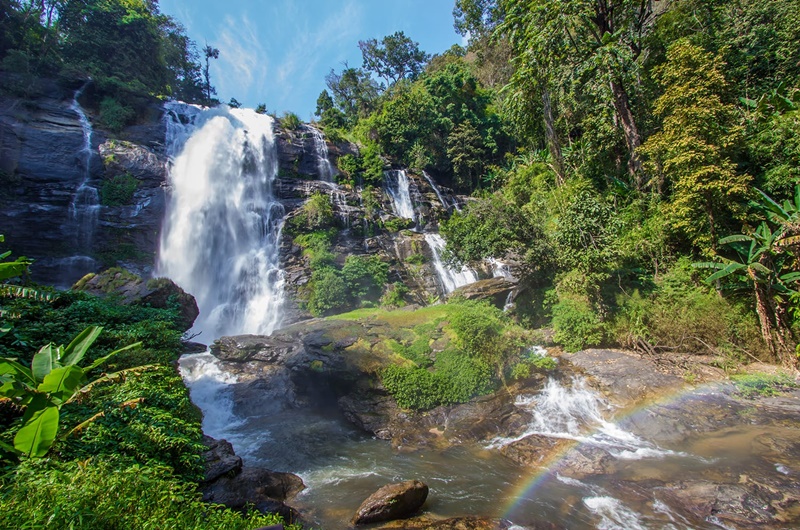 How to Get to Doi Inthanon
Doi Inthanon can only be reached by road (or helicopter 🤔)! To get to the summit of Doi Inthanon from Chiang Mai City Center is a 90-kilometre drive. Around 45 Km to the park entrance and another 45km until arriving at the car park on the mountaintop. Roads are suitable for cars and bikes.
Rent a Car or a Bike
We chose to rent scooters and ride to Doi Inthanon ourselves. This option gives the most flexibility and lets you set your own schedule. We paid 150 Baht a day to rent scooters, a car can be rented for around 800 Baht +. Using your own vehicle to drive to Doi Inthanon should only be considered if you have confidence and experience driving in Asia.
Hire a Car and Driver (Private Tour)
You can book a private guide where you'll have a vehicle for yourself and a local driver to accompany you. This requires some planning on your part on which attractions you want to see in Doi Inthanon Park. The cost is usually somewhere between 2000 to 5000 Thai Baht; which will include fuel costs. You'll still need to pay your own admission fees such as National Park Entrance Costs, Entrance to Royal Pagodas and admission to the Nature Trails; (admission is free for your (Thai) driver).
Check the cost to hire a private car to Doi Inthanon.
Join an Organised Doi Inthanon Tour
If you're looking for the most convenient way to get to Doi Inthanon National Park an organised day tour is a good option. Tours are operated by minibuses and a driver will collect from your hotel. You drive to Doi Inthanon and make stops at the attractions according to the pre-arranged itinerary. Essentially a taxi ride with multiple stops and you split the costs between a group of you. There are usually 9 people in each tour group.
Book a tour to Doi Inthanon Here, or try your luck haggling at the tour vendors around the streets of Chiang Mai.
Doi Inthanon National Park Day Trips and Tours
I strongly recommend driving to Doi Inthanon on your own accord, however doing so might not be suitable for everyone. If you don't have a licence to drive yourself and don't have the budget to hire a driver for the day then joining a Doi Inthanon Tour is the best choice choice.
Tours are straightforward to book online, this is the website I use to book tours in Thailand. On average a tour to Doi Inthanon from Chiang Mai should cost about 1,800 Thai Baht ($ 50 USD). Tours typically include all the entrance fees, transfers and lunch so you shouldn't need to pay for anything during the day. Make sure that you choose a tour which includes National Park and other entrance costs because these can quickly build up if not.
If you want to have the best experience of Doi Inthaonon an overnight camping trip is highly recommended. Arrive the evening before and spend the night under the stars. Waking up early and having Doi Inthaon to yourself, before others arrive from Chaing Mai is amazing. And you'll have an opportunity to watch the sunrise.
Make sure to bring something warm to wear as temperatures can drop into the single digits at Doi Inthanon. Especially overnight and in the early hours of the morning!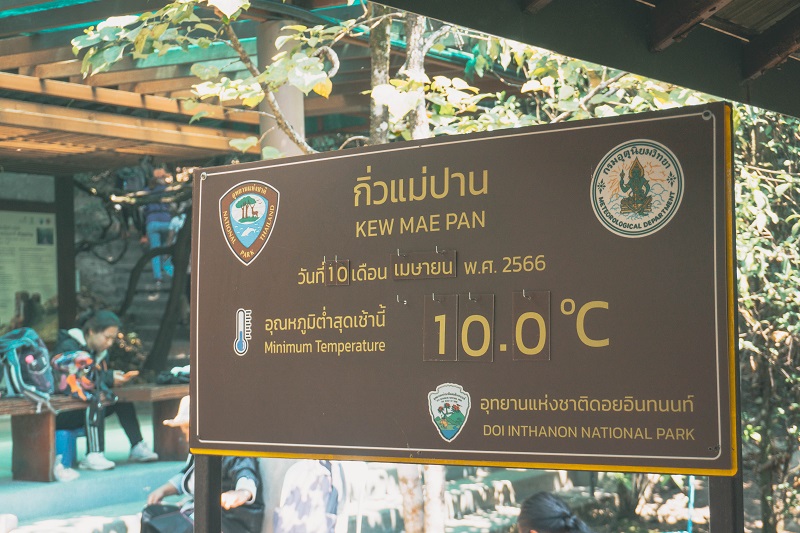 Doi Inthanon National Park Campsite
There are a few camping spots in Doi Inthanon Park. The cheapest and most common is the Doi Inthanon National Park Campsite. It's located next to the first checkpoint and cost 500 Baht to rent and pitch a tent for the night, sleeping bags, pillows and roll mats are provided too. You can book online over the phone (053 286 729) but most people arrive without a reservation.
Inthanon Mountain Camp
Conveniently located around one kilometre from the National Park Headquarters and Visitors Center the Inthanon Mountain Camp is a semi-luxurious glamping site. It's located right at the start of route 1009 which leads up to the top of Doi Inthanon so you can get a headstart and visit the Nature Trails with the best lighting at sunrise.
Inthanon Mountain Camp has Tee-Pee style tents with 4-Person or 2-Person tents to choose between. The cost is a little more expensive- around 1,000 to 2,500 Baht depending on the season. There is a fire pit where marshmallows can be roasted and a BBQ Dinner is included. Perfect for the cold temperature you'll experience here.
Khangkhao Camp Bubble Dome Tents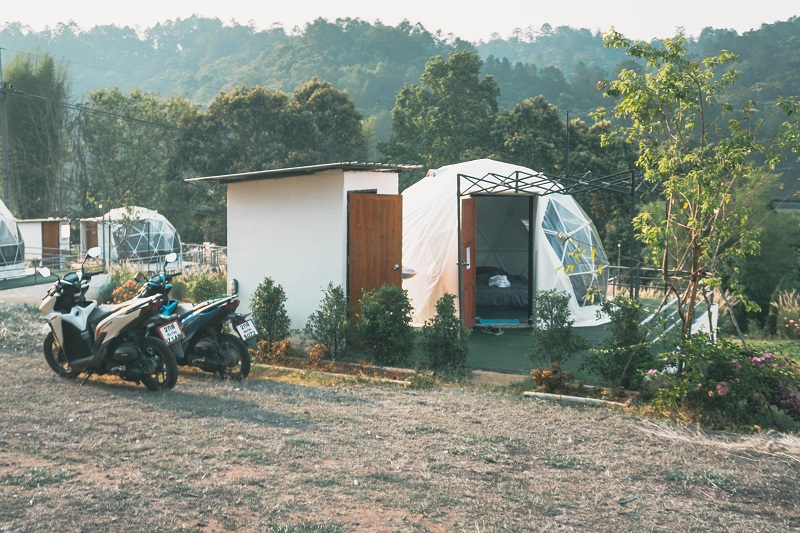 Khankhao is a little cheaper than the Inthnon Mountain Camp but a little more expensive than renting a National Park Tent. This campsite was perfect for us because we were passing over Doi Inthano Mountain on our Loop of Mae Hong Son. There is also a private bathroom equipped with a hot shower, attached to each tent. For those starting in and returning to Chiang Mai the location of Khangkhao Camp can be a little bit out of the way.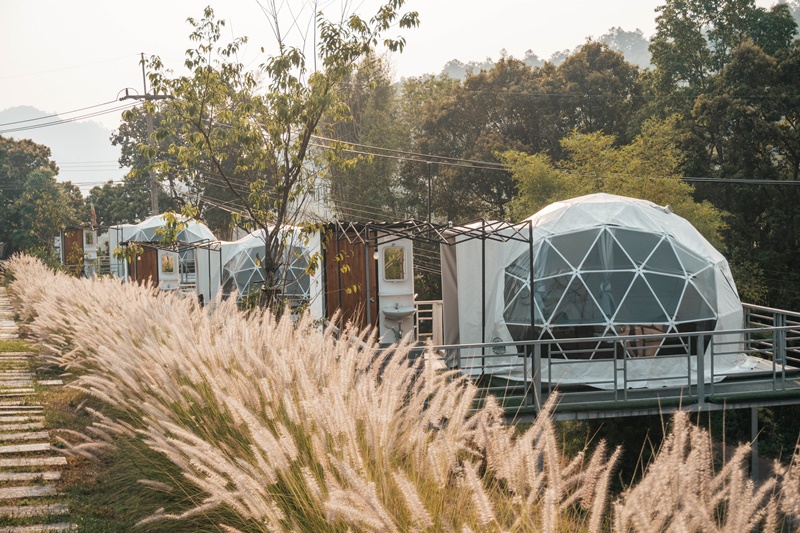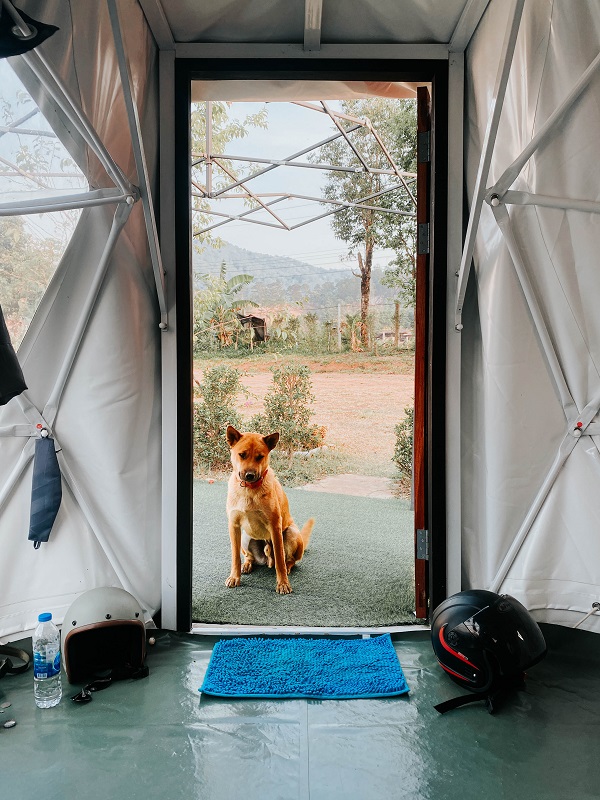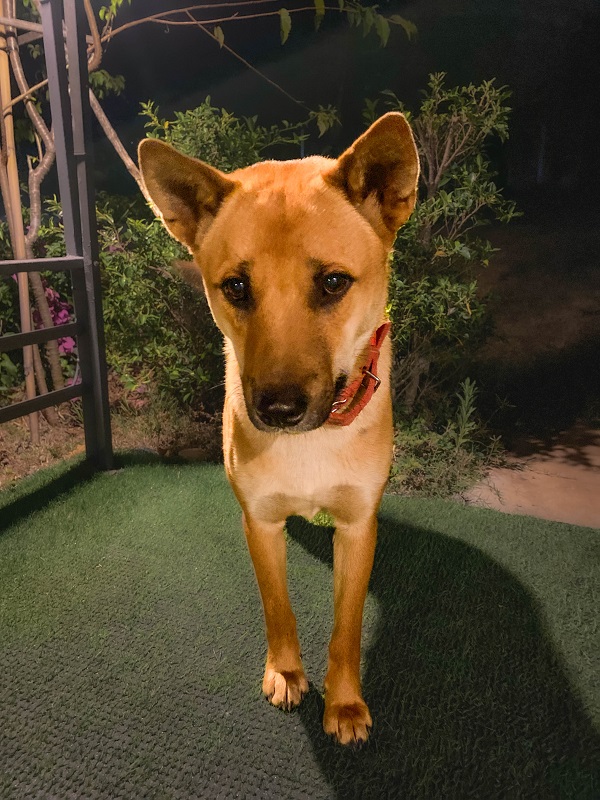 This is a charming place to spend the night with Bubble Dome tents here and a small restaurant on site. We paid 900 Baht for the night but prices can range from 500 to 1,800 Baht. We befriended the local dog, who greeted us on arrival. In return for some of our chicken, he worked security keeping guard all night.
Can You Use a Drone at Doi Inthanon National Park
As with all National Parks in Thailand, the use of drones is prohibited. Unless you have permission from the National Park Service ahead of time.
When Is The Best Time to Visit Doi Inthanon
Thailand's Peak Season is the best time to visit Doi Inthanon- during the months of November until March. Going earlier in the season will mean plenty of water in the waterfalls, but towards the end of the season, the water will have started to dry out.
During these peak months, there is a slim chance of rain, the waterfalls will be running at full power, the air is clear and the temperatures are much more comfortable. Nature trails in the park are closed annually from June until the end of October. Try to avoid visiting during the burning season, if possible.
Conclusion
Doi Inthanon National Park: What To Do and See – Full Guide.
In all, Doi Inthanon is a cool place to visit and I don't regret going. It's a little gimmicky and very touristy but it's nice to be out in nature. Camping overnight was the highlight as the surrounding areas are so peaceful. However, the constant need to fork over cash for everything little thing became tiresome and frustrating- leaving Doi Inthanon on my list of places I don't plan on returning to. If you're only in Chiang Mai for a short while then by all means go and see Doi Inthanon National Park, you won't regret it. But. If you have a bit more time I would strongly recommend paying a visit to the Phu Krandung National Park instead. The views are nicer, it's less 'tourist money-grabby' and you are able to hike to the summit.