The White Buddha or Big Buddha in Pai is one of the most incredible places to see. My first visit to Pai was in 2017. I revisited again in 2023. Here's what I found.
About The Pai Big Buddha
If you've got 48 Hours in Pai then The Pai Buddha is a really cool spot to visit. Predominantly a place of worship which has become somewhat of a tourist attraction. Plus it's free so don't miss out!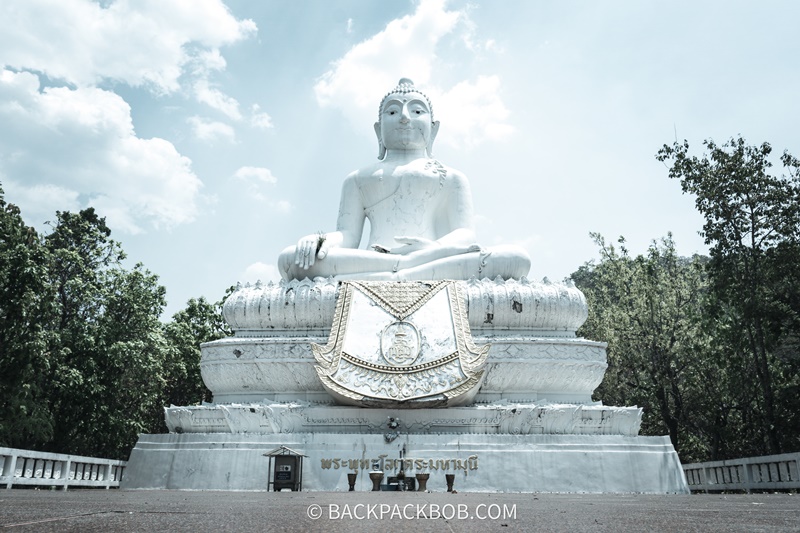 It's no secret that Thailand is a majority Buddhist Country. The kingdom is scattered with unique and beautiful shrines and temples. Each one offers something different to the last. Thailand's temples and shrines are so incredible that many of them have also become popular tourist spots too.
The Pai Big Buddha stands proudly on the picturesque Pai hillside, it can be seen from miles around all over Mae Hong Son. It's one of the most impressive shrines you'll come across in Thailand. If you are visiting Pai you'll 100% see the Buddha Statue from the town when you look up at the hills.
But seeing this impressive Big Buddha statue from the ground doesn't quite do it justice. You need to hike into the mountainside and up the 353 stairs to get the full effect of just how incredible this religious attraction is.
Pai Big Buddha Tours
The best way of going to see the Pai Big Buddha is by renting a scooter and riding there yourself. It's only a few kilometres to ride from the town of Pai. But if you're not comfortable riding a scooter you can book a tour instead.
A typical tour of Pai costs less than 20 USD and lasts the entire day. Drive around Pai with a small group in the back of a pickup truck. Stop at the best caves, viewpoints, the Pai Canyon; and of course the Pai Big Buddha.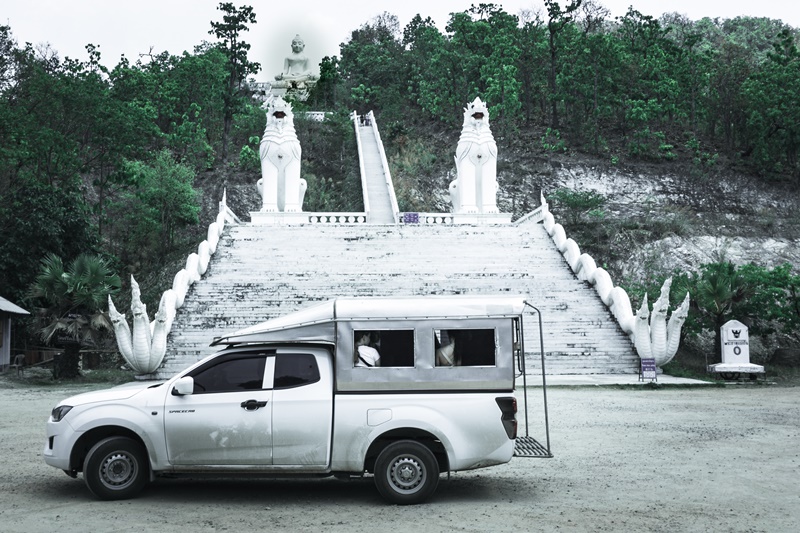 Tours in Pai are great value for money and a great way to get around and see the highlights. It's really easy to book a tour of the White Buddha in Pai. Much like in other areas in Thailand, there are tour sellers on every street corner. But if you're smart about things you can book a tour of Pai Online to find the best prices.
Tours of Pai tend to visit more than just the White Buddha typically stopping at multiple hotspots in one day. So for example you might visit the Big Buddha in the morning, swing by the Pai hot spring in the afternoon and end the day at the Pai Canyon in the evening.
A tour like this would cost around 1,000 Baht or less! (Check Prices)
Drone Video Pai Big Buddha
Want a better perspective on what to expect at the Pai White Buddha Temple. Then watch this drone video.
Pai White Buddha or Big Buddha
Curious about the correct name for this temple? What is the difference between the Pai White Buddha and the Big Buddha? Well, here's a fun fact – there's actually no difference at all! They're just different names for the same spot. In Thai, the name translates to English as 'Big Buddha', but it's easy to see why it's also nicknamed the White Buddha.
Hiking The Pai Big Buddha
If you hiking to the top of the Big Budhha in Pai you should know it's over 2 kilometres to the top! There are over 353 stairs to get to the summit! But the good news is there is a road to the temple entrance so you can ride a scooter to the top or book a tour of Pai which includes a stop at the Big Buddha.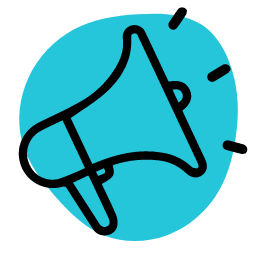 Update:
The construction of a new road means you can now drive almost all the way to the top of the Pai Big Buddha.
From the car park at the top, there is a short 10-minute hike up the white staircase to reach the main deck. If you're travelling to the Pai Big Buddha in the rainy season the climb will be a little more tolerable, but if you're travelling during the peak season you might want to save the hike until late in the afternoon or early morning- and bring plenty of water.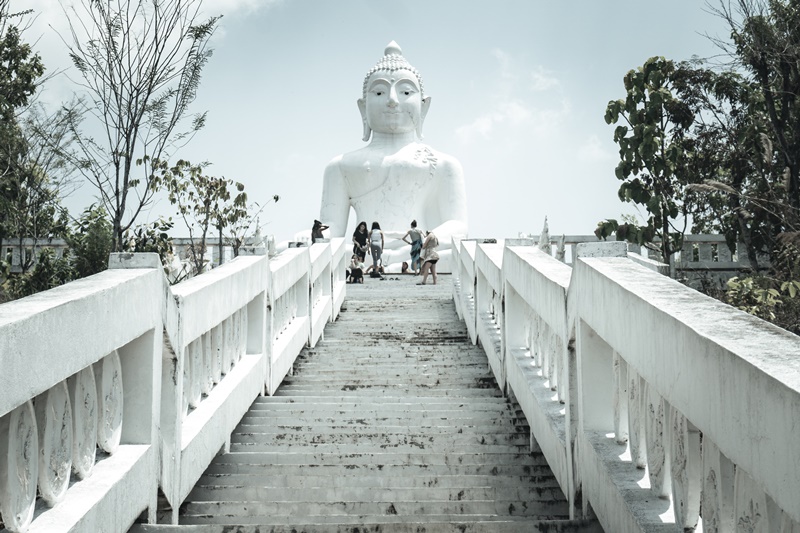 At the top, the staircase opens out onto a viewing platform where the Buddha sits. It is an active religious site so remember to dress appropriately and behave as such. You'll see food and drink offerings left out, candles burning and locals meditating and paying respect to the Pai Big Buddha.
You will have epic views looking down across Pai once you reach the top. Take a minute or two to catch your breath and you'll see the luscious mountain ranges surrounding you as well as the rice paddies and fields, take some time to savour this view before pulling out your camera.
Tips For Visiting The Big Buddha In Pai
The Pai Big Buddha is a religious site. You need to dress appropriately as you would at any other temple in Thailand. Long clothing can be rented at the bottom.
Meditation isn't just for the locals, anyone can meditate at the top. And you will see a few Westerners meditating with local Thai people.
There is a small shop at the bottom of the stairs so you can buy bottled water for the climb. And you can buy snacks afterwards to replenish your energy, there are no shops at the top!
Pai Big Buddha opening hours: Open from 6 am until 6 pm. You can watch the sunrise here, but the site shuts before sunset. Try the Pai Canyon for sunset instead.
Combine a visit to the Pai Big Buddha with other attractions in Pai.
How Much Does The Pai Big Buddha Cost
Most temples or shrines in Thailand have some sort of entrance fee… for foreigners. The Pai Big Buddha on the other hand is an exception. The Pai Big Buddha surprisingly is totally free to visit!
That being said it is expected that you leave some amount of money as a donation in the donations box, it's not required but it is polite. Usually, a small note of 20 or 50 Baht is sufficient.
There are a few small market sellers at the foot of the staircase where you can buy snacks and bottled water. You'll also be expected to have your shoulders covered so if you need to, you can rent a sarong for 20 Baht.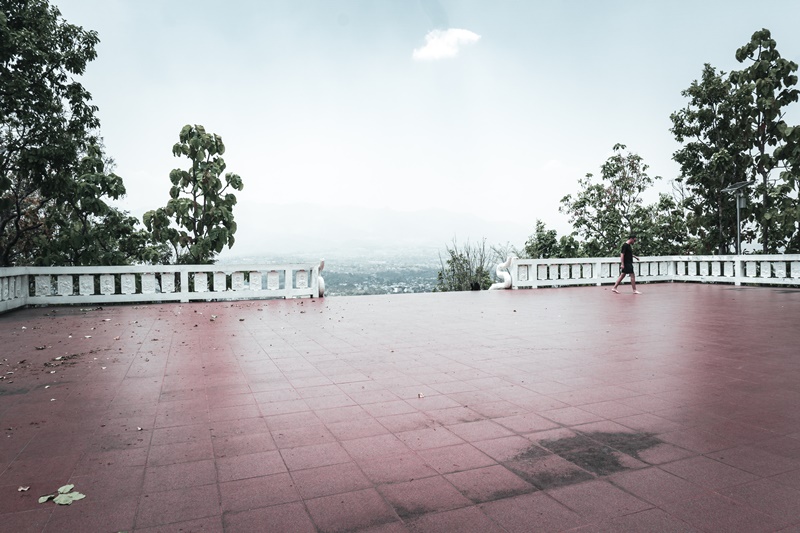 How To Get The Big Buddha In Pai
Ride a Scooter, Hire a Taxi or Join a Tour.
There is no public transport in Pai. The Big Buddha is not far from town and it would be walkable but I recommend riding a scooter there or booking a tour of Pai. Riding a scooter is my preferred option but a Pai Tour is a good choice too and a great way to meet others.
Ride A Scooter To The Pai Big Buddha
You can rent a scooter in Pai for around 100 Baht per day. It's really cheap to rent a bike here and gasoline is under $1 per litre. We rode to Pai from Chiang Mai on the Mae Hong Son Loop.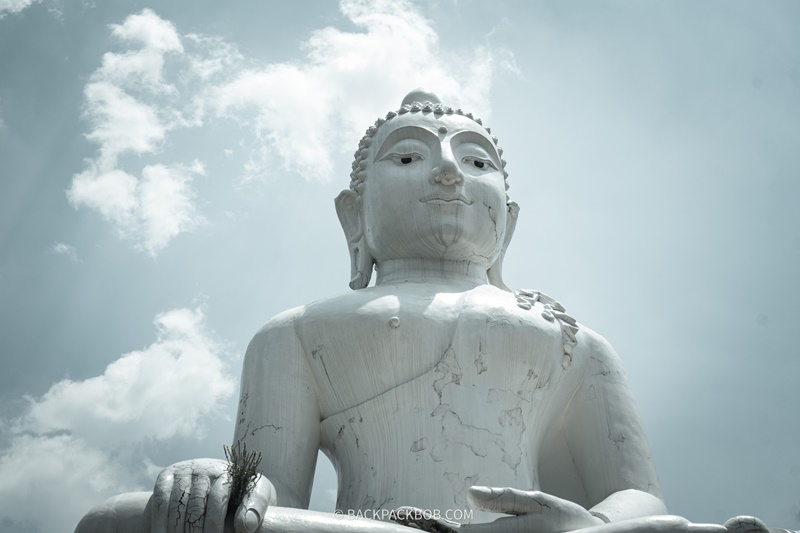 Take A Taxi To The Pai Big Buddha
If you're not comfortable riding a scooter then you can always recruit the help of a local cab driver to show you around.
You'll be best off negotiating a 'day rate' with the driver so you'll pay a fixed price to go around Pai for the day, see all the attractions and finish back at your accommodation.
A taxi in Pai will be the most convenient choice, but it certainly won't be the cheapest choice. Expect to pay around 2,000 Baht for a taxi with a driver for one day.
If you're looking for a cheaper transport option, but aren't comfortable riding a scooter, you'll be best off taking a tour of Pai. When you take a tour of Pai you'll see multiple attractions in one trip and usually entrance fees are included.
Where To Next?
There is plenty to do in see in Pai and I've put together some guides to my favourite things to do in Pai! You can read more here.
Looking for more temples similar to this one? Check out the White Temple in Chiang Rai!