China Town is all about street food and narrow markets, and if you are reading this then I am guessing you are planning to go and visit China Town in Bangkok yourself. But wait! Before you go… make sure you've read this entire guide first to ensure you don't miss anything out!
Is China Town Bangkok Worth Visiting
Google claims that China Town is a 'Tourist Attraction in Bangkok'. This is true in some ways, but it's much more than that.
China Town is one of the greatest places for tourists to visit in the city of Bangkok. Chinatown is the place you imagine when you think of Bangkok it's got an old-school vibe in the air, it's how Bangkok is portrayed in the movies and it's a serious must-visit place in Bangkok.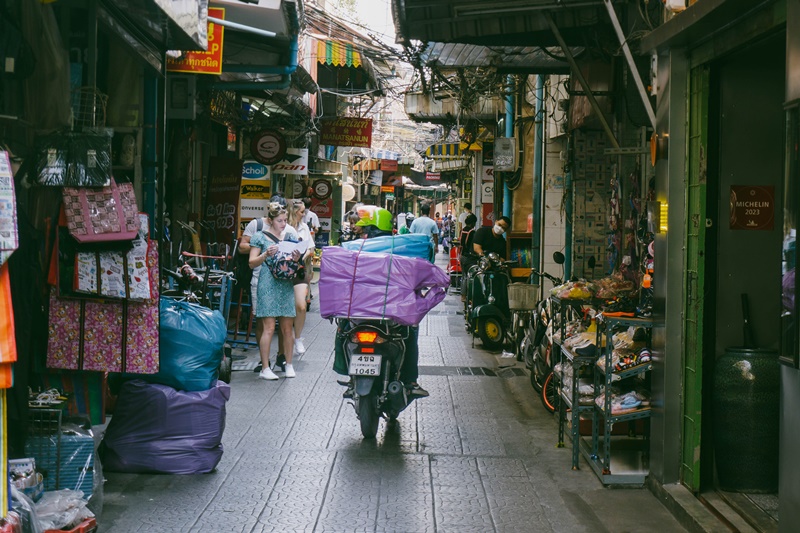 You will fall in love with China Town in Bangkok. I know I did. It's just one of those places that draws you back time and time again. Every time I go I find something new I didn't about, a new restaurant, street hawker, market stall or an entirely new alley to explore.
China Town is a maze of tight alleyways all packed with 'underground' markets, and food hawkers. The alleyways and streets all lead around the famous Yarowrat Road. The heart of China Town in Bangkok. You can find pretty much anything you'd ever want in China Town. And you can find it whenever you want to. The wholesale markets are some of the cheapest places to shop in Bangkok, and I often find the best deals in the early hours of the morning. Even at 2.00 am the backroads and markets are buzzing with life.
Go To China Town in Bangkok!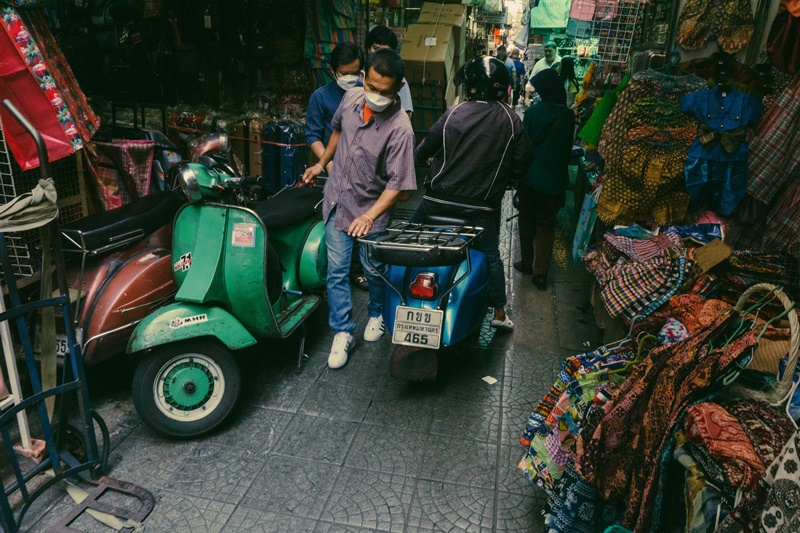 Seriously. If you're considering a visit to China Town, Go. Don't miss out. But what are the best things to do in Chinatown? Where are the hidden gems, and the best-kept secrets?
Get ready for a crash course on all things Chinatown in Bangkok! In this post, I'll share the lowdown on the must-see attractions, stunning Chinese temples, and must-see markets in China Town. Want to know when's the best time to visit and how to get there? So Keep reading and get ready to explore the wonders of Chinatown!
For a summarised post about China Town, Amazing Thailand has you covered. If you want to know more about the history of China Town in Bangkok Wiki has you covered.
Best Ways How to Get to China Town Bangkok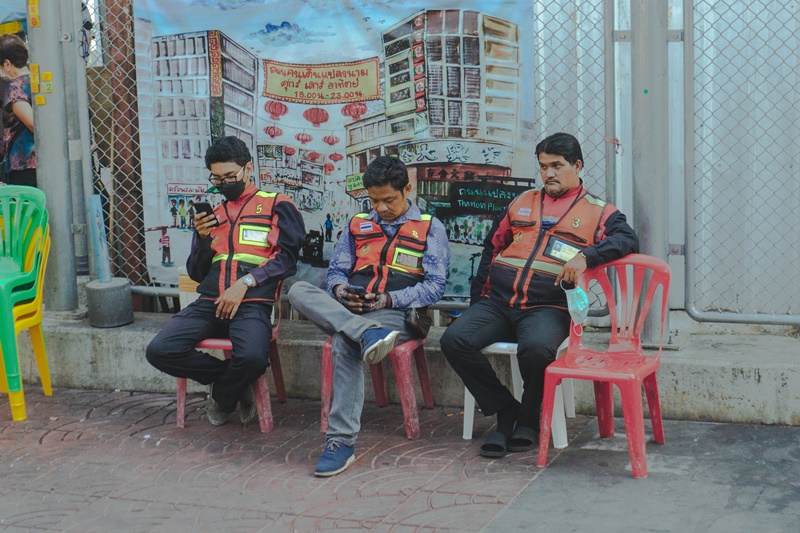 You've got three options to get to China Town in Bangkok. Boat, Train or Road. There is a Pier on the Chao Phraya River next to China Town, there is an MRT Underground Station. Or if you don't feel up to using the Bangkok Public Transport taking a taxi or tuk-tuk is the third choice.
Getting To China Town on The MRT Train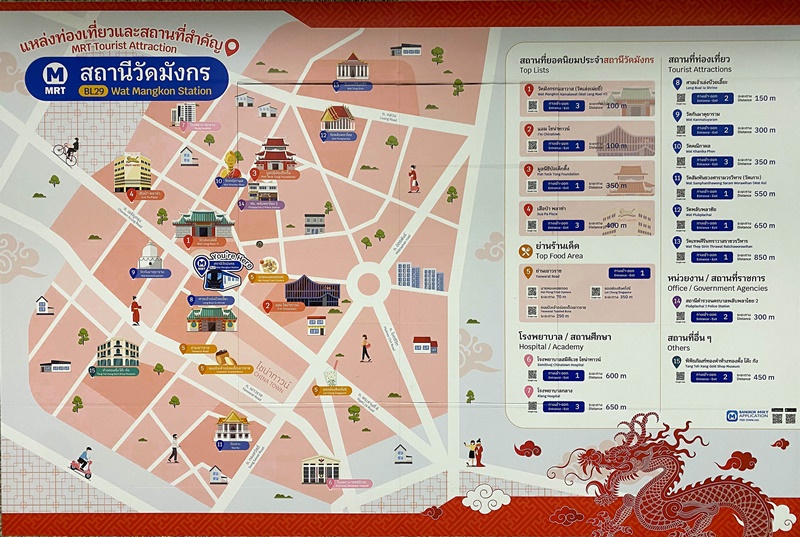 Wat Mangkon BL29 (วัดมังกร in Thai) is the closest MRT Train Station to China Town, the station is just a few minutes away from Yarorat Road- The Main Street in China Town. The MRT also connects with the BTS Skytrain so you can take the train to China Town from just about anywhere in Bangkok.
Getting To China Town on The River Boat
Ratchawong Pier N5 (ท่าเรือราชวงศ์ in Thai) is the closest Chao Phraya Pier to China Town. The Express Boat runs regularly along the Chao Phraya River and costs around 20 Baht. The boats leave from popular areas such as Wat Arun, Icon Siam and Taksin Pier- which connects to the BTS Train.
Getting To China Town by Taxi or Tuk-Tuk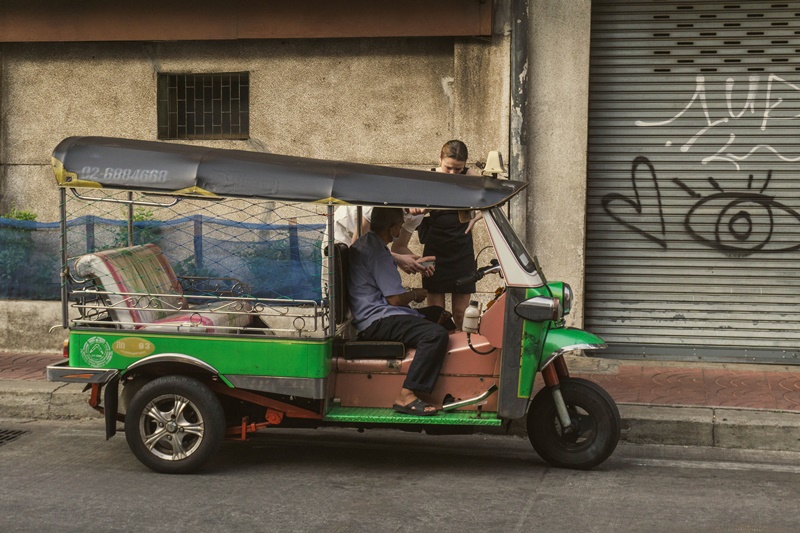 Going by road is the most convenient travel choice to China Town in Bangkok, but there are a few things to consider before choosing to go by road. The traffic in Bangkok is bad. Going by taxi can mean sitting in traffic for a good chunk of the day, time that could be better spent exploring China Town. Second is the cost, Tuk-Tuk's are notorious for overcharging tourists as are taxis in the area. Never get into a taxi if the driver is not willing to switch on the meter.
Things To Do in Chinatown Bangkok
There is so much to do in China Town from sunrise to sunset and into the small hours of the morning there is always something happening in this unique destination. China Town is unlike any other destination in Bangkok- a city within a city if you like. You can easily spend an entire day just losing yourself in the markets and alleyways that go on forever and sampling all the incredible flavours of the China Town Street Food. But here are the 10 best things to do in China Town Bangkok.
Chinatown Bangkok Street Food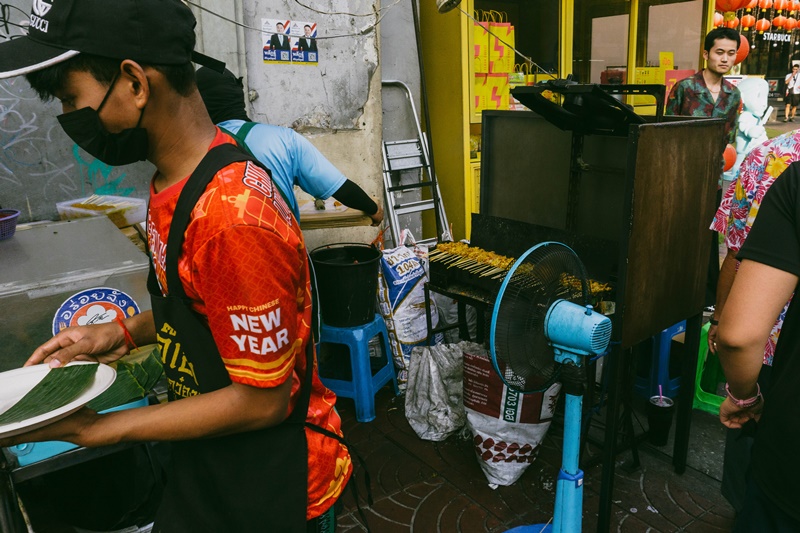 China Town is considered the street food capital of Bangkok and for good reason. Street Food sellers are a huge part of the culture in Bangkok, but there are fewer street sellers than ever in the capital. In China Town, however, the opposite is true. There is delicious street food sold on every corner! Arrive in China Town on an empty stomach. You'll see a lot of food you'll want to try here.
My absolute favourite street food in China Town is Jay Eng's Pork Satay Stall. Although Chef Eng is famous for her Pork Satay, Chicken Satay was my favourite. Sorry, P'Eng! I couldn't get enough of these chicken skewers, eating ten initially I could help but grab another set of ten to take back to the hotel for dinner!
You'll find Jay Eng located near the China Town MRT Station (Wat Mangkon BL29). Her street Food Stall is right outside the 'Canton Shrine'- which is easy to find on Google Maps and also another cool place to check out in China Town.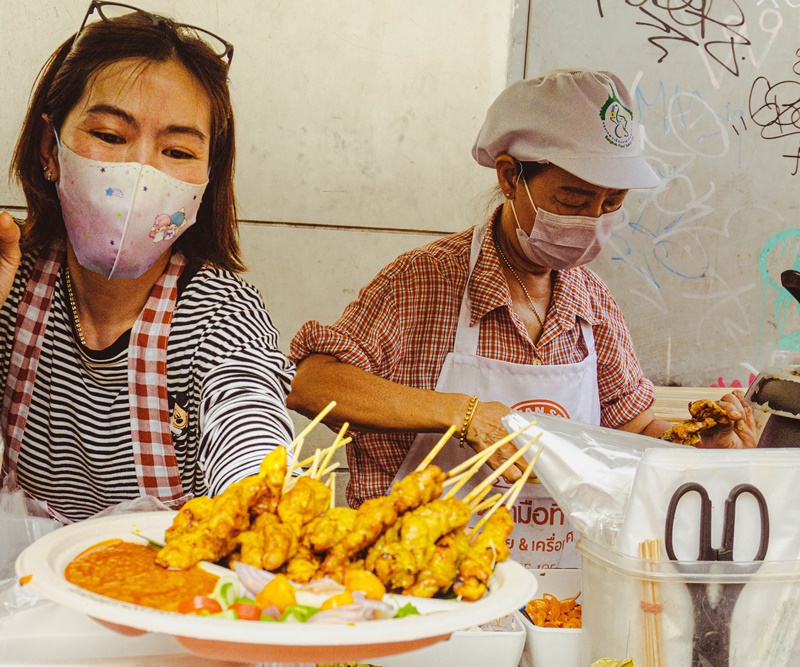 China Town Bangkok Street Food Tour
I didn't take a street food tour in China Town, but we did see loads of groups around. If you want to find the hidden gems of China Town's Street Food a walking tour is the way to do it. The tour groups had around six people and a guide leading them to the best street food sellers in China Town. At each stop, the guides order the most popular dishes for the group to try. Kind of like a tapas tour of China Town!
These tours cost around 1,000 Baht and can be booked online. They'll typically stop at five to ten different food vendors and the cost of all the food is included.
Instead of booking one of these tours, we just stopped at the food carts where we saw other walking tours stop at!
Don't

Eat

The Shark Fin Soup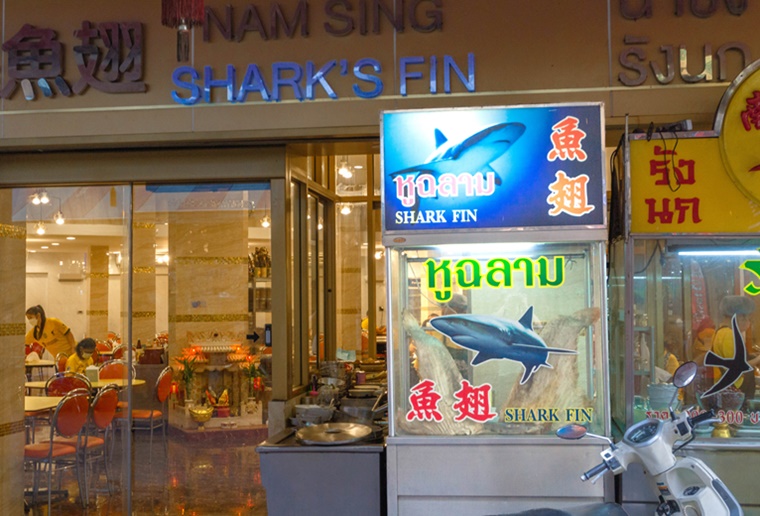 This one was a huge culture shock for me. Shark Fin soup is a really controversial dish that has no place in western civilizations. But I was shocked at just how many of these Shark Fin restaurants there were around China Town, and how open their advertising was. I knew these places existed, but I always considered them to be a more 'unspoken' type of business, where you have to know someone that knows… I was even more shocked to see a group of (assumed to be) young British tourists sitting in the restaurant trying the Shark Fin Soup!
It should go without saying that this is one food to steer well away from in China Town. Plus it doesn't even look nice to eat.
Hole in The Wall Restaurants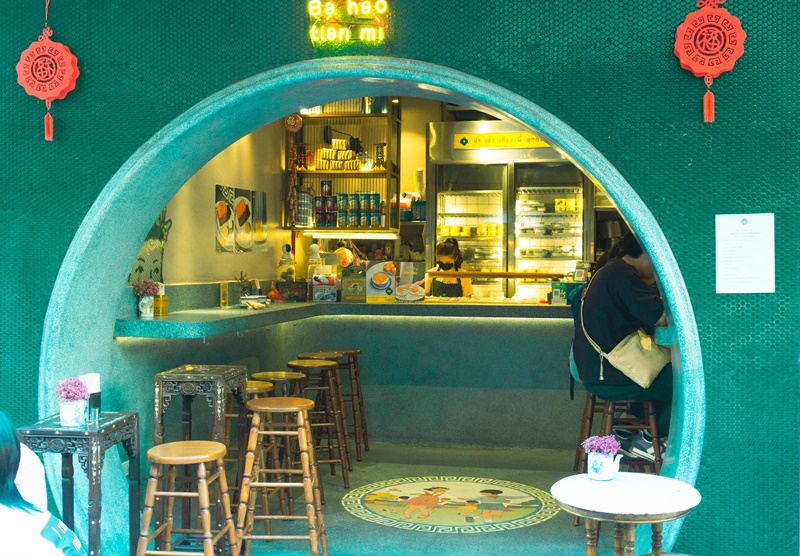 It's not just food carts and street sellers with incredible food in China Town Bangkok. There are also countless sit-down 'Hole-In-The-Wall' Restaurants. Each spot will have a totally different menu, from Thai to Chinese the flavours are unimaginable. This Vietnamese Restaurant smelt incredible! Unfortunately, our stomachs (and backpacks) were already full of street food!
Chinatown Bangkok Night Market
The China Town Night market is not something that most tourists are even aware exists! The China Town Night Market is the underground shopping operation where goods are brought and sold 'black market' style. There isn't much you can't find here. The streets are narrow, less than a meter wide. With hundreds of stalls packed in as tight as possible.
Although the night market opens around sunset time, the best time to visit the Night Market in China Town is around 1:00 am which is typically when new goods are coming in! But the market is open until around 5.00 am! There are street food vendors open all night here.
The night market in China Town is technically a Whole Sale Market, but goods can also be brought individually too and you'll find some of the best deals in the entire city here. Honestly, the prices seem too good to be true.
Sampeng China Town Market
There are so many markets within China Town it's easy to get lost. There are hawkers on every street and even a huge night market. But if you're spending a day in China Town the Sampeng Market is the place you'll want to visit. You'll find all sorts here from perfumes and cosmetics to electronics, furniture, clothing, shoes, sunglasses and much much more.
The Sampeng Market is impossible to miss! It's located at the top of Yaowarat Road and is easy to find on Google Maps!
Yaowarat Road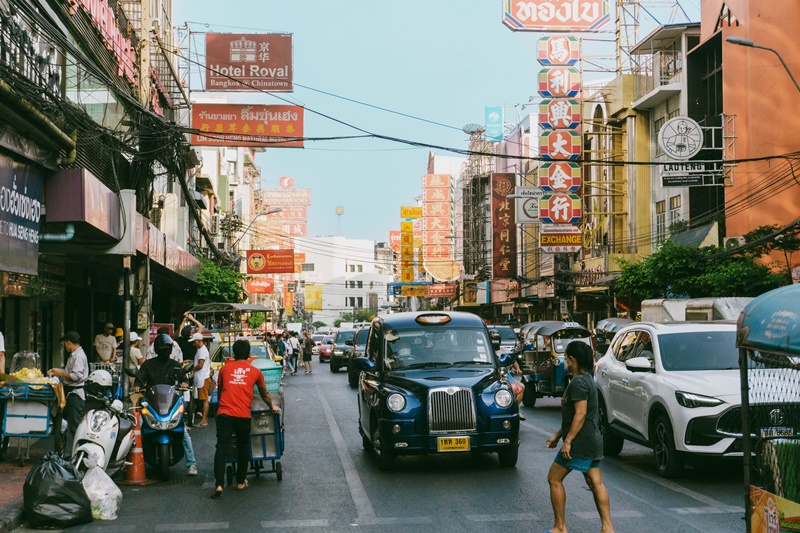 Yaowarat Road (ถนน เยาวราช in Thai) is the heart of China Town in Bangkok! This packed one-way street runs right through the middle of China Town. This is the street you'll usually see in famous photos of China Town. There are countless side streets leading off from Yaowarat Road and each side street has more alleys to explore.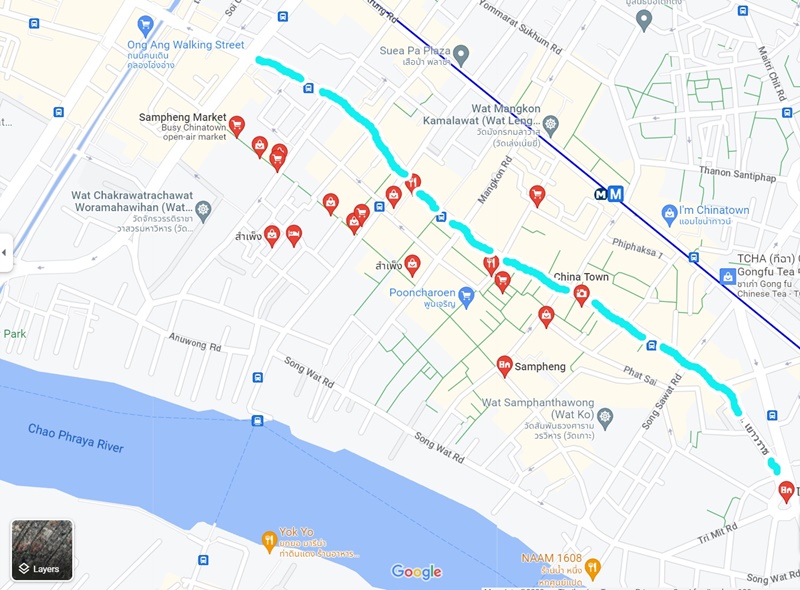 Take Photos in China Town
China Town in Bangkok is like a photographer's wet dream! It's one of the most photogenic areas in Bangkok and not somewhere you'll want to go without your camera. Each street is unique, there are characters and smiling faces all around. From the temples to Tuk-Tuks to the street food cards, there is an unlimited number of photo opportunities here. But for the best shots, you'll want to come to China Town after dark when the famous Yaowarat Road is illuminated.
The Street Art in Bangkok China Town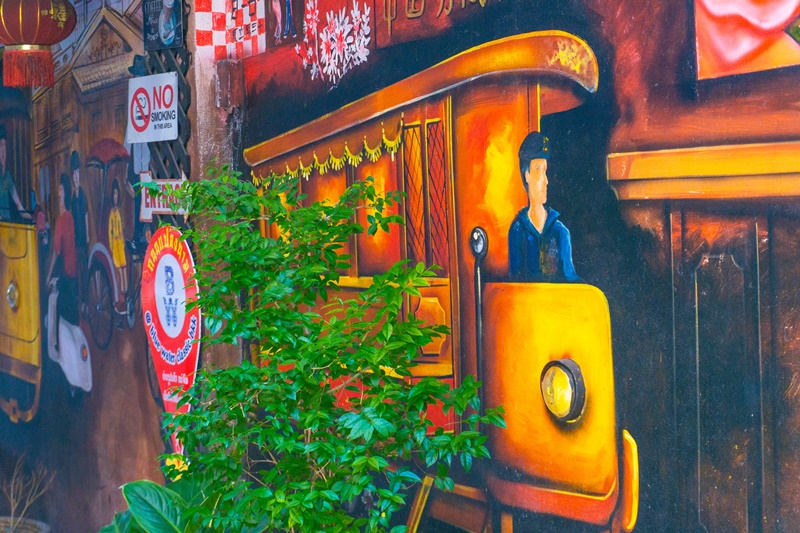 One of the most noticeable things you'll see in China Town is the amazing Graffiti or Street Art. Murals are painted on walls and buildings everywhere you look, each with a unique theme. It adds so much colour, soul and character to an already vibrant community.
Visit the China Town Temples
Believe it or not, some of Bangkok's most famous Temples are located in the China Town area. I've also written a guide to the best Temples in Bangkok, which you can read here. The two most notable temples in China Town are 'The Crocodile Temple' where there are real-life crocs living on Temple Grounds! And the Golden Buddha Temple where you'll be able to see the Gold Buddha in person, which is worth 250 Million Dollars.
Read my Full Guide to the Best Temples in Bangkok here.
See The China Town Gate
This gate marks the unofficial entrance to China Town in Bangkok and you can't help but be drawn to it. It's no wonder that this iconic entrance is a favourite among photographers! The Gate was actually built by Chinese Thai citizens back in 1999 to pay respects to the late King the writing on the Gate reads "Long Live The King" in Mandarin Chinese.
China Town Sky Bar at The Bangkok Grand China Hotel
There is no shortage of Sky Bars in Bangkok and China Town is no different. The Grand China Hotel has a rooftop open to the public. From the top, at the River View Bar, you'll have views of the whole of China Town including Yaowarat Road. Sitting here watching a Bangkok Sunset is a nice way to end a day out and really helps you to piece together the ongoings of China Town.
Conclusion
So that's everything you'd want to know about China Town in Bangkok, will you be visiting? Or have I missed anything out? Let me know in the comments.
If you're sticking around in Bangkok for a while longer check out the Chao Phraya River Dinner Cruise, or if you're ready to leave the city behind I recommend heading south from Bangkok into Krabi.