Where is the Phi Phi Island airport? and how do you find flights to Phi Phi Island? You've decided to visit the Phi Phi Islands in Thailand. But how are you going to get there? Are there direct flights to Phi Phi Island, where is the nearest airport and which airlines are the cheapest. Let's look into all the ways you can utilise air travel to get to the Phi Phi Islands.
Are There Direct Flights To Phi Phi Island?
Can you fly to Phi Phi island? For those banking on catching a flight directly to Phi Phi Islands, are out of luck. There are no flights to Phi Phi Island, due to the fact that there is no Phi Phi Island Airport.
It would be impossible to construct a Phi Phi Island airport due to the small size of the island and lack of suitable space. Koh Phi Phi is a beautiful tropic island with towering limestone cliffs, there is no flat land on the island.
In fact, Koh Phi Phi is such a small island there is not even enough space for cars! Motorbike are restricted in the town to be used only by the police and bicycles are not permitted either. If there is no space for bicycles, cars and motorbikes, there defiantly isn't room to park a 747.
Not to mention the unwanted disruption and noise an airport would cause, it would quickly strip away the islands natural beauty and status as a paradise at sea.
How Can You Fly To Phi Phi Island?
So there are no direct flights and no Phi Phi Island Airport, so rule out flying. But there are alternative options.
The mainland locations closest to the Phi Phi Islands, Phuket and Krabi. Both have international airports with connections to Koh Phi Phi. But as the only way to get to the island is by sea, you'll need to combine your flight with a taxi ride to the nearest pier and a boat ticket to Phi Phi Island.
The Closest Airport To Phi Phi Islands
Which airport is closest to Phi Phi Island? Phuket is usually the common choice for travellers when booking flight to Phi Phi Island, and that's partially due to the low costs and wide range of flights landing in Phuket, both domestic and from other south-east Asian hubs.
But Phuket is not the closest Phi Phi Island airport, it's a four-hour journey at least to travel from Phuket airport to Phi Phi Island. A much closer airport is Krabi International which is around two hours away, offering a clear advantage over connecting through Phuket.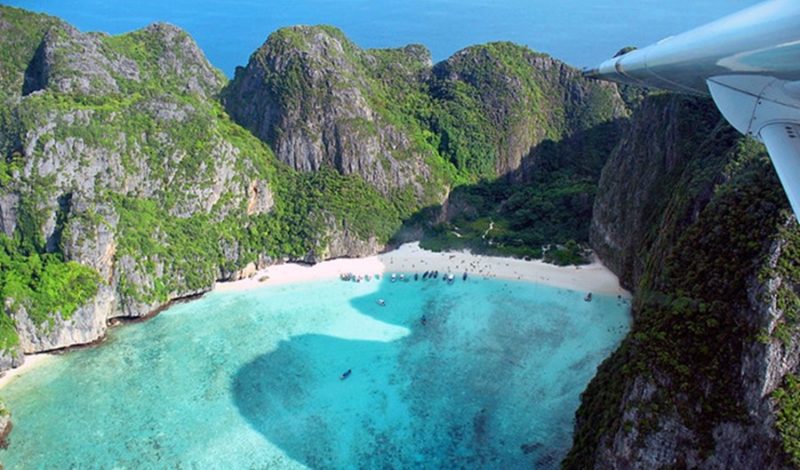 Flights To Phi Phi Island Via Phuket Airport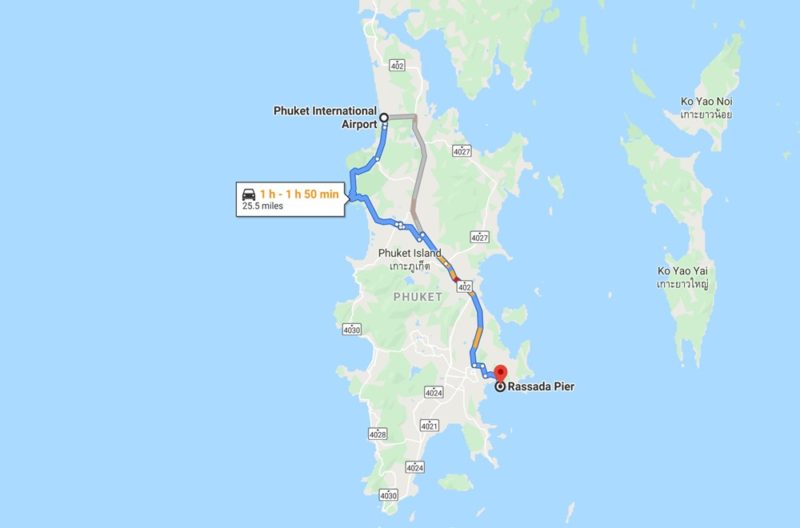 Phuket airport is the most common airport used for flights to Phi Phi Islands, however, you can save yourself both time and money by choosing to fly to nearby Krabi instead.
To reach Phi Phi Islands from Phuket airport you'll need to make your way over to Rassada Pier, Rassada is the closest port to the airport in Phuket and it can take an hour to drive there in clear traffic. The taxi ride from Phuket airport to Rassada Pier will cost somewhere between 700 to 1200 Thai Baht, depending on the number of people and you haggling skills.
Arriving at Rassada Pier you'll need to hand over another 600 Baht per person for a ferry ticket to get to the islands.
But did you know half of the money you pay for your boat ticket will be given to taxi driver as a commission on the sale! So if you see you driver hanging around while you buy your boat tickets, well, that's why.
Booking ferry tickets online can save you a ton of cash, you'll cut out the cab drivers commission and save about 50%. But it is much more restrictive and you'll be locked into one time and date.
If you want more flexibility and you plan on buying tickets at the pier. Letting your driver know this in advance can help to negotiate a cheaper price for your cab, as the driver knows they'll earn an extra commission at the port.
The ride time from Phuket to Phi Phi Islands is advertised as two hours, so you should expect the boat ride to take somewhere closer to 2 and a half hours. So with 60 minutes to the pier and another 180 minutes on the boat you'll find it takes on average four hours in total- and costs a somewhere around 1,500 to 2,000 Baht.
The last passenger ferry to make the sailing each day leaves Rassada Pier at 3:00 pm. SO in order to make a connection with this boat, you'll want to find yourself a flight to Phi Phi Island which lands at Phuket before 1 pm. And don't forget to take into account timings for baggage reclaim and immigration if you're travelling internationally.
During Thailand peak season you'll sometimes find speed boats operating between Phuket port and Phi Phi Islands, the last speedboat leaves at 5 pm, but there is no guarantee the boat will be running and can often be cancelled last minute due to lack of demand or poor weather.
RASSADA PIER: FERRY SCHEDULE
Flights To Phi Phi Island Via Krabi Airport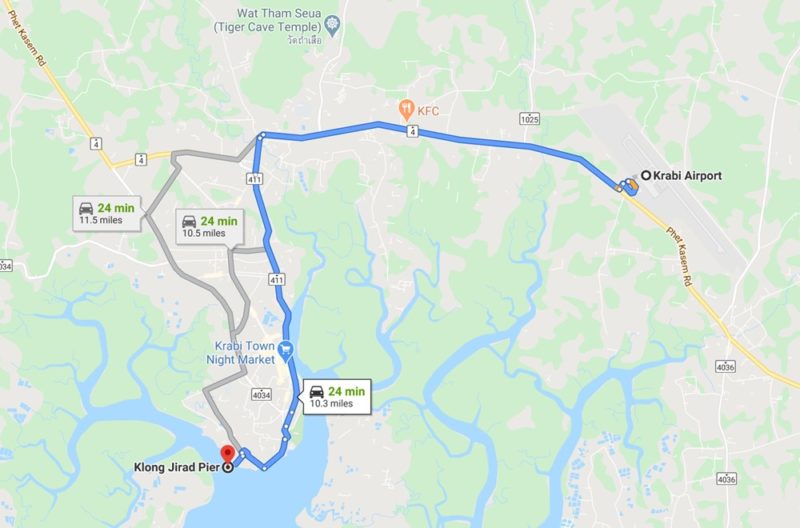 Flying into Krabi Airport to connect with Phi Phi Islands is the smarter choice. Krabi Airport is slightly smaller in comparison to Phuket, which means quicker immigration lines for those touching down from overseas, and a better overall experience. 
Krabi Airport is only a fifteen to twenty-minute drive from the pier! (Klong-Jilard Pier) upon exiting the airport you'll find a handful of tour touts where you can book a combo ticket to Phi Phi Island, for around 500 THB, the combo tickets include a shared van to Klong Jilard Pier and a boat ticket to Phi Phi.
But if you've got some time on your hands, you can jump into a taxi and ride to the pier yourself. It's tough to find a metered taxi but expect to pay a fixed rate of about 300 Bhat. Or downloading the Grab taxi application, (Asia's version of Uber/Lift) can earn you a cheaper rate, still.
At Klong-Jilard pier you'll find a few small street restaurants and stalls serving delicious Thai meals- perfect to kill some time while waiting for your boat to depart.
Ferry tickets can be brought from the counter inside the pier itself, for 450 Thai baht. With the ferry ride taking just one hour and thirty minutes to reach Phi Phi Islands from Krabi. The total cost is 750 Bhat, 50% cheaper than travelling from Phuket, and the total travel time can take less than two hours, depending on the time your flight lands.
When travelling to Phi Phi Islands from Krabi Airport, you'll need to choose a flight which lands before 2 PM, in order to connect with the last ferry of the day, leaving at 3:30 PM.
And if you're buying a boat ticket on arrival to Krabi Pier, be sure to ignore the many ticket sellers you'll find outside and at the 'official reservation desks'. Walk straight through, past the seating area, past the service counters, past the restaurants- and you'll find the official booth tucked away at the back. Head up to the ticketing window here to get the lowest price for your ferry ticket.
Alternate Travel Options to Phi Phi Island Airport
For travellers on a tight schedule, not everyone has enough time on their Thailand vacation to stay overnight in the Phi Phi Islands. While you definitely should if you're able to.
You could instead opt to make a day trip to Phi Phi Islands from either Phuket, Krabi, Koh Lanta or Ao-Nang. On a Phi Phi Island Tour, you'll get to enjoy the natural beauty of the islands- without needing to make an overnight trip.
Riding on a traditional Thai long-tail ail boat is one of the most iconic experiences in Phi Phi Islands. Read our guide on booking a private long-tail boat in Phi Phi Islands, for less than the cost a group trip.
And if you're looking for more inspiration on what to do in Phi Phi Islands, don't forget to check out our full guide on the 72 best things to do in Koh Phi Phi.