Do you want my insider tips on free things to do in Phuket? It is no secret that Phuket is one of the more expensive holiday destinations in Thailand, so looking for money-saving opportunities is understandable.
But for an island that offers so much in the way of tourism, has outstanding natural beauty, nearby islands, incredible beaches, jungles, forests, world-class hotels & dining, and countless activities to do- prices are easily justified. And while Phuket is expensive when compared to other destinations in Thailand, compare the costs to any European, American or Australian city and you'll soon realise how cheap Phuket actually is.
But if you do want to save money, and are looking to find out what the best free things to do in Phuket are. You're in the right place. Whether you're a broke backpacker, perhaps you spent all your money on Bangla Road or maybe you're just a tight a**e, I'm not judging. I'm here to share with you my favourite things to do in Phuket, that cost no money at all.
So keep on reading to find out what you can do in Phuket, for free.
#1 Hang Out On The Beaches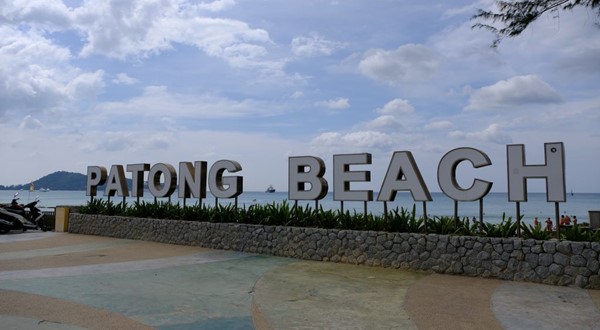 So you've probably already consider this as a free things to do in Phuket, and yes it is a pretty obvious one. But the perfect white sand beaches are what makes Phuket Island such an attractive destination for tourism. Patong, Kata and Karon are some of the islands most well know beaches but there are many more beaches to discover around the island.
Spending an afternoon laying on a beach, catching a tan and reading a book will cost you nothing at all.
#2 Plane Spotting At Mai Khao Beach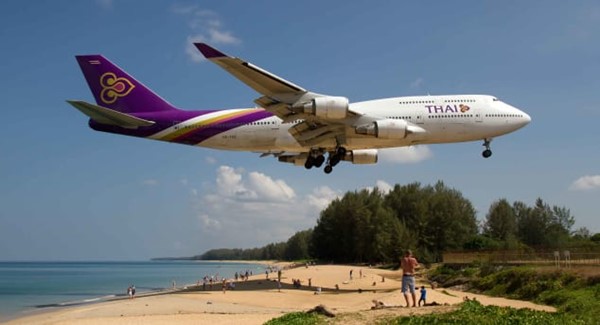 There are very few places in the world where you can get this close to aircraft touching down. The end of the runway at Phuket Airport is separated from the Andaman Sea by just a few hundred meters of beach. It's one of the most unique experiences you'll find and the best part is, it's a completely free thing to do in Phuket.
Dean and Laynni have a detailed guide to Plane Spotting at Mai Khao Beach if you want to learn more!
Technically speaking people aren't allowed to be in the flight path, and at the moment there are no restrictions in place. But authorities have even increasing concerns about potential safety risks and drone usage The beach is not governed by the Airports Of Thailand, but rather by the Department Of National Parks. And once this spat is resolved it is expected that the beach will close. So make sure to see it while you can.
#3 Phuket Big Buddha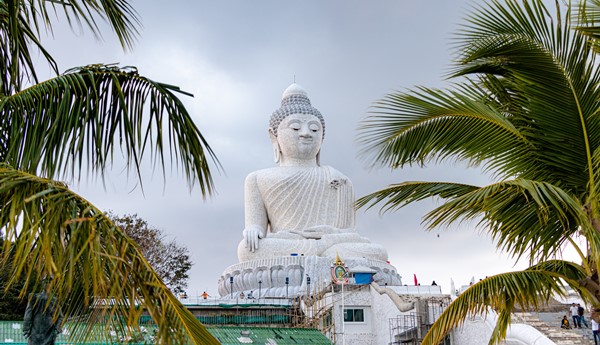 The Phuket Big Buddha is one of the most well know attractions in Phuket, but most people are surprised to find out that it's a free thing to do in Phuket. The Buddhist shrine stands at a whopping 45 meters tall dominating Phukets skyline. It sits on Nakkerd Hills and can be seen from all around.
Seeing as this post is about free things to do in Phuket, here is a link where you can read how to hike from Karon Beach to the Big Buddha- making it completely free. You don't need to spend a single Baht on this awesome, but tiresome activity. Although there are collection boxes and if you can afford to leave a small donation, then, of course, you should.
There is more than one Big Buddha in Thailand, in the northern region, there is another Big Buddha on a hillside in Pai which you can also visit. Learn more about the Pai Big Buddha.
#4 Explore The Malls And Catch A Show
Usually hanging around in a mall window shopping doesn't sound like my idea of fun, especially when one of the worlds most beautiful beaches is mere minutes away. But at the Jungceloyn shopping mall in Patong a special effects performance of water lights stops shoppers in their tracks. You can catch the shows totally free in the food court at the mall.
Jungceylon Water Showtimes:
#5 Phuket Old Town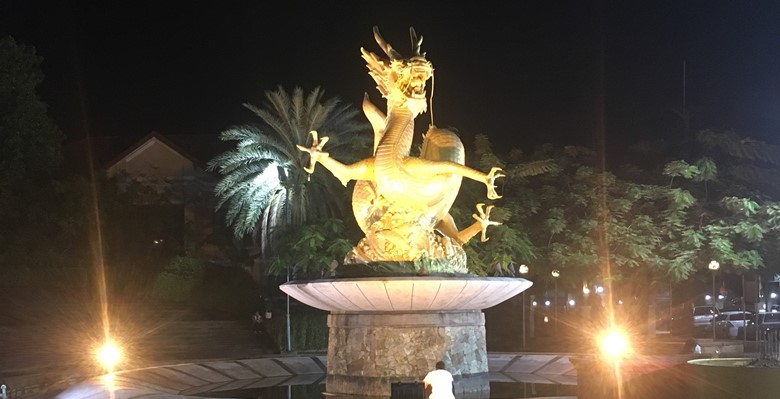 When you're in a new place, getting lost and exploring without a plan is one of my favourite things. And the Phuket Old Town is one of the best places to loose yourself and explore, and obviously it is a free thing to do in Phuket.
Phuket's Old Town is known for it's unique styles, you never know whats what is going to be around the next corner. The buildings are brightly painted Sino-Portugese town houses. Not something you'd find anywhere else in Phuket.
Thalang Road is well preserved with stores still retailing. And you happen to be lucky enough to find yourself there on a Sunday, you'll see the street come to life as the walking street market vendors set up shop. Another free thing to do in Phuket town is to visit Queens Park which is beautifully illuminated at night, and you might even be able to join in on a free yoga class if you're lucky.
#6 Volunteer At The Soi Dog Foundation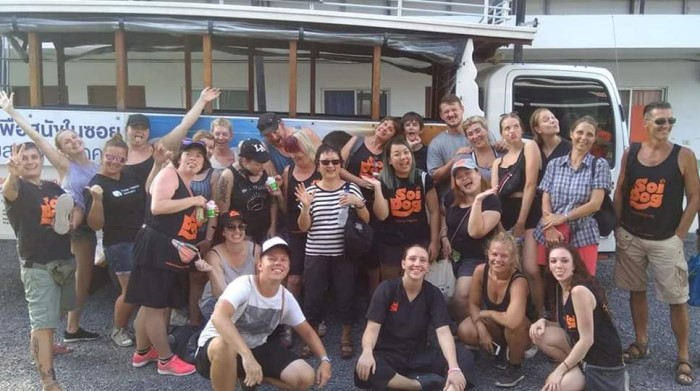 Animal lovers will love this free thing to do in Phuket, and it's probably not something you will have considered. You won't find the Soi Dog Foundation in any guidebooks or tour brochures. The Soi Dog Foundation do amazing work to care for animals and find forever homes for Phukets street dogs.
If you want to find out more about volunteering you can get more details on their website here.
If you are flying out of Phuket Airport at the end of your trip, you can also help out as a flight volunteer to get help an adopted dog get home. With no extra work on your part, and no cost involved.
#7 Help Out Cleaning The Beaches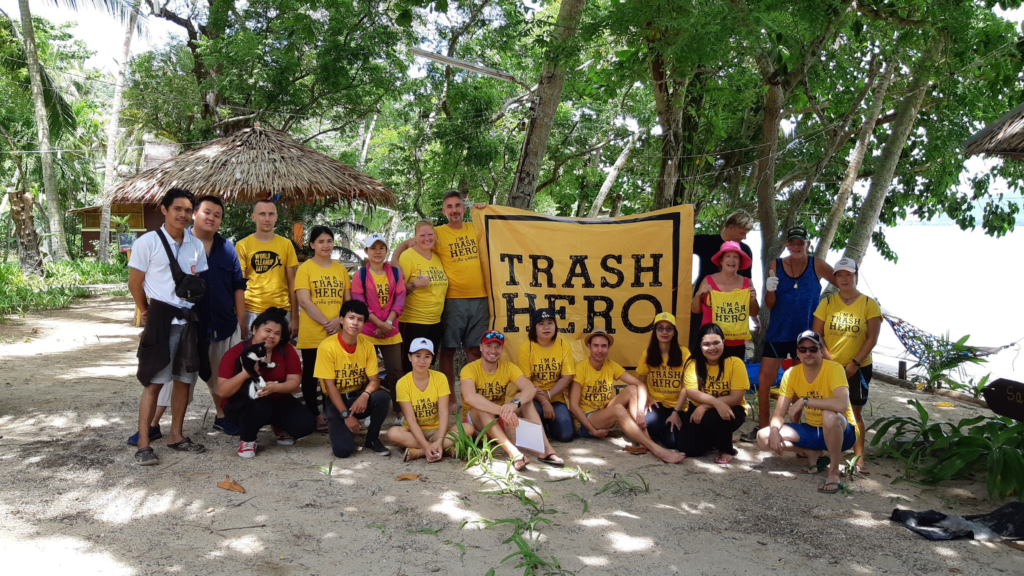 Trash Hero is a non profit organisation in Phuket, the teams are made up entirely form volunteers who arrange regular beach clean ups. Since Trash Hero began in Phuket, in 2016. 113 beach clean ups have seen 16,000 tons of litter cleared from Phukets beaches.
So if you are looking for free things to do in Phuket, tagging along on a trash here clean up in helping to give something back to the environment and it's a great place to make new friends and meet like minded others.
You can get the latest info about scheduled beach cleans on the Trash Hero Facebook Page.
#8 Go Snorkeling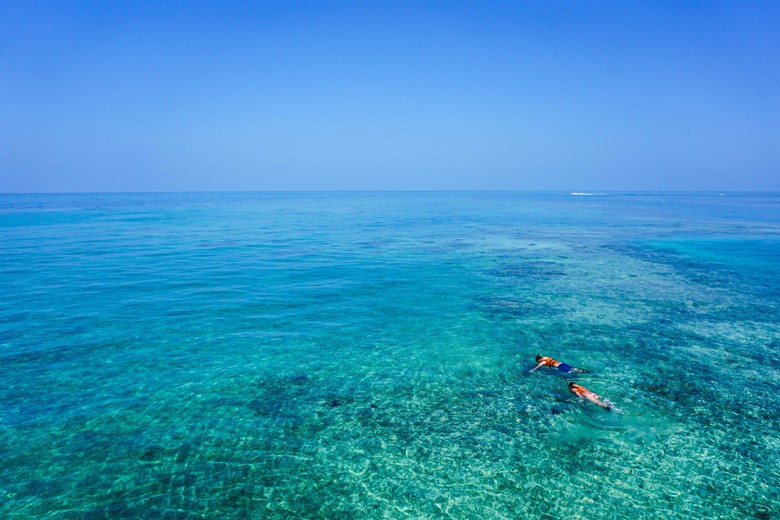 Another free activity in Phuket is to head down to the beach with a mask and snorkel (assuming you already have one) and check out the underwater life. If you don't have a snorkel you can pick one up for less than $5 from any of the beach vendors, it all you'll need to explore the seas and can come in useful at other spots around Thailand.
Phuket is a world-class snorkelling destination, and all but a few beaches are free for the public to use- you don't need to get too far off the coast to spot incredible coral reefs and colourful fish. The water is warm and clear, you can easily get lost in your own bubble admiring the underwater world.
#9 Sunset At Prom Thep Cape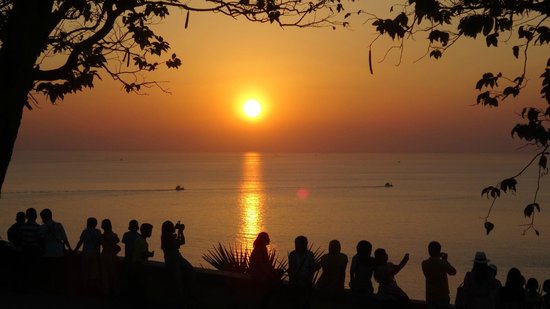 Nai Harm is the most southern beach on Phuket island, and also one of the most beautiful. Promthep Cape is a few minutes away and the landmark is elevated above sea level, making for a nice spot to catch the sunset.
You can even take a short hike along the cape to see a scenic disused lighthouse nearby.
You can visit Promthep Cape and any time during the day, but the most popular time is at sunset. With such beautiful views over the Andaman. It's easy to see why this spot is so popular. A trip to Promthep Cape comes highly recommended.
#10 Phi Phi Islands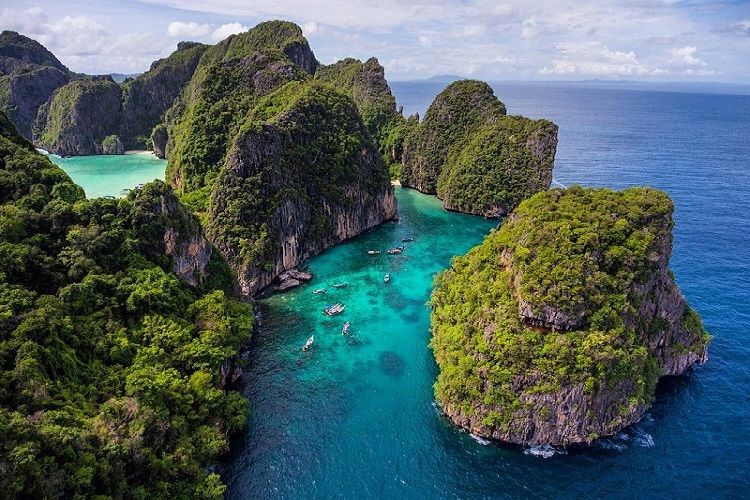 Okay, I'll be honest, this one isn't actually free. But it can be done on a very low budget if you plan it right. And here's how you do it.
Visiting the Phi Phi islands for a day trip doesn't have to be as expensive as some people think it is. If you are staying in Phuket Town, you can walk to the pier in around 20 minutes. But ferry tickets at the pier are sold for 600 Baht. The trick is to buy ferry tickets from a tourist office in the town, where you can find vendors selling the same ticket for 300 Baht. Buy yourself two tickets (one for the return journey) walk to the pier and for 600 Baht ($10) you can spend the day exploring beaches for free on Koh Phi Phi.
The boat leaves at 8:30 am and the return boat leaves at 2:30 pm so you'll get a good few hours on the island.
Don't forget to check out my guide on the best things to do in Koh Phi Phi.
Phuket Vegetarian Festival (Bonus) #11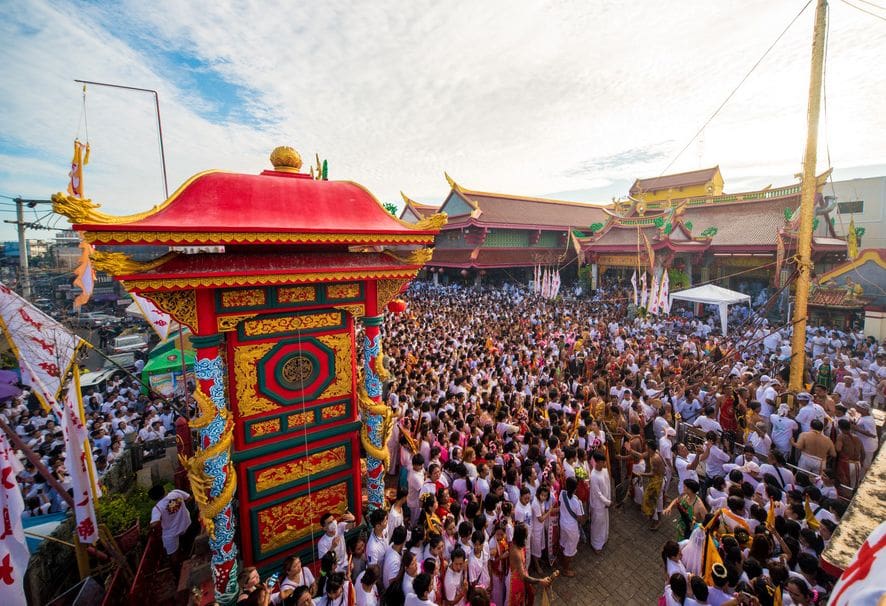 The Phuket Vegetarian Festival, or the 'Nine Emperor Gods Festival' attracts tourists from all over the globe, the two-day event is held in October each year. Most restaurants close up shop while the festival is held and vegetarian food selections are sold by street vendors instead. If you happen to find yourself in Phuket or nearby in October, check the dates and get yourself to the festival. You won't regret it.
Conclusion
There are plenty of free things to do in Phuket, many of which help the environment and the communities living in Phuket, and none of them were temples or markets! A Phuket vacation doesn't have the break the bank and the island is suitable for travellers with any budget. Even though there are plenty of free things to do on the island, you'd be missing out on some awesome experiences if you weren't to take part in any paid activities, tours, shows or offshore excursions.
And if these free things to do in Phuket weren't enough for you- there are over 101 other free activities to do in Phuket listed on TripAdvisor.