Tipping etiquette can often be confusing, when you arrive in a new country it can take some time to wrap your head around it. You might be unsure if tipping is compulsory, appreciated or even offensive. You don't want to insult anyone by not tipping, but you also don't want to insult anyone by tipping when it is not expected. And then there is the task of figuring out how much you should be leaving as a tip. Luckily I've got all the answers for you, right here.
In this post, I'll walk you through how to tip in Thailand, who to tip in Thailand, where to tip in Thailand and how much you should tip. I'll even go through some real-world examples to give you the best understanding of tipping etiquette when you visit the land of smiles.
Should I Tip In Thailand
Tipping is not mandatory in Thailand, at all, but it is often expected. It used to be uncommon practice to tip, but the stance has shifted over the past five to ten years. Tipping is more common in restaurants, massage parlours, or to those working in the tourism industry such as tour guides. Whereas tipping bar staff, cab drivers or hoteliers is less common. Let's take a look at the different jobs in Thailands service and tourism industry to find out who you should tip in Thailand and how much is considered generous.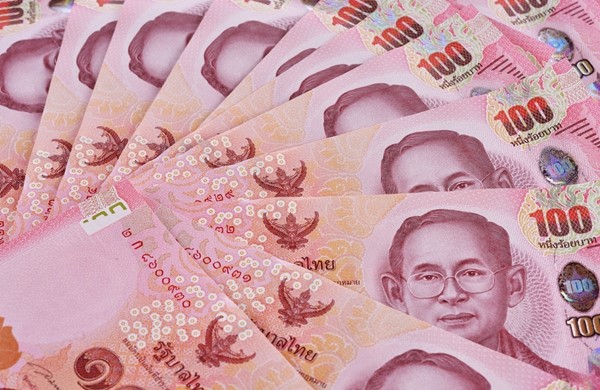 How Much Should I Tip In Thaialnd
In the words of the Thai People "up to you". Tipping is not compulsory, but locals working in the service industry will be grateful if you leave them a tip, no matter how small.
I'll kick this off with some facts, salaries in Thailand are lower than what you'd earn in the western world. But the cost of living is cheaper as well. Thai people working as bar workers or wait staff are usually working a six-day week and getting paid for each shift.
The average wage is 300 Baht a day, so leaving a small 50 Baht tip might feel insignificant to you, but it can actually boost a servers wage over 15%. It would only take 6 customers to leave a 50 Baht tip to double their income, so it will definitely be appreciated.
And of course, wherever you are in the world you will encounter some ar******* as well. In some of the 'seedier' bars, you know ones I'm talking about, the girls will often point-blank tell you to tip them and how much they want. These are the people that I'll tip less or not at all.
I have spent over a decade in Thailand, living, working and travelling so the examples I'm going to give in this post are based on my own experiences, how much I have tipped and how much I've seen others leave as tips. I have worked in Thailands tourism industry so I can share first hand information of how much Thai staff working with me have been tipped in different industries. Giving you an in depth insight into the expectations of the locals.
You might yourself tipping more or less than I suggest in this guide, and that's ok. Leave what you can afford.
My recommendations are by no means a hard rule, and you should always use your own discretion. So if you want a second opinion, a backpackers insight on how much to tip in Thailand then I would recommend reading this post by Getting Stamped for another perspective on tipping Thailand.
How Much To Tip For A Thai Massage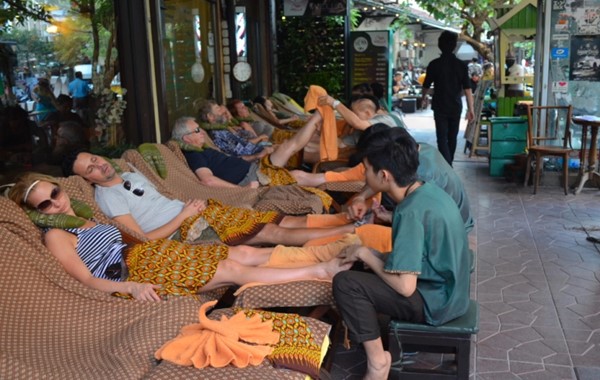 This is one that confuses a lot of time time travellers, it's common knowlage that you should tip your massuse, but no one ever seems to know how much. I've met travellers that had been tipping the massage girls 1,000Baht a time. And I'm sure these girls would have been estatic for a tip that high.
But exactly how much should you tip after after a Thai massage.
A standard Thai massage at most houses will cost around 500 Baht, with that will be split between the massage girl and the house- normally in the favour of the house. The girls might spend the entire day waiting around for a customer to stroll past and on some days they might not have any clients at all. Which is why tipping in the massage industry is encouraged.
When getting a traditional massage in Thailand, leaving a tip of 200 Baht would be considered generous. Make sure to hand the tip straight to the masseuse herself, don't leave it with the house when you pay the bill. Oil massages, aromatherapy or hot stone massages can cost more, usually closer to 1,500 Baht. If you paying for anything more than a standard massage then you should tip 300 – 500 Baht.
How Much To Tip Tour Guides In Thailand
In my experience, tour guides aren't tipped all that often and are usually very appreciative people to earn tips.
Tour guides in Thailand are often hit and miss, often guides will have enormous personalities and can make a tour a special experience. Other times it feels like they just don't care about you, and they only want to hang out with their buddies. So don't feel compelled to tip but know it's appreciated if you do.
How Much Should You Tip On A Private Tour
If you are taking a private tour it is usually expected to leave a tip, correlating to the value of the tour. For example, leaving a 200 Baht tip would be acceptable for a private city tour. But on a more expensive tour, perhaps a private boat tour of the Phi Phi Islands, costing 3,000 Baht, then a tip of around 500 Baht would be more in line. A good rule of thumb for private tours is to tip around 15% – 20% of the tour value.
How Much Should You Tip On A Group Tour
Typically isn't expected as much on group tours, these tour guides are often paid higher wages. But if you have a good experience, got on well with the guide, found them to be cheerful, if they made an effort to ensure you had a great time or they were smiling and helpful, as they often are. Then they will appreciate earning a tip. Somewhere around 100 to 200 Baht will be considered generous and can go a long way.
How Much To Tip Street Food & Market Vendors In Thailand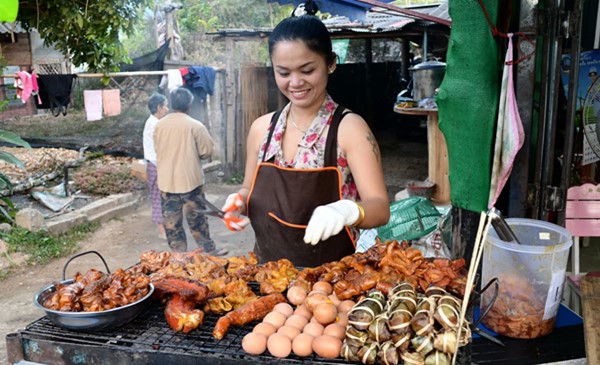 When you are shopping in a Thai market, or buying food from a street vendor. Tipping is not expected and can sometimes cause some confusion.
Food in the markets is usually priced up and sold for a fixed amount. But 'keep the change' could be used when buying street food. If your meal is going to cost 40 Baht and you hand over a 50 Baht note, telling them not to worry about the change can be a nice gesture. Or in Thai, you can say 'My Dorng Torn' to guarantee a smile.
When buying street food it is best to make sure you have small money before ordering. If you hand the seller a 1,000 Baht note they likely won't have enough change to give you. Paying in smaller tenancies is appreciated. You can break notes buying something small in 7-11, where they have enough change to go around.
How Much To Tip At Local Restaurants In Thailand
When you're eating at a sit-down restaurant it is more common to tip, but not compulsory. Similar to most of the world.
A fair amount to tip at a sit-down restaurant is about 10% of the check. Local Thai restaurants are often inexpensive and eating out for two people can cost under 500 Baht. A fair tip would be 50 Baht, but if you get along well with your server rounding it up to a 100 Baht bill would sure be appreciated.
It is best practice to hand your tip directly to the server. If you leave your tip on the table it will be split between the restaurant staff, if you want your tip to be kept by your waiter, hand it to them.
How Much To Tip At High End Restaurants In Thailand
In most high end restaurants you'll find that a service charge will have already been applied onto your bill. Thailand can be a cheap place to vacation. But in the cities of Bangkok and Phuket, you'll have no problems finding luxury shopping malls, resorts and high-end restaurants.
A meal out at one of Bangkok's roof top restaurants, like the Vertigo Moon and Bar for example, can cost 10,000 Baht plus. As when you're being given a bill of this amount I'd be surprised if a service charge wasn't already included. Make sure to check on the bill to make sure. And in the rare cermimstace a service charge hasn't been applied a 10-15% tip is usually expected.
And of course if you wanted to hand your server a little extra, you can. But it would be expected from you.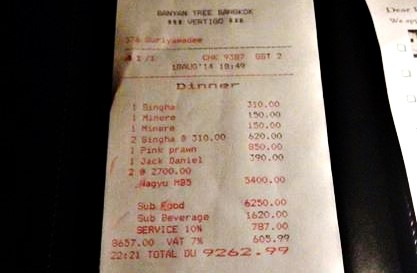 How Much To Tip Bar Workers In Thailand
Bar workers are often the lowest paid workers in the entertainment and tourism sector, but how much should you tip your bartender. It depends on the type of establishment you're drinking in. In a sit down bar where a waiter is serving your drinks you'd be expected to tip more than if you were in a reggae bar on the beach.
And in some bars, typically backpacker bars tipping is rare and not expected at all. You have to use your own judgement to work out what you think is a fair amount. But to give you an example I would probably hand a bar tender an extra 20 Baht or so on the first round when buying a couple of beers. That will usually get their attention and you'll find yourself getting better service. If I've stuck around for a few drinks then I'd probably leave another 50 – 1000 Baht on top of the final bill.
If you find yourself in a 'girlie' bar, the working girls might will ask you plead with you to buy them a drink. If you turn them down you'll probably have a miserable, blunt experience from the rest of the bar staff. And if you agree you'll be shocked when you find out 'girlie drinks' cost around 300 Baht. My advice is to avoid girlie bars altogether.
If you want to learn more about Thailand's nightlife, check out my post to the best bars on Phi Phi Island.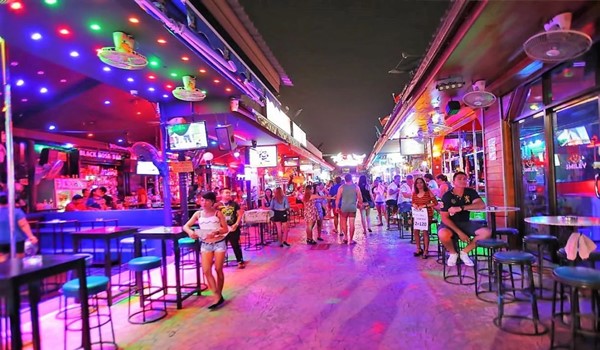 How Much To Tip In Thailand's Coffee Shops
How much to tip in a coffee shop isn't black and white, it depends on the type of coffee shot you're in. There are some chain coffee shops in Thailand, and there is no need to tip in these places.
That goes for coffee shops like Starbucks, The Coffee Club or Black Canyon- the bigger chains. However, you will often find a tip jar or box on the counter, throwing in you change or some coins can add up over time for the employees.
If you are in a locally owned smaller coffee shop or perhaps there is table service, then tipping is appreciated. Leaving a 20 Baht or a 50 Baht note with the check is a solid amount. I've tipped more than this in coffee shops, one that stands out was a bamboo breakfast bar on the beach in Koh Jum. The owner was extremely welcoming and the coffee was incredible. So leave what you think is a fair amount and if you don't want to tip anything at all, that's fine as well.
How Much To Tip Private Drivers In Thailand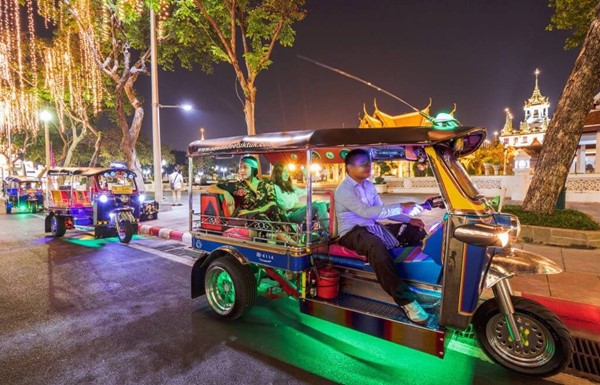 Taxi Drivers and Grab Drivers
For those of you that don't know what Grab is, it's south-east Asia's answer to Uber, the rideshare app has gained popularity in Thailand and has been increasing over the past few years.
I strongly believe the amount you tip a taxi driver should be based on your own experience. Some drivers will rip you off, others are the nicest guys on the planet. It's not often you can find a taxi driver that will use the meter in Thailand. So when a driver uses the meter without putting up a fuss I make a point of tipping higher.
Here are some examples of how much I tipped for a cab ride in Phuket. I needed to make the same journey twice a few weeks apart and I had totally different experiences both times.
The first time I made the journey I was quoted 600 Baht, the driver was pleasant and I tipped 100 Baht when we arrived, paying 700 Baht in total. Which for an hours ride isn't bad going at all.
The second time I made the journey, a couple of weeks later. I was again quoted 600 Baht by a driver at the port, and again I had planned to tip 100 Baht. But when we arrived things quickly got heated as the driver demanded I now pay 800 Baht and the price had increased. That was 200 Baht more than we had agreed upon in advance. I speak Thai, which I don't often let on, and when I do, as a young white guy often takes locals by surprise. So I switched to the local lingo, told the guy where he could stick it handed him 600 and quickly left.
The point I am trying to make is tip a driver what you think they are worth. There is no fixed or expected rate and it can be anything from nothing to a few hundred Baht.
When it comes to Grab or Uber drivers most transactions are done through the app, so carrying a note 20 or 50 Baht to give the driver as a tip will be welcomed with a smile.
Motorcycle Taxi Drivers
A motorbike taxi sound like something made up, you wouldn't find a service like it in Europe or in the States. But in Thailand motorbike taxi's are everywhere. So how much should you tip the drivers.
Well, tipping motorbike taxi drivers isn't expected at all. Most people are using a bike taxi as opposed to a regular taxi so they can save some cash and get a cheaper ride. The going rate for a motorbike ride is ofter 20 Baht or less. But like most services in Thailand, handing the driver an extra 20 will be welcomed.
Tuk Tuk Drivers
There is no reason to ever ride in a Tuk Tuk. Unless it's your first time in Bangkok, the by all means tick it off your bucket list, it's an icon right of passage after all. But one ride is enough, and here's why.
Tuk Tuk's look like fun but in reality they are cramped and uncomfortable. They also cost much more than you'd spend on a regular taxi fare, so there is no reason to tip a Tuk Tuk driver, unless you really want to.
Songthaew Drivers (Red Cars or Reddies)
There aren't many spots in Thailand where you'll find the red cars cruising around. One of the most common places to find these cars is in Chiang Mai. The charge is a fixed rate within the confine of the old town. It's 30 Baht wherever you're going no need to tip here. There are some exceptions, for example, if you were to hire a red car as a private charter for the day then tipping is a nice gesture.
How Much To Tip Hotel Staff In Thailand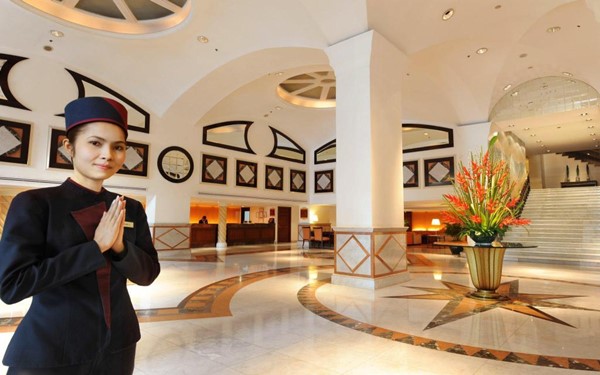 Bell Boys
Asides from the higher end resorts most hotels don't employ bell boys. But I have run into a few during my time in Thailand. Now I travel light, I carry a single backpack, small enough to fit under an aircraft seat. So I always feel a bit akward when the bell boys offer to carry my bags to room.
But still it's a nice touch, and I'll leave a 50 – 100 Baht tip.
Housekeepers
Now I'll admit, I don't think I have even tipped a housekeeper in Thailand and I don't think I'd even know how to. Thai people are very honest and genuine, sometime too honest! If you were to leave a note out for a housekeeper then there is almost no change that she would understand and accept it as a tip. I'd guarantee it would be in the same spot after having your room cleaned.
But I have heard from other travellers that tipping housekeeping staff is common practice, so I did a little digging and this is what I came up with. I found a post from a travel blogger based in Thailand, who suggests that you leave the tip until you check out- and 100 Baht is an average amount to tip housekeepers.
How Much To Tip Your Tattoo Artist In Thailand
A tattoo is permanent, it's there for life. Bartering and haggling might be common in Thailand but if there is one thing you don't want to haggle over is the cost of a tattoo. Annoying the guy that is about to ink your skin for life is a terrible idea – and yes I've seen it happen more times than I can count. It's cringworthy. My number one rule for getting a tattoo in Thailand is to accept the first price offered to you, or not at all. If you think the price is too high- move on to a different artist.
But should you tip your tattoo artist in Thailand. Yes, I would suggest paying up front for a tattoo and giving a little extra before you begin. Thai's are motivated by money and this will catch their attention and keep there focus. I'd also recomend giving a litte extra after your tatoo is complete as well.
So how much, should I tip a tattoo artist. How much you tip should be in proportion to the cost of the tattoo, so it's tough to put an exact number on it. Tattoos can cost anything from 1,000 Baht to tens or hundreds of thousands.
But let's say your getting a smallish tattoo, a custom design that's costing you 5,000 Baht. I would probably pay 5,500 Baht up front, a 500 Baht tip and then after I would tip maybe another 100 – 200 Baht. But use your own judgement and work out you you think is right. And remember you don't have to tip anything a tall.
How Much To Tip Your Barber In Thailand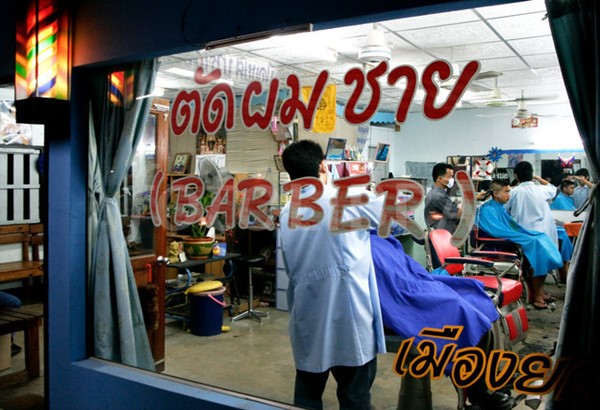 Would you tip your barber at home, for most us the answer is yes and Thailand is no different. barber shops are one of the few places where tipping is usually expected. But figuring out how much to tip can be a little difficult. Some barber shops can charge a few hundred Baht for a cut, others can be as low as 30 Baht.
Generally speaking if the barber shop is charging under 100 Baht for a cut, you'll get a 'one-size-fits-all' cut and tipping isn't required.
Barbershops charging over 100 Baht and up to 350 Baht, will provide a 'custom' service. The usual amount to tip a barber in Thailand is around 50 Baht.
How Much To Tip Food Delivery Drivers In Thailand
Food delivies are a fairly new concept in Thaialnd, and are becoming more and more common in cities like Bangkok, Phuket & Chiang Mai. So I wanted to add this section to the tipping in Thaialnd guide, for my 2023 update.
As with most things in Thailand tipping isn't necessary and the same applies to food delivery drivers, I'm talking about riders for apps like Food Panda or Grab Taxi.
Thai people also use these services, if not more so that westerners. So riders aren't accustomed to earning tips. But I like to hand over an extra 20 Baht note or tell the rider to keep the change. And they usually seem to be grateful for the gesture.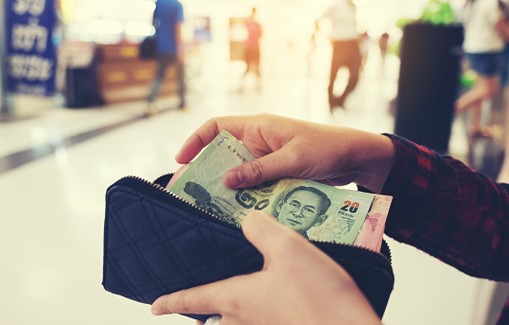 Don't forget to check out etiquette 101 to tipping in Thailand by the culture trip.