I've met many travellers over the years all from different walks of life. A lot of travellers that I cross paths with have an unhealthy obsession with their 'western food'. My number one tip for first-time travellers is to drop the burgers, pizzas and french fries as soon as possible and try as much of the local food as you can.
It can be a tough habit to break, and a lot of the Thai foods will seem a little alien at first. But a great way to break the habit and dive straight at the deep-end is to eat the most repulsive food first and work your way into the local cuisine from there.
The first time I ate insects in Thailand, it was totally unplanned. I'd always been a little repulsed by the idea. Until one afternoon while hanging out at a hostel in Koh Samui, a buddy of mine returned with a bag of bugs, which he was happily tucking into. He poured some into my hand and without hesitation, I popped a grasshopper in my mouth, to my surprise it was delicious.
I wasn't really thinking about what I was eating at the time. I was expecting maybe peanuts or something a little less creepy. But I'm glad I didn't sweat it too much. It's one of those 'must-do' things in Thailand, a right of passage for any backpacker. And if I'm being totally honest it's tough to find a good selection of protein-filled, fried bugs at home in the USA. You get some odd reactions when you ask the grocery store if they are stocking grasshoppers!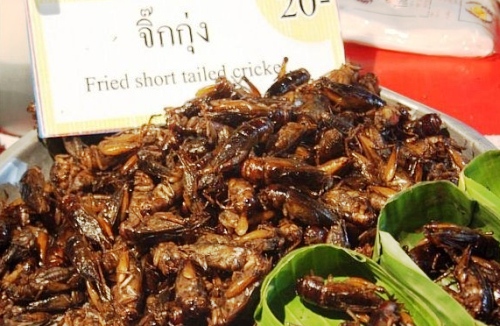 Can You Eat Bugs In Thailand?
Of course, you can eat bugs in Thailand, and you should. It's a local delicacy- and delicious. While you might be accustomed to chomping down on a bag of chips, that is not so common for Thai people. They would instead opt for a much healthier bag of fried crickets, grasshoppers and worms.
Some travellers will spend their first night in Bangkok's Khao San road drunkenly chomping into a snack of creepy crawlies, others will shy away. In this post, I'll give you all the information you'll need to brave eating bugs in Thailand. I'll walk you through the tastiest insects, why they're not so bad, and where you can buy them for yourself.
Is It Safe To Eat Bugs In Thailand
Before you think about eating bugs in Thailand you might find yourself asking is safe, or hygienic. So to put your mind at ease bugs might be a little creepy looking, but it's absolutely safe, in fact, WebMD even conducted a study on the health benefits.
It's true that hygiene standards in south-east Asia often don't match those expected in the western world but eating bugs is no more unhygienic than eating a box of chicken Phad-Thai from a street vendor. Just because hygiene levels don't match what you might be used to, that doesn't make it unsafe.
Where Can You Eat Bugs In Thaialnd
You'll find fried bugs and insects sold all over Thailand, wherever you are in the country. The further north you get the more common it becomes, but you won't have any trouble finding them in Phuket, Bangkok, Koh Samui or Krabi. You'll be able to buy bugs from street vendors in the market places. And cart vendors can be found in busier areas, so you could even buy a bag of bugs while sitting in a bar. Here are some popular spots where can eat bugs in Thailand.
Khaosan Road Bangkok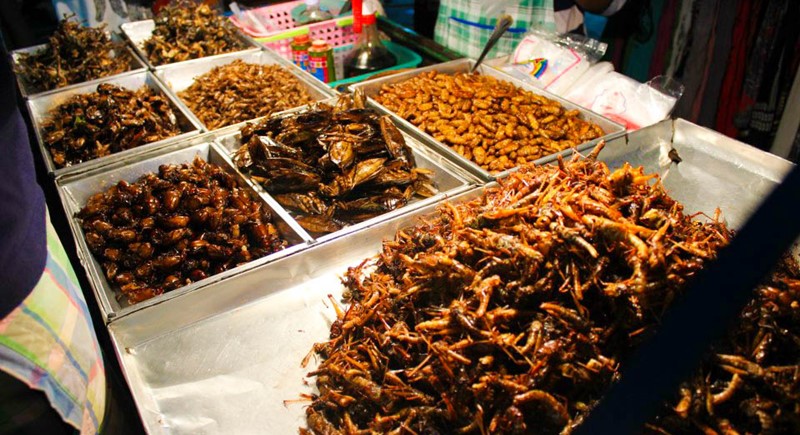 Khaosan road is commonly the first stop for backpackers starting a trip through Asia, and it's long been a popular hub. Khaosan Road is where most travellers will first encounter fried bugs for sale. Mix that in with alcohol and excitement of just touching down in Bangkok and you can see why street vendors make a killing off selling bugs to tourists here.
You'll find everything from worms to grasshoppers, to bugs which are little more extravagant. You'll find scorpions and tarantulas here. Now I should say that these extravagant options are not snacks Thai people would usually eat, in fact, I've never seen any locals eating them, anywhere in Thailand.
It's more of a novelty for tourists. And an overpriced one at that. You can pay as much as 500 Baht for a scorpion on a stick. Or you could pick yourself 10 Phad Thai's for the same amount. But it's part of the Khaosan road experience.
Khaosan road isn't the only place in Bangkok where you can eat insects, there are plenty of street markets and vendors, and even some luxurious restaurants with bugs on the menus. The culture trip has put together a guide on all the spots to eat bugs in Bangkok.
Chiang Mai Night Bazaar
The Chiang Mai night bazaar is a cool spot to hang out even if you're not into eating bugs. You'll find some amazing food, small local bars and unique entertainment. Not forgetting the countless street vendors with carts piled high with fried bugs. Like I said the further north you go, the common this snack becomes.
Krabi Night Market
Krabi, in my opinion, has one of the best night markets in Thailand, I have even put together a full guide to the Krabi Night Market. The region is famous for pristine beaches, remote tropical islands and fire hot curries- bugs might be the last thing you'd expect to find here. But there are a good two or three permanent stalls at the Krabi night market where you can buy fried bugs, you can even grab a beer to wash them down and listen to the live music.
What Kind Of Bugs Can You Eat In Thailand
Eating scorpions on Khaosan road is the most popular bug for tourists to eat, but these aren't eaten usually by locals. You can find much tastier bugs on the local food carts. Here are all the bugs you can find, commonly in Thailand. I have tried them all and ranked them from my favourite to my least favourite. For reference, scorpions taste similar to shrimp, which is the best way I can describe it. And I didn't have the balls to eat a tarantula, I didn't want the karma coming back to haunt me!
Bamboo Worms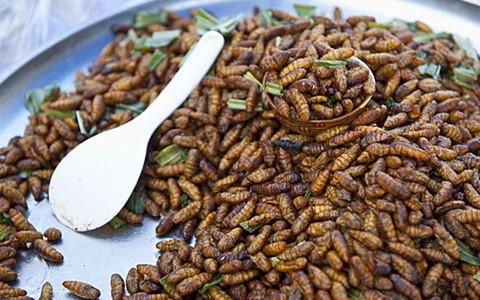 Bamboo worms are my favourite, they are the popcorn of the bug world. They're the crispiest and the least intimidating. If you're not excited about the idea of eating bugs but want to give it a go, this is a good place to start. They could be compared to a Cheetos but a little saltier.
Silk Worms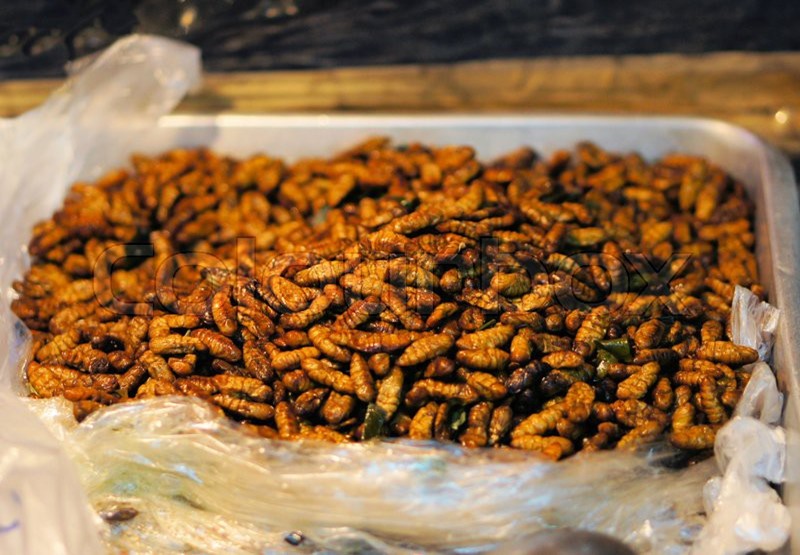 Silk worms have a little more girth compared to bamboo worms. These little guys are the chewiest you'll find and almost 'pop' in your mouth, you can compare the silkworm to a piece of macaroni pasta filled with cheese.
Grasshoppers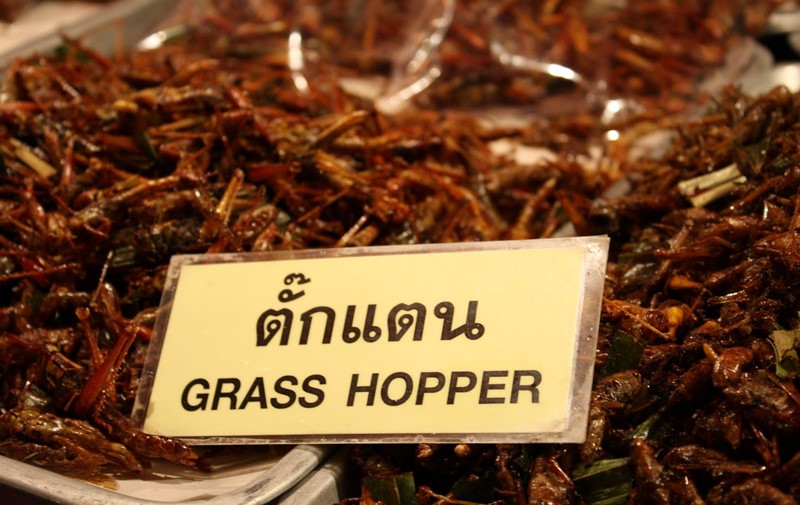 Grasshoppers are the crunchiest snack on the bug cart. They can look intimidating and are a little bigger than the worms but they will melt in your mouth like a Cheeto would. Rip off the legs before eating them and they're a great source of protein.
Crickets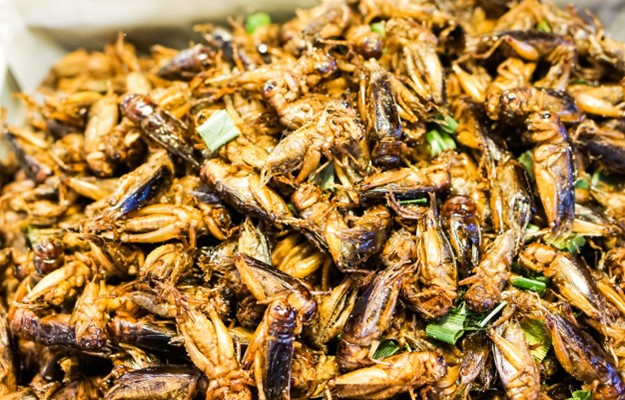 These were not my favourite bug to eat at all, they look a little frightening and don't taste to great either.
Giant Water Bugs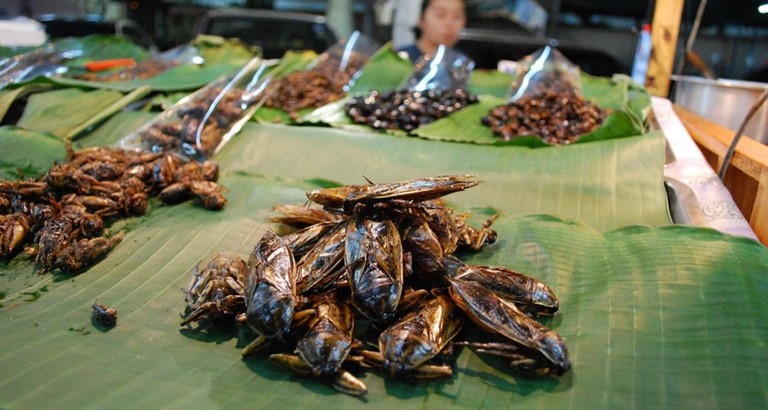 Ok, I'll be honest with you. I didn't eat the water bugs. The things were huge and for me looked too similar to cockroaches. But to top it off these bugs need to be disassembled before you eat them. You'll need to take off the wings, the head and the pincers. That's a no go from me! But if you're really curious to know what they taste like, well Adam from getting stamped has got you covered.
How Are Bugs Cooked
Bugs in Thailand are served deep-fried. And cooked in the same way that any other street dishes would be. Vendors will fill a wok with oil, heat it us and cook up the bugs. Bugs are usually pre-cooked and ready to eat- you won't find them cooked to order. They are also thoroughly washed before cooking, while this helps wit hygiene it's not the intention. Washing the bugs removes the hard shell and makes them crispier to eat.
Once the bugs are cooked they will be seasoned with salt and mixed spices.
How Much Do Bugs Cost
Buying a bag of bugs in Thailand is cheap, once you're off Khaosan road that it. On Khaosan road, many people buy them for the novelty factor and may eat one or two, take a quick selfie- job done. Street vendors know they are basically selling a photo prop so you'll get a small portion at a high price. Which for most people is fine, they aren't going to eat many anyway. A small bag of mixed bugs can sell for 100 Baht, a scorpion on a stick can sell for 300 Baht and a tarantula can cost 500 Baht. Even taking a photo of the food card can often cost you 20 Baht!
Once you get off the Khaosan Road prices plummet, for 10 Baht you can buy yourself a small bag of mixed fried bugs to eat, 20 baht will get you a medium bag and 100 Baht will get you more than you know what to do with.
External Resources
Belive it or not, there is not an abundance of information about eating bugs out there, not in English at least. So with that in mind here are the few other articles I could find about eating bugs in Thailand.
ThaiEst: Thailand Insect Food: Eating Fried Insects in Thailand
Migrationology: How to Eat Scary Insects, Worms, and Bugs in Thailand
Conclusion
Don't be afraid of eating bugs in Thailand, it's not as bad you might first think. It's estimated that over 2 million people worldwide eat bugs on a daily basis. So perhaps it's the western world that's got it wrong after all they are eco-friendly, low-cost, tasty and high in protein, low in fat. I'm not sure if they are suitable for vegetarians- so if are any vegetarians reading this, drop a comment below and let me know your thoughts. But overall there is no reason not to eat bugs in Thailand, embrace the local culture and let your adventurous side take over.
If you're looking for something a little less adventurous then don't worry, I've got you covered. You can check out my list of the top 10 Thai foods for picky eaters here, (number one is a Phad Thai).