How much does it cost to visit Thailand in 2020? And how much should I budget per day, per month? Let's take a look. The honest answer is that it depends- travelling in Thailand can cost as little or as much as you'd like it to. You can eat a filling meal for under a dollar at a street food stall or splash out a few hundred dollars in a sky bar. You can sleep in a backpackers dorm for $5 a night or you can stay in a top-end resort for over a thousand dollars. There are free things to do like snorkelling by the beaches and there are expensive private speedboat tours on the other end of the scale. How much you spend travelling in Thailand is completely up to you, Thailand is a country that has something for every budget. But to give you a better understanding of how much you should budget I recorded exactly how much I spent over a month while backpacking Thailand, let me share with you my full breakdown of costs.
Trip To Thailand Costs
Over the course of one month travelling in Thailand, I recorded every single cost I incurred. Every Baht I spent, every cup of coffee I drank, every meal I ate. Every bottle of water, every admission ticket, I recorded it all. And all so I could put together this guide, for you. To help you get a better understanding of the costs incurred on a trip to Thailand. Was it burdensome? Yes. Worth it? I sure hope so, but if this guide helped you out, then do a leave a comment below to let me know!
In This Post We Will Take A Look At:
Trip to Thailand costs
How much does it cost to visit Thailand?
How much to budget in Thailand per day?
How much to budget for one month in Thailand?
What is a good budget for backpacking Thailand?
How much money should I take to Thailand for a month?
How do prices change on the Thai Islands?
How do prices change during out of season months?
Is it cheap to travel in Thailand?
What is the average hotel price in Thailand?
Now before we start, I'll mention that all the prices referenced are in United Stated Dollars after being converted from Thai Baht.
At the time of travelling, and at the time of writing: $1 United States Dollar is equal to ฿31 Thai Baht.
How Much I Spent In One Month Travelling Thailand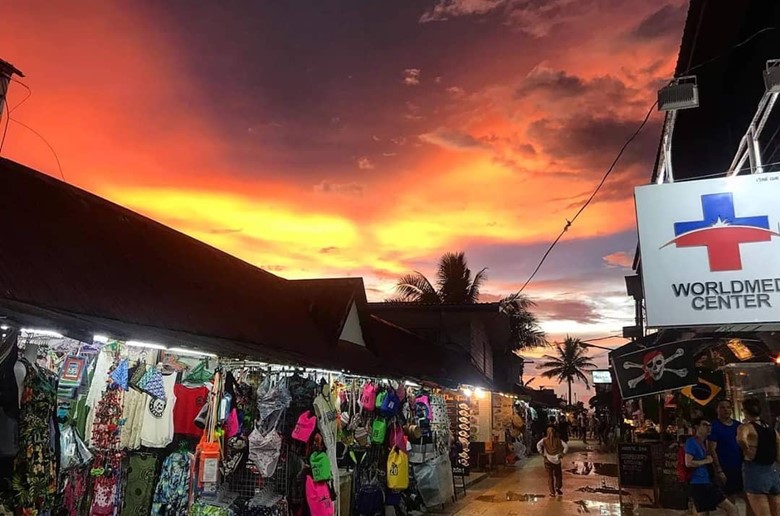 How much spending money do you need for Thailand? You asked for an exact number, so here it is. On my last trip in February 2020, I set myself a travel budget of $50 per day and I actually spent a grand total of $1788.65 over the course one month. Averaging $61.50 per day, I was a little over budget.
Now Thailand is a country which I know well. And this amount could easily be reduced, and on this particular trip, I'll admit I was churning through Baht like it was Monopoly money. You can get by here on very little money, and I have had months travelling in Thailand, where I have spent under $700. But for the purpose of this post I wanted to share with you a much more realistic figure.
With my budget of $1788.65, I was able to fly cross country to cut out time on a tedious overnight bus ride, enjoy a few evenings out, stay mostly in mid-range guesthouses, and I was able to partake in some of the more expensive activities like scuba-diving and taking a private boat tour.
I kept track of the expenses for my Thailand trip using a free App called Trail Wallet. You can check it out on the App Store if you want to keep track of your travelling Thailand budget. Trail wallet lets you log your spending in the local currency and automatically converts it into your home currency.
Breakdown Of My Trip To Thailand Costs
Accommodation – $738 (41.26%)
Food and Drinks – $367 (20.55%) – (Food $111, Coffee $56, Beer $191)
Transport – $208 (11.63%)
Entertainment – $404 (22.59%)
Miscellaneous – $71 (3.97%)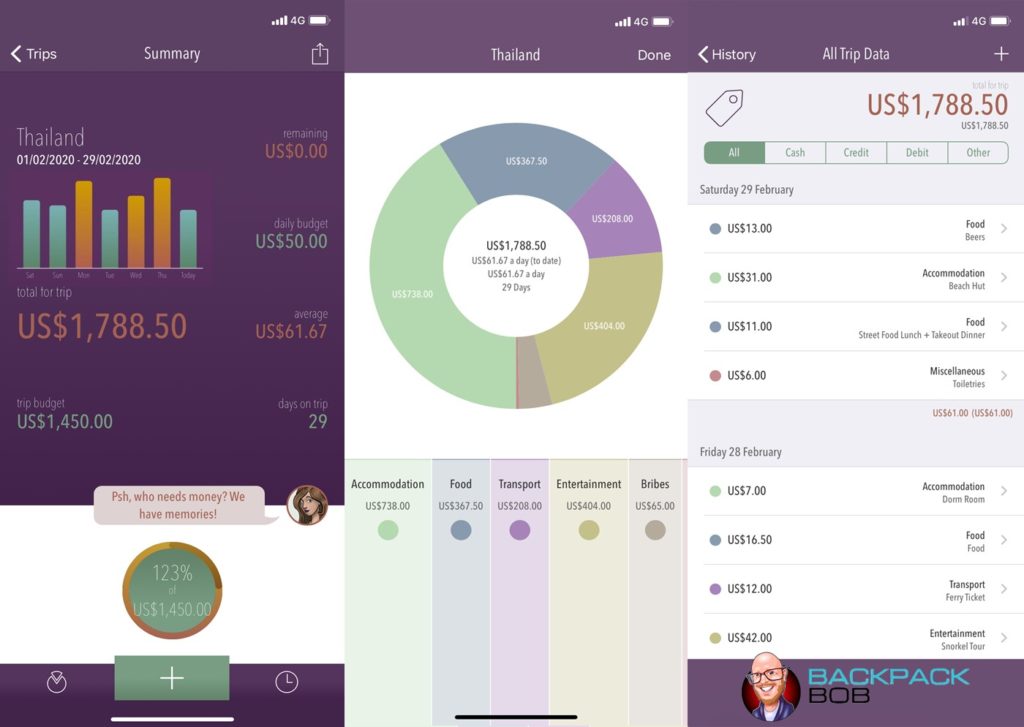 Is Thailand Cheap To Visit?
Is it cheap in Thailand? Is Thailand cheap to travel? The definition of "cheap" will differ from one traveller to another. And it is important to keep in mind that prices fluctuate in different regions and different seasons.
But in comparison to other countries, for example, Europe or Australia, then Thailand is remarkable value for money. But if you were to compare Thailand to other south-east Asia countries, Vietnam, Cambodia or Laos, for example. Then you could argue that because Thailand is more expensive than these places, it isn't a cheap place to visit.
It's all about perspective, but in my opinion, yes, Thailand is a cheap place to vacation.
Why is Thailand so cheap? Thailand offers something that most countries can't, in Thailand there are options for travellers on all budgets. You can burn through hundreds, even thousands of dollars on plush resorts, private tours and exclusive dining. But on the other end of the spectrum, a budget of under $35 per day is not unrealistic. And for a country with such incredible nature, that's not bad going.
Before I break down my spending, there are two important factors to keep in mind when you are calculating your costs for a Thailand vacation. First of all, different regions have different pricing. Secondly, different seasons have different pricing. If you want to plan a trip to Thailand on a budget you'll need to take both these factors into account.
So before I get into my cost breakdown let's take a look at how prices in Thailand can vary from place-to-place and season-to-season. And to give you a better understanding of the costs in Thailand I travelled during one of the most expensive months and visited both the north and south of Thailand.
Cheapest Places To Visit In Thailand
Islands, Islands, Islands. Beautiful, but expensive.
Thailand has thousands of islands, many of which are still untouched and off the tourist radar. Koh Adang and Koh Phi Phi are a couple of my favourites. The Thai islands are undoubtedly some of the most beautiful places in Thailand. But it is no secret that prices here aren't cheap, costs are hiked and your spending money just doesn't go as far.
Islands are more expensive for a number of reasons, but the main reason is that all the goods have to be imported to the island, including construction materials (and resort staff)! There is limited space and of course, the natural beauty creates a supply and demand factor.
All of Thailand's islands and coastal provinces are in the south of the country, Phuket, Koh Samui, Krabi & Pattaya are the four most expensive places in Thailand- all over them are coastal provinces. If you're looking to travel Thailand on the cheap, heading up north is going to be much lighter on your wallet.
Chiang Mai, Pai and Chiang Rai in northern Thailand are some of the cheapest places you might want to consider visiting on a trip to Thailand. Prices can be 50% lower than in the south. The destinations are still geared towards tourism, so there are plenty of things to do- incredible National Parks and beautifully diverse landscapes.
Cheapest Times To Visit Thailand
Prices in Thailand fluctuate throughout the year- there are two main seasons. The peak season and the rainy season. The cost of a trip to Thailand in the rainy season is much cheaper than the cost of a trip to Thailand during peak season.
For example, one of the most expensive hotel I have stayed in, in Thailand is the Santhiya Resort on Koh Yao Island. On my trip, in the peak season, the hotel cost $300 a night. When I re-visited the island in the rainy season, it was a pleasant surprise to find the room rate reduced to $75 a night.
In Thailand's peak season hotels are fully booked, tours, busses, trains and boats are fully booked and there is a high demand for tourism related services. Most business make their annual income during these months. And during the rainy season rates are heavily reduced in order to stay competitive and keep a small amount of cash flowing.
But while the clear advantage of a Thailand vacation during the rainy season is cheaper costs- as the name suggests, you might find yourself stuck indoors for a few days out of the month.
But keep in mind that Thailand is a hot country and that statement is true all year round. During the rainy season, there are still plenty of days which are comparable to that of the peak season weather. It is a money-saving gamble, as the weather is unpredictable. But even on the days where it hammers down with rain it usually lasts a few hours before the skies clear and the sun shines again.
Peak Season: Early November until Mid May
Rainy Season: Late April until Mid October
Travelling in the rainy season is a great way to reduce the cost of a trip to Thailand even further.
How Much Do Things Cost In Thailand (Thailand Prices)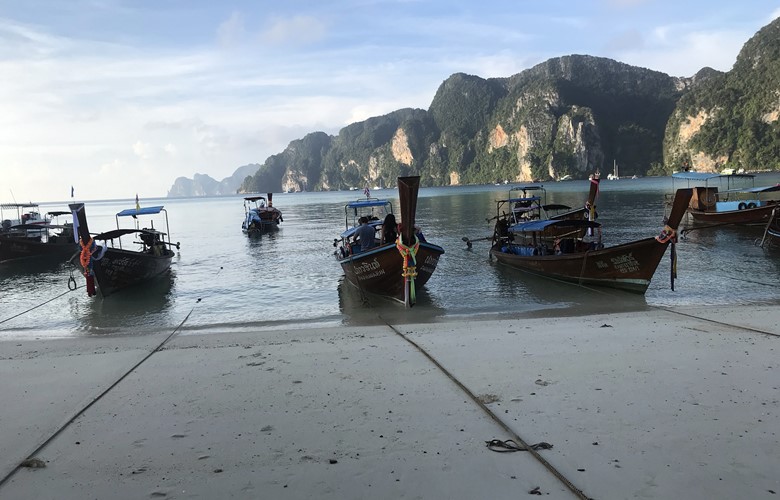 My trip to Thailand cost $1788.65 for a month. And I set myself a budget of $1,500. But let's take a look at how much individual services and necessities cost in Thailand. So you can get a better idea of how much you might want to budget for on your trip to Thailand.
What is the cost of a trip to Thailand? Let's take a closer look. The exact amount I spent on a 30-day trip is $1788.65, I'll break it all down in an item-by-item guide below.
Trip to Thailand Costs:
| | | |
| --- | --- | --- |
| Item | Cost | Percent Of Total Cost |
| Visa's | $0 | 0% |
| Flight To Thailand | $0 | 0% |
| Accommodation | $738 | 41.26% |
| Food | $111 | 6.20% |
| Coffee | $56 | 3.13% |
| Alcohol | $191 | 10.67% |
| Activities | $404 | 22.63% |
| Domestic Flights | $40 | 2.23% |
| Public Transport | $122 | 6.82% |
| Scooter Rental | $46 | 2.57% |
| Local SIM Card | $21 | 1.17% |
| Laundry | $32 | 1.78% |
| Miscellaneous | $27.65 | 1.54% |
Trip To Thailand Costs
How Much Does A Thai Visa Cost
How much did I spend on visa's and extensions: $0 / (0%) ($1788.65 remaining)
Before you can start exploring Thailand you'll need to figure out the immigration side of things. Great news, I have an entire post dedicated to Thailand Tourist Visa's that can help you without.
But the even better news is you can get a free 30 day visa exemption to visit Thailand, (depending on your nationality).
Although if you wanted to stay longer than 30 days you'll need to apply for a "30 day visa-exemption, extension". The extension costs $60.
How Much Does It Cost To Fly To Thailand
How much did I spend flying to Thailand: $0 / (0%) ($1788.65 remaining)
Flights to Thailand are affordable- however, it's tough to put a price on a flight ticket to Thailand, because it depends on where you're flying from and what time of year. On my 30 day trip in Thailand, I actually entered by bus, crossing the land border from Malaysia into Thailand. So I didn't spend a cent on flying into Thailand, (I did spend some money on domestic flights around the country which I'll cover later).
I have also flowed into Bangkok from Germany previously, and I have found that Eurowing's consistently has the lowest ticket fares. One way tickets can be as low as $235.
How Much Are Hotel Prices In Thailand
How much did hotels in Thailand cost me: $738 / (41.26%) ($1050.65 remaining)
Having a bed to sleep in is a necessity so it should be no surprise that the biggest chunk of my budget was spent on accommodation. Over 40% of the total amount I spent in Thailand was on hotels- and that was by choice.
Wherever you are in Thailand, you'll have no problems finding a budget backpackers dorm room for $5 a night. Even in the most expensive islands like Koh Phi Phi, budget accommodation is widely available. But the truth is that cheap dorms aren't always the nicest places to stay. They're great places for social travellers looking to meet like-minded others and it's these dorm rooms that make travel accessible to everyone, they have a place, but I chose to spend a little more to stay in mid-range beach huts, guesthouses and apartments.
I spent a total of $738 on accommodation, an average of $25 per night. But if you really want to save costs on a trip to Thailand, spending $5 a night to stay in a shared dorm would cost you just $150 over a month!
There really is no figure I could put on the average price of a hotel in Thailand. You can find $1,000 a night resorts, often on the same street as $5 hostels. Don't worry too much about how much hotels cost in Thailand, just know that whatever your budget is, there is something out there for you.
How Much Does Food Cost In Thailand
How much did I spend on food in Thailand: $111 / (6.20%) ($939.65 remaining)
What's the price of food in Thailand? It's cheap. Over one month I spent just $111 on meals and snacks, around $4 a day! And you might be wondering how I kept my spend on food so cheap.
Did I cook my own meals? No, I ate out for every single meal. My secret is that I love Thai food, I can't get enough of it. Asides from a couple of egg and bacon breakfasts, every single meal I ate was from a street food vendor.
If you seriously want to save money while travelling Thailand, ditch the western food ASAP. The prices are often 10 times more expensive, and let's be real Thai people are much better at cooking their local dishes rather than westerns favourites. They'll manage to screw up a "Bergar" with "French Fried" and it will cost you around $10. Or instead, head to the local market and pick up delicious, cooked to perfection Thai curry with rice for around $1!
One of my favourite things about Thailand is the food, yet many travellers turn their nose up at it. Perhaps they'll eat a Phad Thai or a box of fried rice, but there is so much more to Thai food and it's a shame that most people don't try more of the cuisine.
How Much Does Coffee Cost In Thailand
How much did I spend on Coffee in Thailand: $56 / (3.13%) ($883.65 remaining)
Coffee shops are is everywhere in Thailand, many are small family run establishments which have a much better atmosphere and service than the bigger chains. And the prices are much lower.
On average I spent $2 every morning on a large cup of coffee, but if you wanted to cheap out on it. Most hotel rooms provide free tea and coffee making facilities. And usually, most hostels will have communal facilities. But, personally, I enjoy spending an hour or so each morning in a coffee shop (and working on my blog), many of which are overlooking the beach.
How Much Does Beer Cost In Thailand
How much did I spend on Beer in Thailand: $191 / (10.67%) ($692.65 remaining)
How much is alcohol in Thailand? Yes, you're reading that right. I spent over 10% of my total trip budget on beer. Shameful, I know. That is the total amount I spent on beers from the 7-11 supermarkets, alcohol in bars, party buckets on the beaches and 'special cigarettes' in the reggae bars.
10% is a shocking amount to have spent on alcohol and it is one of the easiest ways to cut back and save money in Thailand. Many backpackers spend more of their budget on alcohol than they do on accommodation!
Alcohol in Thailand is inexpensive, costs can quickly add up. How much does alcohol cost in Thailand, here are the average costs.
'Big' Beer: $2 – $3.50
'Small' Beer: $1 – $2.50
'Party Bucket': $6.50 – $12
Spirit Mixer: $2.50 – $6.50
Joint: $4 – $7
And for many alcohol goes hand in hand with cigarettes, and if you wandering a 20 pack costs between $1.50 to $5.
How Much Does Entertainment Cost In Thailand
How much did I spend on Entertainment and Activities in Thailand: $404 / (22.59%) ($288.65 remaining)
Activities are unsurprisingly another 'big expense' on a trip to Thailand. Here is a breakdown of what I spent.
Scuba-Diving: Two days diving in Koh Tao – $145
Private Boat Tour: Renting a private boat to explore the Phi Phi Islands – $113
Other Tours and Shows, Cooking Class and Kayak Rental: Most tours in Thailand are cheap, less than $15 for a day – $97
National Park Admission & Temple Donations/Admissions – $32
Massages: Two massages – $17
I spent over half of my activity budget on two excursions, they were both totally worth it and incredible experiences. But if you're looking to cut costs, skipping a couple of activity would have saved a ton of money and reduced the cost of my trip to Thailand, for sure.
How Much Do Flights Cost In Thailand
How much did I spend on domestic flights in Thailand: $40 / (2.23%) ($248.65 remaining)
Lets have a look at how much money it costs to get around in Thailand.
I took one domestic flight during my trip, travelling from the South to the North, Bangkok to Chiang Mai. The flight cost $40 and took two hours. The alternative would be the overnight train which takes 18 hours! And if I'm being honest, the cost for the train is only a couple of dollars cheaper than an airline ticket anyway.
Thai Air Asia have multiple flights each day connecting Phuket, Bangkok and Chiang Mai. And prices are often inexpensive.
How Much Does Public Transport Cost In Thailand
How much did I spend on public transport in Thailand: $122 / (6.82%) ($126.65 remaining)
Regardless of your budget, public transport in Thailand is cheap and efficient. The entire country is connected through the BTS network, bus routes, ferry crossing and trains.
Transport can be booked through tour agents at reasonable prices, and you won't struggle to find a tour tout. They are all over the country and there is usually an agent in most hotels. But if you want to save yourself even more money, consider using the local buses rather than the 'tourist' buses. They might be a little harder to navigate, but that's all part of the fun.
Downloading the application 'Grab' can take the hassle out of dealing with crooked cabbies, Thailand's answer to Uber has saved me a s*** ton of money along my travels.
Typically, I only use public transport to get from one place to another, for example, I booked a combination ticket from Koh Tao to Phuket, for $22 the ticket included a ferry from the island and a bus into Phuket. And I took a (local) bus between Phuket and Bangkok which cost $12.
With an exception for Bangkok, most places in Thailand have pretty crap internal public transport to actually get around a town or a city. So once you arrive the best way to get around is by hiring a scooter. Let have at look at how much that costs.
How Much Does Scooter Rental Cost In Thailand
How much did I spend on scooter rentals in Thailand: $46 / (2.57%) ($80.65 remaining)
Getting around in Thai towns and cities is not the easiest thing to do, due to the lack of public transport in most destinations. The choices are to take a cab or rent a scooter, and taxies aren't always cheap.
It costs around $5 to rent a scooter for a day in Thailand, depending on where you are. In the north, it is much cheaper than in the south of the country. And much more useful, northern towns are typically more spread out and you'll be able to explore further on a scooter.
How Much Does A Thai SIM Card Cost
How much did I spend on connecting to the internet in Thailand: $21 / (1.17%) ($59.65 remaining)
This is one of the first things you'll want to set up once you arrive into Thailand. Picking up a local SIM card will help you stay connected and you won't be reliant on sketchy Wi-Fi spots in coffe shops and restaurants.
But don't be fooled at the airport, you'll be welcomed to Thailand with a friendly 'scam'. If you buy a SIM card in the airport you'll usually pay about $15 and get 2GB of data which will have expired before you make it to your hotel! I've fallen for this on my first trip to Thailand, and it's one to watch out for.
But to help you out, I've put together a full step-by-step guide on how to buy a local SIM card, top-up and buy a data package. Following the guide, you can get 30-days of unlimited, max-speed, 5G data (like actually unlimited, no cap)- for $21.
You can read the guide here and save yourself money when buying a Thai SIM card.
How Much Does Laundry Cost In Thailand
How much did I spend on laundry in Thailand: $32 / (1.78%) ($27.65 remaining)
I bet that's something you didn't think about budgeting for, how much does it cost to get your clothes washed in Thailand? It's cheap! Here is a full guide to getting laundry done in Thailand.
The great part is you don't need to visit a self-service launderette or wash your own clothes. You drop them off at a laundry shop, pay the price per kilo and pick them up the next day. Washed, dried and neatly folded.
I like to pack as light as possible, so I usually drop off one or two kilos of laundry at a time. The going rate for a kilo of laundry is $1 in the north and $2 in the south. So it is inexpensive and extremely efficient. I had fresh clothes every single day and it cost me a total of $32 over the course of the month-long trip.
Miscellaneous Costs On A Trip To Thailand
How much did I spend on misalliances costs in Thailand: $27.65 / (1.54%) ($0 remaining)
No matter how well you plan your spending costs on a trip to Thailand, it is inevitable that some misalliances costs will emerge along the way. I spent an extra $27.65 on small items including toiletries, toothpaste, mosquito repellent, sunblock and a couple of goodies and a t-shirt from a local market.
How Much Money Do You Need In Thailand?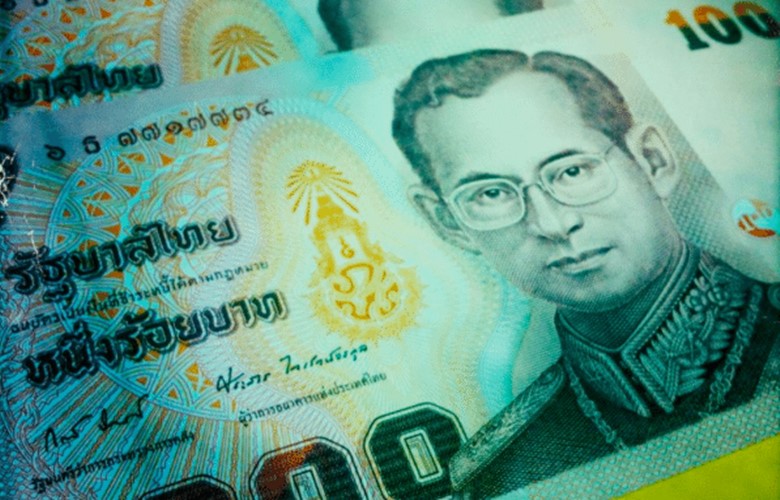 I've shared with you exactly how much my one month Thailand vacation cost. But as I mentioned, the amount I spent could have been reduced. So just how much money should you take to Thailand? How much spending money do you actually need?
The cost of living in Thailand for tourists is much cheaper than in other countries. But only you will know how much money you need in Thailand. And it will depend on what you want to get out of the vacation. But to give you a rough idea, $1500 is a good starting point.
Thailand Budget Per Day
I set myself a daily budget of $50. But in reality, I actually spent a little more than that, $61.50 to be exact.
The key is to enjoy yourself and be prepared to go over your budget. And most importantly, don't get too hung up on the amount you're spending each day. More often than not, you'll have a couple of days where you'll just be hanging out at the beach and won't spend much money at all. But on other days you might book a domestic flight ticket, take a tour and hit the bars in the evening, spending much more.
So long as what you spending averages out across the course of a month, you'll be just fine.
So if you've had a few days where you burn through a chunk of cash spend the following day walking around a new city, visit some free temples and grab a cheap (but delicious) meal on the go from a street food vendor.
One Month In Thailand Budget
How much money should I take to Thailand for a month? You'll find yourself having a much more enjoyable time if you focus on a single overall budget rather than focusing on how much it will cost for each day you spend in Thailand.
I would recommend a monthly budget of $1,500 in Thailand as a loose guide. Over a month that boils down to an average of $50 spending money each day. If you take out $20ish of that for accommodation, $30 is more than enough to enjoy yourself without feeling limited or restricted to activities you can partake in.
But if you're on a backpacking Thailand budget or a cheap Thailand vacation, and you don't mind setting your standards a little lower. Then you can reduce your budget even further. It isn't unheard of for backpackers to get by on $800 a month or less. $200 on accommodation, $150 on travel and the remaining $450 on Chang beers, street food, a pair of elephant pants and a 7-11 vest.
Budget Costs For Shorter Trips To Thaialnd
How much money to take to Thailand for 7 days?
How much money to take to Thailand for 10 days?
2 weeks in Thailand cost?
If you're spending less than a month in Thailand and want to know how much spending money to bring for 1 week in Thailand, 2 weeks, 7 days, 10 days or 14 days in Thailand.
Thailand is a BIG country and if you're travelling for less than a month, you just don't have time to cover everything. Choose between southern or northern Thailand- stick to just half of the country for an itinerary of less than one month.
A budget for one or two weeks in the south should be around $60 per day, multiply it by the number of days and average it out. If you plan to visit the northern regions then a budget of around $40 per day is realistic.
Save My Thailand Travel Costs For Later
What Other Travellers Spent In Thaialnd
Are you curious to find out what other travellers spent in Thailand? Here are some other useful Thailand travel budgets to help you better plan your own costs.
Nomadic Matt Spent: $1,596.27 in one month travelling Thailand
Chris from Back Packer Banter spent: £1132 (GBP) in a month travelling Thailand
Kristen from Be My Travel Muse spent $1350 over a month in Thailand
Nat and Rob from Love and Road spent an average of $1265 a month while travelling Thailand
Jeremy Scott Foster from Travel Rreak spent just $968.75 in a month in Thailand (without drinking)!