If you are looking for the best place to stay in Koh Mook, look no further. The Pawapi Beach Resort is a dreamy hotel in Koh Mook. The Beach villas are in a secluded location, and nightly rates are lower than you might expect. Our three-night stay at Koh Mook's Pawapi Beach Resort was not sponsored, we visited as part of our Southern Thailand Itinerary, and all opinions are my own.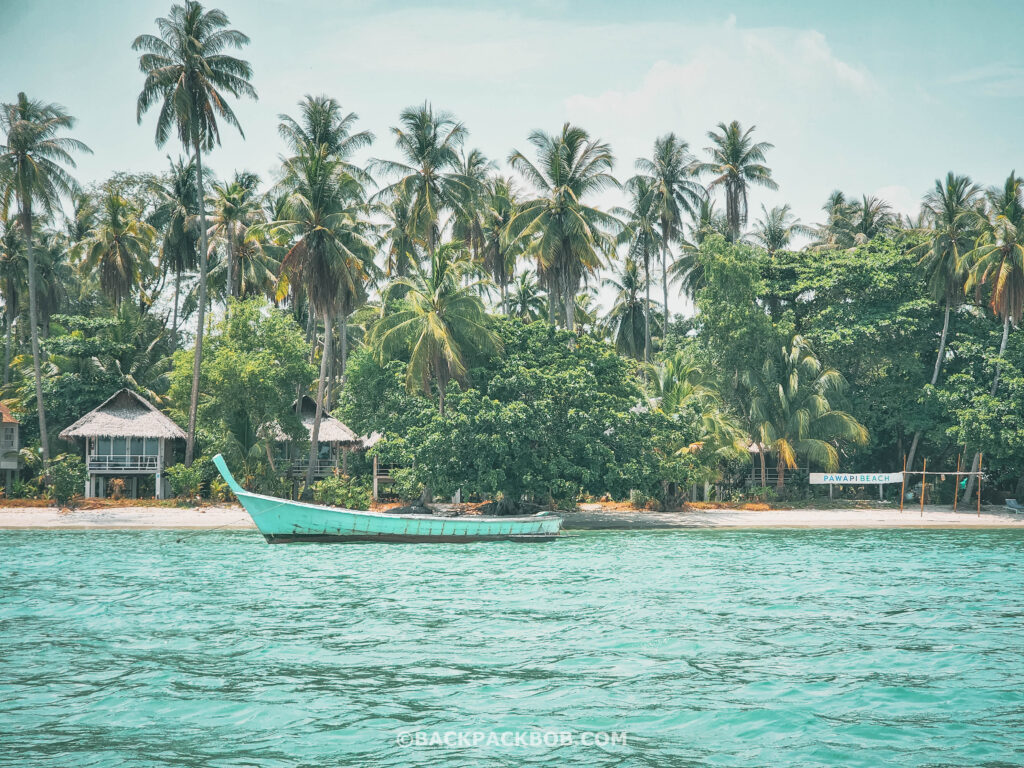 Book a Beach Villa at Pawapi Resort
There are a few websites which you can use to reserve a room at the Pawapi Beach Resort, here are the choices.
Welcome to Pawapi Beach Resort: Koh Mook
Firstly, let me introduce you to one of the most beautiful, affordable, off-the-beaten-track hotels you can find in Thailand. The Pawapi Beach Resort. In a world of its own, located on Koh Mook Island, which is a paradise in itself.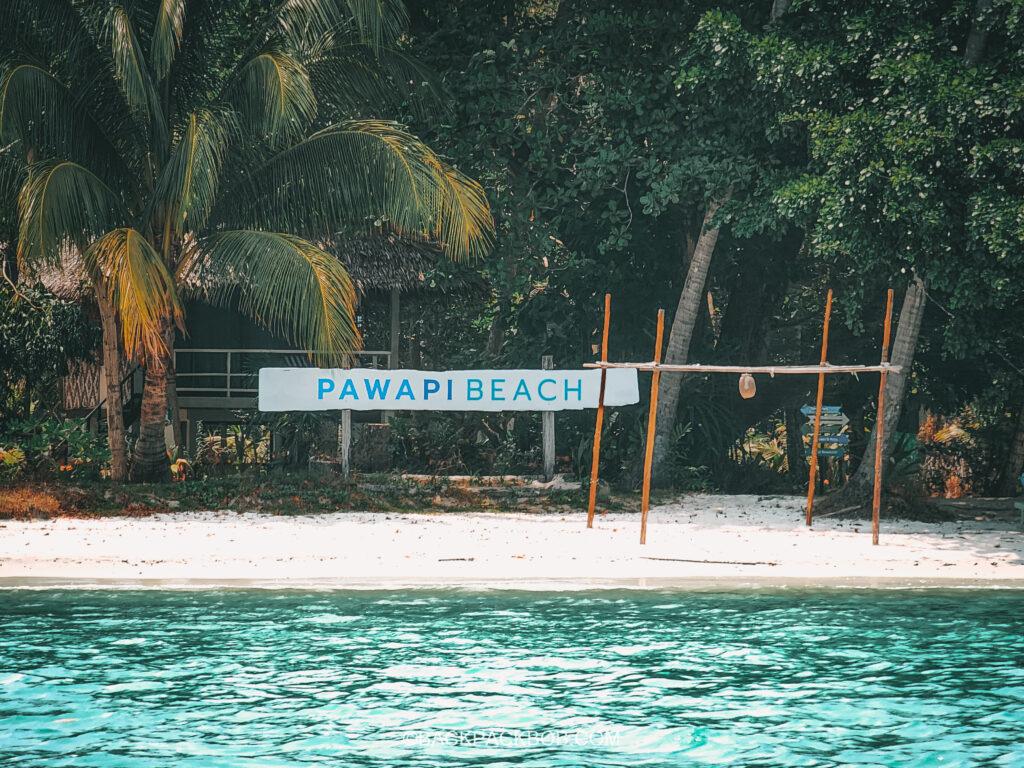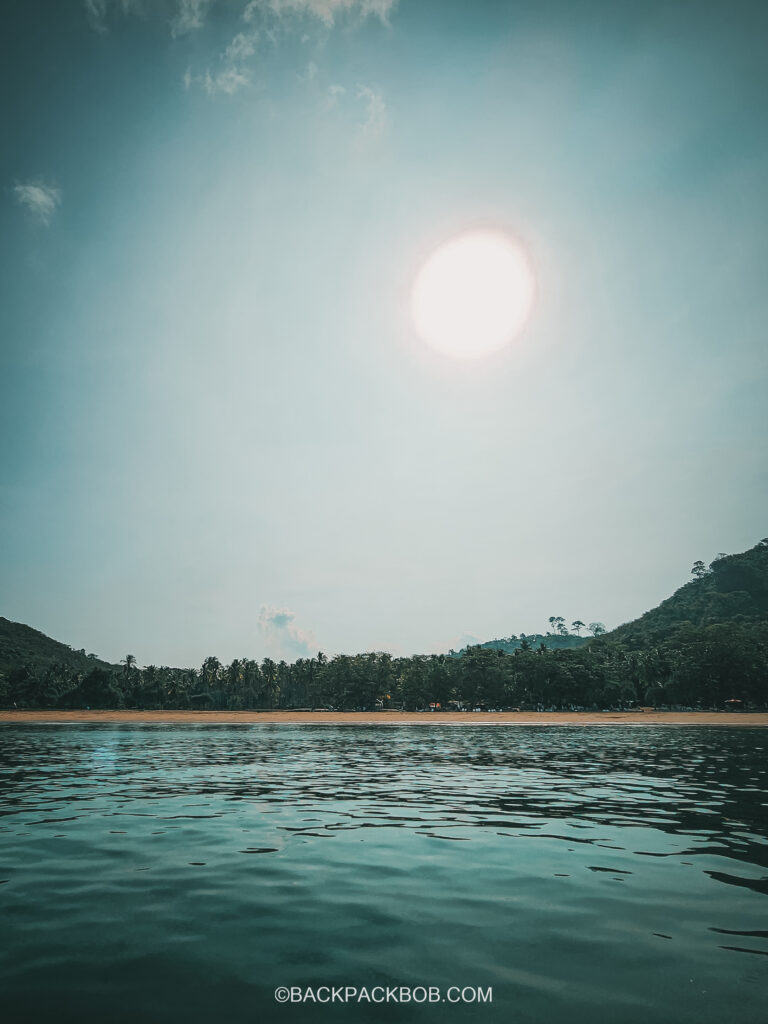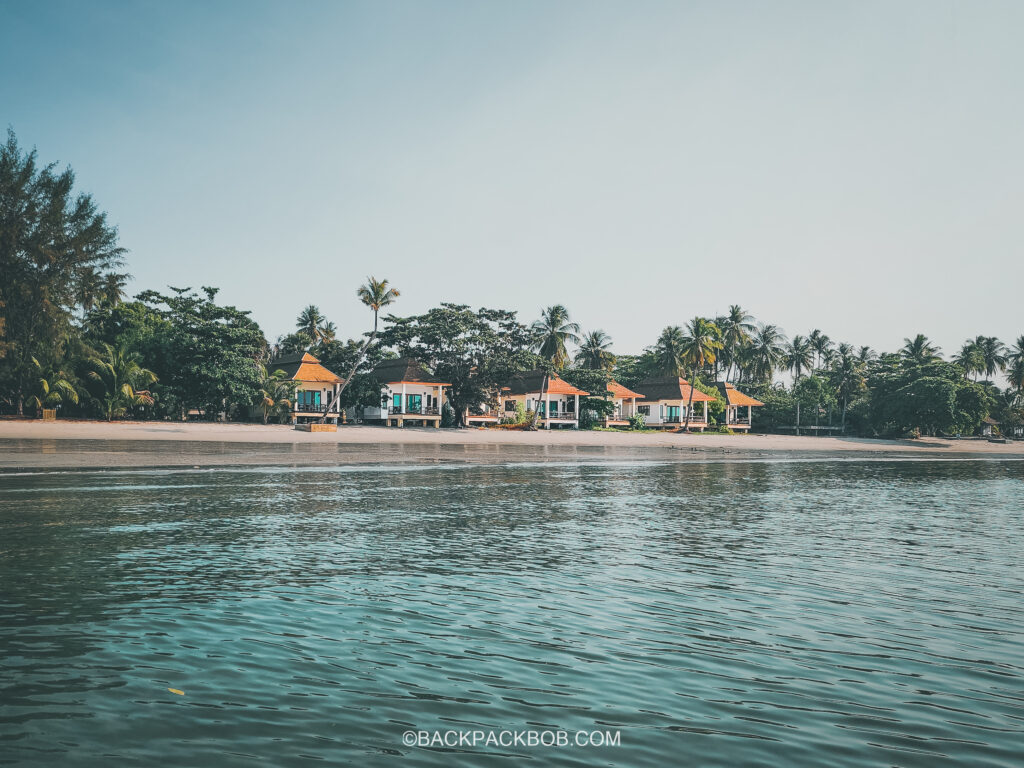 Pawapi is one of the nicest places I've stayed in Thailand. Each year I make a habit of taking a week out, escaping Bangkok and heading to an island, usually in the south of Thailand, and always hanging out in my hammock. I like to find a nice hotel, on the beach.
My criteria; the hotel must have beach access, a sea view (so no bungalows blocking the front), air conditioning, and enough distance from other guests. The Pawapi Beach Resort, ticked all the boxes and more.
It was the white sand beaches that drew me to Koh Mook in the first place. Without having ever been to Koh Mook before, I knew a lot about the place. It was only an hour's boat ride away from the Phi Phi Islands, a place I called home for almost ten years.
I wanted to spend some time relaxing, on a quiet island. I was not necessarily looking for a place off the tourist radar, but I did want to choose an island, that was at least off the backpackers' radar. Koh Mook ticked all the boxes.
Having spent a week hanging out on the beaches of Koh Jum just a few months prior, I had high expectations for Koh Mook. But more importantly, I had high expectations for the Pawapi Beach Resort.
The resort wasn't far from the ferry port, although the island is a small one. We could have walked the ten minutes to the hotel, but instead, opted to jump in the motorcycle sidecar to taxi us there, for the low price of 50 Bhat (1 USD), we were able to keep out of the sun and arrived at Pawapi without breaking a sweat.
I knew I was in the right place the moment I got off the ferry. I had seen the Pawapi Resort from the boat, as we cruised the perimeter of the island to reach the pier. And, as expected, the bungalows were on the sand, and the beach was secluded, peaceful and powder white.
Check-in at the Pawapi Beach Resort further confirmed my expectations. There are two types of rooms at the Pawapi Beach Resort, a Beach Villa or a Beach Bungalow. Both have options of being on the seafront or being nestled in the back.
I'd booked three nights, in the Beach Villa with an Ocean View.
Rooms at The Pawpai Resort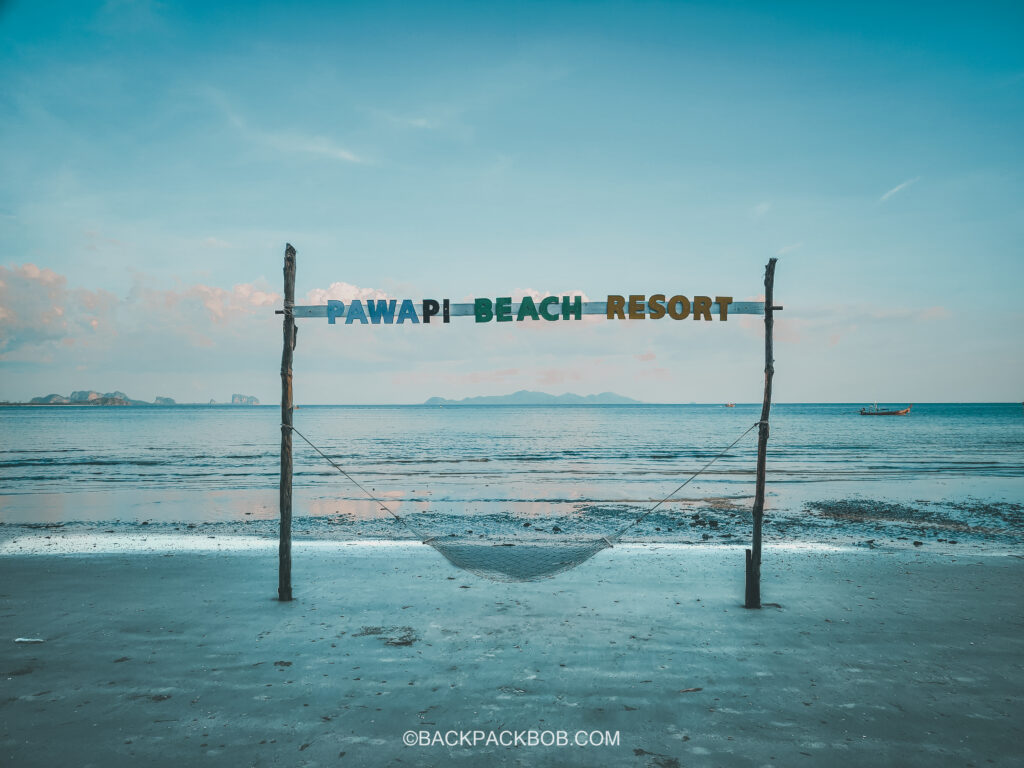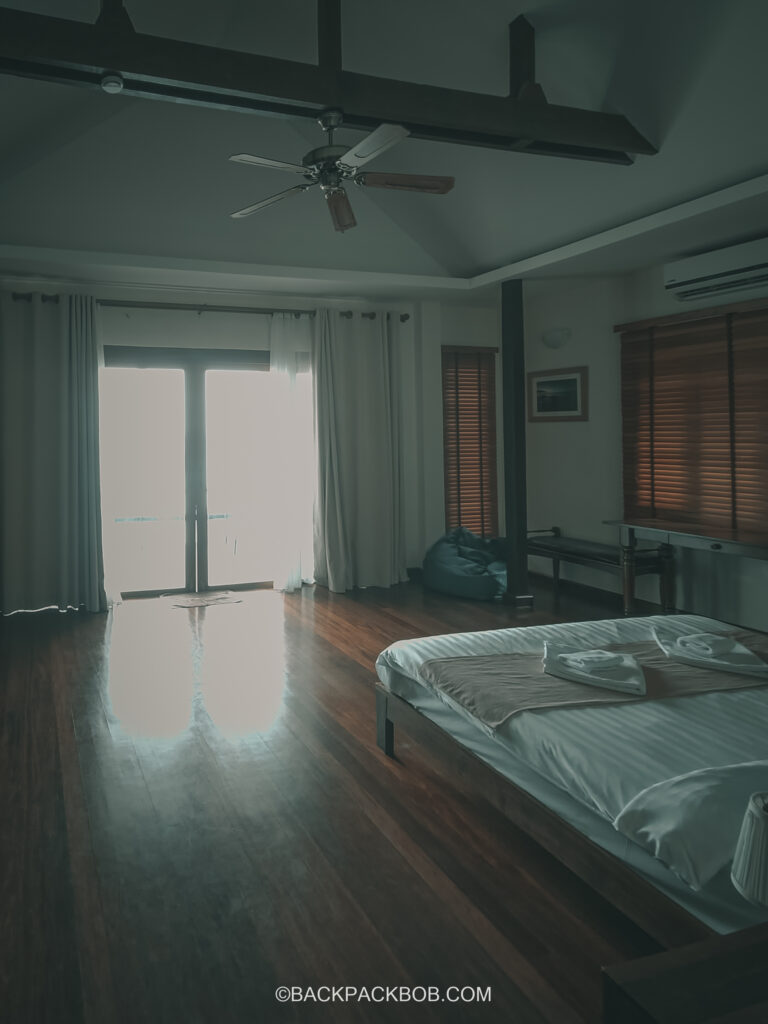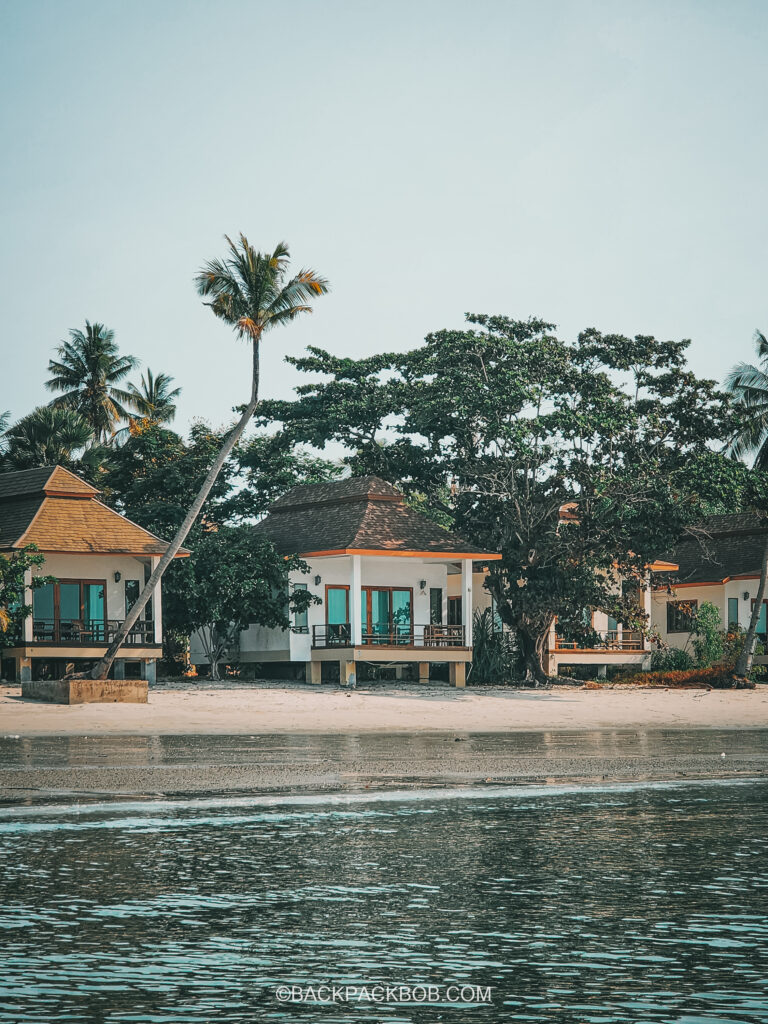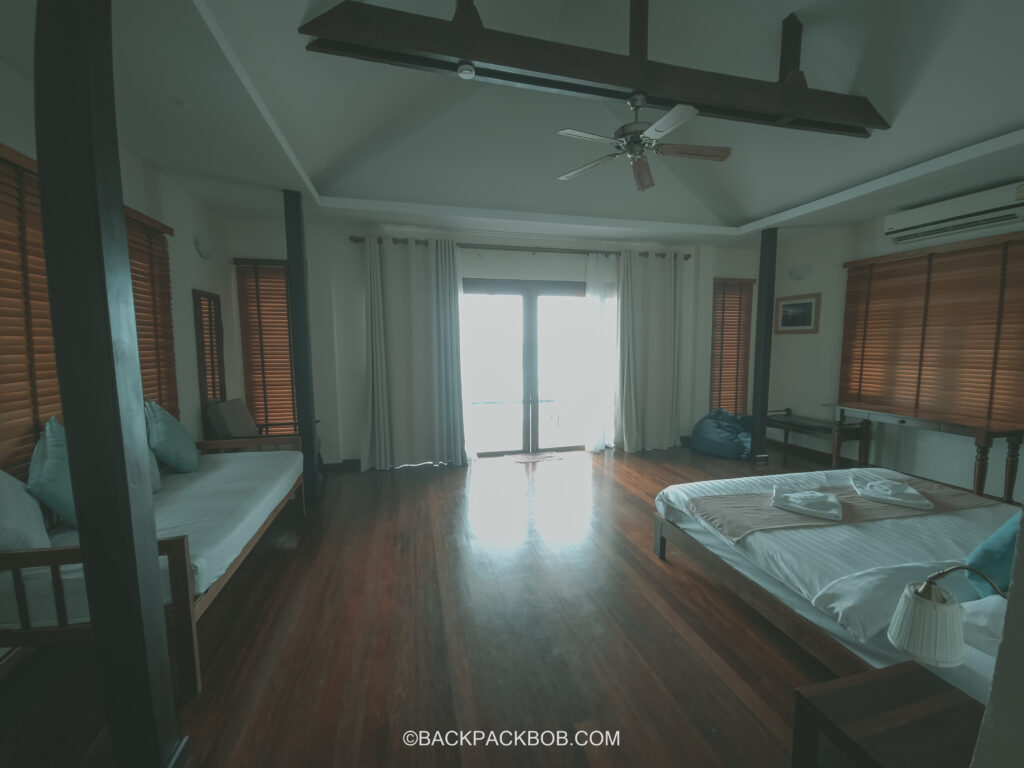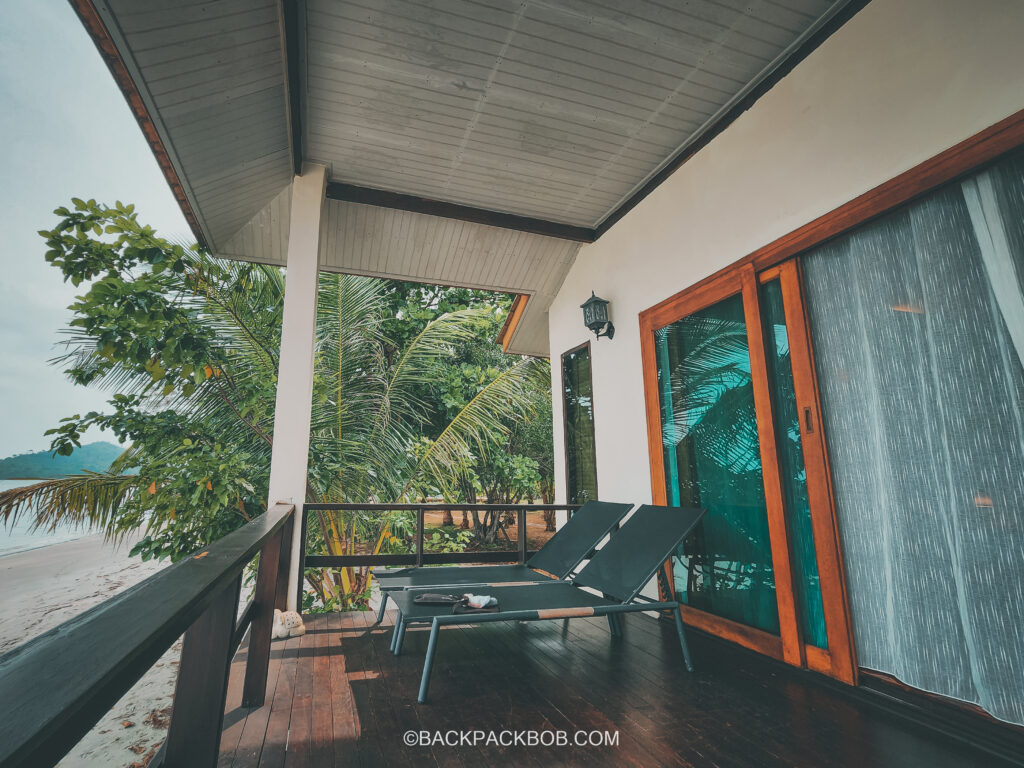 The Pawapi Beach Resort had everything I could have hoped for. The room was luxurious and spacious, beautifully built from natural resources on the island.
The Wi-Fi was fast, there was a huge balcony with sun loungers, and the sliding bay doors provided a panoramic sea view, even when you are in bed. The queen size bed is soft and comfortable, a bean bag chair sits in the corner, ice-cold air conditioning blasts away the tropical heat, and a powerful ceiling fan creates a comforting ambience.
The room even had two bathrooms, one with an indoor shower, and one with an outdoor shower.
But as luxurious as the rooms are, at the Pawapi Beach Resort, there was a more important reason I picked to stay here, and it's the location. I often say that choosing a good location is better than choosing a good hotel. At the Pawapi Beach Resort, the location could not have been any better.
There are a total of 16 rooms at Pawapi; eight villas and eight bungalows. Four of each room type are on the seafront.
The Beach at The Pawapi Resort
The beach where the Pawapi Resort is located is not private, which is great.
There is nothing I hate more than when a huge chunk of a beautiful beach has been made inaccessible and has been claimed by a resort and reserved for hotel guests. No, at Pawapi tourists or anyone else is free to come and be.
But, no one does. Because Koh Mook is such an untouched island.
There are a few tourists, sure.
But so few, that there is plenty of beach space for everyone. In, fact out of all the rooms at the Pawapi Resort, only two were occupied, mine and one other. I was shocked at how deserted a paradise island could be.
I guess I'm just one of the fortunate ones who has heard about this stunning island. Just a few kilometres away, on Phi Phi Island, there are thousands of people searching for paradise, thinking they've found it. Not knowing, just how close they actually are, to a real paradise island.
The waters surrounding the Pawapi Beach Resort are idyllic, an indescribable beauty, a mesmerising shade of blue, and green. The ocean waves are the last thing you'll hear when drifting off to sleep, and the first thing you'll see when you wake up is the sea.
You'll quickly realise that nothing beats the feeling of waking up and seeing the sea first thing in the morning. Especially when you are on a stunning beach, with beautiful weather, and you can literally walk outside and take a swim in the sea anytime you like.
There isn't a better way to start your day. I would never describe myself as a morning person, but that all changes when I'm sleeping next to the sea. I can't wait for the morning to come around.
I've spent a few nights sleeping by the ocean, and it's always amazing. I recently camped out on Koh Rok and had the island to myself. And during the pandemic, I spend three-weeks camping around the beaches of Koh Lanta! Waking up to the sound of the waves crashing on the shore is like falling asleep on Christmas Eve, feeling giddy and excited for the day ahead.
If I'm being totally honest, I don't even bother closing the curtains, when I sleep by the ocean. There's hardly anyone around, so it doesn't matter. I want to see the sea the moment I open my eyes, and I want to be woken up naturally by the sun rising at 6:30 AM.
Good Morning; Pawapi Beach Resort
With the sun rising I'll start my day with a cup of coffee, I could walk over to the restaurant cafe, or order room service, a proper coffee. But I'm not ready for social interactions yet, I need a few minutes solo. I want to take in the view.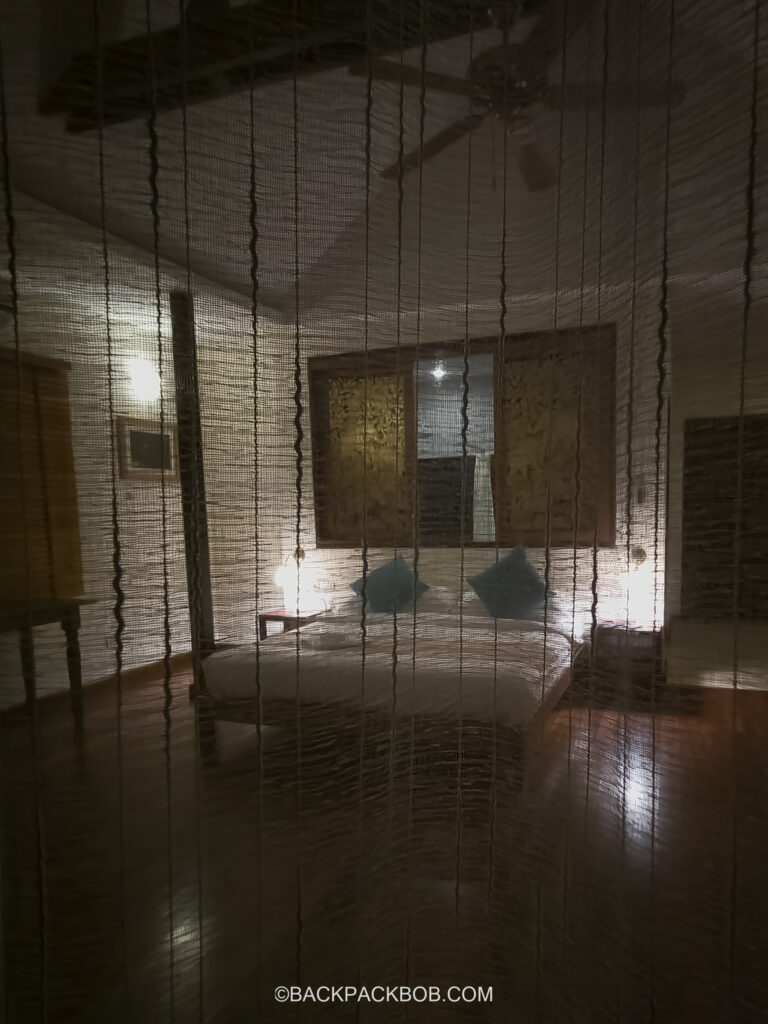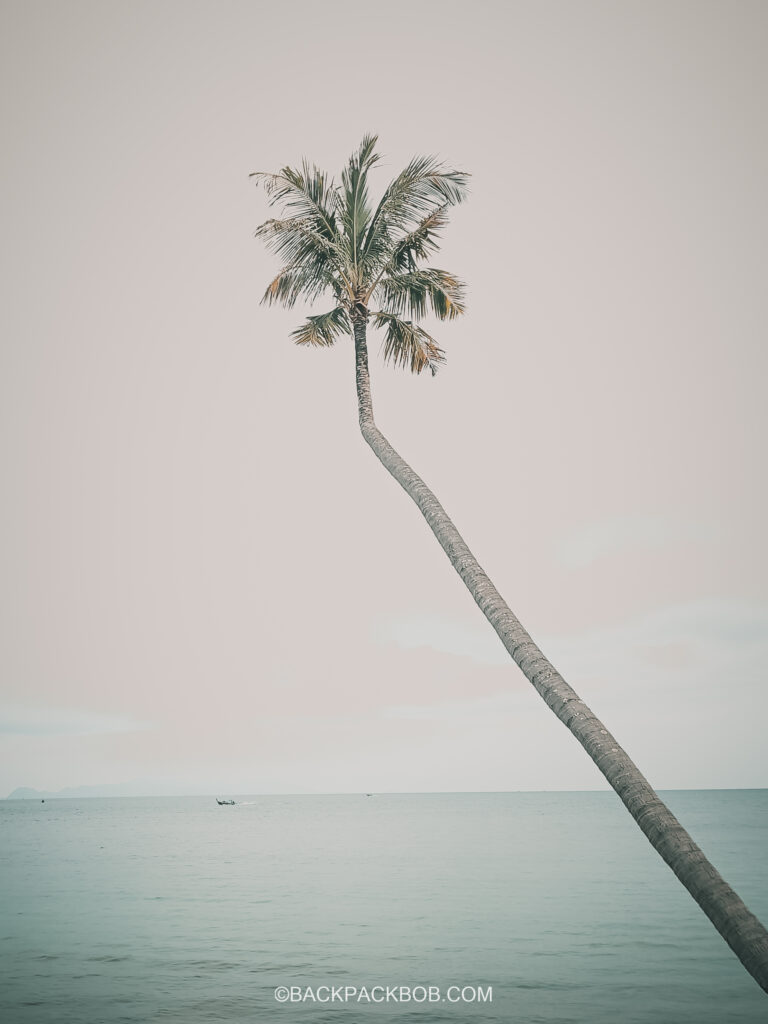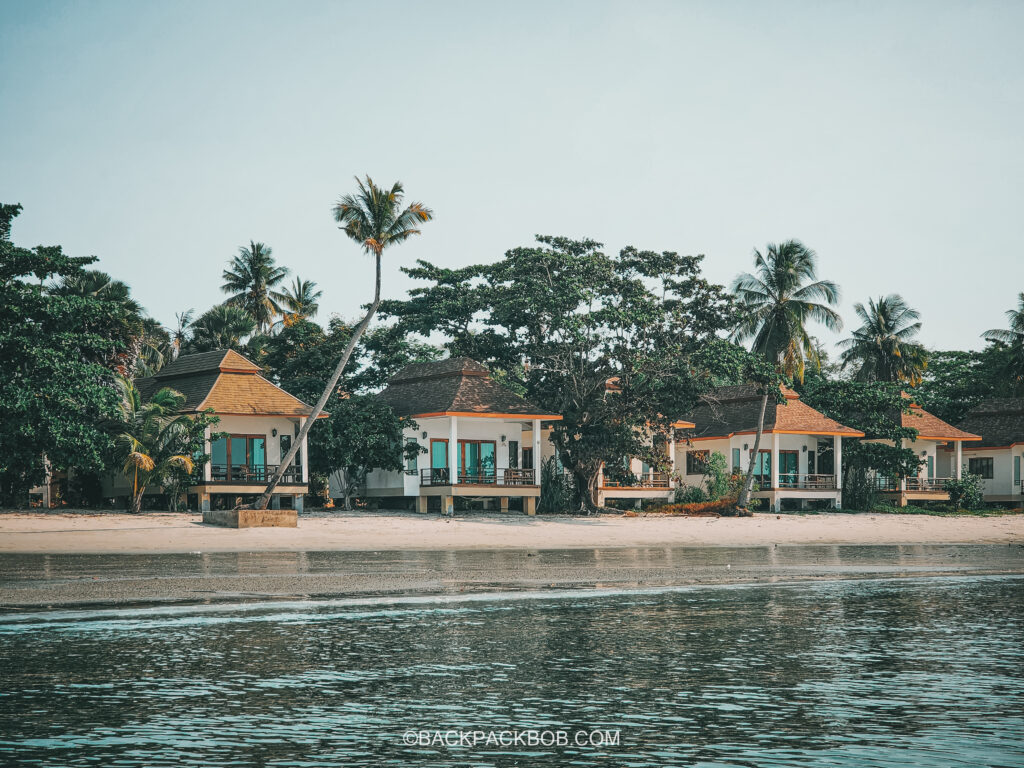 There are basic tea and coffee bits in the room, it's enough, for now, to enjoy a cup on the balcony before running down the beach into the sea, for a swim.
Breakfast is included at the Pawapi Beach Resort too. So after a swim, and after making the tough decision to rinse off the saltwater in the indoor, or the outdoor shower room, it's time to eat. The breakfast area is a few meters along the beach. The huge serving area is open-planned, also with ocean views.
A whole range of items are on the buffet menu, including classic Thai dishes like egg fried rice, and then there's a huge selection of fruits, dragon fruit, pineapple, and watermelon. Of course, it's all grown for cheap here. But as a foreigner, it feels like a true luxury. I order my eggs, cooked to order by the chef, and sip my Latte, a proper one this time, from their barista, (machine).
Things To Do at Pawapai Beach Resort
Now when I'm on an island getaway. I often like to do, nothing. Koh Mook is perfect for that. When I say nothing it usually means lounging in a hammock all day, from breakfast until dinner. And yes, I travel with my own hammock. Thankfully there was no shortage of Palm trees to tie it up from in Koh Mook.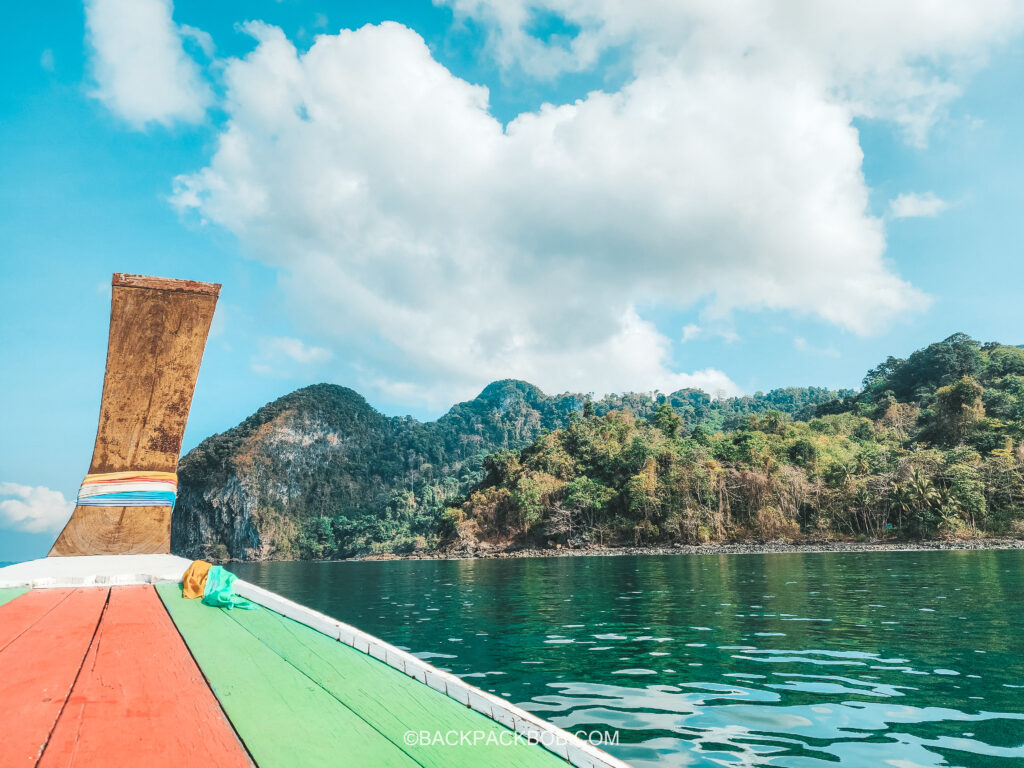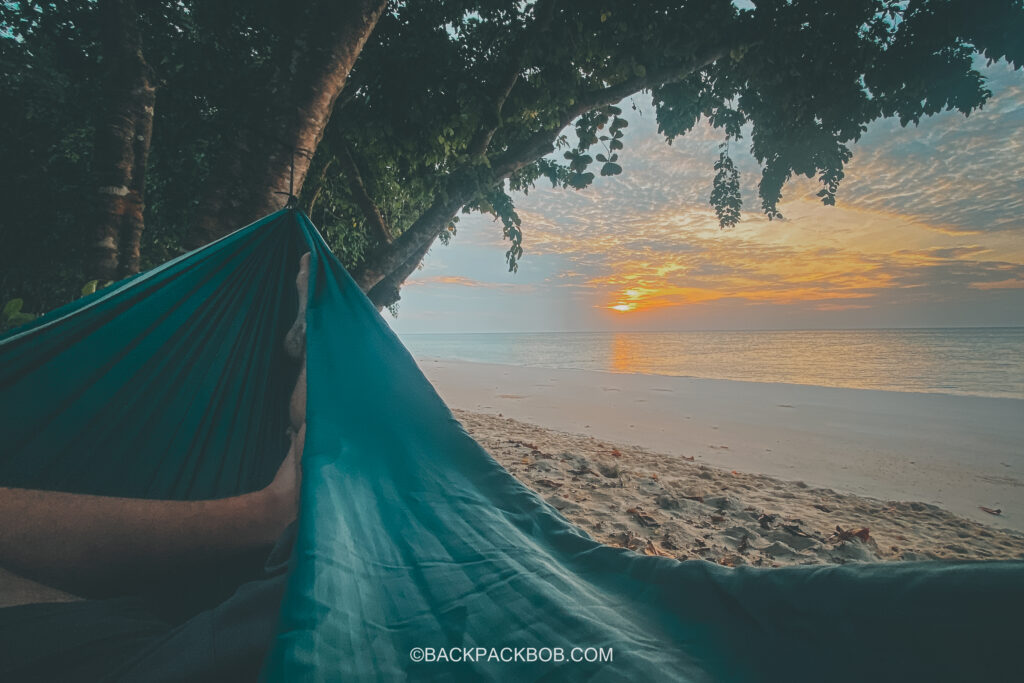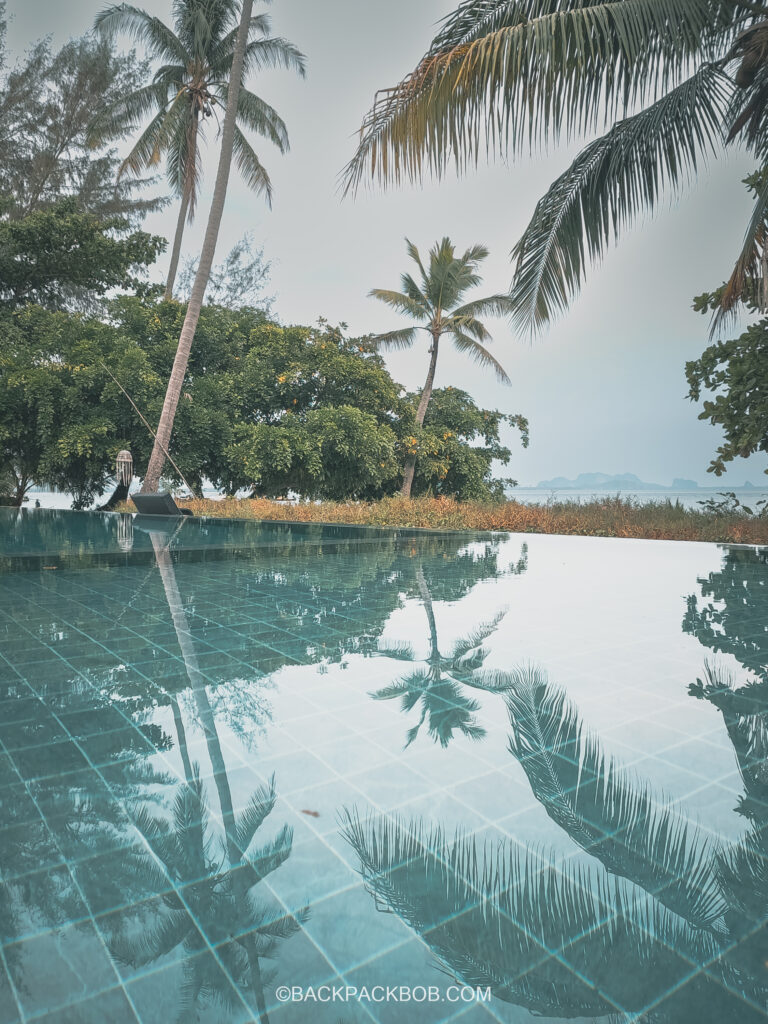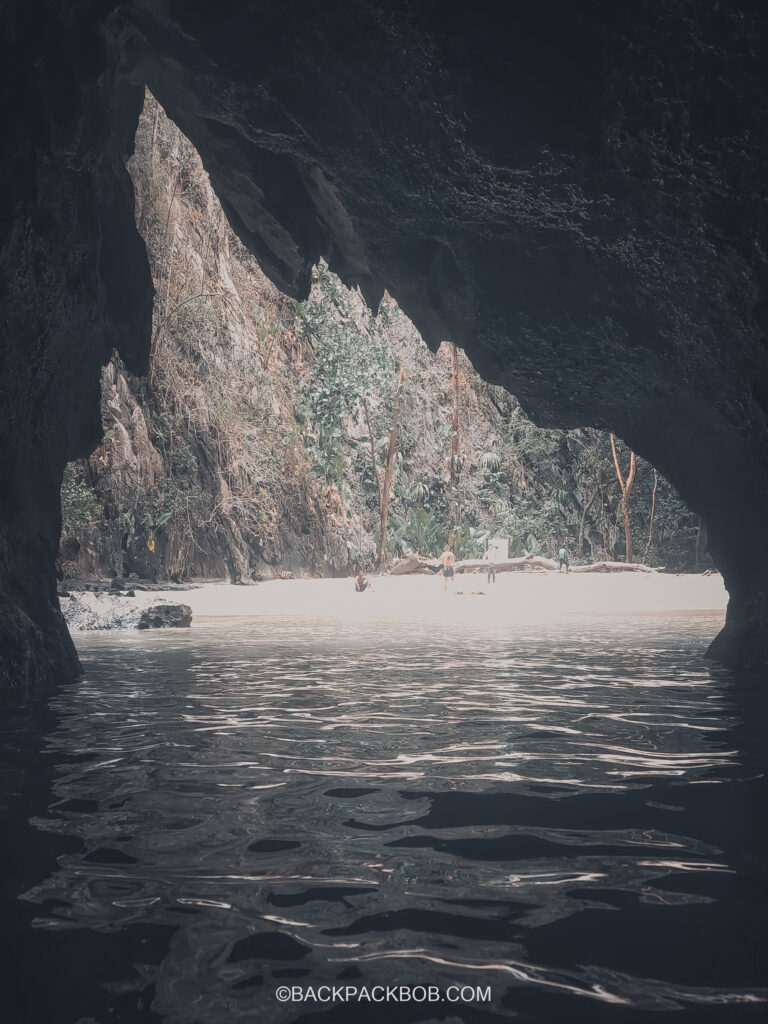 I'll sometimes read a book, listen to a podcast or one of my favourite radio shows from the UK. Sometimes I'll write something short, for my blog. But everything can be classed as 'nothing'. Nothing of importance, just time to reflect and relax.
But there are plenty of things to do in Koh Mok too, we charted a private boat for one of the afternoons, so we could head over to Koh Kradan and snorkel on the world's eighth most beautiful island. And we also visited the Emerald Cave, on the west of Koh Mook Island. The Emerald Cave is somewhere you have to visit on Koh Mook, you need to pass through a sea cave to get there, you can swim or kayak and there is a secret enclosed beach on the other side.
Dogs and Dugongs
There is some unique wildlife too, at the Pawapi Beach Resort.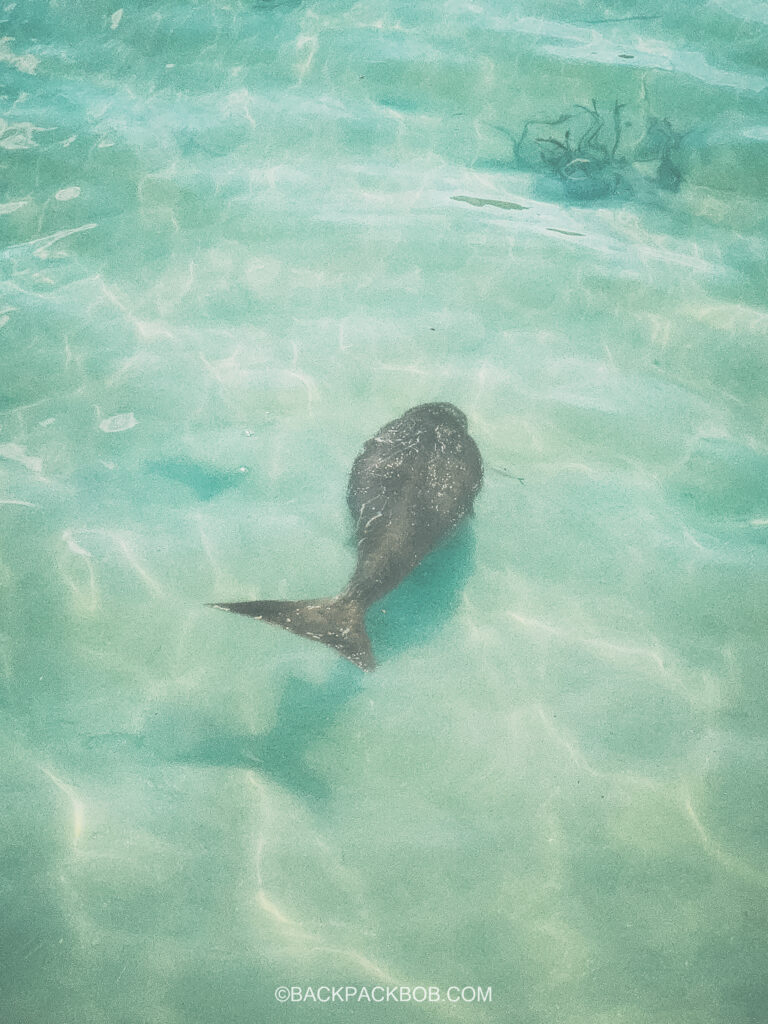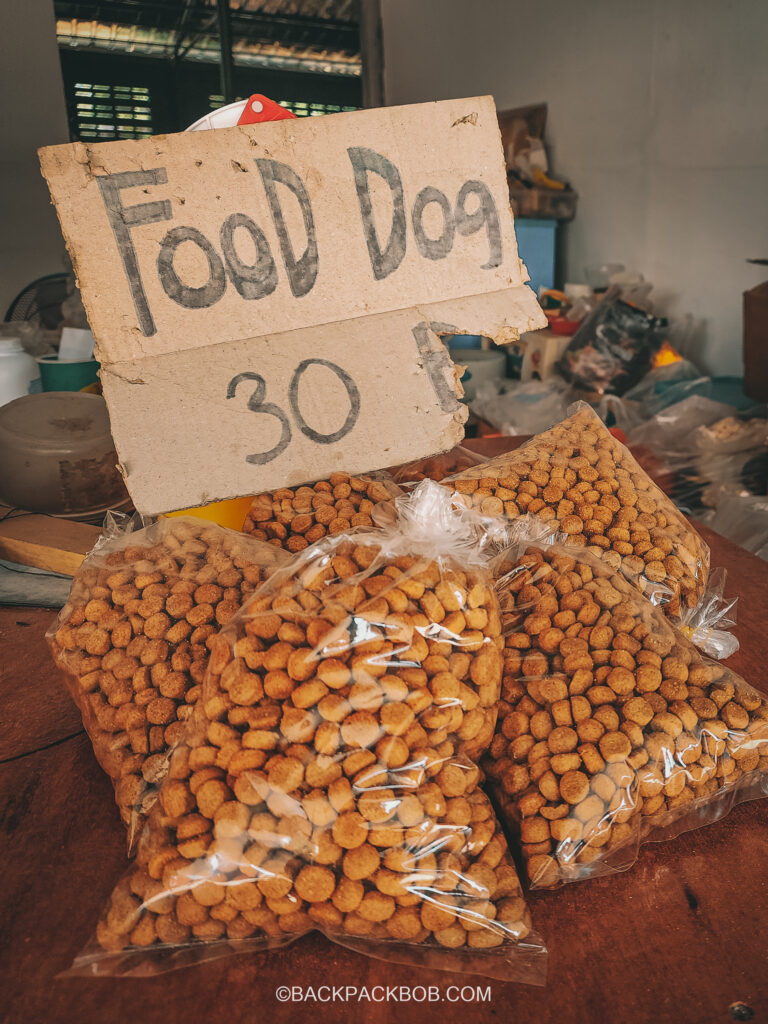 The Dugong, commonly known as the Sea Cow is known to live in the water around the island, and we were lucky to see one swimming just a few meters from the main pier, (we also saw them in Koh Libong). And I can't forget the dogs on Mook. There is a small shop in town selling bags of dog food, so we made sure to give a little something to the family of street dogs each morning too.
Facilities at The Pawapi Beach Resort
There is of course a beautiful infinity pool at the Pawapi Beach Resort too, something I had overlooked when first booking the hotel. I thought that because of the hotel's location, I would only swim in the sea, but it was nice to break it up by having access to a swimming pool.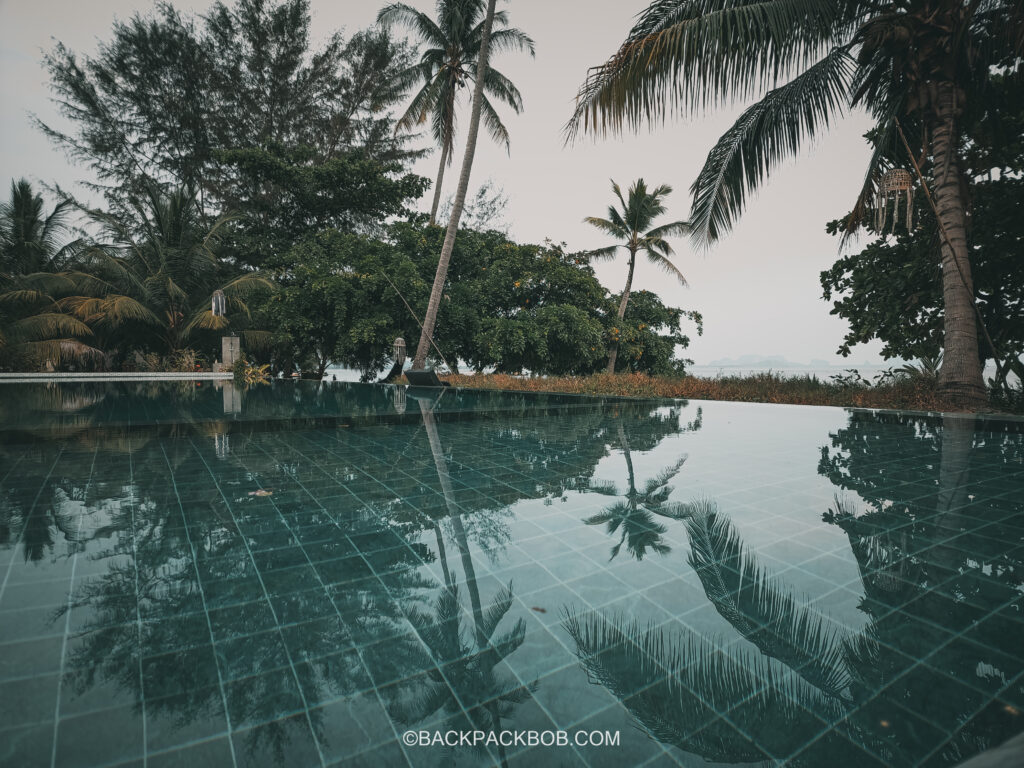 And then, when the evenings roll around, there are plenty of places nearby, where you can get some dinner. You can walk along the beach for 10 minutes or so where you'll find half a dozen local seafood restaurants. BBQ joints with big red snappers, and fresh squid. Prices are low and the quality of the food is fantastic.
Of course, you can always get dinner at the Pawapi Beach Resort Restaurant too, not that we did.
How Much Does The Pawapi Beach Resort Cost
This is where you'll be shocked. For a resort of this nature, a villa with private beach access. You're almost certainly going to pay well less than £100 a night for a room here(we paid £50)! I still struggle to understand why this place is so cheap.
Using Booking.com, if you are registered as a genius member, you can find an average room rate of £51 per night. That is for the most expensive room type, the beach access villa. If you wanted to save money, a beach-access bungalow costs around £42 a night, or a room without beach access can be as cheap as £35 a night! But I recommend going for the best room if you stay at Pawapi. The room rate does increase for the high season, by around 20%, which falls between November and March. But you can check the current prices here.
Head directly to booking.com here to check out the latest prices, or you can often book the villas for less on Hostelworld.
Pawapi Beach Resort TL; DR.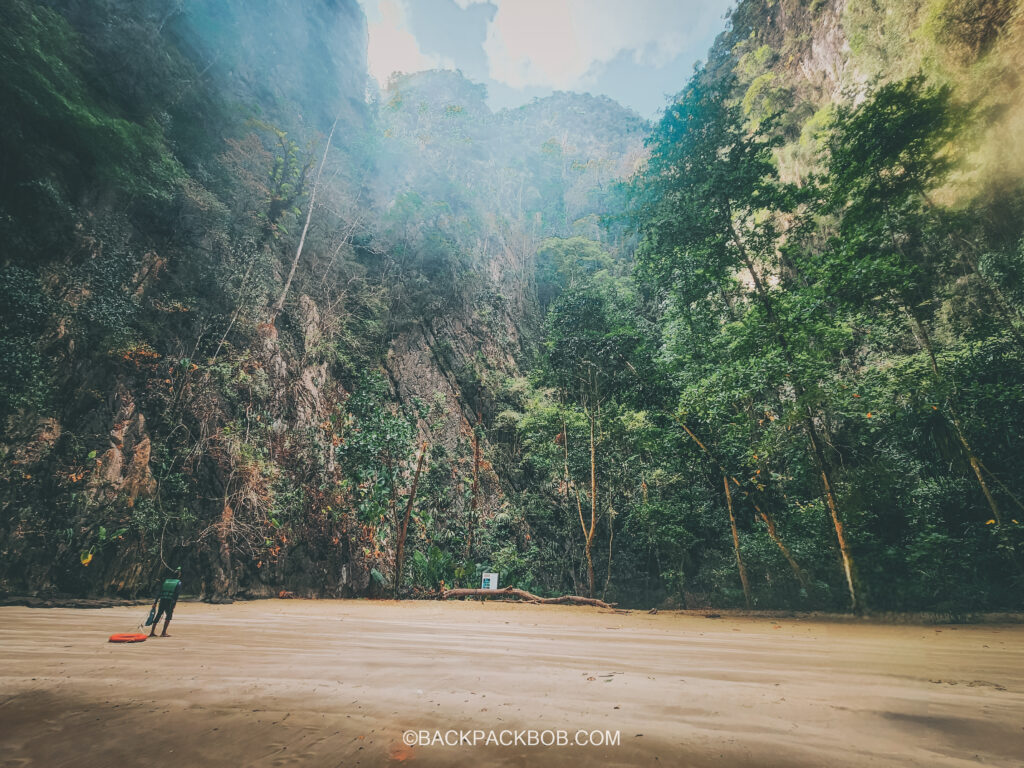 The Pawapi Beach Resort is such a stunning resort that, to be honest, I was torn as to if I should publish this post or not. Part of me wanted to keep the secrecy of the resort to myself, the other part of me wanted to see such a beautiful place thrive. Whether you chose a Beach Villa or a Beach Bungalow, you won't be disappointed. Just make sure to choose a room with an ocean view. The rooms at Pawapi are luxurious, which is great. But the real selling point for this hotel is the location. On a relatively untouched island, with a sea view, and total peace and quiet. All for the same price as a box room in the city. It's a no-brainer. If you want to incorporate Koh Mook into your Thailand Itinerary, here's how.