What does it mean to be an SHA+ in Thailand. What does SHA mean? And what is an SHA Hotel?
If you're planning a trip to Thailand or if you're already in the country, while browsing sites like Agoda, Booking or Trip.com you might have noticed that a lot of hotels in Thailand have updated their names to something like 'Baan Haad Sabai: SHA Plus!' But why have so many of Thailand's hotel begun to include this new phrase on the end of their name?

What does SHA actually mean?
At first I just ignored it, I didn't care what SHA+ was. But as it became pushed in my face more and more, signs all around Thailand. Hung in every hotel. The SHA+ Plus logo on the wall at every hotel I checked into. Curiosity got the better of me and I decided to do some more research about what an SHA hotel actually is.
What Does SHA Mean in Thailand
SHA is a three word acronym which stands for Safety and Health Administration. An SHA certification is issued to a business, hotel, restaurant or other tourist attraction after a business applies for the certification online and would be given providing they meet the required criteria.
These include protocols such as adequate and regular cleaning, placing hand sanitizers in public areas, monitoring the health of the staff, etc., etc. It's basically a scheme which is meant to reassure you that the hotel your staying at is safe to visit.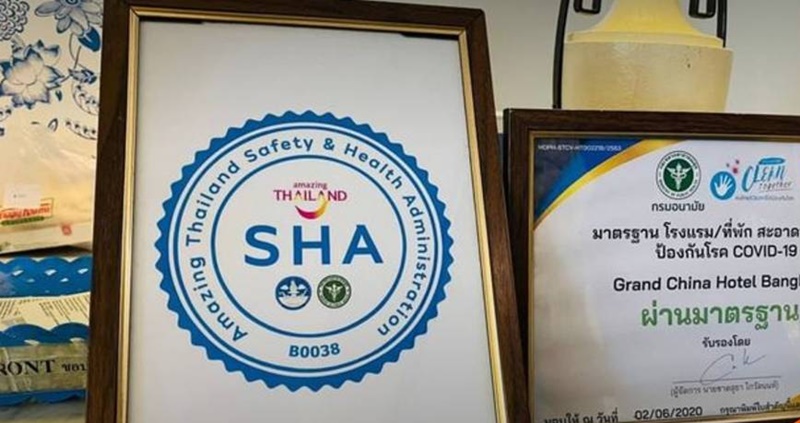 The scheme was launched in the wake of the COVID-19 pandemic, with a goal of "improving tourism health and hygiene standards"(source), and giving confidence in the industry standards of Thailand's tourism.
It was made possible due to a partnership between two of Thailand's governing bodies: the Tourism Authority of Thailand (TAT), and the Ministry of Public Health.
In reality the scheme lacks actual meaning. SHA provides little more than a sign for hotels to hang in their lobby. The whole scheme is set up to offer a false sense of security with the hopes of luring their cash cows tourists back into the country by giving the impression that Thailand is safe from coronavirus.
What Business are Eligible to Apply for an SHA Certification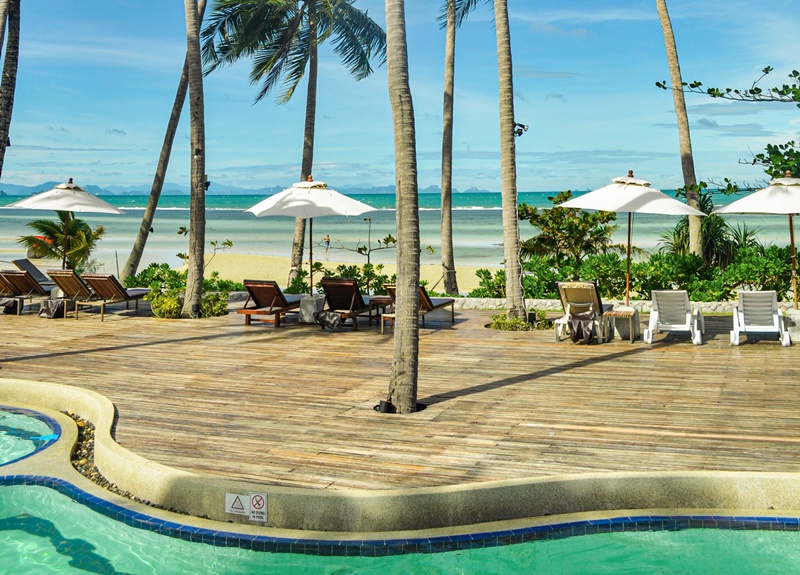 The SHA or SHA Plus is not only for hotels in Thailand.
Hotels, Resorts, Guesthouses and Hostels are the most common to have a SHA certification, which all fall under the accommodation category. But in addition to accommodation,(according to the official website) there are a total of ten categories of business eligible to gain the SHA or SHA Plus status.
The ten types of business that can request the SHA standard are as follows:
Restaurants / food outlets
Hotels / accommodation and convention centers
Recreation and tourist attractions
Tourist transport vehicle
Travel agents / tour operators
Health and beauty parlors
Department stores and shopping centers
Sports stadiums for tourism
Theatres / cinemas
Souvenir shops and other stores.
The authenticity of an SHA certification can be verified by looking up a business on the SHA website here: https://web.thailandsha.com/shalists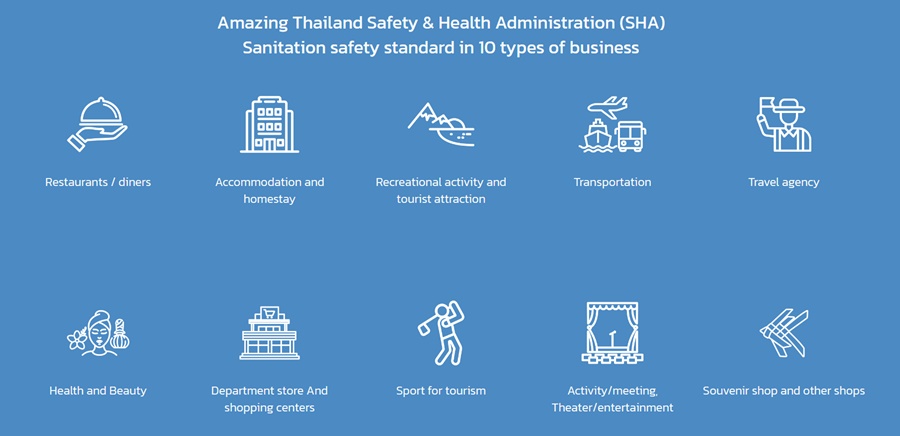 What is The Difference Between SHA, SHA Plus and SHA Extra
SHA, SHA+, SHA Plus, SHA Extra Plus, SHA++ SHABA 😵
It can be difficult to understand what to different SHA (Safety and Health Administration) categories mean. Based on the SHA registration page. There are three categories of SHA certification which a hotel or other business can apply for.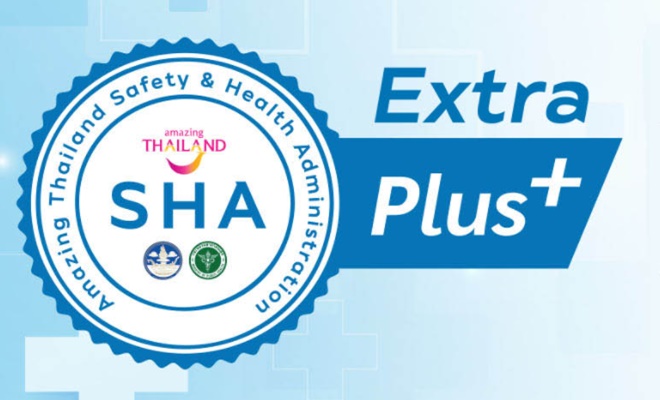 What is an SHA Certification
SHA is the basic certification provided to business that want to apply for it.
There are certain criteria a business must meet to be approved for a SHA certification. The business might (or might not) be randomly inspected to ensure protocols are being followed. The requirements for each business type differ slightly from one another. But for a hotel in Thailand to hold a SHA certification it must meet the following:
Hand Gel with at least 70% alcohol content needs to be provided in public areas.
Signs must be places in employee bathrooms to remind them to wash their hands.
Staff must be temperature checked daily and must not continue to work if their temperature exceeds 37.5c.
New technologies should be used such as QR codes instead of key cards, where possible.
The full list of criteria that a hotel must meet to gain the SHA certification can read here.
The criteria that other business types need to meet can be found publicly available on the official SHA website.
What is an SHA Plus Certification
SHA Plus, sometimes written as 'SHA Plus+' or 'SHA+' is an 'upgraded tier of SHA.
It means that a hotel met all the requirements for a basic SHA certification and at least 70 percent of the workforce have taken at least two doses of coronavirus vaccine. Members of staff who are unvaccinated are not aloud to have any contact with guests. Hotels are also required to have emergency response solution in place in the event of a 'COVID-19 outbreak'.
What is an SHA Extra Plus Certification
SHA Extra Plus is only given to accommodation type business; hotels and resorts. It means that a hotel is eligible to be SHA Plus registered and the hotel also has a partnership with an approved hospital to provide PCR testing.
This was useful during the period when quarantine was required to enter Thailand. Thailand has now revoked all entry requirements which has rendered the SHA Extra Plus status as redundant.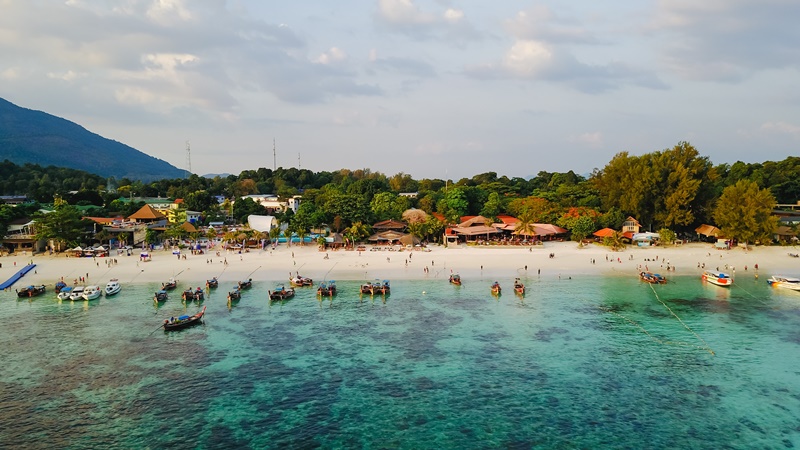 Who Can Stay at SHA Rated Hotels
Anyone can stay at an SHA or SHA Plus+ hotel. There is no difference when it comes to reserving a room at an SHA property. Most hotels now list their SHA status on their website along with their listings on Agoda, Booking.com etc., etc. But the full list of SHA hotels can be checked on the SHA website.
Do You Really Need to Pay Attention to the SHA Status of a Hotel
It's difficult to find something positive to say about the SHA scheme. The whole thing feels unnecessary and forced.
Personally I would not pay any attention to the SHA status of a hotel when booking. It hold no real world relevance to how 'safe' a hotel is.
If a hotel owners kept the place clean before the pandemic, it's likely still the situation. If a hotel was not keep clean before the pandemic- having a SHA badge isn't going to change anything. As is everything in Thailand you get what you pay for. Some people are passionate about their business and others view tourists solely as income. SHA doesn't change this.
The reality is that the high end resorts, which is where the scheme focuses the most attention, have naturally always been cleaned and maintained to a high standard. The budget guesthouses and hostels do not have the manpower to carry out the list of demands required from the SHA. The fact that one business is SHA and another is not does not mean that one is safe and the other is not. The scheme gives a false sense of security, so that Thailand's can reap the financial benefits of tourism once again.
In short, take the SHA with a pinch of salt. And don't let it influence your decision on which hotel to book.
List Of The Best SHA Plus Hotels in Thailand