Are hostels safe during COVID-19?
I still feel safe when staying in hostels, there is obviously still a risk, but I wouldn't consider it any riskier than staying in a hotel or using public transport. In fact, I'm sitting in a hostel in Thailand while writing this.
But I want to share more about the topic in this post, hostels are one the greatest parts of solo travel but because of coronavirus, they are at risk of being lost. I have been staying in hostels on and off throughout the pandemic, and I still believe hostels are as safe as they have ever been.
And remember, no one is forcing you to stay in a hostel. If you don't feel comfortable and would rather stay at home waiting for this to all blow over, that's fine too.
The thing that worries me the most isn't catching coronavirus, but rather, how budget-travel is going to change and has already changed. Travel has always been a massive part of my life. And I'm not confident that things can ever get back to how they were before, it's too late, we're in too deep for that.
There is a new undeserved stigma towards hostels, that's been caused by the pandemic, leaving backpackers wondering is it really safe to stay in hostels anymore?
Why Backpackers Need Hostels Safe And Open
Hostels are a god-send for solo travel. I know that most backpackers will agree with that statement.
But the coronavirus, or rather I should say, how the world has dealt with the virus. Has forced hostels around the world to shut their doors, many closing down for good. Leaving backpackers wondering, are hostels safe anymore?
Well, if you're comfortable enough to entertain the idea of travelling, then I would encourage backpackers to continue staying in hostels. If you want them to be around in the future, we need to support them now.
But there are plenty of people out there that will disagree, they will tell you how it's a stupid, dangerous, reckless idea. Ultimately though you shouldn't listen to them, to me, or to anyone else when deciding if it's safe to stay at a hostel during or after the COVID-19 pandemic. You need to make the decision for yourself, after taking into account your own personal circumstances. It won't be the same answer for everyone.
In parts of the world like south-east Asia, for years, backpackers have relied on hostels to get their foot in the door and enter the world of travel. For backpackers, staying in hostels is a right of passage, it's a gateway which has allowed millions of people to experience travel without the need to have a massive budget.
If things were to change, and we were to lose hostels, travel could quickly become a rich person's game. Without hostels, budget travel and backpacking as we know it would cease to exist. And intercontinental travel would be far less accessible to younger generations with smaller budgets.
I can almost guarantee that once a coronavirus vaccine is rolled out to the masses, borders will begin opening to tourists again, and it won't take long for the luxury travel industry to snap right back into place. Something which has been proven time and time again throughout the pandemic is that bigger business are always going to come out on top.
Hostels, however, are usually not big business. They are usually owned and managed at a personal level. People have put their hearts and souls into building incredible sociable places for backpackers to stay and meet, and if travellers become fearful of staying in hostels it won't take long for bigger companies to step in and take over the travel industry. If that were to happen it's not only the business owners that will lose out but also travellers themselves.
What Does The Future Hold For Hostels
It's a possibility that the stigma towards hostels could cause a lack of trust, resulting in more and more shutting down. Governments around the world have been drumming the message in, of how dangerous and inconsiderate it is to socialise.
We're being told to stay two meters apart from each other, not to speak to anyone we don't live with, and definitely, whatever you do, don't get into the van with the man offering you candy. There are some ridiculous rules in place around the world that are taking away many of our human rights.
The restrictions given by governments, prevent us from socialising and meeting with others. This essentially goes against what travellers want from staying in a hostel. So are hostels safe to stay in? After all, the main purpose of staying in hostels is to meet new people, socialise, and to connect with those who we would never usually cross paths with. All things which are now a taboo.
Is there a place for hostels in a world were coronavirus exists, is it safe to stay in hostels during or after the coronavirus pandemic? I'd like to hope there is, but the reality is that there is uncertainty right now. So many hostels have already been forced to close, and it's evident that even if the concept of a hostel can survive there are going to be far fewer around once tourism starts to pick up.
Are Hostels Open During The Pandemic
Some hostels are still pushing on regardless and adapting to the situation. Owners are looking for ways to make hostels safer to stay in. I have personally stayed in a handful of hostels in Thailand during the pandemic. Although the experience of hostel life is nothing in comparison to how it was pre-coronavirus, I have felt completely safe.
The owners of the hostels I've stayed in have given me some hope for the future of backpacking and budget travel, most owners I've spoken to, do seem worried about the uncertainties in the future, but also remain optimistic. It's fantastic to know that there are people who have not given up yet, and are ploughing on through these tough times, to keep their hostels open and safe, even with almost no guests.
In fact to put things in perspective of how quiet some hostels have now become. I recently stayed in a hostel in a popular beach town in Thailand, a place called Ao-Nang. The hostel I stayed in would usually be full of life and accommodate 36 guests. Yet due to the pandemic, I was the only one. It was a little strange, and really defeated the purpose of staying in a hostel, but it proves that there is a chance of survival for some hostels, not all is lost, yet.
Before coronavirus, hostels were hubs for backpackers. Sociable places, where travellers and backpackers from all around the world, from all walks of life, could come together, meet, drink, socialise and share stories. Pretty much everything we're now being told not to do is what once made hostels an enjoyable place. To put it bluntly, social distancing and hostels don't combine well.
Some hostels have private rooms and a shared common area for guests. But for budget backpackers, choosing to stay in a shared dorm rooms, makes travel even more affordable.
A typical hostel room sleeps from six to ten people. Although I have stayed in places with over thirty beds in a dorm. So when we're being told to stay apart from each other, is sharing a room with strangers a good idea, especially when most people will have been travelling internationally.
How Are Hostels Keeping Guests Safe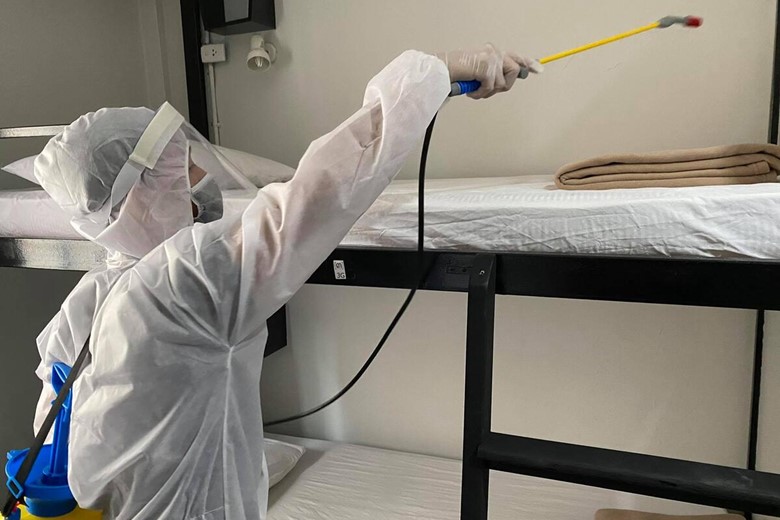 I stayed in a hostel in Bangkok for a few weeks during the coronavirus pandemic, as one of the few hostels which managed to keep their doors open. The hostel gives some great examples of the precautious others could be taking, to make sure hostels are safe during the pandemic.
This hostel chose to keep their social areas open as usual, instead, focusing their changes towards keeping the place clean. Now, most hostels in Thailand and in south-east Asia are already pretty clean anyway, but the hostels that have stayed open have taken cleaning to next level making sure that hostels are safe to stay in during coronavirus.
Seen in the picture is a member of the staff, disinfecting the dormitory rooms. Now to be perfectly honest, I'm not sure how effective this actually is. But the images do go a long way to reassure people that hostels are doing their best to minimize the risks and creating a safe space to stay.
Along with frequent cleaning routines, and disinfecting rooms. Guests also have their temperatures checked with an automatic temperature sensor, each time they walk through the main doors.
Other hostels have taken different approaches to stay safe during the pandemic, by reducing capacity in the shared rooms. It is not an ideal solution for hostels, but for a lot of businesses, operating at a reduced capacity is something they've learned to accept.
After all, it's better to keep the doors open and keep things ticking over than to close for good.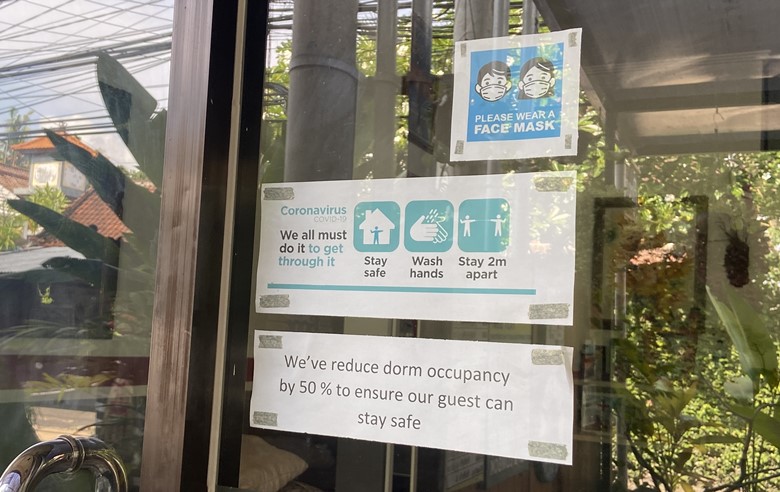 Is It Safe To Stay In A Hostel During The Coronavirus Pandemic
So my final thoughts on is it safe to stay at a hostel during the COVID-19 pandemic?
Ultimately, it depends on your own circumstances, if you're comfortable to travel internationally then you should be comfortable staying in a hostel. If you don't feel safe with staying in a hostel, it's probably best not to travel at all, and instead, postpone your plans.
Now don't get me wrong, there is still a risk involved with staying in a hostel, but the same could be said about using public transport, going out for a meal or taking a flight. Travellers need to decide for themselves what level of risk they are willing to take.
It's understandable that some might hold doubts about staying in a room with strangers, after all, you have no idea where the others in your room have been, who they've been mixing with and how seriously they are taking the situation. Hostel owners understand that there are risks, and are taking as many precautions as possible to combat the stigma and reassure their guests.
Most hostels are operating at a reduced capacity, sometimes as a precaution against the virus, sometimes due to lack of demand and sometimes both. Either way, it's pretty unlikely that any hostel you stay at will be at full capacity right now. Cleaning regimes have been increased, temperatures are being checked and mask-wearing has become commonplace, in the common areas.
The precautions will vary from hostel to hostel, so if you are at all worried, it can be reassuring to reach out to the hostel in advance, to find out what precautions are in place.
So to sum up, yes hostels are safe, but as in the case with everything we do in 2020, there is also a risk. You should decide for yourself what risks you're willing to take based on your own circumstances. The fact that hostels are taking appropriate safety measures should give some reassurance.
And if you do stay in a hostel during the pandemic you can feel good about helping keep budget travel and solo travel alive for future generations.
Would you consider staying in a hostel during coronavirus? Have you stayed in a hostel since the pandemic began? Or is there anything that hostels could be doing that would make you feel safer?
Leave a comment below and let me know what YOU think.