How much did I earn in my first three months travel blogging, lets take a look.
I earned $64 travel blogging during the coronavirus lockdown. In a time when no-one is travelling and in my first 90 days as a "travel blogger". It might not sound like a lot, but it's proven to me that it is possible to "make money online", and if I'm being perfectly honest, in a time where my livelihood and livelihoods of others are being torn apart by the coronavirus pandemic, any income goes a long way. In this post, I'm going to share what it took to get me there and how I earned my first few dollars travel blogging. So let's look at how much money travel bloggers actually make.
2020 Q2 – Travel Blog Income Report
Starting a travel blog has been something I'd wanted to do for many years, but I'd never had much time to devote to it. I knew my way around website development, SEO and marketing. But I'd always used these skills and my time towards building up my own tour companies.
Until the coronavirus hit, that is.
It became clear to me early on that my tour companies weren't going to be bringing in any income for the foreseeable future. And I was left, essentially without a job, without an income and, being self-employed, abroad, without any benefits.
There was very little I could do, and instead, staying true to myself I chose the most irrational solution to my problems.
I decided to launch my travel blog. After years of it being something which I wanted to do, I needed to flip the script and make it a reality. So on April the 20th, a month after coronavirus shut down the travel and tourism industry – I launched backpackbob.com.
Yes, in a time when no-one is travelling, a time when airports are closed and aeroplanes grounded. I decided it would be the perfect time to start a travel blog, (and I was right, I think?).
I was on lockdown, (in Thailand). I had three months, three months in which I had all the time in the world to work on my blog.
So I did the most cliché thing possible, I headed to the beach, flipped open my laptop, took the "classic digital nomad shot" and registered a domain name.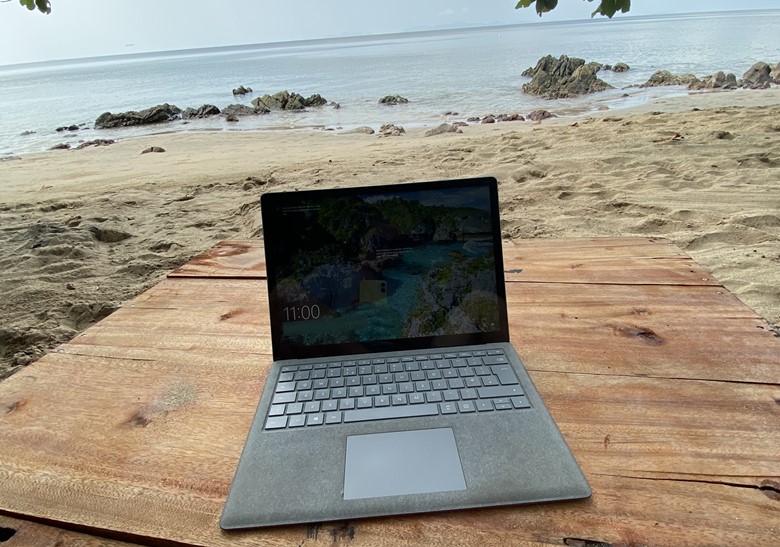 I had never written anything longer than a text message in my life. I failed at school (in English classes at least), and I'd never had a need to write anything until now. It was a steep learning curve- and reading helped. If you're starting a travel blog of your own, read more than you write.
But I pulled it off, and I wrote my first post on April 20th setting myself two goals.
One, I wanted to have published 30 posts before the lockdown was lifted, (which I achieved). And I wanted to have 150 posts by the end of 2020, (which I'm still working towards).
Two, I wanted to have proven the concept that earning an income from a travel blog was possible, I wanted to prove it wasn't just a crazy dream. I knew travel blogging was a long game, and so I set myself a target to have earned a single dollar within the first 3 months. A target which I hit two months in.
I knew that starting a travel blog was not going to be easy, after all, there is so much competition out there. There are blogs about budget travel, adventure travel, responsible travel, ethical travel, solo travel- and of course there are 101 blogs that have ripped off the biggest player out there blog that "helping you travel smarter and cheaper".
But I wanted to do something a little different, I wanted to show a different side of travel I wanted to build "a travel blog about blogging". I want to share my journey from the beginning, from day one- to wherever the next few months or years take me. I want to prove to myself and others that even in 2020, with an ongoing global pandemic and for many, no possibility of travel anytime soon. That there is still a gap in the market and it is still possible to launch a profitable travel blog.
Why Am I Sharing My Income With You
To put things straight, It isn't to brag. And it's not often you'd hear anyone bragging about making $64. Although I am proud of how far I have come so far, the reason I'm sharing my travel blogger income with you is to motivate myself and to inspire others. To inspire those that have thought about starting a blog to make the first step. I wanted to share what a realistic blog income is and how to get there.
If you run a Google search for "How Much Do Travel Bloggers Make", you'll find sites like Goats On The Road, Two Wandering Soles or Practical Wanderlust. These bloggers too, share their income reports, $22,000 a month, $74,000 a month, $100,000 a month, respectively. But these figures, while they are impressive, aren't realistic for someone starting out. These bloggers have been growing their websites for years to hit those levels of revenue. I wanted to share how much a travel blogger can make from day one.
I've been travelling for over a decade now. And I've always wanted to start a travel blog, I've just never found the time or motivation to do so. Looking back I wish I'd started sooner- and so, if this post inspires a single person to get started, then it was worth writing.
The best time to start is yesterday, the second best time is now.
How Much Do Travel Bloggers Make
Let's take a look at exactly how much money I earned for travel blogging in the first 90 days. I earned $64 which was through paid advertisements and affiliate marketing.
I didn't earn a single cent until over two months in. For those first two months, I wrote a new post every single day. 3,000 words a day 21,000 words a week – and that, (there wasn't much else going on during lockdown), for me, got the ball rolling.
Before I get into breaking down how much I earned and from where I'm going to share some traffic stats with you.
How Much Traffic Does A Travel Blog Need To Earn An Income
It wasn't until my traffic rose to 10,000 users that I was able to start earning an income. Which happened, surprisingly quick- almost overnight.
For those that aren't familiar with Google Analytics, it is a free tool that reports to website owners how many users have visited their website. This is a screen-shot from my Google Analytics dashboard.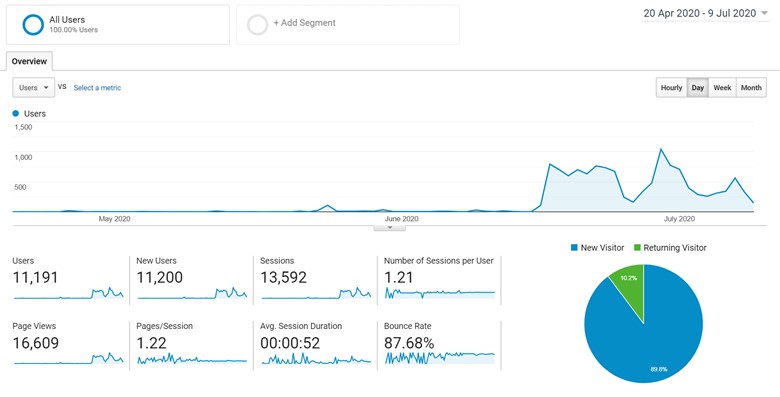 As you can see, from when I launched my travel blog in April until late June, I had almost no traffic at all. It wasn't until late June that traffic began to grow naturally and organically.
But what caused my traffic to grow so rapidly?
Well, I've put it down to a combination of a few factors.
The first factor, was the age of the site. For two months I'd been publishing new content every single day, in doing so I was building trust in the eyes of our overlord, Google.
Secondly, I changed the type of content I was writing.
I began by writing travel guides to places I had visited, but I started this travel blog during the coronavirus lock-downs. And no one was interested in the 14 best things to do in Thailand when the borders to Thailand are sealed and tourists aren't allowed in.
Once I realised the unique position I was in, being one of the few backpackers remaining in Thailand during the coronavirus pandemic, I started to publish more "personal" content. About life in Thailand without tourists around. After publishing an article about my lockdown life on a Thai Island traffic began to sky-rocket.
I was also in touch with Nomadic Matt and offered to write the post as a guest publication for his travel blog. Which he turned down because my "email did not follow guidelines".
"This email does not follow our guidelines for submission. You have to follow the guidelines. As I said, we reject all pitches that do not.

When you pitch publications that list guidelines, follow them! We get a lot of pitches and we just instant delete them. Ya got me in a moment where I feel like telling you why.

Best,

Matt"
I'm so thankful, that my offer was was turned down! And it goes to show that plying by the rules might not always get you where you want to be.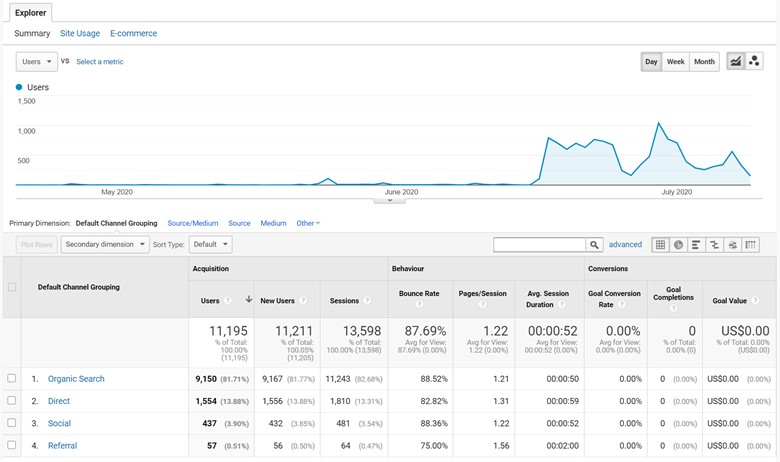 You can see in the screenshot above that most of the traffic coming to backpackbob is organic, which means users are finding my travel blog when the use a search engine, usually Google, sometimes Bing.
So, that's the traffic to travel blog, 11,000 users in three months. But how did I turn that into cold hard cash?
How I Made Money From My Travel Blog
Advertising and Affiliate Marketing. I earned $12 from advertising and $52 from affiliate marketing. If I'm being honest, it still doesn't feel "real". And I'm not sure how or if my travel blog will grow from here. But let's have a look at where I've got to so far. In 90 days of travel blogging.
Lets take a look at paid advertising first.
Advertisements
Now I had a little bit of experience with online ads prior to launching my travel blog. But before, I'd be the one paying to run ads for my own tourism businesses. It was different this time, I was on the flip side and advertisers were paying me to show their ads on my website.
I decided the easiest way to go about this would be to get in touch with an advertising agency, there were two companies I considered.
The first ad network I approached was Google, there are no minimum requirements to register with Google's advertising programme (Adsense), but the revenue paid is one of the lowest out there.
There is also no customer service or support, and after a month of waiting for a response, I revived an automated email explaining that due the coronavirus, they did not have the time to review my site. There was no direct point of communication and I wasn't going to waste my time, so I left it at that.
I got in touch with another advertising network, a company called Ezoic.
After registering my interested online I was contacted by one of their sales reps who helped to get me started. It was a pretty simple process and the support was incredible. The revenue's that Ezoic pay are, supposedly up to five times higher than the amount Google pays- although as I skipped out using Google Adsense and went straight for Ezoic, I can't confirm that for myself.
The drawback to using Ezoic is that you'll need to have a minimum of 10,000 site visitors each month. So put in the hard work now and work your way to the 10,000 users milestone. And sign up with Ezoic.
How Much Can Adverts On a Travel Blog Earn
It wasn't until over two months in that I had built enough traffic for advertisers to show an interest in running their ads on my travel blog. And at the time of writing this, I've had ads running for one week. I've earned so far… a grand total of 12 dollars and 40 cents. It's a start.
Here's the proof.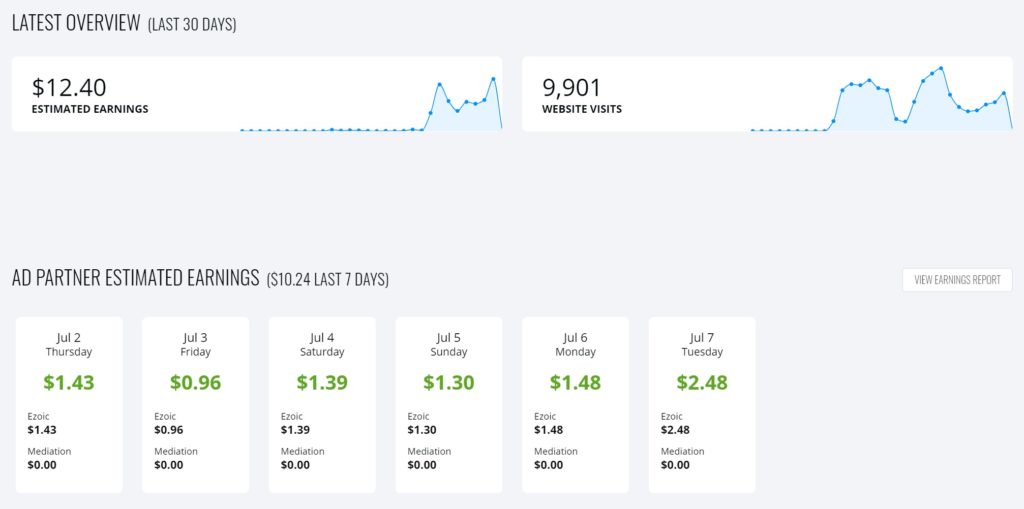 On average, with around 300 – 500 daily users. Advertisements are earning me $1.50 per day, or around $45 each month. Now that isn't a lot of money- but travelling during COVID is cheap. And that can pay for a bed in a hostel for a week or two. Honestly, during the coronavirus, any income is appreciated. And I'm confident there is room to grow in the future.
Affiliate Marketing
Affiliate marketing is another method I've found to earn money from a travel blog. And I've earned $52 dollars in the first three months of launching my blog.
So what is affiliate marketing? It's where I'll recommend a company, a product or a service in a blog post, and if my recommendation earns that company a sale, then I'll get a kickback and earn a percentage of the sale.
I chose three companies to partner with so that I could test the waters of affiliate marketing. I chose companies that I already used myself and have recommended to friends in the past.
The companies were 12GOAsia, Airbnb and World Nomads.
12GOASIA
12GO Asia is an online travel firm connecting routes across Thailand and south-east Asia. They're a company I've used myself over the years and consistently offer low prices for land transport links.
Unsurprisingly, I earned $0 from 12GO in the first three months travel blogging.
Mainly because, there are no tourists moving around south-east Asia right now, no one is booking the services they offer and all of the routes they offer, asides for a select few have been closed since March due to the coronavirus pandemic.
Airbnb
Using the Airbnb referral programme I earned $25 dollars. Now Airbnb isn't paying cold hard cash for a referral. The deal is that if a user uses my link to signup to Airbnb, they will get a $40 discount on their first stay, and I'll earn a percentage of what is spent on the first stay.
If I'm being perfectly honest, that works fine with me. I use Airbnb enough that earning credit with them is just the same as having earned cash. Airbnb has always been my go-to when I'm looking for monthly rentals in new cities, I'm always travelling and I'm never in a fixed location for too long. I don't have any mortgage payments or rent payments, I live out of a backpack.
To me, in a sense, Airbnb has become my "landlord" over the last few years. And let's be honest, who would want free or discounted rent payments.
If you want to earn a $40 discount on a stay with Airbnb, (no strings attached), you can use this link. You'll be helping me out and you'll get a tasty discount for yourself.
Here' my 'earnings' from inviting users to Airbnb.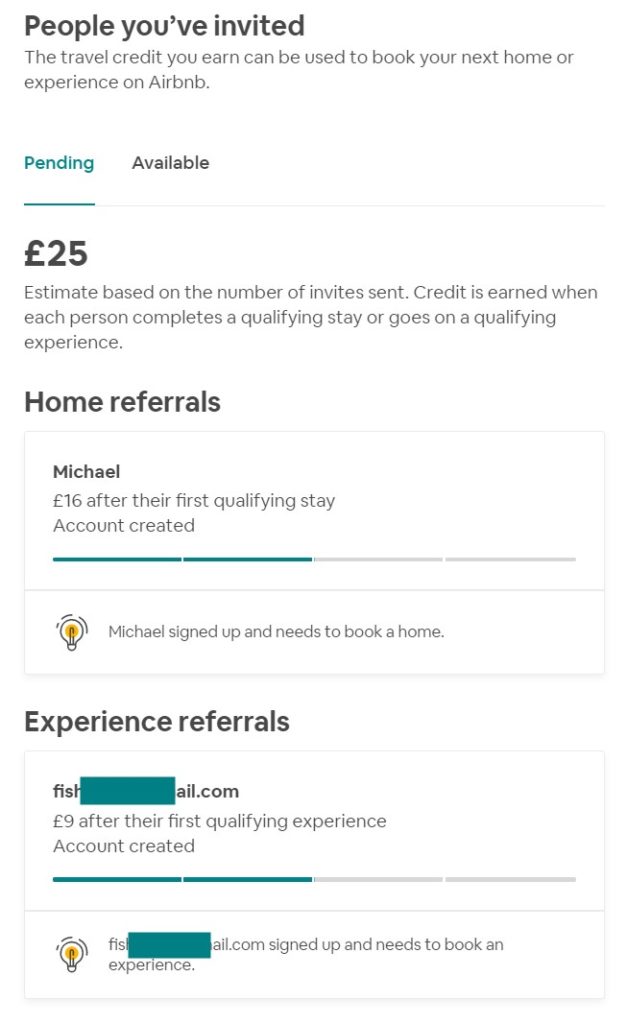 World Nomads
The third company I chose to partner with to test the waters of affiliate marketing was World Nomads. They are a travel insurance company who I've been using for the past decade. I use them because they are one of the few travel insurance companies out there that will let you take out an insurance policy while you're on the road.
In May my policy had expired. And while I was renewing the policy, by chance, I noticed that they ran an affiliate programme. So I got in touch and was approved within a few days. I included a link to World Nomads in relevant posts on my blog. And it didn't take long until I earned my first, (and only) sale.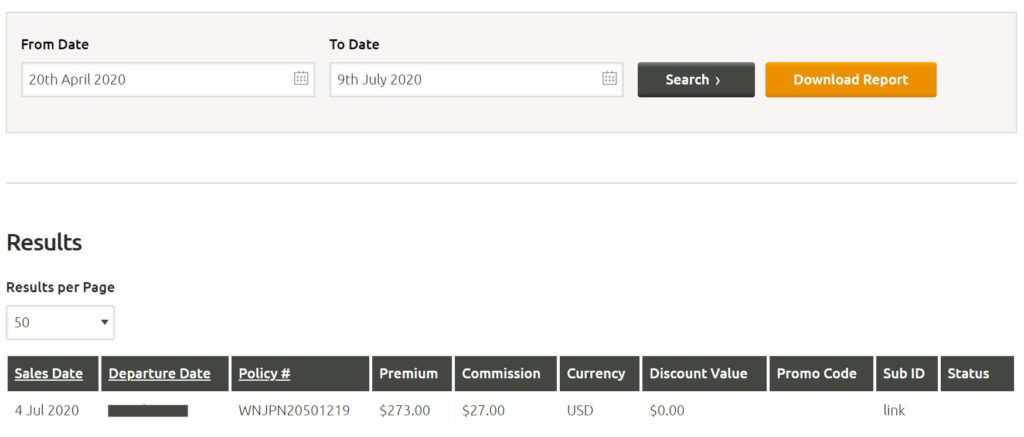 I earned a 10% commission from a $273 travel insurance policy, so by far the biggest earning yet- $27.
Sponsored Content
I could have earned an additional $20, but I decided to leave this one on the table. And it was a tough decision. Because $20 is $20, right?
Well the company who contacted me, were looking to advertise their car rental business. And after a few emails back and forth, it didn't seem like a great fit for my website and I made the decision to turn the offer down.

What's Next
So that's it, I've earned a few bucks and proven to myself that this dream has the potential to become reality. Traffic is growing steadily and I'm still publishing new articles to my blog, not as frequently as before, but still often.
During the coronavirus lockdown, I was publishing a new post each day to build momentum and get the ball rolling. I'm taking it a little slower now and focusing more on creating the highest quality content possible. But I'm still publishing two to three new posts each week.
Curfews and travel restrictions have been lifted for domestic travel in Thailand- and travel is cheaper than it has ever been. I'm able to move around once more, I'm able to visit new places, capture some awesome photos and share on my travel blog, first hand, what travel is like and how travel has changed during and after the coronavirus pandemic.
In terms of income, that too is growing. I mean, it's gone from nothing to something. But it's not a stable income. I wouldn't even really call it an income, yet.
But it is proof that there is still money to be earned travel blogging. It still sounds crazy to me that there is a chance to earn money, from doing something which I enjoy.
It's crazy to think that it has the potential to become a job- I don't want to get ahead of myself, but the first three months have left me hungry for more.
Conclusion
In my first ever blog post, I wrote that I wanted to earn one dollar within the first three months, that was my goal. And I hit that, 63 times over. So I want to set myself a new goal for the next 90 days, for the months of July, August and September.
In the 3rd quarter of 2020, I'm setting myself a goal to earn $200.
Over the next three months. It's ambitious but I think it's achievable.
I'm spending the next few months travelling around Thailand, until the borders open and I can venture further afield. I'll be keeping my travel blog updated with fresh, new and unique content, and, I plan on writing an Income Report to document how much my travel blog has earned each quarter. So make sure to check back to find out how much travel bloggers can earn, even during the coronavirus pandemic.