One of the biggest questions travellers face at the moment is "will I need to wear a facemask in Thailand". People are worried, and rightfully so, that a vacation to Thailand might not be as enjoyable and that some activities might be off-limits due to face mask rules and regulations.
But wearing a facemask on a trip to Thailand is not as bad as it might first seem. I've been living in Thailand since before the coronavirus was known to the world, and I've had readers contacting me to ask, things like; "Will I still be able to enjoy a beer on the beach?", "How will activities like Scuba-Diving work when we need to wear face masks?" and "Will I need to wear a face mask when I'm sitting by the swimming pool".
These are genuine concerns faced when making the decision on whether to go ahead with a vacation to Thailand or to postpone a planned trip. The purpose of this post is to share with you, when and where, you'll need to wear a facemask on a holiday to Thailand. To help you make better preparations and decisions about an upcoming getaway.
Thailand Face Mask
Do you need to wear a facemask on holiday
Do I need to wear a facemask in Thailand
Will I need to wear a facemask on the beaches in Thailand
How will the new face mask rules in Thailand effect my vacation
Do you really need to wear a facemask in Thailand
Do I Need To Wear A Facemask On Vacation In Thailand
Thailand has made wearing a face mask compulsory during the coronavirus pandemic, this includes both tourists and locals. But let's dig deeper into that statement and find out exactly what this actually means.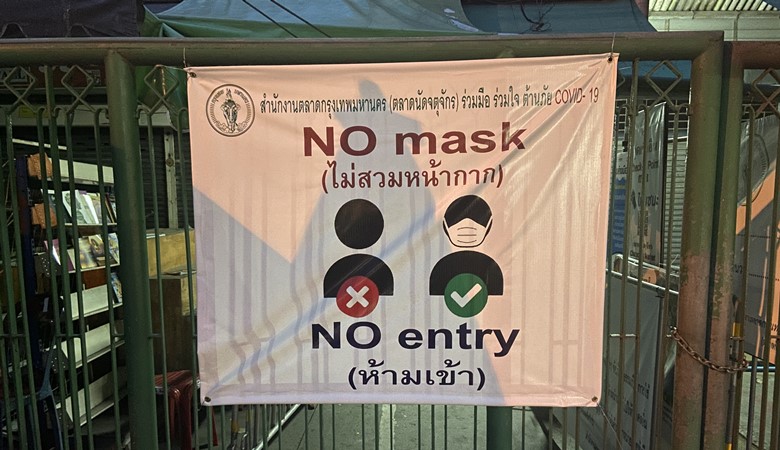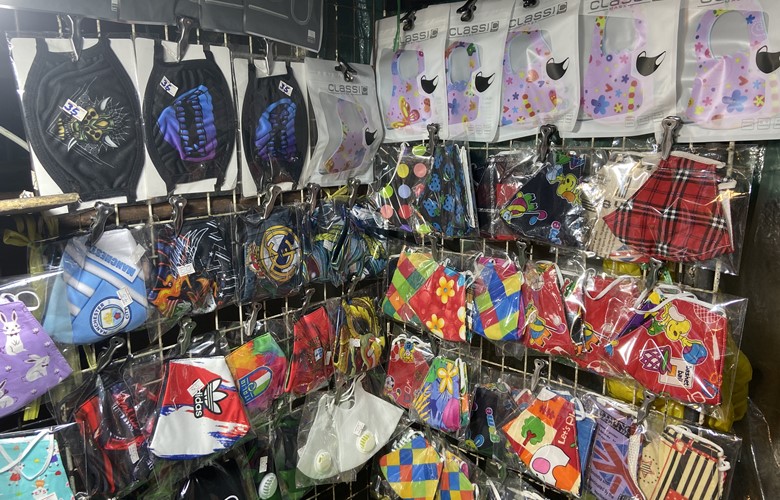 It is important to remember why we wear a face mask, it might be a mild nuisance at first, but it is something you can easily get used to and adjust to for the sake of public health. And if I'm being perfectly honest, I quite like wearing a mask, there, I said it.
Wearing a face mask can take some getting used to at first, although after a few days, you stop noticing it, much like wearing a pair of glasses or shades. To get a better experience on a holiday after COVID, I would recommend wearing a face mask in your home country before leaving for Thailand, spend a few days wearing a face mask around the house, and then, by the time you get to Thailand you'll already be used to it and wearing a mask will feel like second nature.
Now, I said it was compulsory for everyone to wear a face mask in Thailand, and while that statement is true it's not as black-and-white as that. What it really means is that everyone in Thailand should have a face mask on their person at all times, it doesn't necessarily mean that you'll need to wear a mask 24 hours a day, from the moment your flight takes off to the moment you arrive home. And there are certainly some situations when you'll be able to take off your facemask. In fact, on a holiday to Thailand after the coronavirus, it's likely you'll spend more time without a face mask on, that you will spend wearing one.
To give an example of why wearing a face mask is not a black-and-white blanket rule, let's take a look at Patong Beach in Phuket, where information about wearing facemasks is conflicting. New signs which have been erected on the beach read "Put on your facemask at all times", yet Sirawat Kriangkrai from the Department of Public Health, Patong confirmed that "If you are swimming, exercising or sitting alone, your face mask can be removed, but try to avoid groups of people". (Source).
I should mention that information in this post is not the official advice given by the Thai government or the WHO, the official advice is to wear a face mask at all times. The information in this post is based on my own personal experiences, from living in and travelling in Thailand before, during and after the pandemic. I am not advising to not wear a face mask, I am encouraging it. But there are some situations where it is unavoidable or socially acceptable to go without a mask. So with that in mind, let's take a look at some of the places you'll need to wear a mask in Thailand and some of the places you won't. When will it be acceptable to remove your mask, and what changes will wearing a facemask have on a holiday to Thailand.
Official Information On Wearing A Face Mask:
Will I Need To Wear A Face Mask At The Beach
This seems to be the biggest concern at the moment, after all, no one wants to return from a vacation with tan lines from wearing a facemask on the beach. And luckily that shouldn't be too much of a concern. You will need to wear a mask when you enter the beach until you are sitting down and away from others. But it is socially acceptable to remove your facemask once you're settled and lying on the beach in Thailand, in your own space. And don't worry, you don't need to wear a mask when swimming in the sea! If you are sitting with others, there will need to be a mutual agreement if you want to go without a mask.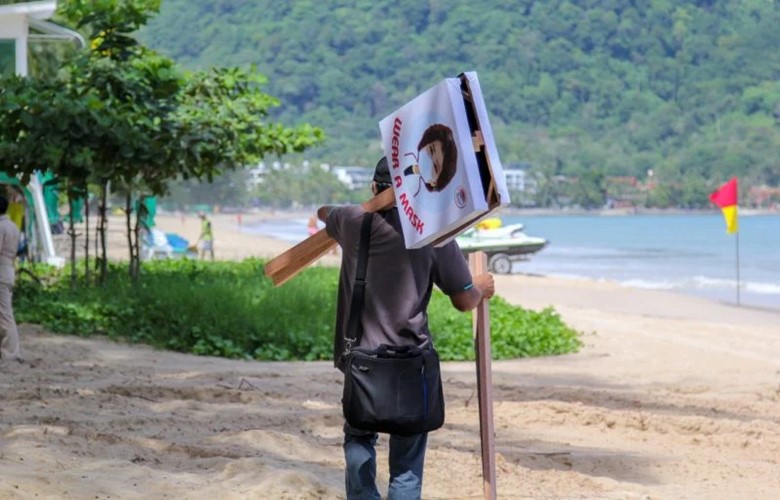 But you will still need to have a face mask in your possession while you're at the beach. Perhaps you want to go and order a fruit shake or smoothie from a vendor, you'll need to wear a facemask when ordering. Or perhaps you want to go to a shop to buy ice-cream or water, again you'll need to wear a facemask.
Will I Need To Wear A Face Mask At The Hotel
This will depend on the type of accommodation you're staying in. Hostel's and dorms, for example, seem a little more relaxed on wearing a facemask, partially because guests are staying together in the same room anyway. But in guesthouses and hotels, you'd be expected, at a minimum, to wear a facemask when checking in or out of the hotel or when you are walking around the grounds.
Hotel swimming pools are an exception, when you are relaxing on a sun lounger by the side of a swimming pool you're generally stationary and not likely to come into contact with other hotel guests. This is another situation when it will be socially acceptable to not wear a facemask. But again, you should have one with you to put on when you get up to leave, when you go to order food or drinks, or at any other time where you'll be coming into close contact with hotel staff or guests.
The bottom line is that you'll still be able to enjoy swimming and relaxing by the pool-side without having to wear a facemask 24 hours of the day, and you'll still be able to enjoy a vacation in the sun.
Do I Need A Face Mask On Public Transport Or In A Taxi
There are no real exceptions here, for your own safety as well as others, you'll always need to wear a facemask when you're travelling around Thailand. That includes aeroplanes and airports, trains and train stations, busses and bus depots, ferries and ports and even when hailing a ride and taking a taxi.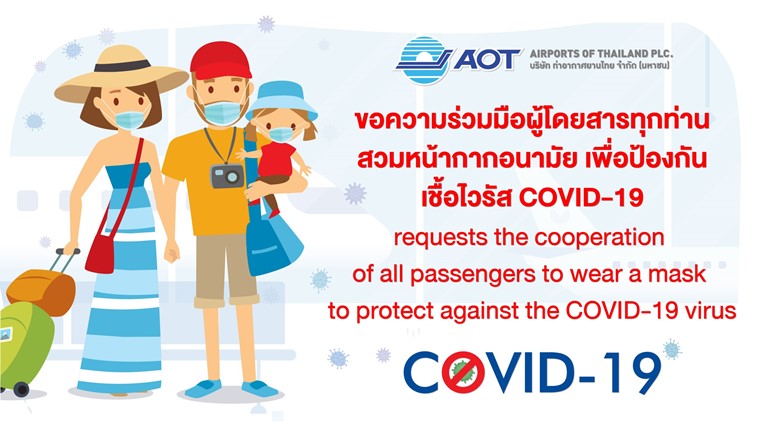 Public transport is one of the main places were social distancing is being properly implemented and taken seriously in Thailand. And there are some benefits to this. For example on an overnight bus ride, I took recently into Bangkok, having two seats to myself made the ride much more comfortable.
Thailand is a big country and overnight bus and train rides are common. I chose to wear a facemask throughout the entire journey, but I did notice that other passengers chose to sleep without wearing a mask. Again the official advise is you should be wearing a mask at all time, but people seem to be understanding if you decide to go without for a few hours while you sleep. It's important to respect other passengers and staff. You should check with the staff in advance if you are unsure, and you should be prepared to wear a facemask at all times, at the request of another passenger or a staff member. If you think you'll find it uncomfortable or would rather not wear a facemask on 10-hour plus bus ride, you could also consider flying instead, you'll still need to wear a face mask on a plane, but the travel time will be much shorter.
Exemptions are also be made while eating or drinking, on public transport, on trains or in bus stations, there are often vendors selling food and drinks. If you want to grab a bite to eat it is ok to temporarily remove your face mask.
Taxi rides are generally shorter than public transport routes, and there are no real exceptions here. You'll need to wear a facemask for the entire ride and if you don't drivers will (rightfully so) refuse to take you.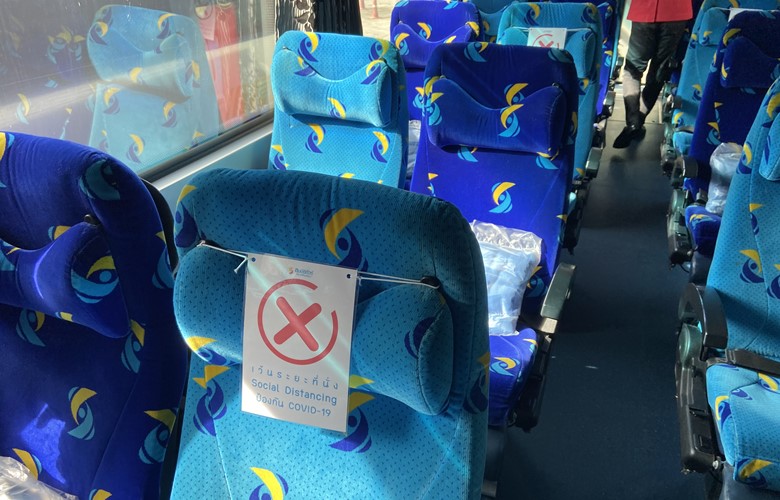 Do I Need A Facemask In Restaurants, Bars and Shops
In supermarkets, small shops, shopping malls and especially 7-11's you'll have to wear a face mask. You'll also have your temperature taken and you'll be asked to use the hand sanitiser provided on a foot pump outside stores.
In bars and restaurants, however, it's a little different. You will need to wear a face mask when you arrive, when you leave and when you are placing an order at the bar or at the table. But, let's face it, it's going to be tough to eat a meal or have a drink while wearing a face mask. In my experience, it is acceptable to remove your facemask altogether when you are sat down in a restaurant or sitting down in a bar. But only do so if you feel comfortable, and others are keeping their distance from you.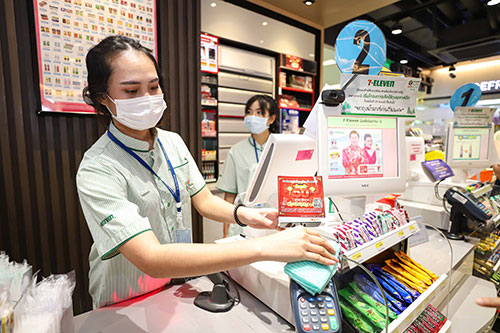 Tours, Temples and Markets: Do I Need A Face Mask
When it comes to tours around Thailand it's going to be more common for operators to offer private tour packages for the foreseeable future. It means that prices will be increased, but it will be more financially viable for tour operators. It will also help tourists to feel safer and it will mean for most outdoor activities like boat trips, waterfalls or visits to National Parks face-masks won't be required. But face-masks will be required for things like hotel collection when you'll be sitting in a car or a mini-van. So you will need to bring one along on a tour.
At temples or at markets, you'll need to wear a facemask. These are places where large groups of people are often packed into a tight area and let's be honest, you'll probably want to be wearing a facemask here for your benefit anyway. Of course, there are a couple of exceptions, and that is mainly when you're eating. You'll find some of the most delicious food at street markets and it would be a shame not to sample the local tastes of Thailand.
But food is not the only thing that you'll find for sale in a Thai market. It's 2020 and many market vendors who were once selling crappy souvenirs or knock-off brand clothing, have now made the switch to selling novelty, fashionable, (and knock-off) face masks instead. Let's take a look at where you can buy a facemask in Thailand and how much they cost.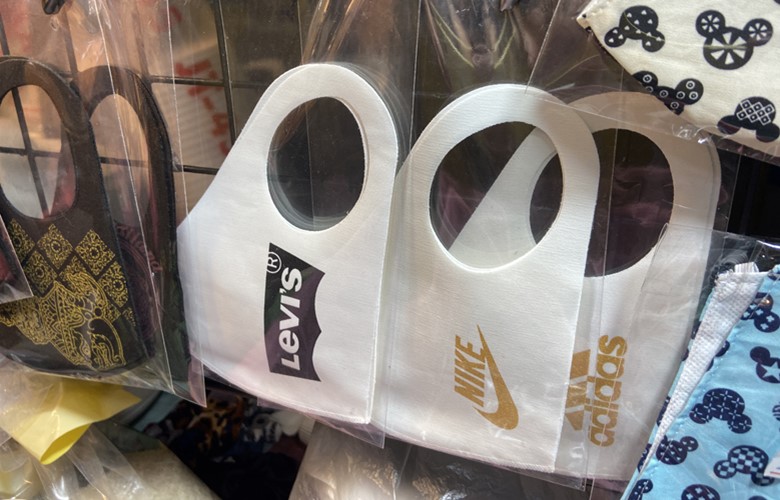 Where Can I Buy A Facemask In Thailand
Where can you buy a facemask in Thailand and what type of face mask should you get.
When you arrive into Thailand, you'll need be wearing a facemask for the flight and while you pass through the airport and immigration procedures, (but you might be asked to temporarily remove your mask when your passport is being checked). It's also a good idea to pack a spare mask or two in your hand luggage. If the strap on the mask was to tear, for example, or like me, you decide to drop your mask on the bathroom floor! You might find yourself in an uncomfortable situation, having a spare in your bag can come in useful.
But once you arrive in Thailand, you won't find any shortage of masks. You'll find them sold on every street corner, every market and in every 7-11. It's no longer the case that you can only buy a face mask from a pharmacy, you'll find them for sale wherever you look.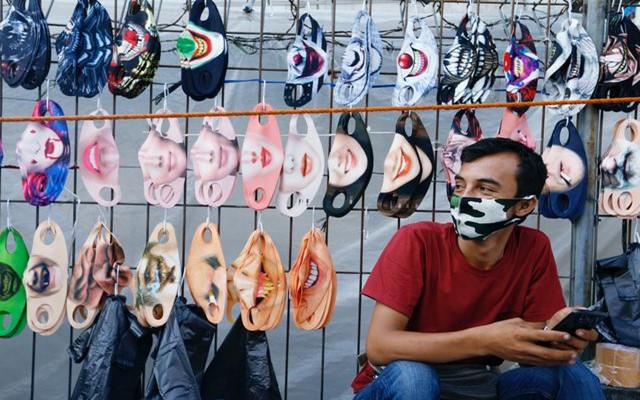 Buying a comfortable facemask is important and can make a post-COVID-19 vacation to Thailand much more enjoyable. Facemasks are cheap to buy in Thailand and most cost under $1, (20 Thai baht), even most of the more fashionable masks are cheap enough to buy that it's not worth it to wash and re-use them, (but do dispose of them properly)!
It's a good idea to buy a few face masks so you can decide which one you find less intrusive. Not all masks are the same size, and a mask with a looser fitting mask is going to be much more comfortable than one that is stretched across your face too tight. Id also recommended staying away from the thicker face masks and opting instead, for a thinner fabric. Why is a thinner fabric better? It's because Thailand is a hot country, personally, a thin fabric mask doesn't bother me at all. But when I decided to try out a thicker mask, I found it to be extremely uncomfortable in the heat. Another tip is to choose a light coloured mask. Choosing white or grey rather than black will help to deflect heat.
You can buy facemasks with neck-straps so you don't misplace them when you take them off, you can buy novelty masks with fun faces on them, fashionable masks with almost any pattern or design imaginable, thin masks, thick masks, small masks, big masks. Anything you can think of. Wearing a mask can be fun, it doesn't have to be a chore and it doesn't have to take any fun out of a vacation to Thailand. Take a look around any market in Thailand and you'll be spoiled for choice. But don't be hesitant to buy and try a few different masks in order to find out which one is most comfortable for you.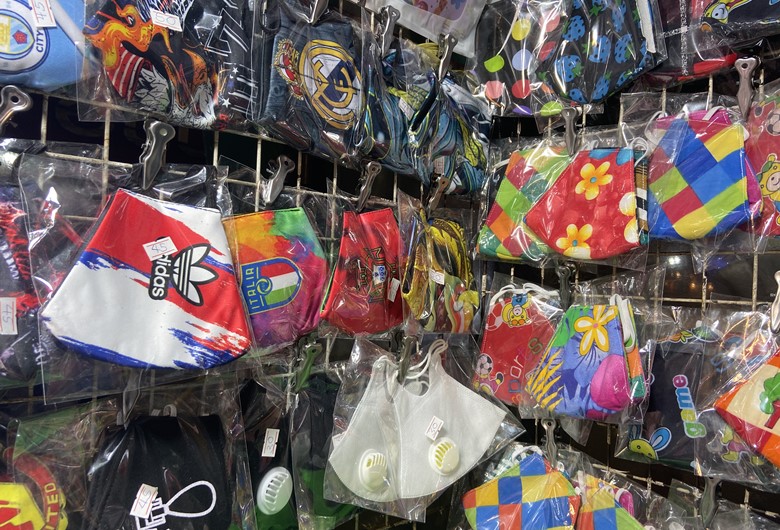 Can I Take Off My Face Mask For Photos
It's something that you might not have considered, but do you want all your vacation photos to be of you wearing a face mask? I don't think it's such a bad thing, and after all, the first few travellers to vacation in Thailand are going to be setting the foundations for the next generation of travel.
But it's understandable that you might want to have photos taken on holiday, where you can be seen smiling and enjoying yourself. It's understandable that you might not want to be wearing a mask in all your vacation snaps. And you'll be pleased to learn that taking off your mask for photos isn't going to be a problem, obviously, it depends on whereabouts you are in the country. And it comes down to respecting those around you.
In a situation where there are a lot of other people around, in a market, for example, dropping your mask for a selfie might be frowned upon. But when you're relaxing on a beach it won't be an issue. Just like when it comes to eating and drinking, there are some situations where it is ok to take off your facemask. If you want to buy some fried chicken from a street vendor, no one is going to have an issue if you temporarily remove your mask to eat while you're walking down the street. It all comes down to common sense.
Do Children Need To Wear A Facemask In Thailand
The rules for wearing a facemask apply to people of all ages, and that includes children. Although the rules are a little more lenient when it comes to younger children. If your little ones don't like the idea of wearing a face mask it would be best to avoid the busiest areas and perhaps alter the itinerary of the holiday to focus more on private tours, and finding a resort where you can spend some time hanging out beside the pool.
It can also be a fun activity to walk around one of the bigger markets in Thailand and let children pick out their own 'fun' facemasks.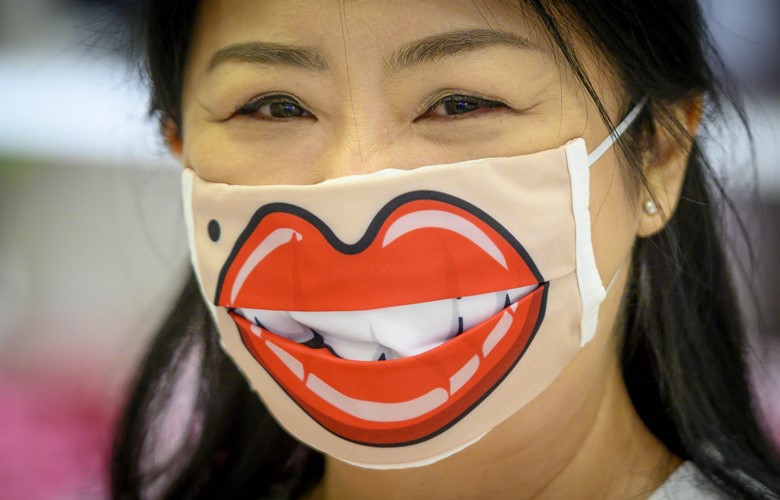 Are People Wearing Face Masks In Thailand
It is a bit of a mix, most people are choosing to wear a face mask, which, I think is the right decision. But it is not uncommon to see some people walking around the streets without a mask. Most people who choose to go without a mask are generally Thai people, where it is more forgiving to flout the rules than compared to those on vacation. As a foreigner in Thailand on vacation, things might not be as forgiving, as after all there is a greater risk of carrying the virus from those that have travelled from abroad. But in public spaces, and on public transport you can see 100% of people wearing a face mask.
What Happens If I Don't Wear A Facemask In Thailand
You should be wearing a facemask in Thailand, and it is not just for your protection, but for those around you as well. If you're not comfortable wearing a facemask then you should look into what options you have to postpone your vacation, for a later date. In the current situation, it is not possible to vacation in Thailand at the moment without wearing a mask in some places.
But as I've mentioned the rules aren't black and white and there are some exemptions that require common sense.
Let's say you're walking along the street, you've just finished eating some delicious street food and you're stopped and questioned about not wearing a mask. Well, you should have a mask on you at all times, you'll be able to put on the face mask and there won't be any problems.
If you refuse to wear a face mask, again consider postponing your trip, but if you were to refuse, you can be arrested for not wearing a mask. You can also be handed a fine of 20,000 Thai Baht ($650), deported from Thailand or a combination of the three. But these are last resort scenarios, which can be avoided by putting on a facemask when asked to do so.
Thailand has handled the virus outbreak exceptionally well and Public health is not something that is being taken lightly. It is much easier to put your facemask back on if asked, don't question it, whether you're asked by the police to wear a mask, a local on the street, a cashier at a 7-11, a market vendor. If someone asks you to put your mask on, you should. It's a matter of respecting others. And it will make your trip to Thailand much more enjoyable.